Can-Am Outlander 400 MAX quad test
---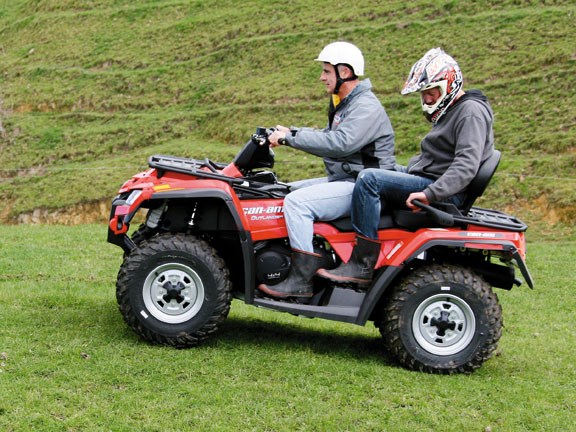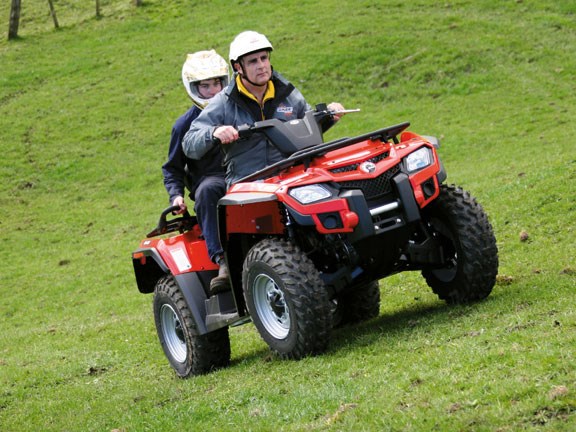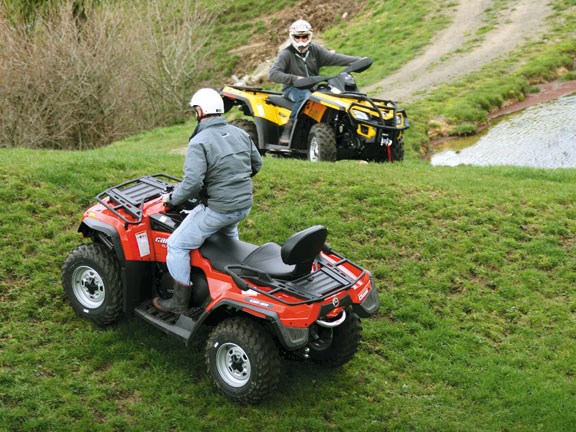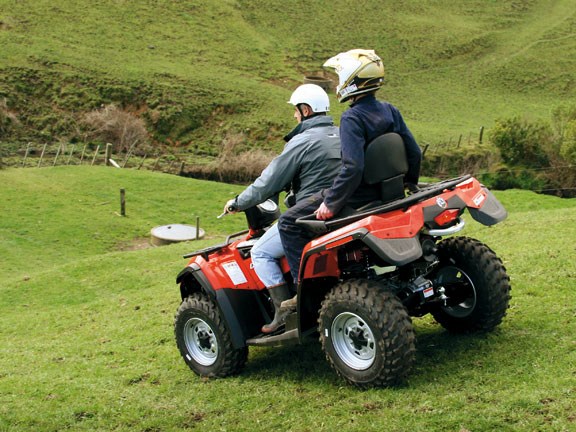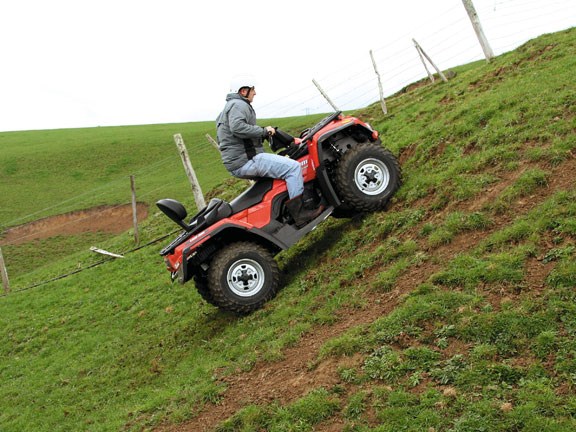 The medium-sized CanAm Outlander 400 MAX is a basic, no-nonsense farm quad
Plenty of power and grunt
Passenger seat converts to toolbox
Electronic Fuel Injection aids fuel efficiency
Braided brake lines
Lots of optional extras
Cam-Am ATVs are produced in Canada and fitted with industry-acclaimed Rotax engines from Austria. The ATV range is offered in two colours: red machines denote the basic models, while yellow quads are more upmarket.
All yellow XT models have power steering and a factory-fitted winch (among other features), and all models with MAX designations have two seats. The two-seaters include the Outlander 400 MAX, Outlander 500 MAX, Outlander 650 MAX and the mighty Outlander 800 MAX.
Our test machine was a two-seat Outlander 400 MAX. Unlike the Outlander 500 XT and the Outlander MAX 650 XT I tested last year, the red 400 MAX is a basic, no-nonsense, medium-sized farm quad.

Its $11,300 plus GST cost puts it in a range where it may be considered a viable option. One benefit of the Outlander 400 MAX is its ability to carry two people but, after having a good ride on this Can-Am, I wonder if its superior stability may appeal more?
The Outlander 400 MAX suspension did the business with very little body roll while cornering, even with the now old-hat MacPherson strut front suspension (non-adjustable shocks), which provides a good 178mm of travel, and a pair of five-way adjustable spring preload rear suspension units.
The independent operating rear units offer 203mm of travel via a sturdily-constructed steel swingarm and the vertical plane TTI rear suspension system. Each side of the swingarm functions separately to achieve true independent status.
The 25" diameter tyres provide 236mm of ground clearance for rough terrain. Overall the 308kg Outlander 400 MAX weighs 22kg more than the standard Outlander 400, most of that coming from the extra chassis frame to make up the 203mm longer wheelbase (1447mm).
Certainly, the longer wheelbase didn't seem to hurt the Outlander 400 MAX while turning – it was more difficult to turn the bars only because it doesn't have the power steering of the Outlander XT 500.
All models have a fuel-efficient and power-enhancing EFI electronic injection system. I reckon the Outlander 400 MAX would also hold its own if pitted against any of its similar-sized competition.
The 23.8Kw (32hp) Austrian-built Rotax EFI engine felt unusually smooth for a single piston powerplant, and its delivery provided good torque throughout the rev range. It could still easily spin up and make great power high in the revs. Going fast and slow up some reasonably steep hills in both Low and High ratio and the engine didn't run out of breath at any stage.
In fact, I was surprised with the ability of the Outlander 400's engine to "hold on" while climbing the steepest parts. Rotax powerplants have an outstanding reputation which translates to an engine you can rely on, time and again.
Driving the Outlander 400 MAX is a reliable belt-drive CVT unit – a far cry from the old variable drive transmissions that came out on the very earliest ATVs a long time ago. Changing the Visco-Lok "on demand" transmission between 2WD and 4WD on the fly (a handlebar switch) went without issue. As did manually changing between the High/Low ratios, Park and Reverse, while stationary.
And I was relieved to find even the most basic Can-Am model has transmission braking, on one occasion allowing me to descend a slope without hands on the bars to demonstrate that I wasn't using the brakes.
There are only three discs stopping the Outlander 400 MAX – two beside the diff up front and one operating on the rear drive. Despite not having a disc on each rear wheel I could stop on the grass faster than I could with the more agile Outlander XT 500, helped by the long wheelbase and also the high-spec and non-rusting stainless steel brake lines.
With an 800kg towing capability, a 45kg and 90kg rear/front carry capacity and 35W halogen headlights, the Outlander 400 and its two-seat MAX variant pan out to be pretty well spec'd. Even so there are options galore available for all ATVs in the Can-Am range. NV Motorcycles fitted to our test machine effective rubber mudguard extensions and a towbar.
The $800 Farm Kit also includes mudflaps and bullbars.
Powerful Engine
The single and two-seat Outlander 400 models are powered by a single-cylinder, liquid-cooled 23.8kW (32hp) overhead valve 400cc Rotax engine, fed by a high-tech VDO Siemens fuel injection. Can-Am advertise its Outlander 400's power output as 2.5hp greater than that of the closest competitor (Polaris), and 7.3hp more than its least-powerful listed competitor (Suzuki).
The larger 500, 650 and 800R models use an 80-degree Rotax V-twin engine. All models have four valves per cylinder and electronic fuel injection. The V-twin engines share the same casings, with the 500 and 650 using the same 82mm bore size but with different strokes, and the 650 and 800 models sharing the same 62mm stroke, but with different bores.
Spare Seat
If you want a bit more storage capacity or possibly don't want someone riding it two-up, lifting a small catch lever on the comfy pillion seat (with strong backrest) unlocks the rear seat, allowing it to be lifted off and replaced by another good-sized waterproof box.
Specifications
Engine 400cc Rotax with EFI injection
Max power 23.8kW (32hp)
Cooling Liquid-cooled
Fuel capacity 16.3 litres
Transmission Automatic Visco-Lok CVT
Brakes Hydraulic with three calipers
Front suspension travel 178mm, MacPherson strut
Rear suspension travel 203mm, TTI rear suspension system
Max ground clearance 236mm
Tyres Front, 25 x 8 x 12"; Rear, 25 x 11 x 12"
Wheelbase 1447mm
Length 2387mm
Width 1168mm
Height 1143mm
Dry weight 308kg
Max towing capacity 500kg
Front carrier, max 45kg
Rear carrier, max 90kg
Keep up to date in the industry by signing up to Farm Trader's free newsletter or liking us on Facebook