Raising The Bar
---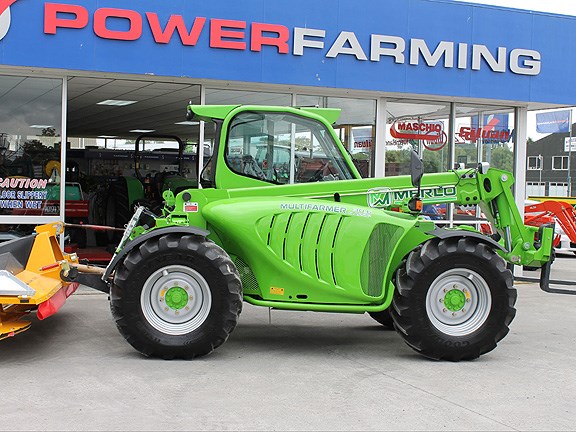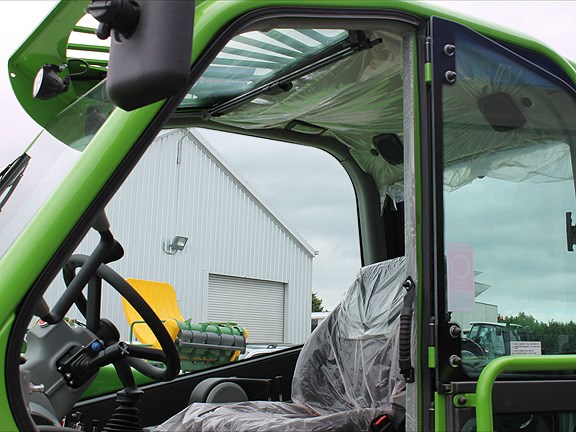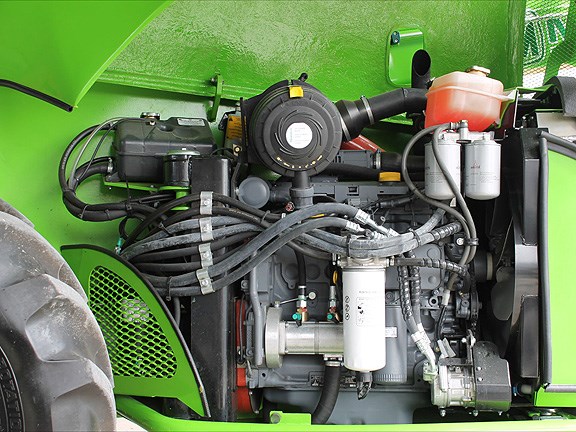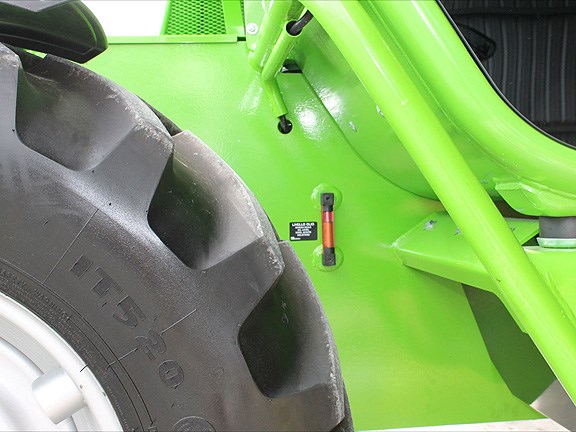 Mark Fouhy got hold of a Merlo Multifarmer telehandler from Power Farming, and discovered that these purpose-built loading machines have a real place in New Zealand agriculture.
I've always been a strong advocate for using the right tool for the job, so when the opportunity arose to review a Merlo Multifarmer telehandler, I jumped at it.
Having spent many hours on basic wheel tractors with after-market loaders attached to increase versatility for contracting, fertiliser and various other farming applications, I was interested to see what the Merlo Multifarmer telehandler had to offer, and why a farmer would look to purchase one over another tractor/loader combination.
Both Murray Barclay, branch manager of Power Farming, Te Awamutu, and Ken Bill, national manager for Merlo, kindly loaned me a brand-new Merlo Multifarmer 30.6 classic 2, taking me through some of its key features. As I discovered, this model is not your average, everyday telehandler. Not only is it capable of lifting 3000kg on its six-metre telescopic boom, it also has rear linkage set-up, with twin horizontal rams capable of lifting 4300kg. There is also a six-spline PTO with two-speed (540 and 1000rpm) rated at 90hp, providing plenty of power to run a mower or baler on one of the two hitches rated to tow up to 20 tonnes. 
Engine
Merlo makes most of its components in-house, from bearings through to mud guards, but it sources tyres and engine parts from other suppliers.
The Multifarmer has a four-cylinder turbo-diesel after-cooled Deutz engine. These engines are made in Germany by Deutz, whose engines are known for their reliability, also being used in the Fendt and Deutz-Fahr tractor ranges and for Volvo.
Servicing has been made easy with the side-mounted Deutz engine, which can actually pivot out from the machine, so all servicing can be carried out from the ground by the service techs. As for service intervals, like all machines, these are being extended out further, with the Merlo sitting at 500 hours, a figure that is almost double that of equipment a few years older. But as Barclay suggests, more regular servicing can be cheap preventative insurance for these sizeable investments.
The Merlo has three radiators, one each for the transmission, the water and the turbo intercooler. There is also a screen to keep rubbish out, which slides out for easy cleaning.
With the machine at a stand-still, I found the engine relatively quiet considering I had the door open and the engine is situated right beside the cab. For the operator, there is a pressure gauge in the cab to check the pressures of the hydraulic and hydrostatic systems. You can use this as a rough guide for bale weights (you do need to have a bale or two properly weighed to see how much pressure it requires to lift them to a certain height), or they can be fitted with loader scales as an extra, to help bring the accuracy up at feeding out time, thus saving feeding too much one day and not enough the next!
Safety
The Merlo's safety features are very impressive and a lot of thought has gone into them. Instead of lifting a worker to dangerous heights in a cage on the front-end loader, you can actually level the machine up to 12 degrees either side of centre, remotely controlling the raising and lowering, and in/out of the boom. The Merlo also has a FOPS/ROPS fully-enclosed cab, providing protection from falling objects, while still maintaining excellent visibility.
As previously mentioned, the Merlo is a relatively quiet machine, making operating it more comfortable. Air conditioning is also standard, helping keep the operator alert and fresh when working long hours. Other features in the cab include: a big, red kill switch, located on the exterior of the cab next to the diesel tank filler, allowing the operator to stop the machine in a hurry – all you have to do is hit it; an owner/site manager key that can stop the movement of the boom when it is reaching outer safety limits – good for new or less experienced workers, providing an override function and decreasing the chances of accidents or damage; and a built-in warning system for the boom operation. Merlo has opted for an audible alarm and a green/amber/red flashing light system. These alarms work off two sensors on the back axle, and although it is a good system overall, the flashing lights may be hard to see in strong sunlight.
The Multifarmer difference
The thing that sets the Multifarmer apart from either your tractor/front-end loader combination or other telehandlers is its back end. The Multifarmer has been designed to be an agricultural machine – it hasn't just had a three-point linkage bolted on as an afterthought. Although it doesn't have a specific counterweight, the heavy-duty steel construction of the frame for the three-point linkage provides enough weight to allow it to still lift 3000kg on the boom and 4300kg on the rear three-point linkage, with lift, float and downward pressure.
Balance and ease of use are key features of the Merlo. The loader has been designed to be part of the machine from the beginning, so there are no design malfunctions. For example, there's no bonnet hindering your view and only a single arm, instead of two arms, allows greater visibility for bucket work and is handy for attaching buckets, forks and other attachments.
The Euro quick hitches are now a lot easier to use, but the Merlo is better again, with attachments locked onto the machine able to be carried out from the cab using the Merlo Tac-Lock hydraulic system.
The boom has accumulators for suspension, but these are only really used when carting bales from the paddock; the Merlo Multifarmer is weighted correctly so the boom doesn't bounce and rattle.
Although you can buy an 115hp tractor and loader combination for less than the cost of a Multifarmer, the two options cannot be compared. They have not been built to do the same job, and don't have the capacity to lift, reach and load in the same way. Years of research and development have gone into the design of the Merlo to make it what it is today. Specifically designed to handle a variety of materials with features like the stainless steel pins, heavy axles and bearings used in its framework, the machines are thoroughly tested at the Merlo factory to ensure they can handle a heavy workload and a tough life.
Verdict
The Merlo definitely has a place in agriculture. I think many large-scale New Zealand farmers would see the Multifarmer as a perfect secondary tractor, capable of tractor work but more specifically used for material handling and loading. However, in saying that, this machine could easily cope as the sole tractor on a smaller farm, not only thanks to its excellent loading capabilities but also its ability to top grass, tow a feeder wagon etc.
I was really impressed with the safety features of the Multi-farmer and its carrying capacity is second to none. With the intensity of agriculture increasing, task-specific machines like the Merlo Multifarmer will help to increase the efficiency of New Zealand farms.
Positives
Ease of servicing
Strong, reliable machine with good resale
Simple operation, hydrostatic transmission with forward/reverse at the flick of a lever
Safety features built into the machine, keeping your farm and staff safe
Versatility, handling jobs of a proper loader but capable of much more
Negatives
Initial price is a bit more than a tractor of similar size, but with ease of servicing and being the right machine for the job, it will last longer if treated right – quality always costs a little more
History
Merlo began as a small family business in the town of Cuneo, northwest Italy. The Merlo company was formed in 1964, originally building dumpers and off-road concrete mixers for the building industry.
With its knowledge and experience, the company made its first off-road forklift truck in 1970, and the first telescopic handler, the SM30, in 1981.
Since then, Merlo has continued to play a major role in the innovation, research and development of the telehandler. Still remaining a family-owned company, Merlo is the third largest manufacturer in Europe.
Today, there are about 400 Merlo's in operation throughout New Zealand, in agriculture and supporting industries such as building and construction.
Keep up to date in the industry by signing up to Farm Trader's free newsletter or liking us on Facebook