Off-road with X-Factor
---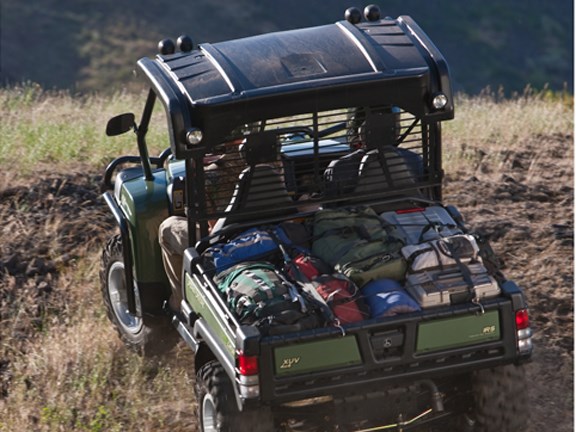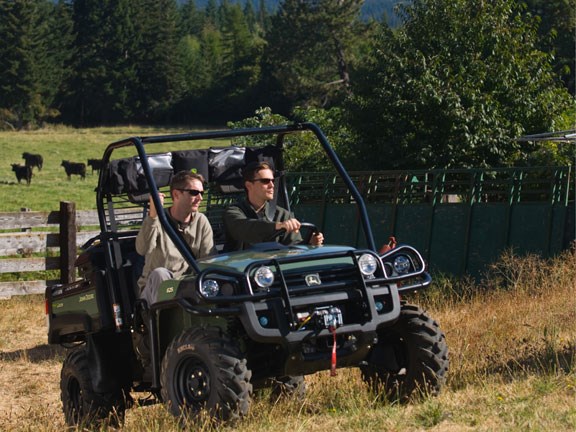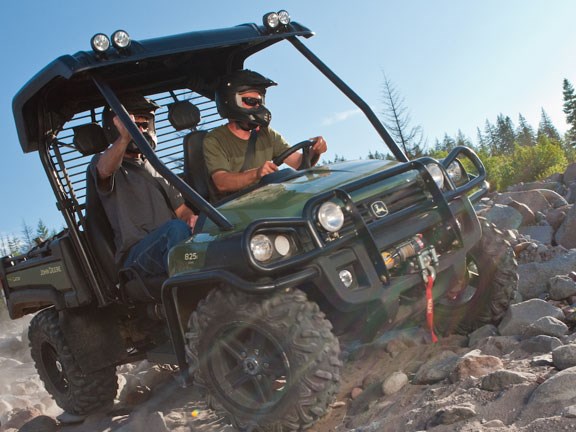 The Gator™ XUV packed with features for safety and versatility
The Gator™ XUV Crossover Series Utility Vehicles from John Deere are the closest alternative to the ATV on the market. Because whether you're off-road for leisure or hauling gear on the farm, the XUV 825i, 855D and 625i models deserve a second look. And a third. In fact quite a few looks, because they're packed with features for safety and versatility.
And that's the key for a multipurpose utility vehicle. You need the assurance that your vehicle can handle any terrain and deal with the pitfalls and bumps.
For that reason, John Deere has placed a premium on safety, rigorously testing each model beyond normal customer use and in harsh conditions. It's a beast that takes the demands of off-roading seriously.
The backbone is a hydroform steel frame designed with fewer bolted and welded joints, which gives it the strength to haul demanding loads. The heavy-duty truck-style frame provides unmatched resistance to twisting and vibration. And both operator and passenger can tackle any terrain with the confidence of a robust roll-over protection system.
Providing the Gator 825i, for example, with the much needed muscle to haul, tow and traverse is an 812cc, three-cylinder, dual overhead cams, liquid-cooled, four-cycle petrol engine, producing 47 lb-ft of torque (6.5 kgm) at 3200 rpm. Advanced electronic-controls and fuel-injection systems deliver superb starting, idling, and throttle response during operation. And better still, you can turn the key at minus 28 degrees Celsius and the engine will still fire.
Harnessing that power is a true on-demand 4WD with a precision engineered drive-train system to optimise acceleration in low and high gears. It'll accelerate quickly when needed or creep deftly to manoeuvre through tight spots.
Coupled with an 11 inch ground clearance, the Gator will clear more obstacles on the trail without getting hung up. Fully independent front and rear suspension keeps the wheels on the ground for superior stability through difficult terrain.
Unlike its namesake, steering a Gator isn't like trying to steer a… well… alligator. They're equipped with rack and pinion steering and a dual A-arm front suspension. These automotive-type systems provide excellent handling characteristics, as well as low effort responsive steering.
At the tail is an improved cargo box designed to haul over 400 kilos. Integrated tie-down points offer greater versatility for carrying long loads or converting to a flat-bed. It's easy to clean-out too.
For work or recreation, the Gator is a great ride with any size load. If you're on the lookout for an alternative to the ATV, then the X in the XUV definitely marks the spot.
To find out more contact 1800 800 981 for Australia or 0800 303 100 for New Zealand
Deere & Company (NYSE: DE) is a world leader in providing advanced products and services and is committed to the success of customers whose work is linked to the land - those who cultivate, harvest, transform, enrich and build upon the land to meet the world's dramatically increasing need for food, fuel, shelter and infrastructure. Since 1837, John Deere has delivered innovative products of superior quality built on a tradition of integrity.
Keep up to date in the industry by signing up to Farm Trader's free newsletter or liking us on Facebook