Can-Am Outlander 500 XT
---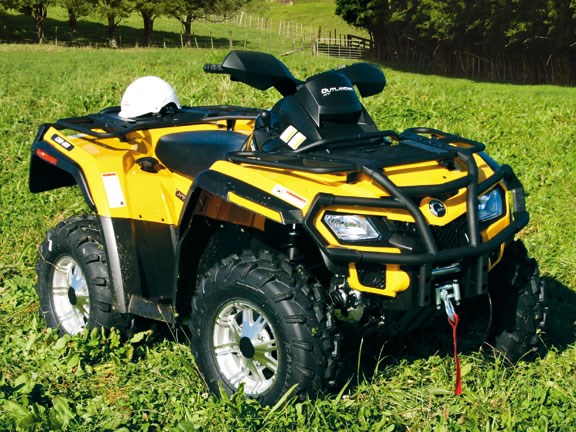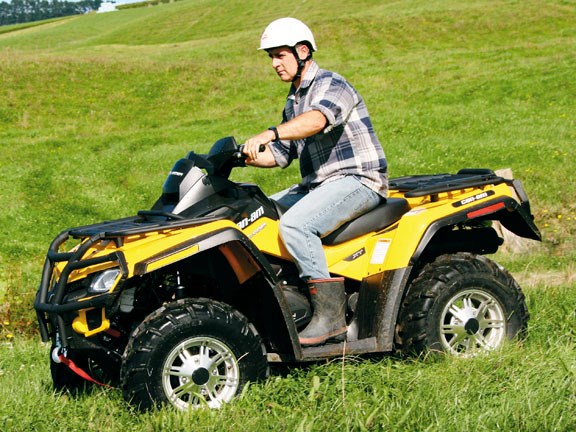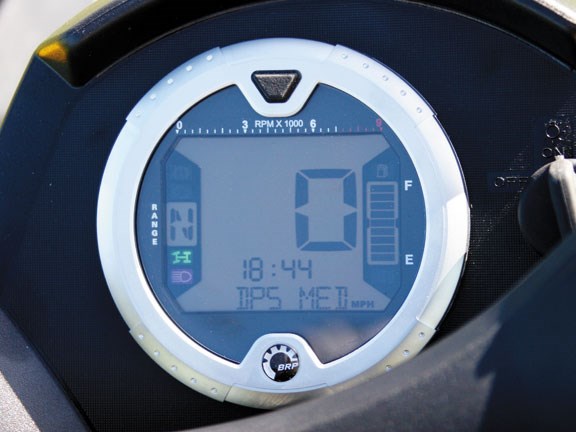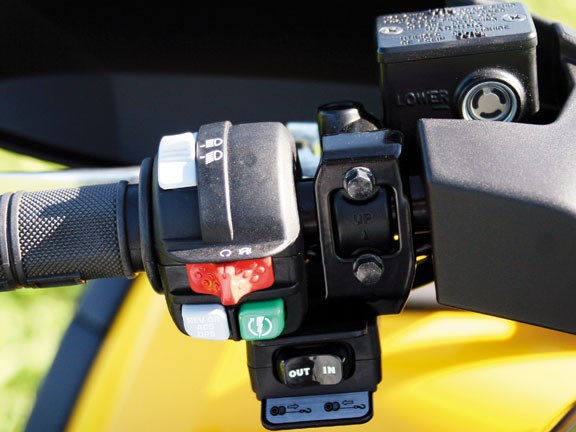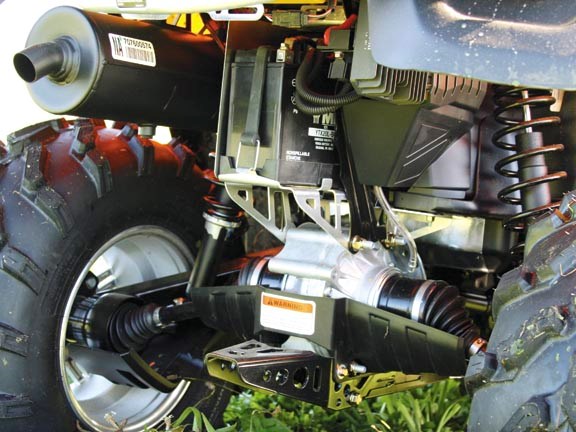 BRP (Bombardier Recreational Products Inc) is renowned worldwide for providing quality products at a reasonable price. Although made overseas, over the years these machines have proved their worth her in Godzone.
Farmers will be most interested in the ATV range as a North American alternative to traditional Japanese offerings, and the Can-Am Outlander 500 XT is BRP New Zealand's largest selling ATV, retailing for $13,303 plus GST.
I love high-spec ATVs and the latest Can-Am Outlander 500 XT is no exception, so let's begin where it stops.
Braking
Braided stainless steel brake lines are a standard feature and compared to reinforced rubber lines will never expand after years of use, which makes the brakes feel spongy at the lever, with typically longer stopping distances. Also, braided brake lines attract less condensation over time, meaning you or your dealer won't have to flush out the brake fluid anywhere near as often, saving time and money. But the biggest thing I like is they provide more 'feel' at the lever, which is why I have them on my 1200cc road race bike.
Can-Am has two inboard brake discs for each large diameter mag wheel at the front, but only one brake for the rear. These still get the job done admirably and, as you'd expect, I tested these out many times as hard, if not harder, than you would yourself.
Suspension
Suspension-wise the 2012 Outlander 500 XT has an interesting Torsional Trailing arm Independent (TTI) independent rear suspension package, which provides a decent 229mm of 90° vertical wheel travel each. Up front, a McPherson strut suspension package offers 178mm. Since the McPherson system means the front wheel toes in and out of vertical a little as it moves through its stroke, it'd be good to see the more superior double-A arm system employed, which is on the Outlander 650 XT.
In truth, the only time you'd notice the difference is in regular competition or when riding sideways down a hill with lots of bumps – which you should not be doing on an ATV anyway. All the same, our test 500 XT allowed me to rip through some fairly rutted paddocks without sending me off-line or over the bars. And that's all I need in a farm ATV.
Power play
We didn't get to use the up-rated 1360kg (3000lb) Warn winch (fitted as standard to all XT models) during this test. However, I enjoyed listening to a farmer's story where an inaccessible dead cow was hauled out by a stationary Can-Am using only the winching power! Can-Am advertises this model as the most powerful in its class. It's not the only manufacturer to make this claim, so I let BRP New Zealand manager Richard Shaw explain where the company is coming from. "Every engine manufacturer must declare its output and emissions to the California Air Recourse Board and, when you look at these, we have the most power in the 500cc class." Shaw says. Several brands don't even provide power figures.
The Outlander 500 XT is powered by a cool Rotax 500cc V-twin engine that, to my experienced feel, actually delivers on its advertising by having at least as much power to burn as others I've tested in its category. And, listen up: considerably more than some Japanese ATVs in the 500 class! The four-valve SOHC motor produces 40.4hp thanks, in part, to a twin-point fuel injection system with large throttle bodies. The engine fair revs and will shoot you and the ATV off to the next gate in no time, so power is not an issue.
Talking torque
The next test is torque, or its ability to hold on to its revs when riding up a hill, or towing something. Our 'test' farm didn't have any hills but I recall the last time I rode an Outlander 500 XT two years ago, it surprisingly got me up the steepest of hills with no power drop at all. Our test Outlander 500 XT enjoyed the smoothest ratio changing of any ATV I have previously ridden! However, on the flip side, you have to stop the Can-Am to change from 2WD to All Wheel Drive. Best off all though is Can-Am's CVT transmission system which incorporates engine braking, which works amazingly well!
When reversing, your speed is restricted to slow for greater safety, however, if you need to go backwards faster simply depress the DPS button on the left handlebar.
Steering
Can-Am now have three (instead of two) power steering sensitivity options, changed by pressing the same DPS button for three seconds until you select the sensitivity you want. It's designed to provide more assistance at low speeds and less at higher speeds. You can get used to power steering pretty quickly and it's more than just a gimmick for riders who spend time in the saddle, and especially for the ladies.
At one point I thought I was having a hard time of it riding through a dried up swamp section with lots of mounds. That is, until I realised I'd left the power steering in minimum so, after changing it to medium, all of a sudden I could make bump-ridden turns without using extra handlebar effort. Shaw sums it up: "It has the most power in its class, it has a V-twin water-cooled engine, with disc brakes, and it's well priced for a 500cc ATV with all the features and benefits of the winch and mag wheels. The other point I should raise is that all Outlander models come with a factory backed three year warranty."
There's a host of other features and optional extras for the Outlander 500 XT, so the best thing you can do is take one for a ride and see what it offers for yourself and your own situation.
Pros: Top performance from a mid-sized ATV Great spread of power with good torque Excellent three-mode power steering Comes with a big winch Easiest ATV to change ratios Has an engine braking system DESS anti-theft system
Cons: Should have double-A arms on front suspension Prefer disc brakes on all wheels A few components between front wheels will get caked with mud
Keep up to date in the industry by signing up to Farm Trader's free newsletter or liking us on Facebook