Creature of comfort
---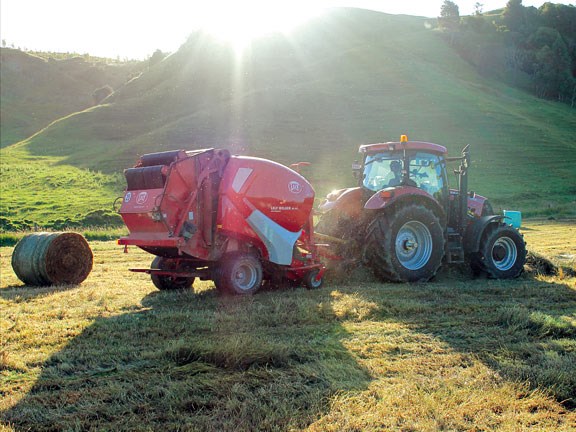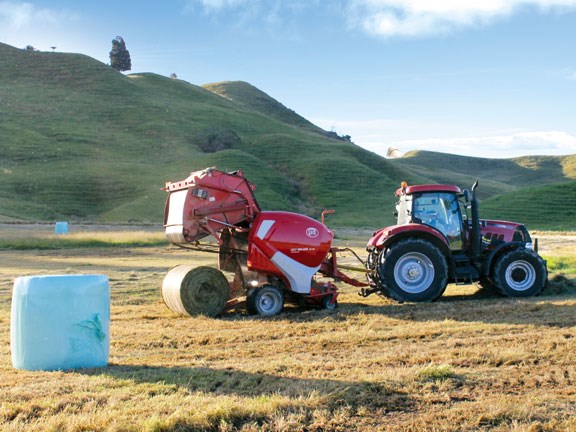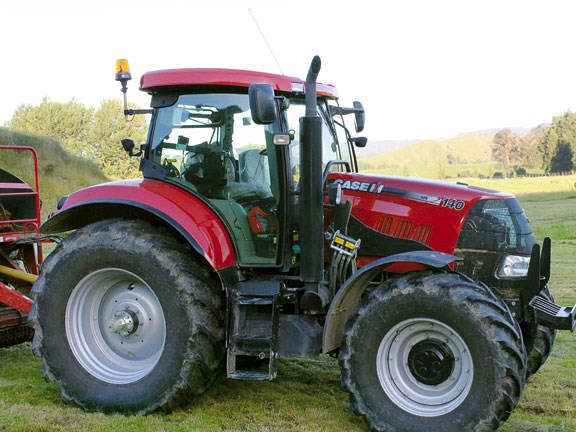 This month, Mark Fouhy travelled south to Aria in the King Country to catch up with Terry Alcock of Alcock Contracting. Terry recently purchased a Case IH Puma 140, which is proving to be a beast on the hill country.
For the past 15 years, Terry Alcock has been contracting in the Mokauiti Valley, with most of his work being on rough, hill country terrain. Some days he travels up to an hour and a half to fulfil his client's bale, hay, re-grassing and cropping requirements.
Although not a very big operation, during the season Terry and his team of three other drivers bale on average 10,000 round bales (2000 of these are hay), planting approximately 200ha of winter crop and 300ha of new grass.  
Up until this season, Terry has operated all blue tractors, originally starting out with 100hp machines, but now he runs a 135hp New Holland. Wanting a little extra power, Terry purchased a Puma 140, which is rated at 142hp and 104 kW at 2200 rpm, and it has so far performed very well.
Although Terry has had a great run out of his New Hollands, he decided to switch to a Case IH when his local dealer, Giltrap Agri Zone, Otorohanga, changed brands. Andrew Giltrap and his team have always offered excellent service and support over the years, and Terry didn't want to jeopardise this.
The new Case IH Puma, with its extra horsepower will need running in, which is why the Alcocks will run it with a Lely Welger baler this season and later on with the discs and power harrow, which will put the extra horsepower to good use.
The cab
I was very impressed with the Puma's cab overall. The Puma model I drove was the silver spec, which provides a few extra features including increased operator comfort levels and ease of operation. Comfort comes in the form of a deluxe air suspension seat and the machine is easy to operate thanks to the electro-hydraulic joystick, which is used to operate the rear service valves – on this machine, it is also used to manage the Sima 4 titanium loader when this is on the tractor.
The forward visibility was fantastic with a large glass surround and the usual dash instrumentation down the right-hand pillar. Even with the loader brackets for the Sigma loader attached, the vision was still great.
A lot of your basic information is on the right-hand pillar and is displayed on the AFS Pro 300 touch screen monitor, integrated into the armrest, showing the current machine status, and adjustment of major tractor functions.
Terry has found that some functions do not alter if you change them on the AFS monitor, including hydraulic flow rates for the loader, so this needs to be done on the Performance monitor on the A pillar instead.
My only complaint with the controls is that some of the more important buttons (four-wheel drive and diff lock), were quite small and close together so there is a risk of you hitting the wrong one when engaging/disengaging.
I didn't quite get used to the power shuttle either: you only need to tap it forward or back to change direction and it settles in the neutral position, so you are unsure as to whether it is in gear or not when looking at it.
On a more positive note, the noise levels in the cab were excellent, with Case IH measuring them at 69dB, almost 3dB less than some competitors and similar or better than some modern cars.
The Puma is also fitted with electric adjustable mirrors, which can be changed to suit different implements without getting out of the cab, and save "accidents" at gateways! Another addition is the Puma's cab suspension, which Terry says is great and he wouldn't buy a new machine without it – after a long 10 or 12-hour day, it is these refinements that are going to minimise operator fatigue time after time.
Power and performance
With the new common rail Tier III engine, engine noise and emissions are low. On the downside, fuel consumption appears to be slightly more than Terry's current 135hp machine, but the extra power makes up for all that, allowing him to go up hills in a higher gear and providing him the option to pull a second roller if need be.
All of the Puma range can be ordered with 50km transmission and front-axle suspension at an extra add-on cost, but these features are standard on the Gold models. Terry made a good point that on the narrow metal roads 40kph is quite fast enough, and because most agricultural implements lack suspension, an implement will get shaken to bits if the tractor goes any faster.
To really test the power of the Puma, we had the Lely Welger baler attached. Being a relative novice on a tractor baler set-up, I found slight adjustments for the pick-up and bale release on the baler were easily made with fingertip controls on the joystick. I think I got to grips with it fairly quickly, even if it was in one of the better paddocks for the day.
 
The constant engine speed buttons on the Puma are excellent for jobs like baling and power harrowing. Being a 140hp machine, I thought manoeuvrability may be an issue, but with a turning radius of 5.45m, it is quite similar to the 125 and 135 machines Terry already operates. Its size only really becomes an issue at small gateways and narrow crossings. Terry has standard Michelin tyres fitted to the Puma so it's compliant for road work without requiring extra signage or pilot vehicles while on the road. He has run duals in the past but found getting into paddocks on some farms a problem.

Verdict
In the short time Terry has had the new Puma he's clocked up 520 hours. Like a lot of contractors, the wet weather has put him a few days behind so there's still a few bales left for the season and he said he would get back to me when he had done over 5000 hours to see whether his opinion had changed!
In my opinion, the Case IH Puma 140 is very easy to operate, offering excellent cab visibility prompting safety and operator comfort is second to none.

Likes
Excellent cab visibility
Ease of operation
Handling – the ride quality is fantastic!
Suspended cab and air suspension seat are comfortable in the rough
Electric adjustable mirrors can be changed easily

Dislikes
Power shuttle was hard to get used to
Button layout – some were small and close together
Interference from the baler controller monitor, resulting in AM radio frequency only! However, there was USB ports for an iPod or similar.
Farm Trader says…
Comfort comes in the form of a deluxe air suspension seat and the machine is easy to operate thanks to the electro-hydraulic joystick
Keep up to date in the industry by signing up to Farm Trader's free newsletter or liking us on Facebook