Review: CFMoto X-Lander 500 Farmer ATV
---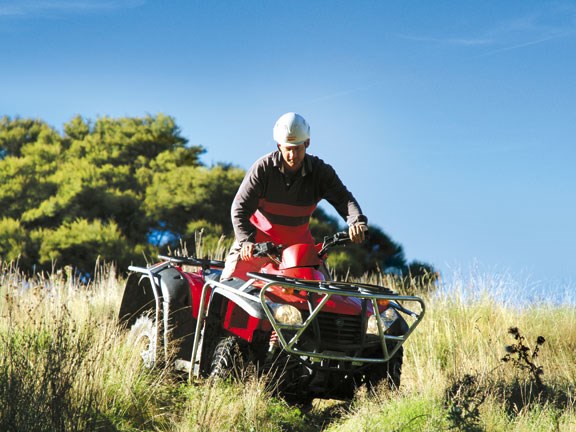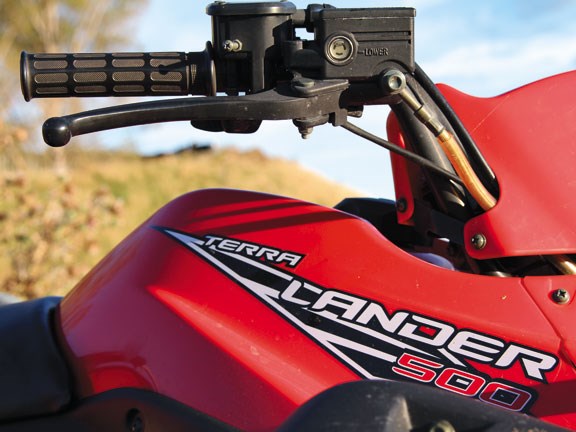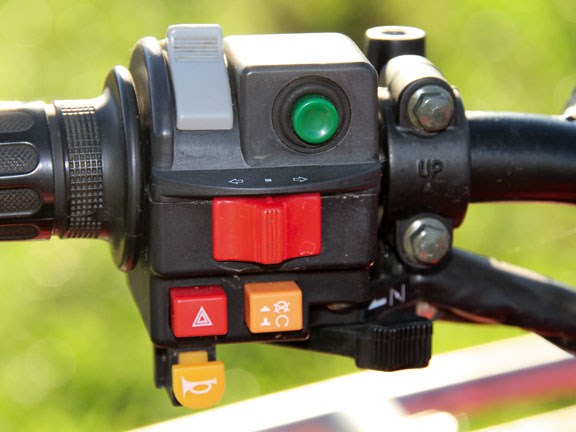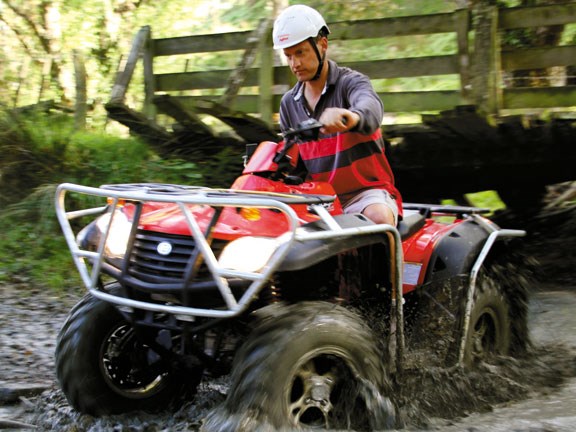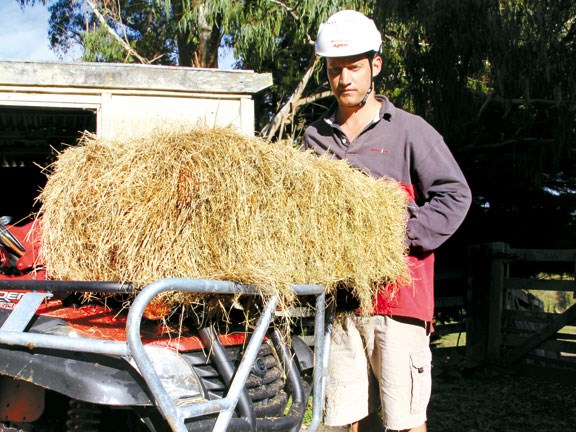 Big, red quad bikes have long been popular in rural provinces around New Zealand, most of them being attributed to one particular brand known for its reliability. But there's a new kid in town, and although the CF Moto X-Lander 500 could pass for a Honda from a distance, up close and personal it cuts its own unique profile.
The X-Lander 500 is a completely new model, with a wide range of changes from its predecessor, the CF 500. The power plant is a 493cc single-cylinder four-stroke engine offering 35hp through the lightweight chassis. Independent, adjustable suspension offers smooth or hard riding options through the independent double wishbones front and rear. The gearbox is a Continuous Variable Transmission (CVT), delivering power to the 12-inch factory-standard alloys through high, low and reverse. Electronic thumb-adjustable buttons allow selection between 2WD, 4WD and differential lock for those extreme situations.
One innovation that captured my attention was the park brake. This is a simple lever that pulls around to engage on the right handlebar, at the same time covering the thumb throttle. This means users can't touch the throttle when the park brake is engaged, a feature other manufacturers would do well to replicate.
The digital instrument panel offers simple information although proved harder to read in direct sunlight.
Through its paces
Some larger – and by larger I mean over 500cc – quad bikes I have tested have displayed alarming characteristics when put to the sword over hill country. They can have a tendency to lift when power is applied, raising the centre of gravity above that is safely controllable by a competent rider. This problem is further magnified when sidling around hills, and becomes dangerous. The X-Lander 500 has a different feel to it, possibly due to the short chassis and low centre of gravity. When ridden up a steep hill face the bike remained totally in control, delivering its power evenly without losing traction.
On the descent, I was half expecting to be riding the brakes hard to keep the CVT transmission in check. Although these types of transmission are proving more and more popular, one alarming aspect is some have a tendency to jump into neutral during descents leaving any sort of control to braking. The X-Lander 500 is different in that it rides like a manual transmission, with engine braking performing admirably even down a steep incline.
One aspect of the CVT transmission that was a little disappointing was moving from forward to reverse. This was a little slow and difficult to engage, with a certain amount of clunkiness. This could well be because the machine was new and not run in properly, and should become smoother after more hours.
It should be noted that even though this was tested on tough Rangitikei hills, it was towards the end of summer and riders should always be 100 percent confident in their ability to tackle terrain, otherwise a different route should always be opted for. It only takes a micro second for a bad decision to come back and bite you on the bum.
Weighty matters
The factory-standard carriers could have been a little bigger but the tested model came with aftermarket bull bars, which gave a bit of extra width. What was interesting was the fact that these bull bars were not at the same height as the carrier but lower down to protect the plastic fenders. Norwood Farm Machinery technician Michael Streeter explained that whereas this is what aftermarket bull bars are actually designed to do, many farmers believe they are just there to offer a wider platform to attach things to. Having the bars at a lower level did not stop two bales of hay being bungyed front and rear, and the bike barely noticed the extra load.
When it came time to tow, an aluminium farm trailer was loaded with 10 coils of fencing wire and three steel gates to simulate a day out fencing on the farm. The combined weight of the trailer and supplies was about 600kg and is probably as heavy as you want to get in hill country. The X-Lander 500 handled the extra load with ease, pulling well in low range with plenty of power in reserve. Handling was barely affected by the trailer and contents while driving uphill, and the engine braking works well during descents.
Bare essentials
Some models of quads are opting for creature comforts to lure ageing kiwi farmers, with luxuries like heated grips and power steering. If you are looking for these mod cons, the X-Lander 500 is not going to be for you. Steering is old-fashioned 'arm-strong', which does not mean heavy and hard to turn. There is more resistance when 4WD and diff lock are engaged, but the extra workout will save you having to go to the gym at the end of the day.
One noticeable highlight was the width of the seat. Compared to my other red quad – which is a 350cc and starts with H – this seat is wide and comfortable, welcoming my middle-aged spread with open arms.
Off the beaten track
Trying to test the true capabilities of the 4WD and diff lock in the middle of an Indian summer was not ideal, but I managed to find a mud pit in which to play. To enter the creek, I had to climb the quad over a log and drop over a lip at an unusual angle. The suspension was set to firm, but still handled the changes in angle easily.
Once in the creek, it was hammer down to power through the slops and up the other side. There was no hesitation from the engine under heavy acceleration and, once again, traction was constant and capable.
Breaking stereotypes
There's no mistaking the market for rural quad bikes is heating up, and new offerings are appearing out of China at breakneck speed. Early models were often discounted as 'Chinese junk', sometimes before even given the chance to prove themselves. It would be fair to say what is appearing in the market now has come a long way from those early beginnings. The credit that should be given to Chinese manufacturers is their ability to adapt rapidly and implement changes in design.
CF Moto is a good example of a company willing to invest in improving its products, with 20 percent of its 1000-strong Chinese staff allocated to research and design. As with many things in China, production is on a large scale. Located in Hangzhou, about 1.5 hours from Shanghai, the CF Moto factory is capable of churning out 800,000 liquid-cooled engines and 600,000 vehicles annually. Its range includes ATVs, scooters, motorcycles and side-by-sides ranging from 125cc to 800cc.
Although the company has been in production for over 20 years, it has only been in recent times that worldwide distribution partners have been established.
Bang for your buck.
There is little doubt that the X-Lander 500 will appeal to many farmers, and probably more when they see the price. You can load one onto the back of the ute for under 10 grand, and although some have targeted them as worthy second quads, there must surely be a good case for them being the primary bike on some farms.
The quad is backed by a one-year limited warranty and nationwide CB Norwood dealers, the New Zealand distributor for CF Moto. Based on this test of the X-Lander 500, other manufacturers had better be looking carefully over their shoulders if they don't want to be overtaken.
For more information, visit cfmoto.co.nz.
The good:
Plenty of power for farm applications
Good traction
Thumb controlled drive options
Park brake covers thumb throttle
Wide seat
Engine braking on descent
Simple CVT operation
Price
The bad:
No power steering (is this really bad?)
Small carriers
One-year limited warranty (others offer three years)
Some clunky gear changes
Keep up to date in the industry by signing up to Farm Trader's free newsletter or liking us on Facebook