MacDon M205 Windrower
---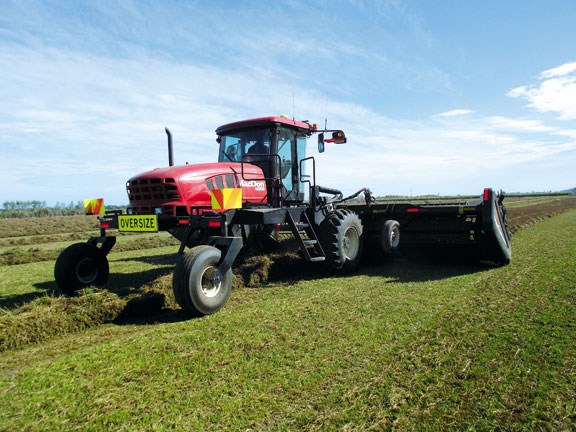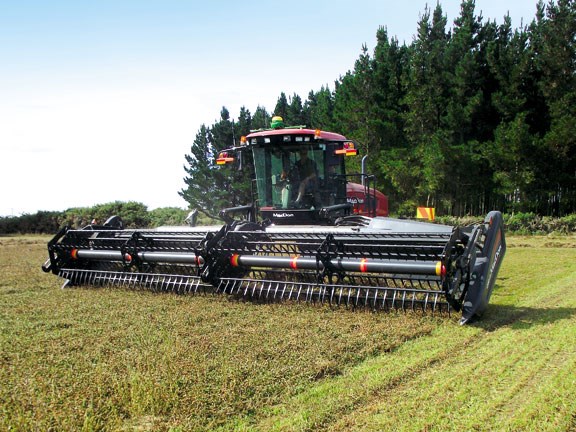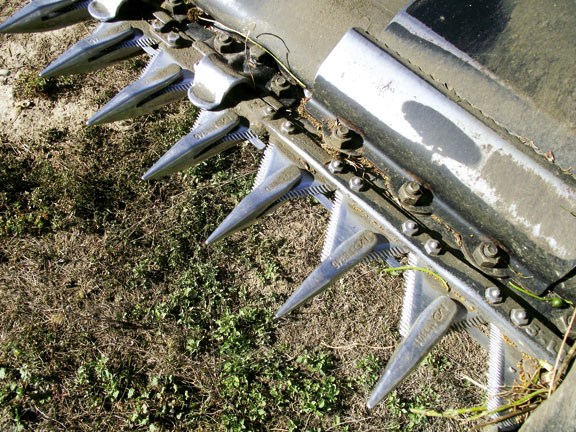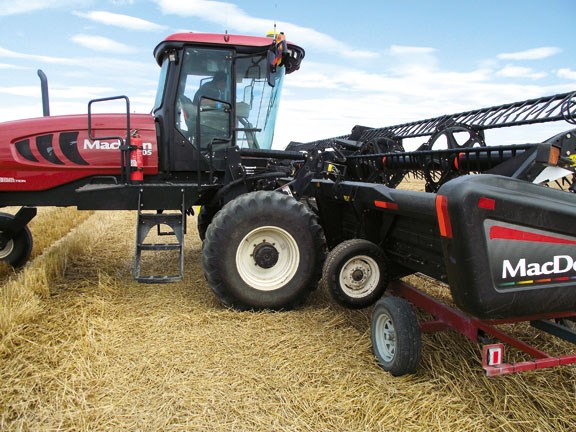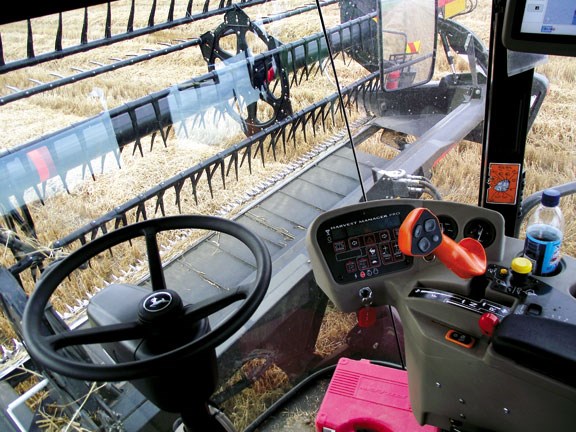 New Zealand's first MacDon M205 windrower was put to work this season by Mid Canterbury contractors Matt and Hilary Lovett, joining the Lovett's smaller M150. Ian Harwood went along to check it out.
It's not often I get over-excited about machinery, having got that out of my system years ago, but I'd have to admit that I was looking forward to seeing what the M205 and R80 front was capable of. With many nights throughout January spent on the 11pm-4am shift on a Hesston windrower, I was keen to try the latest and greatest from MacDon.
Windrowers are a specialist machine familiar to cropping farmers. For the unfamiliar out there, they are basically a hydrostatically-driven tractor unit on which a range of fronts are mounted to suit the crop being windrowed. The Lovett';s have four fronts for their windrowers: the 14" R80 disc, a 30" and two 15" draper fronts, which enable them to handle anything their clients require.
The Canadian-built windrower is the latest in a line that goes back over 40 years and is another good example of a family-owned company specialising in a relatively small product line, improving it with feedback from the end users.
After some of the best growing conditions Canterbury farmers have seen for quite some time, the 2012 harvest has turned into a nightmare for cropping farmers, as most of January and February were spent under easterly cloud, meaning "bumper" yields are only bumper when they are in the silo.
With the 2013 grass seed crops about to be sown, I sometimes wonder if farmers and contractors in other parts of New Zealand ever pause to think of the efforts that those in the cropping business have gone to, to enable them to be tipping a bag of seed into their drill so they can turn the resulting pasture into milk or meat. I'm sure few would really appreciate the careful management and capital outlay required over the 10 to12 months it takes to produce a seed crop, only to have the weather at harvest compromise the result. But I digress.
New MacDon importer
Claas Harvest Centre Canterbury (formally Agrifarm Ashburton) recently became the New Zealand importer for MacDon, although the brand was well established in the area by the previous importer. This means that existing MacDon owners can be assured of reliable parts and service from a dealer with many years' experience with harvest machinery.
M205 test
Everywhere you look on the MacDon M-series, you'll find great features and good ideas, which are obviously the result of MacDon's knowledge gained from many years building these machines and taking into account the feedback they receive from operators.
Cutting a grass seed crop in the Dorie area (near Rakaia) mid-February was my first opportunity to see the M205 and R80 disc front operating, but as it was at night I couldn't take any photos, so I caught up with Matt again early in March when he had the 30" D60 D draper front on, windrowing white clover and later some wheat straw.
The R80 front certainly performs well in grass seed, even though it is designed more for the likes of Lucerne, with the conditioner fitted in its country of origin. With the M205 pumping a whopping 270 litres per minute of oil at it, speed is its main benefit over a conventional sickle-type grass seed front as, like an ordinary disc mower, it will cut two to three times faster. And like a disc mower it divides the crop at each side, leaving a gap so the wheels don't run on the crop, but a conventional front will form a narrow row.
So the larger 16" R85 disc front is used extensively in the states for grass seed and has a special grass seed kit which can be fitted. The kit brings the cut swath into a narrow row like that of a conventional front. Checking along the sides of the cut row showed very little seed on the ground, certainly no more than would be expected from a mower or sickle front.
With a ground speed of 15-17kph, the 19ha paddock was a four-hour job. However, with a sickle front it would be about seven to eight hours with a change of knives, but the disc front only needed a quick touch with a grinder to keep them sharp.
The 30" D60 front is also worth a mention for its ability to put a row through the centre or to the left or right, by moving the draper belts. This can be done from the cab: one of the belts is slid to close the centre gap, which also changes the direction of travel, resulting in all material being transferred to the end of the platform, so 60" of crop can be rowed together.
Travel speed
Road speed is very important for a contractor, and at nearly 40kph, this machine has it covered. Unlike any other windrower I've come across, the M-series MacDon attains its road speed by going backwards. This is not as scary as it sounds, as the complete operator's station is designed to rotate 180 degrees and face the rear of the machine.
A weight block is attached in place at the front, allowing the front on its trailer and your ute to be towed, and off you go just like a normal tractor. It's a brilliant idea as it allows the driver to easily hold a straight line on the road, compared to a rear-steer set-up, which while possible is difficult.
The only disadvantage I can see is perhaps getting through tight gateways, as a trailer behind a rear-steer machine tends to track slightly better.
Servicing
Once again, some thinking has been done particularly around access to the radiator and coolers, which are well sealed against dust but still very accessible for blowing out.
A combination of a large-hinged bonnet that lifts on gas struts in two stages via a simple strap, and steps on both sides that pivot rearwards to each side of the engine, give excellent access to the machine for servicing.
Steps to the rear hydraulic components are exposed for servicing on either side of the cab.
Cab
As you would expect, the well-thought-out theme continues in the cab, with all the controls where they need to be. A central pivot supports the seat, steering wheel and armrest controls, allowing the complete operator's console to turn 180 degrees to face rearwards for road travel.
In common with machines of this type, the hydro lever controls forward/backwards and has front raise/lower and tilt buttons on it. Reel height and position, knife speed and draper position on the D60 front are all controlled from in the cab. A digital display shows engine revs, ground speed, area covered etc.
Visibility is excellent through the large curved windscreen and very little engine/hydraulic noise enters the cab unlike a lot of older windrowers.
Matt has fitted a John Deere GPS unit, complete with JD auto-steer unit, which operates on SF2. This means he uses the full width of the front and of course measures the area covered.
Leaving what I consider to be the best feature to last, the cab suspension on this model is long overdue on a windrower. Being light in the tail, windrowers can be quite bumpy to operate when crossing the cultivation, sprayer or pivot irrigator wheel marks, when cutting into the "norwest", so the smooth ride provided by the cab suspension will be welcomed by operators.
Engine
The M205 is powered by a 6.7-litre turbocharged Cummins engine, rated at 220hp, with a boost to 230hp and stacks of power.
Fuel economy is reasonable as the machine electronically restricts engine revs while maintaining full hydraulic power to the front in lighter conditions.
Windrow or disc-mow grass seed?
There are several schools of thought on the disc mower vs windrower in grass seed, and each has its good and bad points.
The conventional front forms a narrow, tight row and uses a reel and auger, or reel and draper belts, to achieve this, with the potential to knock seed out. When cut on the norwest, the row is fairly resistant to breezes or gusts as the rowed crop cannot be threshed about in the wind.
Fifteen feet into one is a big row in most irrigated crops and can be hard to dry in a wet season. However, on the plus side it doesn't grow-in as quickly as a mown crop. The mown crop is left relatively untouched, as it is cut and therefore dries faster, but it can grow-in quicker and is possibly more susceptible to wind.
The divider discs at each end of the mower bar are usually where seed is knocked out, but like the sickle front, a lot depends on how ripe the crop is and if a decent dew has settled on the ground.
The conventional front's sickle knife is slow when compared to the mower, and sections for it are more expensive and harder to change than mower knives.
Verdict
All in all, the M205 is a well-thought-out machine, with many great features. I would recommend it to any cropping farmer or contractor in the market for a windrower. Compared to others I've seen on the market, it is far superior when it comes to operator comfort, layout and design.
Matt is certainly very happy with the M205 and, apart from warranty servicing, there have been no problems with the machine this season.
Plus
Stacks of power
Road speed
Cab suspension
Accessibility for servicing
Minus May be a challenge getting through tight gateways
Keep up to date in the industry by signing up to Farm Trader's free newsletter or liking us on Facebook