Polaris Ranger 500 EFI
---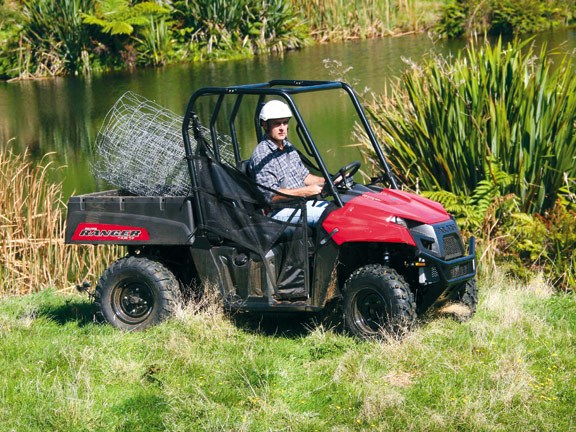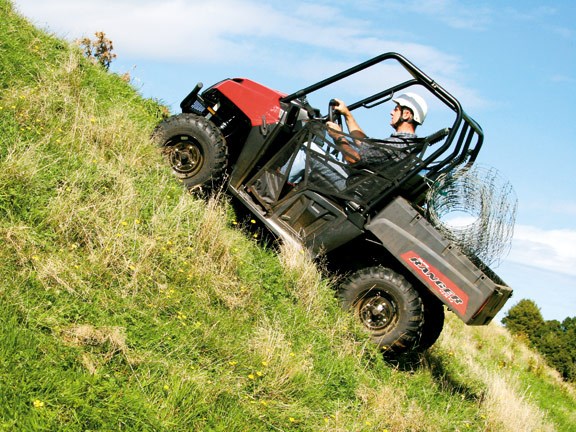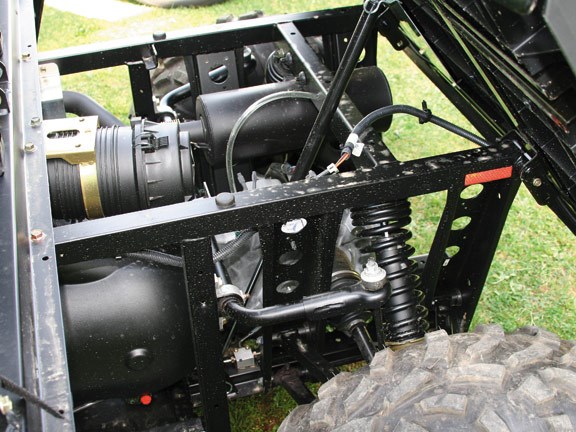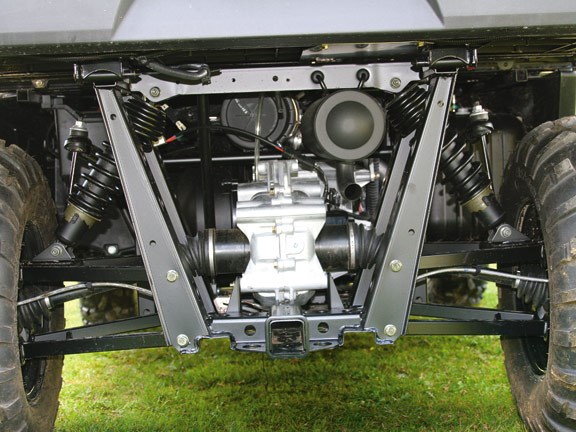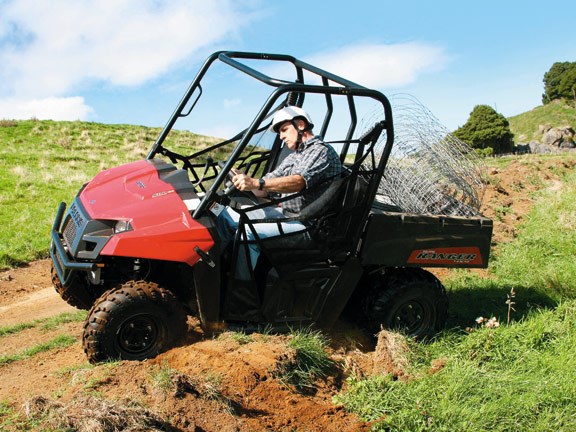 Few side-by-side (SxS) ride-on manufacturers have the luxury of offering farmers the choice of two or three seats. No such problem for Polaris in New Zealand – it recently added the two-seat Ranger 400 and Ranger 500 EFI to its already solid three-seat Ranger line-up.
The Polaris range includes the diesel Ranger, the two-seat electric Ranger EV, a six-wheeled Ranger, the six-seat Rangers and several versions of the Ranger 800 three-seater – most of which I have previously tested.
I've always enjoyed driving the three-seat Polaris ride-on utilities because they have a wide wheel track, so I wanted to know how a narrower mid-sized ride-on version with just two seats would perform.
Our Polaris Ranger 500 EFI test ride was courtesy of Bike Torque, Otorohanga, and we took it for a good work out on a hilly farm west of Te Kuiti.
Power
A good power-to-weight ratio is important to good performance in any motorised vehicle, and it's no different with the Ranger 500 EFI. I found it very spritely in its performance both in acceleration and speed. A good part of this is due to its super-crisp fuel injected four valve head engine.
Polaris was the first brand to introduce EFI on a ride-on utility in New Zealand, in 2006, and it has come a long way with the advancement in electronics over the past number of years. It now automatically adjusts for temperature and altitude changes for perfect starting.
Dig-deep under load
The single-cylinder Ranger 500 surprised me with its turn of speed and ability to climb some pretty steep grass inclines, with merit. Each time I expected the 498cc four-stroke power plant to drop off the power, but no, it held on well. So well in fact that I put my foot down just to see what happened, as most motors would bog down under such load. But each time the Ranger 500 "took off" up the hill to actually accelerate to the top – laughing at me the whole time, I think!
Hill starts
Making good hill starts put an interesting slant on my test Ranger 500, because I had to learn a new way to take off, from the gear slot called park. Or did I?
I had to have a few goes at the hill start because I couldn't get it to slide or roll backwards on the first couple of steep slopes. Even on wet grass and rocking the Ranger 500 it still wouldn't slide backwards. It surprised me a lot, but I'd still like to see a handbrake because, to make a successful hill start, I had to stamp on the brake with my left foot while crunching the under pressure gear lever out of park into low, while starting to give it throttle.
Not tricky, just more things to get exactly right for the average farmer. Keeping in mind this is a lower cost model, but the other Polaris models also have park and a handbrake.
Suspension
Having established the supplied Polaris Ranger 500 EFI was no slug, the next test was to feel what the suspension is like in the "real" world. Up front is a MacPherson Strut independent front suspension system with 203mm of travel, while the rear enjoys 229mm of long travel through an independent double-A arm rear suspension system. Even though narrower, this model Ranger still feels good around the hills, just not quite as stable as the bigger three-seat version.
The suspension actually feels like it has less travel, as it bounces around bumps a bit – during our test, with an approximate 160kg load of fencing wire and two people on board – so I suspect it may use the same springs as the heavier Ranger 800. The front suspension units are non-adjustable but the five-spring preload adjustable rear units were set on their softest position.
Transmission
The PVT variable-speed transmission is switchable on-the-fly for 2WD or AWD, meaning you don't have to make an annoying stop but simply change to 2WD or to AWD. Although with any other brand, you will need to stop to make a hi/low ratio change.
Polaris has a unique limited-slip diff-lock system, most noticeable when driven in muddy conditions. When you switch into AWD, drive only goes to the two rear wheels until you encounter slippery conditions, and that's when the AWD system automatically kicks in to drive you through the obstacle. Equally, Polaris has a third option called VersaTrac Turf Mode, which unlocks the diff to drive only the rear right hand wheel to reduce grass damage of ground such as a golf course. It works too!
Braking
When it comes to braking, there is plenty of power from the four independent disc brakes, mounted well inboard on each steel wheel to keep them away from damage. It was pleasing to find the usual high brake specification on the smaller Ranger by way of non-corroding braided stainless steel brake lines on all four wheels. Give me these any day for superior braking effort and feel, compared to most Japanese manufacturers lower-cost reinforced rubber brake lines.
Although it's hard to fault a vehicle that comes out of the factory with a good specification to start with, there are a couple of features I found the Ranger 500 EFI lacked.
For me, the most obvious is the lack of downhill engine braking, meaning every hill I went down I was riding the brake pedal. However, no trouble for this tester but many farmers just want to put their SxS utility or ATV in low ratio and let it take them down the hill – no fuss. More often than not, they're working at the same time, so the less input from the driver/rider, the better.
I'd really like to see every ride-on and ATV sold in New Zealand for farming purposes to have engine or transmission braking, as most of our farms include hills of one form or another.
The other item missing was a hand brake.
Bells and whistles
Although the dash is basic, the analogue speedo with digital inset includes a trip meter, clock, gear ratio, rev counter and a fuel gauge, plus a 12-volt DC power outlet.
On top of the standard spec Ranger 500 there's a ton of Polaris Lock 'n Ride options on offer and, after trying to retain clear vision at 80kph, I suggest you add a front windscreen to your shopping list.
Perhaps one of its strongest attractions is the still large 810 x 1070 x 290mm capacity rear tray, with manual tip capability and a fold-down rear door. Tipping is easy: unlatch the lever on the left side of the tray and the gas struts help keep the weight in some form of balance while manually lifting it. Handy as it'll take a maximum of 226kg load as well!
Cost
Polaris also offers a price-conscious 400 version for $14,995 incl GST, with some slightly smaller specifications and a 455cc carburetted engine, although the chassis, wheels and suspension remain the same.
Priced at $15,995 incl GST, the Polaris Ranger 500 SxS goes like a cut-cat, so if you're looking for a smaller sized two-seat ride-on then this may be the one for you.
I Like
Great power-to-weight ratio
Crisp power from a strong engine
Fantastic stopping power
Overall good design
I Didn't Like
No engine/transmission braking system
No hand brake
Keep up to date in the industry by signing up to Farm Trader's free newsletter or liking us on Facebook