Suzuki TF125 Mud Bug Test
---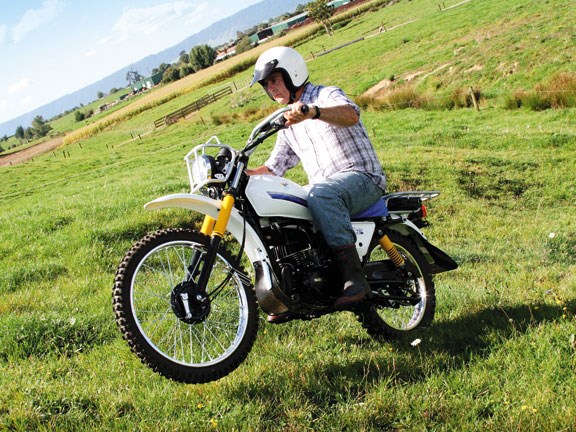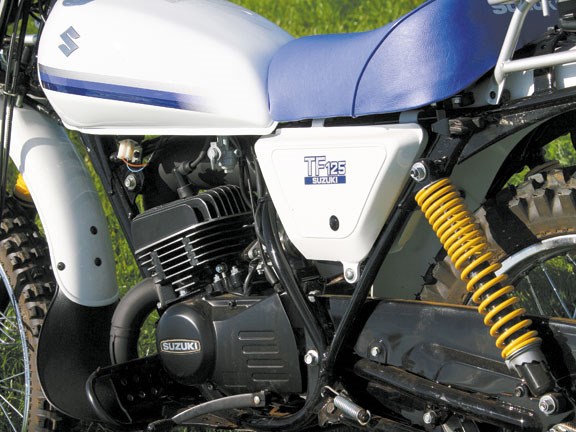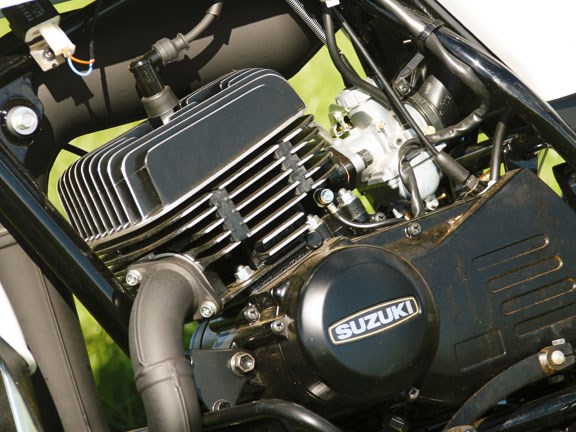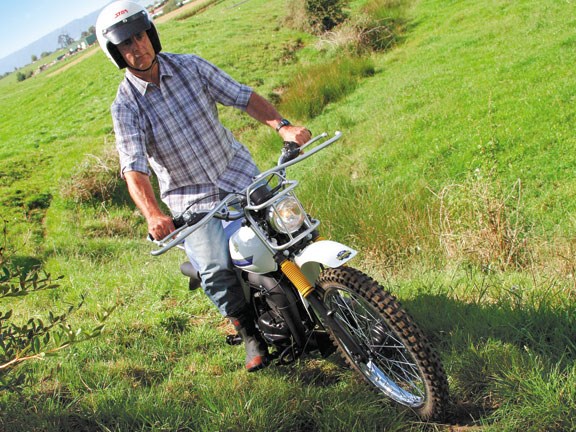 The Suzuki TF125 Mud Bug has a huge history on New Zealand farms! Developed in the early 1970s from the orange TF100, TF125 and the bigger TF185s, the Mud Bug quickly evolved into one of our most trusted steeds when it comes to getting about the farm.
The mighty Mud Bug has changed very little since. My last TF125 Mud Bug test was back in 2004, and this year I found everything on the bike exactly as it was eight years ago.=
I can't say enough about the bloke who first dreamed up having a side stand on each side of the bike because that idea alone changed the functionality of early trail bikes to become true farm machines.
Added on to that are the rugged front and rear racks, large oversized mud flaps and handlebar guards, and all of a sudden you're using a bike that you can put a box on for fencing kit and the like. You're then set to ride through bush to fix up that fence you never get around to because it was inaccessible.
Later came the locking mechanisms for the clutch and brake levers, engine skid plates, headlight guards and a few other smaller additions to round out a really good little workhorse – which is essentially what you get for your money when you buy a new Mud Bug model today.
Power plus
A huge advantage the Suzuki Mud Bug has over its nearest blue and red competitors is it's engine, which produces considerably more power than a 100cc two-stroke and a 125cc four-stroke. For some reason, power figures are not published these days so you'll have to take my word for it. As well as having greater acceleration, the Suzukis extra power translates into getting to the top of your average hill with much less struggle, which was certainly the case with the TF125 riding up a few gnarly sections and tracks on a Matamata dairy farm. The 123cc engine is strong enough to get you up the steepest of hills in first gear, which is very low so you're able to waddle along behind the herd along the race.
Feeding the motor is a basic 24mm Mikuni carburettor with a manual choke lever. Reed valves between the carb and the piston are not new. However, they provide extra low-down torque which often makes all the difference. Another benefit, if you have the time (and skills), is that the air-cooled two-stroke engine is really simple to work on – as all small two-stroke singles are.
Freedom and safety
Testing the TF125 I borrowed from Phil's Motorcycle Centre occurred on the same day as another ATV test I was doing, so it was a great comparison. I instantly found that one of the greatest advantages of a two-wheel farm bike over an ATV is the freedom you have and the reduced restrictions. Straight up a hill, down it, sideways – it didn't matter. Even if I attempted a ridiculous incline I always knew if it turned to custard half-way up I could turn the bars and ride it sideways along the slope. Worst case scenario I could just stop, get off while holding the front brake and clutch and walk it up while still in gear. Actually, the worst case is really stopping then stalling the bike, which is why I like the 200cc bikes with electric starter motors – if you've ever tried to kick-start a bike on a steep slippery hill while holding the clutch in and the front brake on, you'll know what I mean. But at least you can still do all these things with a two-wheeler and seldom safely on an ATV.
When you need to slow down, the front and rear drum brakes are simplicity themselves and do the job. In my thinking, the Mud Bug doesn't need disc brakes due to its light 113kg weight.
Dimensions
The TF125 is slightly larger than an AG100, being 60mm longer with an extra 20mm between the wheels for a 1335mm wheelbase. In the paddock and on the slopes, you'll find the Suzuki Mud Bug slightly less nimble to put the wheels exactly where you wish. However, to counter that slight difference (that most people would never notice), the TF125 is more stable in a straight line, such as between gates.
To that end, the front wheel uses a large diameter 2.75" x 21" knobby tyre, while the rear utilises a wide 4.1" x 18" diameter knobby to help prevent getting stuck in the mud. Having a 21" front wheel makes all the difference compared to its competition's 19", as the larger diameter rolls over the ruts easier to keep the front end more stable on the ground, while retaining excellent steering characteristics.
While not the lowest in its class, the 835mm seat height remains low enough for most smaller folk to be able to ride and enjoy the TF125. And being two-stroke, the slightest kick on the kick-starter should fire it up straight away.
Verdict
Buying new machinery is all about getting value for money. Farmers always have more important jobs ahead of them than fixing a broken-down bike, so they need reliability, longevity and to be capable of doing the job. As a small farm bike on less hilly properties, the Mud Bug does this well.
Supplied by Phil's Motorcycle Centre, Matamata, the Suzuki TF125 Mud Bug currently sells for $3890 including GST. If your staff or young family need a small bike, it offers more power, better stability and is already well proven in New Zealand.
Positives
Much more power than competitors
21" diameter front wheel takes the bumps better
Wide and thick seat for all-day riding
An easy bike to ride
Negatives:
For the latest reviews, subscribe to our Farm Trader magazine here.
Keep up to date in the industry by signing up to Farm Trader's free newsletter or liking us on Facebook