Kioti DX100 Tractor
---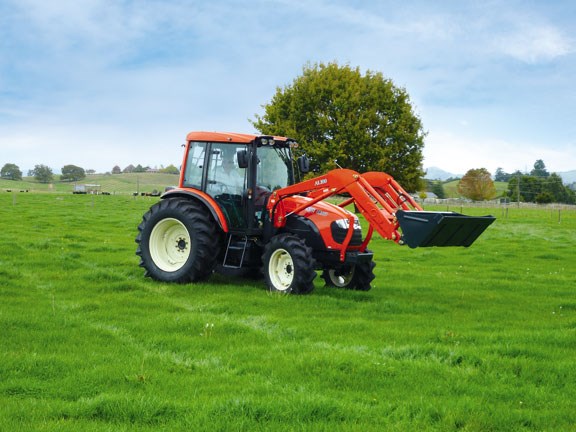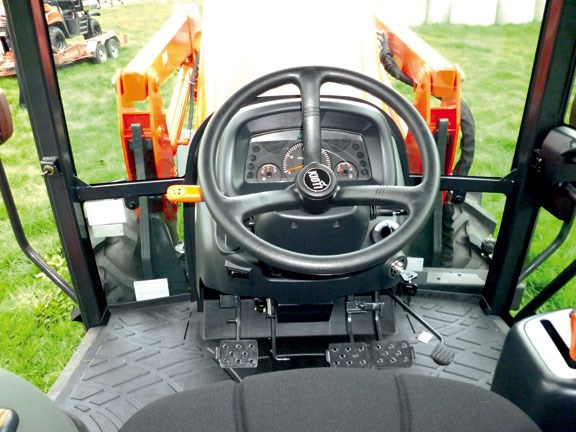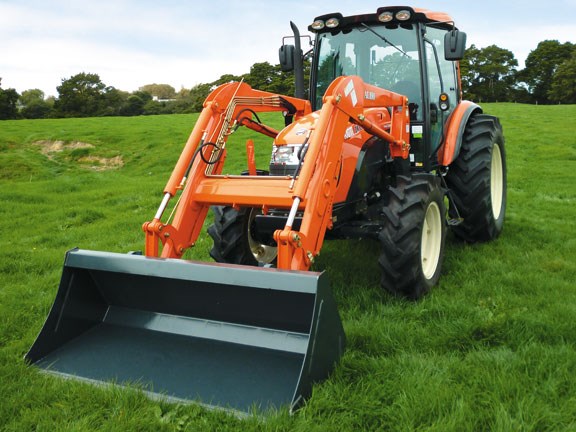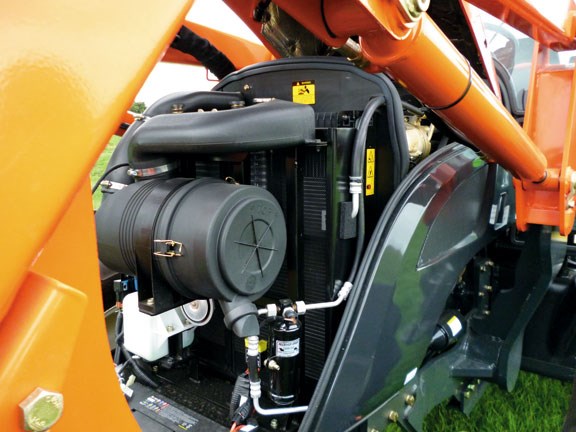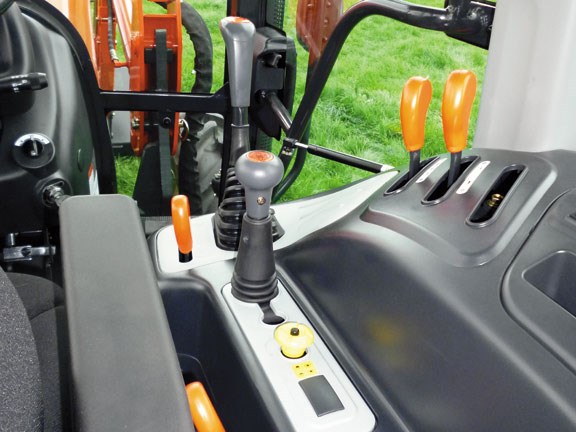 Although apprehensive prior to testing the Kioti DX100 tractor, Brent Lilley came away not only surprised by this tractor's features but also going so far as to recommend Kioti as a great option for kiwi farmers looking for a great bargain
I'm the first to admit that when the offer came my way to test a Kioti DX100 tractor, I wasn't overly enthusiastic about the idea. Without even giving it a chance, I had dismissed these South Korean tractors as no good. But after a bit of indecision and a little persuasion, I thought I should probably have a look. And who knows, it may even surprise me.
So on a fairly dull autumn day that reminded me of what little summer we have had, I headed over to Power Farming in Morrinsville in the Waikato to meet up with Brett Maber, who had organised a farm just out of town for me to give the Kioti a test run.
Cab and layout
The cab is well laid out, with the air-conditioning unit and controls in the roof and loads of vents spread out around the cab. I'm told the air-conditioning and heating are exceptionally efficient.
A radio with a CD player is standard and mounted in the roof panel. There is good visibility all round from the driver's seat and the dash has all the required lights, displays and gauges, except for a speedometer which seems like an oversight by Kioti. The forward-reverse shuttle is found on the left of the steering wheel column, which the angle is adjustable but the height isn't.
Most of the controls are laid out on the console to the right-hand side of the seat, which gives good control and has the gear shift lever, the loader joystick, hand throttle, three point linkage and hydraulic valves controls.
There is a PTO engagement switch and also an electronic push button four wheel drive switch, which also engages when braking to give four-wheel braking and a diff lock for the rear wheels.
The only thing I really didn't like about the cab was that all the controls are on the right except for the gear range lever, which is on the left for some reason. It would be nice to see this on the console near the other gear lever.
Now the important part: I can confirm that on the left of the seat there is a removable cooler/warmer lunch storage box, although I'm told any warranty claims on these will be scrutinised to make sure that it hasn't just found its way into another tractor or your ute.
Engine
When it came to the engine I got a pleasant surprise: Kioti uses Perkins engines to power all their tractors over 60hp. Perkins engines have a great reputation and have proven themselves in other makes of tractors in New Zealand and it's great to see it used on a tractor in this price range.
On the DX100 you get the 1104C-44t Perkins engine, which is a four-cylinder 4.4-litre turbo engine, which is liquid cooled and produces 99hp, with 85hp available at the power shaft.
I can't really say too much more about the power of the engine as I only had a flat paddock, a small hill and no implements to really test it with, but my previous experience with Perkins engines tells me they have loads of grunt and are very reliable, with low running costs and simple maintenance. As I mentioned, I was very surprised and impressed to see Kioti using Perkins engines.
Transmission
The transmission in the Kioti uses four ranges, Hi, Med, Lo and a Creeper, with four gears in each range to give a 16 x 16-speed gear box, with a Power Shuttle for forward and reverse. This gives a good range of gears up to a top speed of 38kph. The clutch and the forward-reverse power shuttle are electronically computer-controlled, and because of this, Kioti has included quite an interesting feature where the transmission engagement can be adjusted with 11 settings each for the clutch, forward and reverse.
When the forward engagement is set to minimum, the take-off using the forward-reverse shuttle is very slow and smooth. When increased to the maximum setting, it becomes sharp and quick. Because the clutch, forward and reverse can be adjusted individually and easily using a switch, it can be set up to suit the driver and the job it is being used for.
Initially, I thought that this might be a bit of a gimmick, but after playing around with the settings a little, I could see benefits, especially on a loader tractor where the forward-reverse and clutch are being used a lot. This also has the potential to save wear on the clutch when set up correctly.
PTO and hydraulics
The PTO has 540 and 1000rpm selectable in the cab and, interestingly, also comes with a ground speed setting as well - an idea that I thought manufacturers had given up on, but maybe someone out there has a use for it.
The PTO uses an electronic engagement button in the cab but also has a manual or auto setting. When the PTO is running and set in auto, it will automatically turn itself off if the three-point linkage arms are lifted above a certain point. It then comes back on when the linkage is lowered again. This is essentially a very simple, yet effective headland management system to prevent damage when lifting machinery like power harrows out of the ground on the headlands. Again, this is something I was surprised but pleased to see included on the tractor.
The hydraulic pump has a maximum flow rate of 83 litres per minute, which is a little lower than other tractors of this size. Two rear remote hydraulic valves are standard, with a third as an option. It was disappointing to see only one of these was lockable and there was no float.
Three-point linkage and loader
The three-point linkage uses quick hooks on the arms and the top link, which all fit category two balls. The linkage and adjustable sway bars are solid, well-built and are rated to lift over 5000kg.
The loader that is supplied with the tractor looks reasonably well built, using the euro-hitch system, and comes with a two-metre bucket. A third service is offered as an optional extra but there is no self-levelling or soft ride.
The loader is controlled with a well-placed joystick that is built into the right-hand console of the cab.
Verdict
I can say that I came away from my test with the Kioti quite surprised. You get a lot more value than I first thought, including features like the automatic PTO and the adjustable transmission engagement - both impressive features. The proven and reliable Perkins engines that Kioti are using add to the brand's credibility.
There is wide range of tractors available at the 100hp size and it's hard to compare them all. Other makes may offer more features and a long and proven history, but they also carry a price tag that can be over the $200,000 mark - quite a bit higher than the Kioti. So if you are in the market for a new tractor or a good second-hand one, but on a fairly tight budget, then I would have to say go and have a look at a Kioti. It's definitely worth a look and you may come away as surprised and impressed as I was.
Positives
Reliable 99hp Perkins engine
Adjustable transmission engagement
Auto PTO that will turn on/off in relation to the three-point linkage
Price
Negatives
Location of the range gear lever
No speedometer on the dash
Only one locking hydraulic valve and no float position
For the latest reviews, subscribe to our Farm Trader magazine here.
Keep up to date in the industry by signing up to Farm Trader's free newsletter or liking us on Facebook