Review: Can-Am Commander 1000XT SxS
---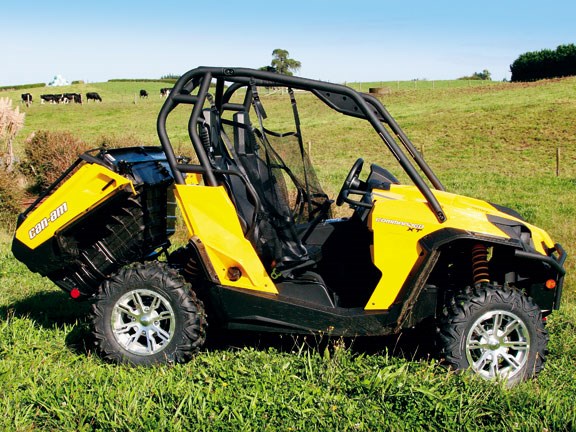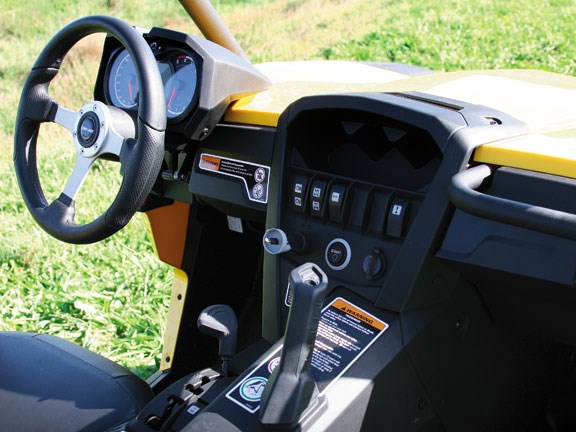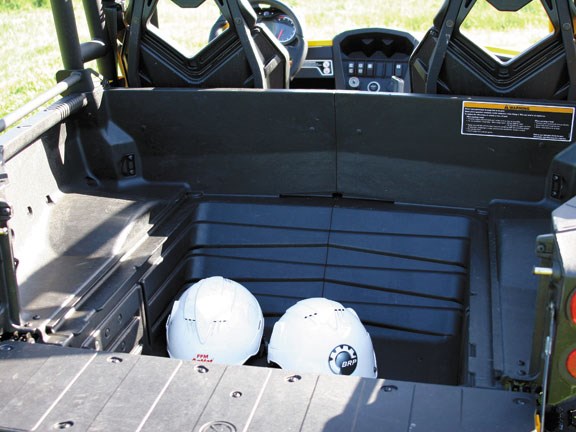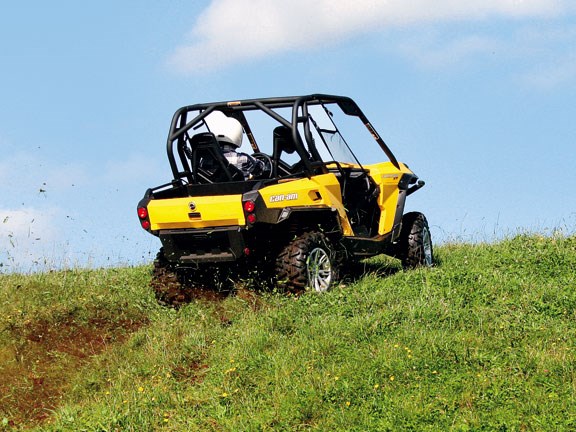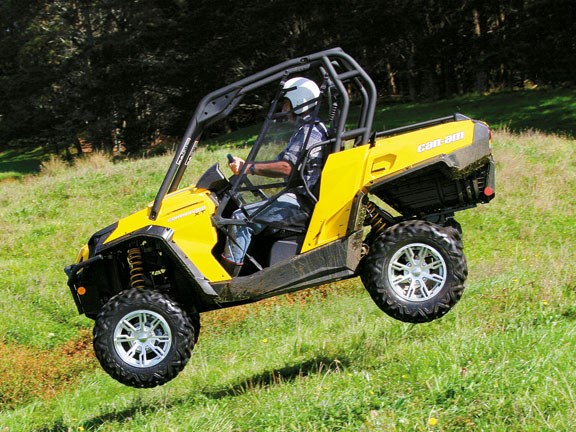 Terry Stevenson had an action-packed day testing Can-Am's Commander 1000XT side by side. This incredibly smooth riding, off-road racing machine, is equally at home on the farm carrying out day-to-day chores.
Can-Am makes one of the most thrilling vehicles you'll ever drive on your farm.
Parent company Bombardier Recreational Products (BRP) also produces Sea-Doo personal watercraft and boats, Evinrude and Johnson outboard engines, Ski-Doo snowmobiles, Rotax engines, Can-Am Spyder three-wheel roadsters, plus the Can-Am range of ATVs.
Only just recently, Canada-based BRP has introduced the 4WD Can-Am Commander 1000XT Side by Side (SxS) to the New Zealand scene.
Surprisingly, BRP New Zealand manager Richard Shaw says most of its Commander sales have gone to farmers. With power to burn, it'll satisfy anyone's appetite for full-on action as well as being a practical utility farm vehicle.
While the Can-Am Commander can be a placid workhorse around your farm, when the work's over, it will get you from gate A to gate B faster than anything you've ever driven on your property yet still carry your chainsaw and fencing gear. 
Engine
Driving the Commander is a powerful Rotax four-valve V-twin liquid-cooled powerplant, with a high 8000rpm redline.
Rotax engines have been successfully used in many competition race bikes over the past four decades and enjoy a huge reputation for reliability with high power output. Bombardier purchased Austrian engine builder Lohner-Rotax in 1970, and today provides powerplants for many of its models across all divisions, as well as powering motorcycles for several other manufacturers.
Stability and handling
A full fly-by-wire throttle system compensates for driver tendencies to jiggle the throttle as you drive over bumps. Thanks to advanced electronics it really does make for a much smoother and consistent drive.
Shaw says: ";The computer senses your foot is going up and down rapidly while going over a heap of bumps so it won't alter the rpm, allowing you to maintain a consistent rpm and speed."
The 63kW power output is sensibly controlled by a toggle switch, to reduce power from the 1000cc fuel injected engine. Drive it hard and it'll still give you a thrill, but the key is it knocks the edge off to provide a power damper for those 'regular' days. When it comes to playtime, just flick the switch and be ready for action.
I quickly discovered the best way to control the Can-Am Commander 1000XT was to use left foot braking, just like a kart. When going full-on I found the delay involved in conventional right-foot braking makes it too slow to keep the Commander stable - and be ready to slow or stop at a moment's notice.
Going hard-out, you'll find the Commander pretty easy to handle, and I don't subscribe to the thought that they need power steering. It has a wide wheel track and really long motocross-like travel suspension units. With 254mm of travel front and back, the 1000XT has an incredible ability to soak up every bump in its path, which allowed me to accelerate longer and keep the vehicle much more stable. This is a significant benefit over 'regular' slow side by sides, even if I did manage to bottom the suspension out while jumping the 585kg Commander.
At the rear is an independent torsion swing-arm system with five-way spring preload adjustment. The front suspension has an industry-leading double A-arm system, also with spring preload adjustment. Both provide a handy 279mm of ground clearance.
Stopping is more important than acceleration, and none of my hard stops highlighted there's only one rear disc brake, on the right rear wheel - although I'd prefer to see discs all round for such a quick vehicle. 
Safety & security
Safety is key and the Can-Am Commander comes with a sturdy ROPS cage if things get out of hand. It also comes with two keys; the normal item and a worker key, which restricts the speed. Also, if the driver moves off without the netting clipped in, the seat sensor restricts the Commander to 15km/h. Then, if you don't put your seat belt on, you'll be restricted to 20km/h with reduced output power!
It's also game over for Can-Am thieves because, as well as the See-Doo and the Outlander ATV range, the Commander includes the ingenious anti-theft DESS key system. Thieves may steal the machine but they'll never be able to hotwire or start it, as the key includes a pre-programmed electronic chip, which has to match that same machine. The only way to get it started is to have someone go to a dealer and get a new key. Owner details will be required and your average thief will not get the codes. 
Carriage
On the practical side, the tipper cargo tray is large enough to carry most items you'd want to take fencing, tree felling, or hunting! There's also storage in the cockpit so you can take your essentials with you. The Commander carries two people comfortably in ergonomic seats with plenty of legroom. The adjustable sports car-like seats slide forward and back to suit the height of the driver. The Commander will also tow heavy loads up to 680kg.
Dash
The digital dash includes as much as you'd need. The analogue speedo and rev counter includes a digital centre with two tripmeters, an hour meter, total hours, clock and total kilometers.
Nearby is a 2WD-AWD switch, a Sport Mode switch, and the winch activation switch. Can-Am offers a pile of options available for the Commander, including a sensible front windscreen and a roof. 
Warranty and Price
Shaw says Can-Am is the only manufacturer offering a three-year unlimited kilometre warranty: "The global side-by-side market is growing faster than the ATV market. The Commander provides the element of a utility vehicle, and also as a recreational vehicle. We think it's a good blend of recreational and farm vehicle."
The Commander SxS is all about a high-performance experience coupled with ride comfort, which is exactly what you'll get with the $23,548 (plus GST) 1000XT. Other versions of the Commander start with the $19,274 800 STD, going up to the $28,185 Commander 1000 LTD.
Verdict
If you're looking for a side by side with that something extra and you don't mind the odd bit of action, then you'd better drive a Commander for yourself. You might be in for a surprise!
Long story short
In 1937, Joseph-Armand Bombardier patented his tracked vehicle for travelling on snow. Within five years, Bombardier opened its Canadian doors producing the B7 snow mobile, in Quebec. By 1959, Joseph-Armand Bombardier had followed his boyhood dreams to design and build the Ski-Doo, the world's first mass-produced snow mobile, creating a new snow sport!
Bombardier kicked off Sea-Doo ride-on watercraft in 1968, to begin one of the world's most popular recreational sports.
In 1972, Bombardier created the Can-Am company and began production of a range of motorcycles, including highly successful motocross bikes.
The Canadian business entered the ATV market in 1998 with its first model, called the Traxster, winning acclaim in the US. Evinrude and Johnson outboard engine assets from the bankrupt OMC Company were purchased in 2001, the same year the five-millionth BRP owned Rotax engine rolled off the Austrian assembly line.
A year later, BRP became the first ATV manufacturer to offer a two-person ATV, with its Traxter MAX ATV. During 2002, Bombardier Recreational Products became officially known as BRP.
2006 was the year the Can-Am brand was reborn after rebranding its Bombardier ATV line-up.
In the past decade BRP has added Can-am Spyder three wheeled road-going vehicles to the range, with more than 300 units already sold in NZ. These unusual vehicles are now a common sight on NZ roads, having two wheels at the front and one at the rear, with high-tech features including traction control and a vehicle stability system.
For the latest reviews, subscribe to our Farm Trader magazine here.
Keep up to date in the industry by signing up to Farm Trader's free newsletter or liking us on Facebook