Suzuki Kingquad LT-F400FSI ATV
---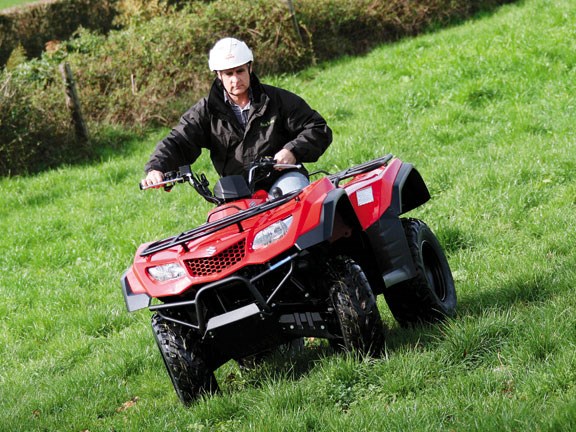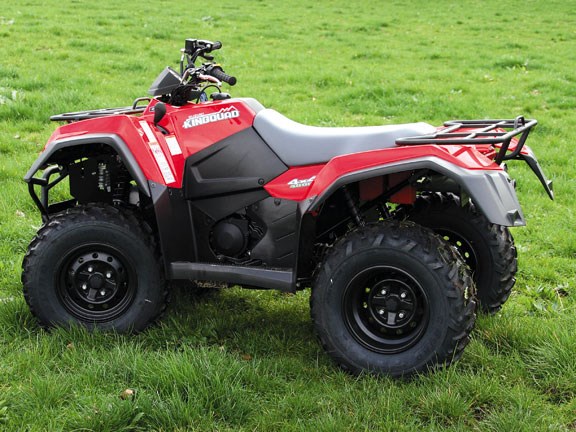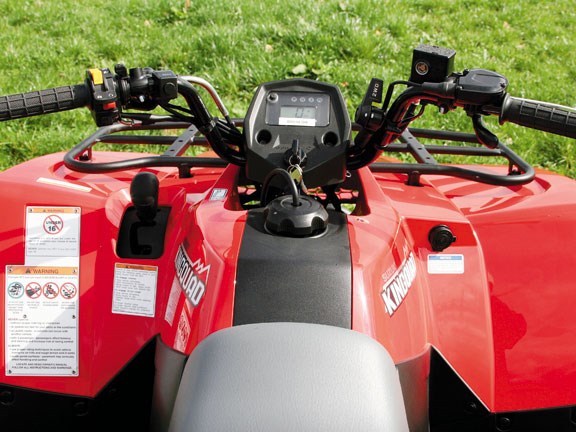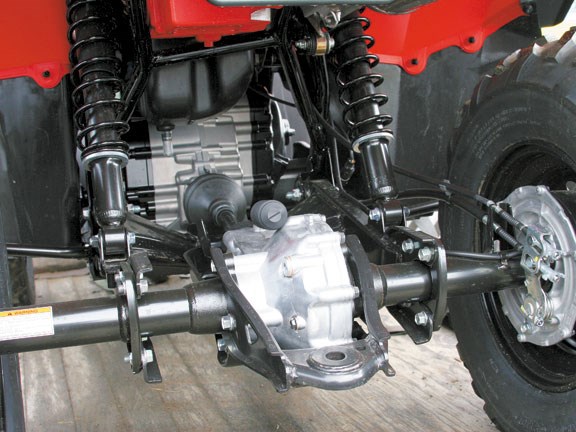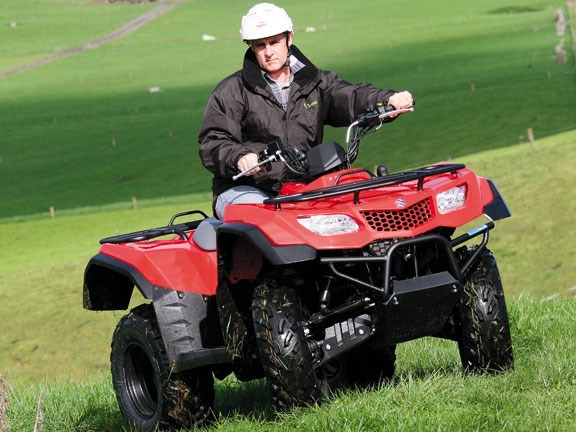 When it comes to buying a small ATV, farmers generally want a low cost, reliable 4WD workhorse. Suzuki successfully meets these requirements, with two models in the 400cc range. Terry Stevenson went to see how the LT-F400FSi manual version faired in the paddock.
The KingQuad LT-F400FSi may not have all the bells and whistles you'd expect to find on many fancy new ATVs, but you're likely to be surprised by what is on offer. The LT-F400FSi comes at a competitive $12,800 (including GST) or $12,995 for the automatic (LT-A400F) if it's more to your liking.
Phil Martin, manager of Phil's Motorcycle Centre, says because there are only a few dollars difference between the manual and the automatic models, the price has very little influence on buyers' decisions. What may be surprising to some of you is that the manual model is actually the most popular seller.
"Suzuki has been around for a while now and has a good following. It's one of the two biggest sized brands and the manual 400 has a lot of features for the money. It has a high/low transmission so it's good for towing. They turn well and they're good value - you get a lot of bike for your money," says Martin.
The test
The manual LT-F400FSi has an excellent steering lock and is probably the best of any ATV I've tested over the past decade. It didn't make any difference to its turning circle whether it was in 2WD or 4WD - not bad for a machine with a 1270mm wheelbase.
Under the bonnet is a 376cc single-cylinder air-cooled power plant, which I reckon makes at least the same if not more power than a few other quads I've ridden of similar capacity. What you have to remember is the same point Martin makes: "They have enough power to tow a small trailer but I tell farmers to buy a 500 or bigger if they expect to tow larger trailers."
I'm sure most of us have witnessed near impossible loads being towed by a small ATV. These loads often weigh several times more than the ATV and rider combined - a load that should behind a tractor.
While many ATVs of this size have a fairly similar specification level, this test was all about the manual gearbox. With most mainstream manufacturers, except for Suzuki and Honda, building only automatics, it's been some years since I've tested a manual gear-changing quad. Some will argue that a manual transmission is better than an automatic on an ATV and I'd say they have a point. I'll also go on record saying that automatic transmission reliability has increased significantly over the past decade, which is why Yamaha and Kawasaki have fully shut the gate on manuals.
True engine braking is probably the Suzuki manual's greatest asset (remembering that some auto engine/transmission braking systems don't work very well). A slightly lower purchase price might have something to throw into the equation, too.
Starting the more economical fuel-injected engine is easy after turning the key, although I thought it strange in this day and electronic age that a fuel-injected engine would have a cold-start lever, but it does.
There are a few differences you'll need to know (which I had forgotten), including when you take off! Before getting underway, you need to select either 2WD or 4WD on the right handlebar-mounted manual lever. Then engage either high, low or reverse on the big lever to the left of the steering system. Select neutral, which is at the bottom of the five ratios, snick the lever up into first and away you go. I even managed to make entirely successful dead engine in-gear hill starts by holding the brake levers on before moving off.
There is no clutch on the manual KingQuad so to change gears, all you have to do is move the gear lever up or down to take it through the ratios. In effect, this brings it closer to an automatic ATV experience, with the added benefit that you can choose the right gear at the right time for whatever job the 286kg LT-F400FSi is doing - just the same as you do on your tractor.
Verdict
Overall, the manual version is a great machine, best suited to those with flat farms who don't require a heavy (for an ATV) towing capability, small farm owners or for those after a second quad or something for the farmhand to use. It's tight turning circle is a huge plus for manoeuvring through gateways and rounding up stock, plus you have full control of the gears and can select exactly what you want - perfect when heading up hills.
If the KingQuad LT-F400FSi 'manual' is Phil's Motorcycle Centre's biggest farm ATV seller, it must be more than just good value for money.
For the latest reviews, subscribe to our Farm Trader magazine here .
Keep up to date in the industry by signing up to Farm Trader's free newsletter or liking us on Facebook