Review: Taege Seed Drills
---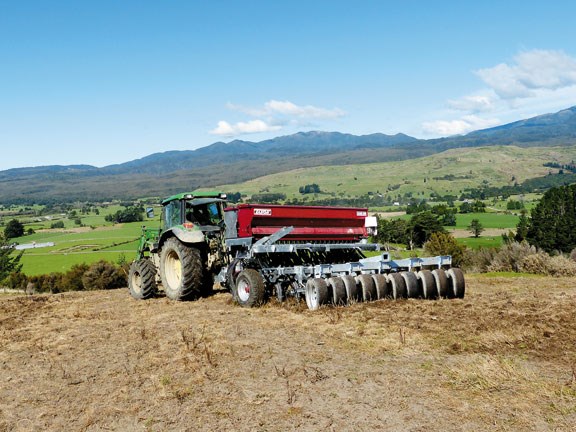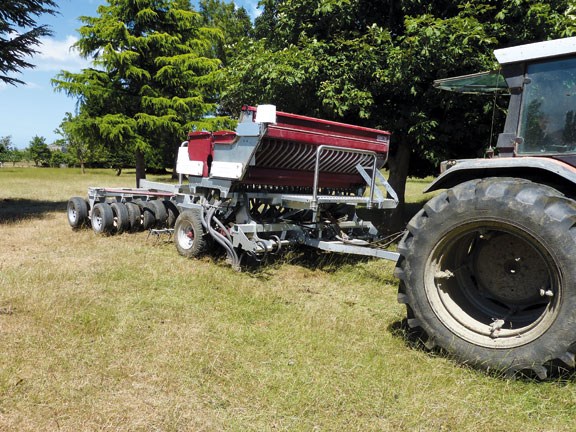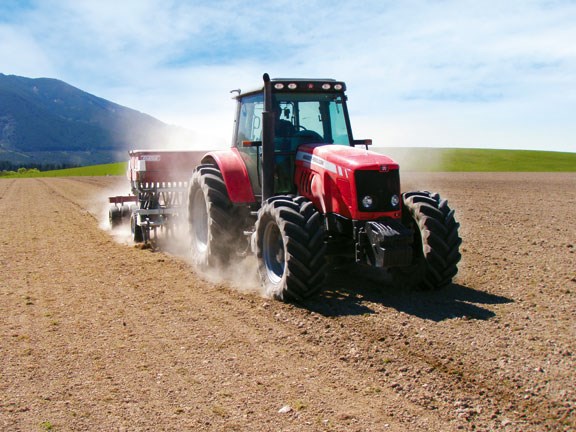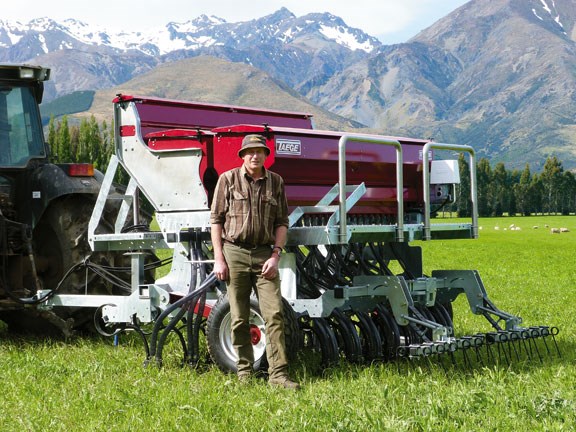 With spring just around the corner, calving and lambing done and the grass starting to grow, it's time to take your seed drill out of the shed and dust it off for another season of preparing pasture to increase your profits.
In this article, Taege revisits some of its customers for updated opinions on their seed drills, as well as a recap on those all-important elements to consider when purchasing new or used farming equipment. According to the team at Taege, the three most important factors to consider are results, results, results.
Taege Engineering uses the philosophy of you receiving the best results possible and then builds a machine that provides those results. In a nutshell, the team says, "the better the results, the bigger your profit".
Now let's look at new developments over the last few months.
Sponge protectors
Whoever says rodents and birds enjoy eating seed off Taege drill sponges is right. However, Taege has sorted this issue by providing sponge protectors. These totally do away with the hassles that any vermin may cause.
This solution also silences those critics who see it as a problem to take 20 seconds to remove the complete sponge bars, as this is no longer required. The sponge protectors simply click into place within seconds (as long as you have a slide-away collector tray system, which can be retrofitted) and the sponges are protected from rodents, etc. No need to empty the bin at the end of the day, which can be a hassle at times.
Increasing your seeding options
Another recent addition is the seed broadcast system which is proving very popular and opens up a whole new way of seeding: operators now have the option of putting product down the spout through the front box and broadcasting from the back box. As an example, it is a known fact that clover seed doesn't perform well if it is buried too deep, yet the majority of the time it is mixed with the grass seed for the sake of convenience.
However, Taege believes that results far outweigh convenience every time, so with a broadcasting system fitted, you can drill grass seed from the front box and broadcast the clover from the back box onto the tilth that the tips have made, or the cultivated surface - whichever is the case. The harrows then cover the clover seed and it can be rolled if you are using a roller. This system can also be used for applying slug bait, etc, if you don't have the third hopper option fitted.
Third hopper options
There are now two third hopper options available: a small seed box can be fitted either to the front or rear of your machine. The front-mounted system drops the product down the front spout, as in the case required with grass grub baits. The rear-mounted system drops the product either in front of the harrows, if you want it covered as in clover, or behind the harrows, if you want it sitting on the surface as is the case with slug baits.
Both these systems are computerised and use the same simple, accurate calibration system as the main hoppers. The system can be simply fitted to other manufacturers' products.
Agitation can also be a good thing
Up until now, no Taege drill has ever had an agitator. Due to the many vibrations sent through the drill from the very flexible tynes, there haven't been many instances where one was required. Every now and again, though, there has been a request for one, particularly when a certain batch of undressed or damp seed was put through a drill - but some other solution was always found at the time.
Well now there is an answer in the form of an easy-fit system, which can be retrofitted to all Taege drills including the early mechanical systems. The system can be removed within seconds once it has been initially set up. The agitator uses the rotary motion of the sponge-drive sprocket, which is converted into reciprocating motion to rock the agitator fingers back and forwards over the seed outlets.
Soon, all the latest drills will have holes already punched into the hopper ends to accommodate an agitator system, so it can be fitted at any time.
"Can a Taege drill be used successfully in cultivated ground?"
This is one of the recurring questions Taege is often faced with. The answer is definitely yes. In previous articles, we've often focused solely on the Taege drill's ability to perform extremely well in hard, rough and challenging conditions, with photos and testimonials to back it up, but this has left questions being raised about its ability to perform on easy ground. Comments made include, "I don't have one rock on my property, so how well do they work in cultivated ground or as a conventional drill?"
The most reliable way to get the answer and lowdown on this question is to once again talk to a farmer who, in an earlier article, very eloquently described his Taege drill, harrows and tyre roller system in the following way: "The whole operation is bl**dy awesome."
This time around, Francis Hammond (who insists on being called 'Pecker') described his system in much the same way, but he replaced "awesome" with "fantastic". Pecker remains extremely impressed with the results he is getting from his drilling system: "The drill performs just as well in cultivated ground as it does as a direct drill and I struggle to see how anybody would think it wouldn't," he says.
If you remember back to a previous article on Taege equipment, you would have read that Pecker has a lot of experience with various drills, owning five different types in the past, including disc drills. A year on from when we last spoke to Pecker, he still believes he made the right decision to buy a Taege.
A standout feature for Pecker is the Taege drill's simplicity: "When I walk around and look at other drills and then look at the Taege, its simplicity is just the ultimate," he comments.
Standing in knee-high mud after all the rain that's fallen in Canterbury, Pecker says there will be a heap of drilling done this year, so a reliable drill is key.
When asked if there was any tyne bounce or uneven seed depth in cultivated ground, Pecker answers, "Not at all. The seed that came up in worked ground was all even - neat as a pin. However, we are doing more direct drilling now than cultivated. The efficiency of direct drilling and the results that we're getting make us very comfortable using this machine."
Better contour following, better results, higher profit
Out of the mud in Canterbury, the Taege team headed down to sunny Southland, where there wasn't a cloud in the sky and it was surprisingly warm. Taege contacted two Southland farmers who were also featured in an earlier article. At the time of the first interview, they had not long owned their Taege drills and rollers and therefore hadn't seen the results of their investment. With a season's drilling under their belt this time around, there were outstanding results to be seen.
Peter Gow of Belmont Station invested in a three-hopper machine and tyre roller after owning a different brand and had this to say: "I'm very pleased and happy that we made the right decision to buy the Taege gear. Because of the very flexible tyne used, the Taege drill tips stay in the ground a lot more, which gives me a much better and more even strike rate. The contour following is a big improvement, which makes all the difference.
"When you pay good money for a machine to put seed in the ground, it's not a good investment if half the time the seed is left sitting above the ground, which is what I've experienced in the past," says Gow.
When asked what maintenance was needed on the Taege drill after drilling 150-odd hectares, the answer was pretty straight forward: "So far, none. There is only one change I am going to make and that is to add on the broadcasting system, which is now available. That will give me the ultimate results by being able to direct drill my grass and have the clover at the right depth by broadcasting it at the same time," he adds.
Gow says the whole package is great, with the harrows and tyre roller covering up, insuring excellent seed-to-soil contact and retaining moisture.
When comparing the amount of turf pull-out and disturbance between the other brand and his new Taege model, Gow says, "If my previous drill was used without the disc openers, there would be a huge difference in favour of the Taege drill. The big difference is that my previous drill had to have disc openers but the Taege doesn't and it has much finer tips. It clears trash very well and the trash has to be very heavy to cause any drag. Even then it isn't a problem, as it just falls out when the drill is lifted.
"My overall bank balance has improved due to the fact that this drill is easier to pull, so I'm using less fuel, plus there are no maintenance costs or time wasted and I'm getting better results," he explains.
Tough in the rough
"Stunningly, mind-blowingly good in rocks where nothing can remotely match it," was the comment made by Graeme Price when we caught up with him last year. Price had also not long purchased his Taege double stainless steel box drill when we last spoke. This time, he can't speak more highly of the drills robust design.
"I measured one of the rocks that had rattled through the drill and it was 600mm x 350mm and I have paddocks of them. I still haven't broken any tynes. I only wish I had taken photos to prove it because it's a case of having to see it to believe it," Price comments, describing the results he's getting from his Taege drill as "sensational, exceptional even".
Geoff Proud, marketing manager for Taege, says it has been rumoured in the industry that Taege drills use weak cultivator tynes on drills and that they break easily. However, Price's experience, as well as hundreds of others, proves this rumour is but a fallacy.
It hasn't all been plain sailing for Price, though, as he experienced issues with the hoses on his new drill, but he was impressed with the service he got from David Ensor of David Ensor Machinery in Southland, who rectified the problem.
"It was found that our hose supplier had changed the structure of the hose without us knowing, so we've had a small batch of drills with sub-standard hoses that has let us down," says Proud.
But that aside, Price says that, from an operational point of view, the drill has been brilliant: "The computerised metering system is absolutely awesome and its consistency is amazing. I have that much confidence in the calibration that I tell my neighbour he will get exactly what he wants in a seeding rate if I do some drilling for him.
"The simplicity of the new broadcasting system is brilliant. It opens up a whole lot of new options for me in my seeding programme.
"I invested in the double stainless steel hopper option and I'm glad I did. There are times when the drill ends up parked up for a few days with the fertiliser left in it and it's great peace of mind knowing it's not damaging my machine. All in all, I'm very impressed."
Try before you buy
Taege strongly advises its customers to try before they buy.
Geoff Proud and Trevor Goodeve (the on-road sales and support salesman for Taege Engineering) have 13 years' experience selling Taege equipment between them and in that time, there has never been a situation where a potential customer has not been impressed with a drill, harrows or roller demonstration. With every Taege drill demonstrated, they always hear the same comments, including, "The machinery has far exceeded our expectations" or "We always hear how good this machine is and now, after seeing it working, we believe it".
All Taege dealerships have a demonstration drill and customers are encouraged to use it as seeing is believing. Taege's main dealerships are David Ensor Machinery in Southland/Otago, Johnson Gluyas Tractors in South Canterbury/Otago, Williams Service Centre in Marlborough, Power Farming Manawatu, for the lower east and west of the North Island, and the latest addition, Giltrap Agrizone in Rotorua/Waikato. Taege still covers other areas with direct sales but is looking at setting up dealerships everywhere outside Canterbury.
"As we are a relatively small company, producing large quantities of machines, we encourage you to get your orders in early for a seed drill. Don't wait until the week before you start drilling to place your order," Proud adds.
To sum it all up, 'It's time you tried a Taege'.
For the latest reviews, subscribe to our Farm Trader magazine here.
Keep up to date in the industry by signing up to Farm Trader's free newsletter or liking us on Facebook