VW Amarok Highline Automatic
---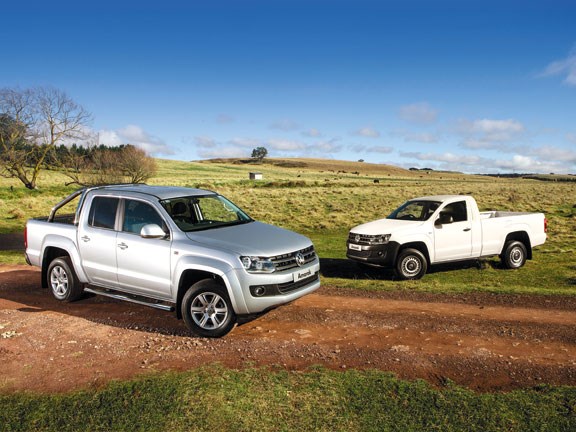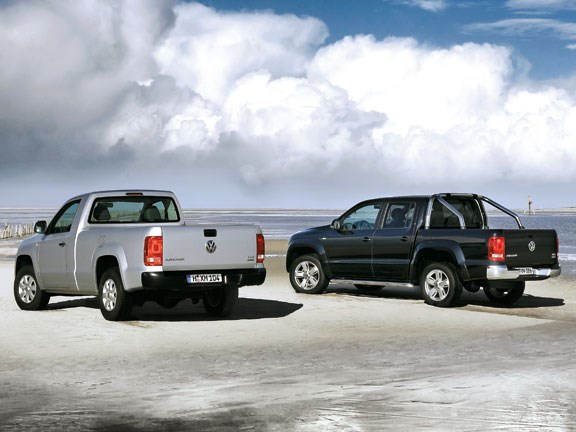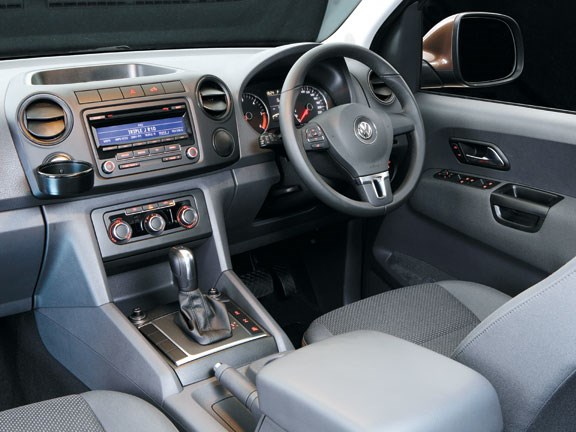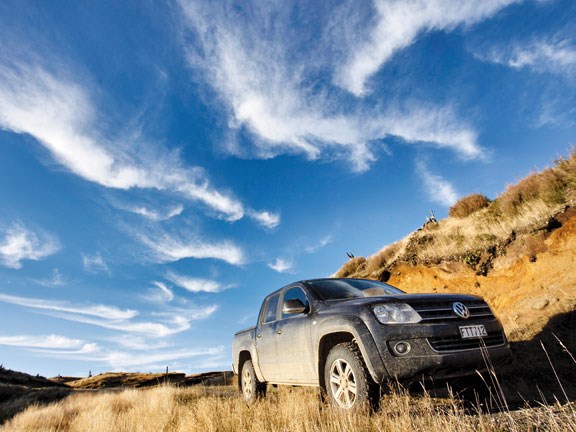 Volkswagen has launched an automatic transmission version of the Amarok utility: the Amarok Highline Automatic.
Good news, although there's just one catch: it's only available in the top-specification Highline double-cab version, with full-time four-wheel drive.
That is likely to change next year, as the new eight-speed transmission filters down into other models. But for now, it's restricted to those who have the wherewithal to run a lifestyle-oriented ute with lots of equipment and lots of badge kudos - bit of a townie's truck, you might say.
Yes, we did say eight speeds. That's eight in as row, not four doubled up. The Amarok automatic does not have a low-range transfer case, nor can you manually lock the centre differential, but Volkswagen claims that it offers as much hard-core off-road ability as any rival, thanks to its unique application of powertrain and driver-assistance technology.
VW claims the range of gearing offered by the eight-cog unit (a modified version of that used in the Audi A8 luxury sedan) is equivalent to that offered by a dual-range gearbox.
The Amarok auto is full-time four-wheel drive, with a viscous coupling making it suitable for on-road driving. But it also features a push-button off-road mode which alters the parameters of the traction and stability control systems and activates hill descent control. The electronics also act as pseudo-axle locks, braking individual wheels in the rough to transfer torque and ensure the tough Dub keeps moving forwards.
Traditionalists may scoff, but Volkswagen is not known for skimping on powertrain and chassis smarts. During a brief introductory drive, the Amarok was not only superbly smooth on-road but negotiated muddy obstacles and axle-articulating humps with ease during an excursion onto private farm property. True, the test was organised by VW, so it was certain to show the Amarok at its best. However, it was hard not to be impressed by the way it negotiated demanding terrain on road tyres at normal pressures - it was idiot-proof.
The automatic version also gets some extra oomph: power goes up from 120kW to 132kW, while torque is increased from 400Nm in the manual version to 420Nm for the eight-speed.
The Amarok is one of the most car-like utes in terms of styling, quality and on-road driving dynamics. That's not at the expense of pub-boast practicality: VW claims the Amarok is still the only ute that can accommodate a 1.2m pallet between its rear wheel arches.
The restricted availability of the automatic within the model range is not as limiting as it might seem. Manual transmission 4WD double-cab models account for the majority of ute sales in New Zealand, around 62 percent. Automatics are popular at the top-end, of course, and Amarok now has that covered.
Of less concern volume-wise but crucial in terms of presenting a complete model range to potential ute buyers is another new Amarok variant: the 'super single cab'. Starting at $41,990, it's a two-door, two-seat cab-chassis model. For an extra $2000, buyers can add a wellside tray which is an impressive 2205mm long, with a payload of 1135kg.
VW commercial general manager Grant Doull admits that Amarok hasn't done as well in the workhorse market as he would like: "That's a very traditional segment but I do believe it's just a matter of time. We already do well with smaller business fleets."
Doull says that VW does not discount as heavily as the mainstream ute makers but argues that the Amarok presents a compelling case on fuel-efficiency, lower running costs (service intervals are 20,000km) and superior residual values. He says that many fleets choosing to run Amaroks already cover higher-than-average mileages.
Amarok is still a niche concern in the hugely competitive ute segment. It looks good for 600 sales this year, while VW is aiming for 1000 in 2013. That would still put it well outside the top five. Last year, the top three models all clocked up more than 2000 registrations each; the Hilux finished the year at a whopping 3810 sales.
For the latest reviews, subscribe to our Farm Trader magazine here.
Keep up to date in the industry by signing up to Farm Trader's free newsletter or liking us on Facebook