Agmech forage wagon
---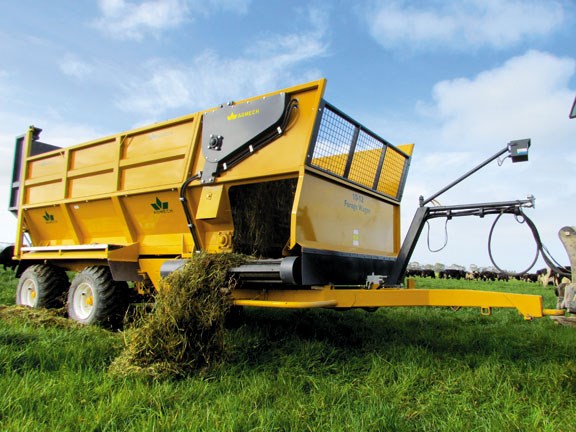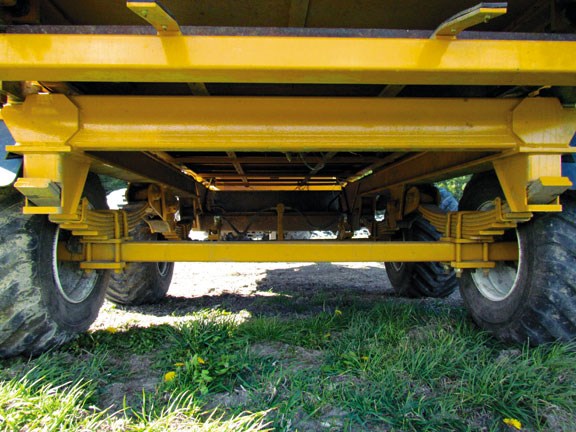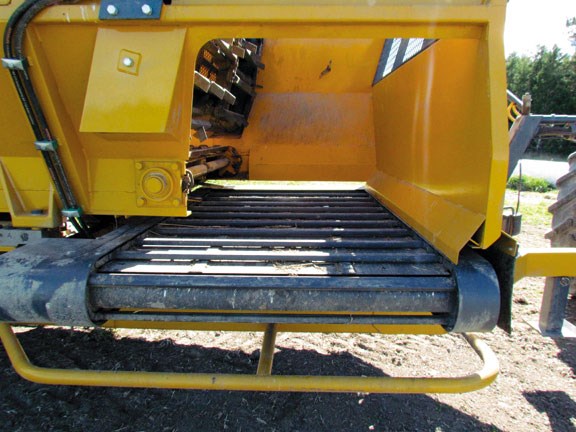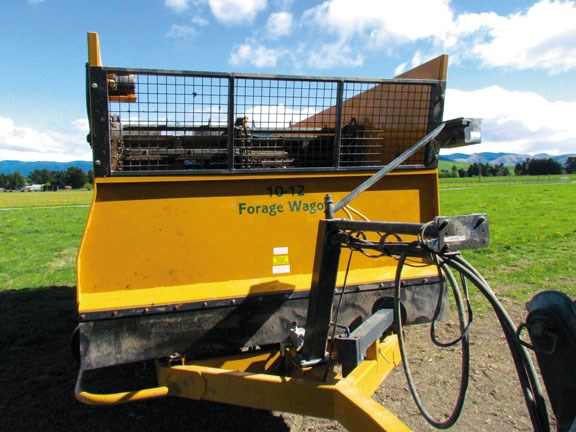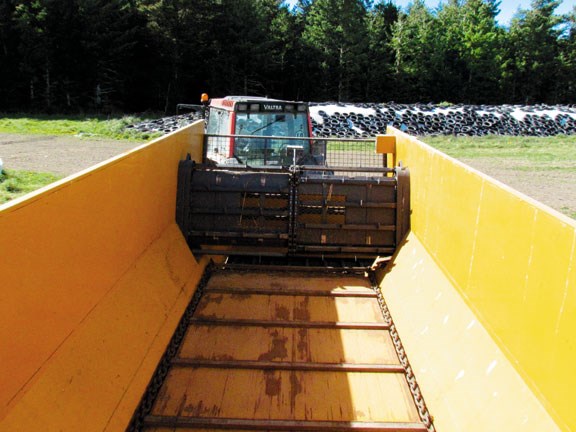 Jaiden Drought tests a new Agmech forage wagon that exceeds all his expectations.
The last time I tested a piece of machinery in these colours was in Southland, at a time when the 'Naki' had just claimed the Ranfurly Shield. I remember this vividly because 'the old log of wood', sat front and centre on the very plane I rode back north in.
This time 'round, I headed to Canterbury to test the Agmech Silage wagon at a time when Taranaki still held the Shield, so I felt relatively smug. Unfortunately my smugness went unnoticed as both the machine owner Richard Patterson and Agmech salesman Josh, were more excited about the V8 Supercars race at Bathurst being held that weekend.
As I write this today, my mood has changed a bit, what with the Shield hand-over to Waikato. Sadly the Taranaki boys just couldn't lock it away for the summer…
Rugby-fuelled emotion aside, let's take a look at a new machine in the Agmech arsenal. The Agmech forage wagon has been in the pipeline for some time, so it was good to finally see what all the fuss has been about. Not often do manufacturers get a whole new silage wagon to the market, as most are well established. But just by looking at the Agmech machine, you can see they've done their homework.
The test machine was a 10-12m3 model; the smallest Agmech forage wagon, although their comprehensive range extends up to 40m3. Richard the owner runs a mixed deer and cattle operation near Okuku in North Canterbury.
Like any Agmech machine, if you have a particular requirement that isn't on the current spec sheet, Gary Baker and his team are more than happy to incorporate this into an individual build. They don't run an assembly line build process, but rather build to order. Their workshop features a varied mix of machines including a multi-bale feeder, a wagon, a tip trailer and a slurry tanker; all there at once to meet the demands of their customers.
Design and Build
Keeping up with their track record of building extremely tough machines for even the most demanding tasks, Gary and his team at Agmech have not let their guard down with this new wagon. Fully welded construction, sprung axles and the large tail door that can hold 1m3 is what gives the machine its ability to haul large loads over rough terrain at speed, without shaking itself to bits. The axle on this wagon is mounted on leaf springs rather than your traditional walking-beam assembly; to date Richard hasn't had any trouble driving over sharp humps and hollows with his wagon at high speed with his Valtra. The two axles are joined by a pivot to the chassis, which gives the ride-comfort of a sprung axle with the manoeuvrability of a walking beam.
When I say the machine is fully welded, I should clarify that it's welded until half-way up the sides where you have the option of removing partitions so it can be used like a multi feeder. Or you could incorporate larger sides to give another 4-6 m3 capacity on the same wagon (depending on side height). This gives you the added benefit of buying one wagon that can adapt to your changing requirements. If you fed more balage, for example, you can remove the sides and still have a fully functional feeder. Likewise if you buy the neighbour out, you can just get some bigger sides at a fraction of the cost of upgrading your wagon.
Side Feed
The side feed is what really sets this machine apart. The chain-and-slat design makes it a versatile feeder, as there's no slipping on the side feed-belt from difficult product or the risk of bale segments getting stuck awkwardly. Because of the tracked chain's rigidity (which, incidentally, is 1,220mm wide and equipped with 40mm x 20mm bars), if feed comes over the elevator chains' it'll get spat out the side without issue.
Finer materials such as PKE could pose some issues in this wagon though, as the rear tail door has a rubber flap at the bottom which you can see daylight through from inside. The PKE would no doubt find its way out, and also the chain cross-feed mightn't feed maize and PKE type feeds into bins as competently as a side feed belt would. Like I mentioned earlier though, with Agmech tailoring their machines to customers' needs, if this is the main type of feeding you do, a standard belt could be added.
Chassis and bin
The fully welded body narrows at the floor, meaning all the feed has nowhere to shelve or get stuck; it has no option but to move to the side-feed. The elevator chains are built for even the heavy clover and Lucerne bales Richard feeds. He can fit eight 675kg bales in the tub at a time and the four elevator chains in two segments have no trouble tearing them apart.
Agmech wagons are fitted with state of the art 'parallel integrated hydraulic control blocks', ensuring that once the pressure you've set for the elevator chains is reached, the floor chains will stop feeding material forward until the pressure is backed off. This means all the feed in the wagon is bulldozed to the chains where unnecessary stress is placed on the machine.
Scales
Richard had never had a wagon with scales before, but now admits he's a convert. He says feeding-out before having scales was like pinning the tail on the donkey. Richard finds the set of PT Ltd scales fitted to his Agmech very user-friendly, with a large readout that's easy to see with the pivot, for both loading and feeding.
The wagon uses four block type weigh-cells with a 40-tonne load capacity. Two are located just behind the side-feed and the other two are mounted near the rear of the bin. Agmech have opted for a double chassis configuration to mount the scales on. which means there's a section of unsupported drawbar over the side feed chain. Combating this though is a considerable amount of sturdy bracing which shouldn't cause any issues.
Verdict
Agmech certainly has a winning combination here, with the forage wagon's ability to incorporate tall extra side panels at just a fraction of the cost of upgrading to a large silage wagon. Plus you can quickly and easily remove them to expose a multi-purpose bale feeder.
Excellent build quality and finish is what we've come to expect from Agmech and I doubt on-going repair and maintenance will be an issue with this machine.
This is definitely a contender in both the silage wagon and multi-feeder markets and brings new meaning to the phrase 'extending your target market'.
For the latest reviews, subscribe to our Farm Trader magazine here.
Keep up to date in the industry by signing up to Farm Trader's free newsletter or liking us on Facebook