Test: Can-Am Outlander 500 DPS ATV
---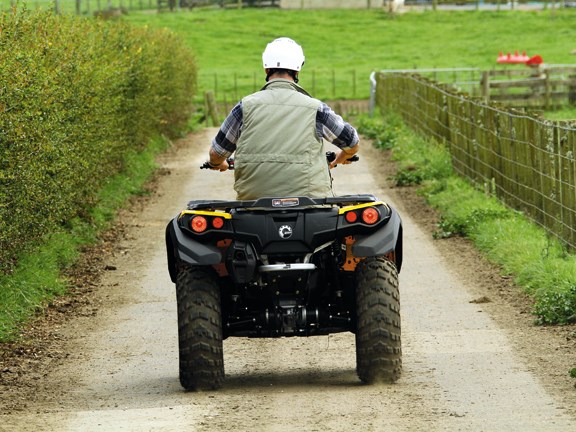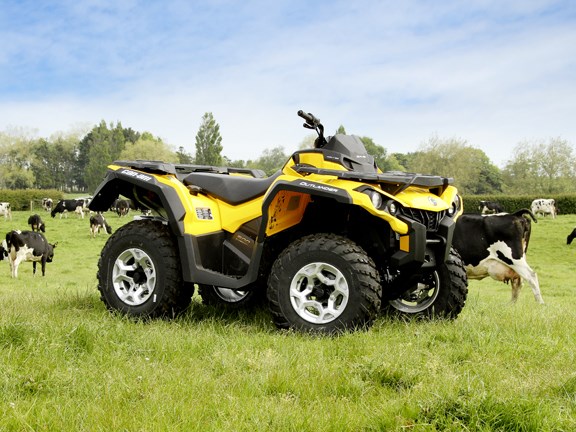 This ATV is one of the most impressive performers in the market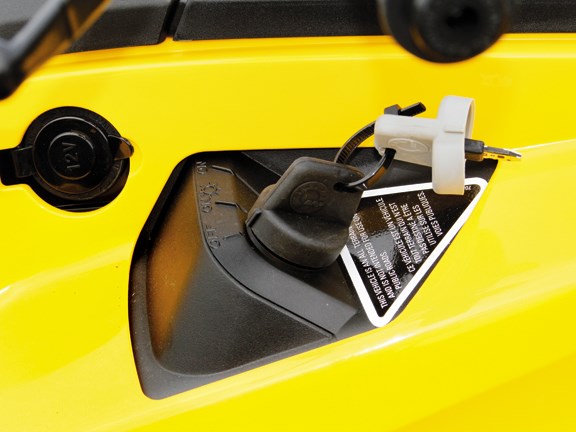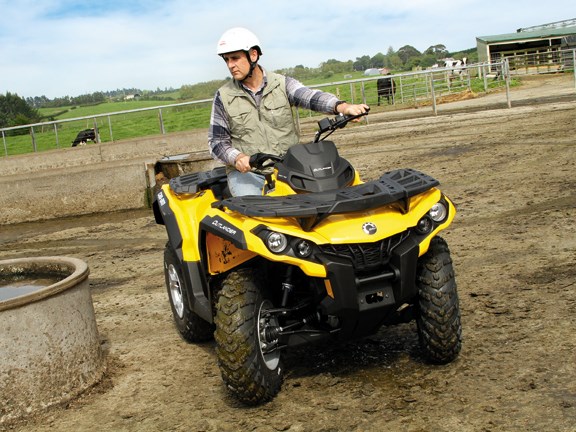 New double A-arm front suspension now has 229mm of travel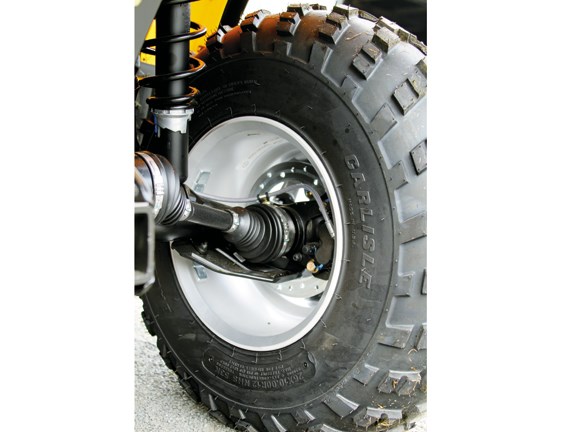 Single rear disc now fitted inside the wheel, although not needed so much due to engine braking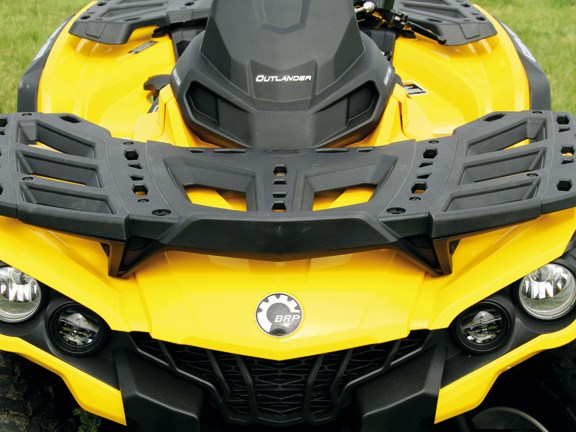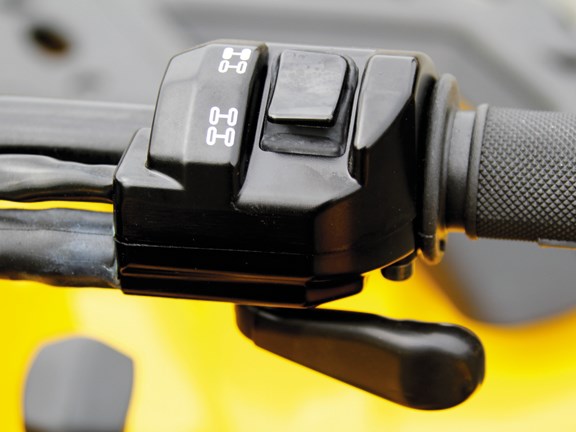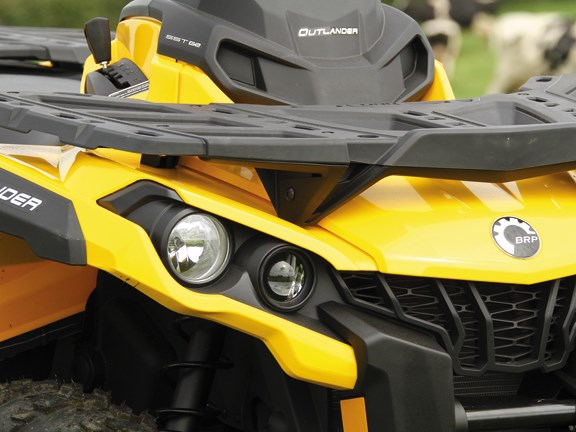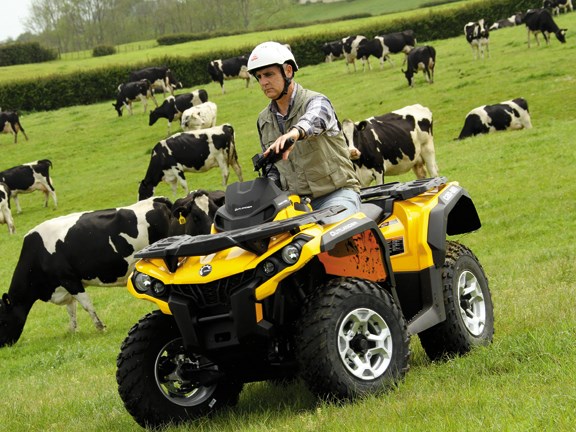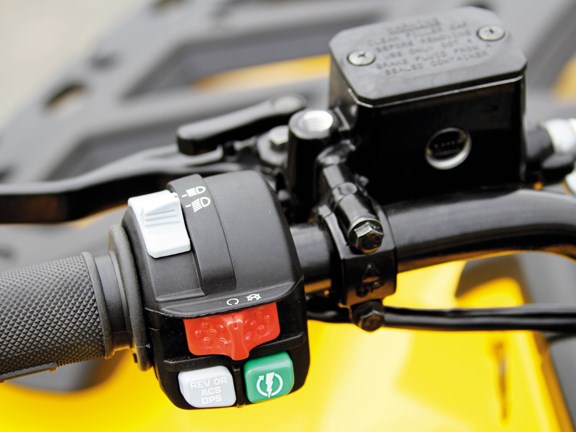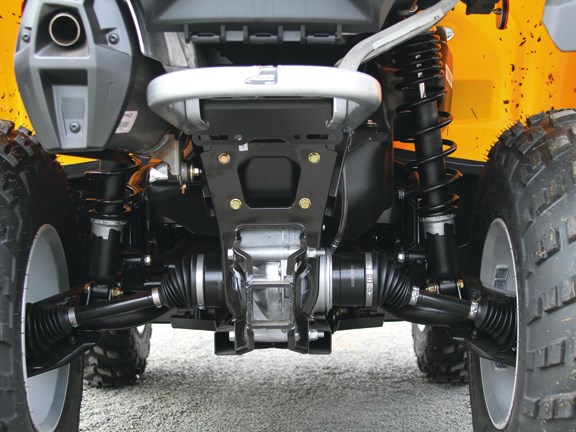 More rear wheel travel on the 2013 model to smooth out the bumps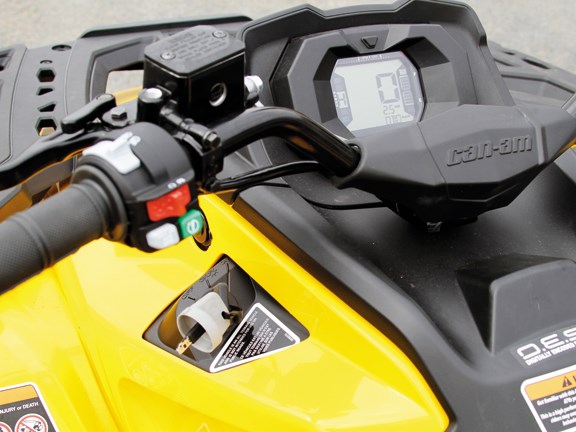 Use the button on the left handlebar to adjust between any of the three power steer modes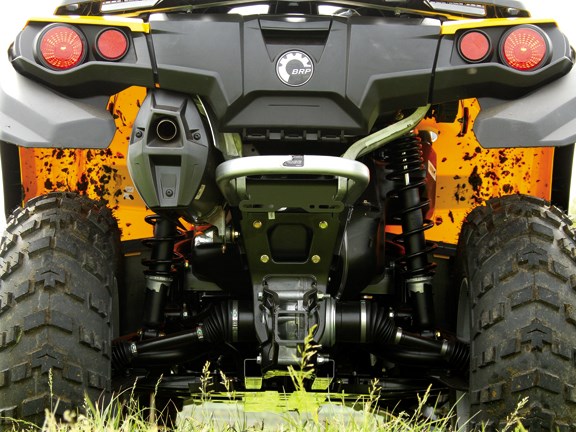 With the introduction of its new 2013 Outlander 500 DPS ATV, Terry Stevenson believes Can-Am has a potential winner in the agricultural market. This highly spec'd machine is guaranteed to impress.
It's no secret red, blue and yellow machines have held the lion's share of the farm ATV market for many years, but this is now changing. It took years to get to where it is now, although surprisingly, some models are still troublesome.
Can-Am bridged the old tried-and-true marketing gap by offering its ATVs at such high specifications a farmer can no longer ignore it when shopping for a replacement.
Indeed, farmers are already voting with their cheque books as Can-Am has slipped into third position in the four-wheel farm vehicle market in New Zealand. I've seen the Motor Industry Association evidence.
For me, there's no substitute for good design and the 2013 Can-Am Outlander 500 DPS from BRP New Zealand has it in spades. An excellent example is the two-key safety feature introduced from other Can-Am models, and is already used in surf-lifesaving roles where people with different skill levels ride them. On the farm an owner might keep the main (full-power) key and let the staff use the Can-Am with the low-power key to keep their speed down.
BRP NZ manager Richard Shaw adds, "From 2013, for any 500cc [model] and above, the machine comes standard with two keys. One is programmed as a normal key and the other is a reduced-power key for learners, or a worker key which restricts the top speed and performance of the ATV. From a safety aspect we are the only ones who offer it and we are all about safety and looking after our customers!"
Performance and handling
Incorporating a far stronger Generation 2 chassis among its new features, the Can-Am Outlander 500 DPS flies through those rough paddocks when you're in a hurry.
Helping to ride those bumps better than the 2012 model are 26" (one-inch larger in diameter) mag wheels, in standard trim on the 500. Yet the larger diameter wheels are just a taster for the real performance upgrade — double A-arms on the front suspension.
In the paddock this translates to a safer ATV. While double A-arms are already on larger capacity Can-Ams, it's great to see the evolution introduced on this size of North American alternative.
After giving the 2012 Outlander 500 XT a good test some time ago I'm surprised Can-Am increased the engine performance of what is already one of, if not the, fastest ATV in the 500 market, thanks to its magnificent four-valve-per-cylinder Rotax 500cc V-twin powerplant.
Open the taps on the free-revving 34.3Kw (46hp) engine and, like me, you'll enjoy its acceleration, helped along by a Siemens two-point electronic fuel injection system with large throttle bodies. I really think this could take on a couple of 650s, yet the flexible motor is docile enough at low speeds so you don't think you're riding a race horse.
Power means nothing unless you can effectively put that performance on the ground by way of good suspension.
Suspension
The new double A-arm front suspension package allows a full 229mm of shock travel — pretty high if you check it against other 500 farm quads, and is 51mm more than the previous Outlander 500 XT, at 178mm.
The rear shock travel has also increased, slightly, from 229mm to 236mm. Both front and rear suspenders also include five-way spring preload adjustment. While most farmers would leave them in the standard middle position, the advantage of adjustability offers better handling for heavy loads when on position five. Conversely, the ATV will ride rough ground better when the shocks are set at their softest, typically for light loads, females, or perhaps a lightweight rider.
Stability booster
Testing the 2012 Outlander 500 XT, one of the points I raised was it used a largely outdated (by today's ATV design standards) McPherson front suspension, which changes the vertical angle of the wheel to toe inwards at the bottom (tyre footprint), as it traverses a bump. Okay on the flat but less than ideal on a slope.
As soon as I climbed onto the old 2012 model during my 2013 Outlander test and rode at speed across a slope, I detected the slight sensation the McPherson front suspension gave to the front end of the ATV, and it was exactly the same when I rode slowly. I again climbed aboard the new 2013 model with its double A-arm front set up and I can truly say the difference is marked. Although, you'd only know this if you rode them back to back, and over the same course.
Stability booster II
Can-Am have a very effective Torsional Trailing arm Independent (TTI) rear suspension system allowing the rear wheels to follow the terrain better, all while offering excellent stability on the slopes. Like the double A-arm system on the front, the rear wheels are also kept at 90 degrees to the horizontal as the adjustable shock absorbers independently run through their stroke.
Braking
A guy like me is always in a hurry, so when I need to stop, I usually need to stop fast. To this end Can-Am has changed the positioning of the disc brakes so they're now tucked safely away from damaging rocks and located well inside the 26" alloy rear wheels. Each of its two front and single rear discs are clamped by high-spec two-piston calipers providing ample stopping power for the 324kg Outlander 500 DPS. Again, it utilises top of the range braided steel brake lines, which provide better lever feel as they don't expand during braking and should never need replacing. Just like the old model, they work perfectly but I'd prefer to see disc brakes on all four wheels to avoid inadvertent dual rear-wheel lock-ups riding down slopes. Although, the engine/transmission braking system should help out greatly, before you get to that stage.
Transmission
Like previous models, changing through the redesigned CVT 2WD/AWD transmission system between neutral, park, high, low and reverse is exceptionally smooth. An advantage when wet, the Outlander 500 DPS has a Visco-Lok QE system that automatically engages to transfer power from a slipping front wheel to the gripping wheel to keep you on a straight line and safer.
Stand-out features
Can-Am's latest mid-sized ATV packs a number of strategic upgrades with benefits any farmer will quickly recognise. Not least are the slightly wider mudguard clip-ons — small yet essential additions reducing the amount of mud and cow dung flying through the air and into your face as you pick up speed!
With a larger muffler, the new Outlander is even quieter, so as to not scare your stock.
Sometimes it's the small things that make the difference, such as Can-Am moving the semi-exposed, rear-mounted battery to under the seat where it can be kept cleaner and healthier, while also centralising the ATV's centre of gravity for a more secure ride. The alteration left space for a roomy 21.4 -litre rear storage compartment — an improvement on the under-rack storage box on previous models.
I could go on about the new shape, the new 230-watt, twin 60-watt projector lights, greater fuel capacity to 20.5 litres (up more than four litres, so you can spend more time in the saddle), and the range of options available, but the one thing appealing most to me is the Can-Am DESS (digital encoded security system) key system.
Your paid-for ATV should not be on thieves' radar because they can't start it without the original, digitally-encoded key. To get one of those they would have to go into one of the 26 nationwide Can-Am dealers, who will then politely refer them to the police.
Shaw explains, "Every key on a Cam-Am has, in simple terms, a barcode on it. So the dealership has to programme the ATV to read the barcode on that specific key. Without that key the ATV won't start, so if it was stolen without the key, the only way it could ever be commissioned is to take it to an authorised Can-Am dealer, where the dealer will verify ownership. I understand FMG offer a five-percent premium discount on any Can-Am ATV insured with them."
Plus, typical of Can-Am, it repositioned the on/off key to a place that's now easier to access.
There's no winch fitted as standard on the 2013 Outlander 500 DPS, although it comes pre-wired for one. Compared to the 2012 Outlander 500 XT you now receive many more useful features for your money and, retailing at $12,851 plus GST, the 2013 Outlander 500 is almost $500 cheaper.
"The 2013 500 has the sharper styling we saw on the 2012 800cc and 1000cc models, with dual headlights and tail lights," Shaw says. "The ATV market in New Zealand is more than 90 percent farming, so we position the Outlander range for farmers. The 500cc model has been our best seller in past years and we believe it is up to the task."
Verdict
With an unlimited-kilometer, three-year, factory-backed warranty, you've got one very high-spec Can-Am ATV that a good farmer should at least try out before making their next purchase. I have never ridden a better 500 farm ATV.\
Highs
Double A-arm front suspension
Super engine with broad power
Three power steering mode options
Top rated engine braking system
DESS anti-theft system
Has a two-key operating system
Lows
Disc brakes on all four wheels
Engine braking
Almost every Kiwi farm I've been on has a slope of some kind and, of course, a lot of farms are all hills. Engine and transmission braking on ATVs is dear to my heart and the reason should be obvious for an ATV manufacturer. Yet, despite the need and the technology being available, few have this important safety feature. Machine cost may be an issue, but is it really?
Can-Am's system works surprisingly well as it functions in both low and high ratio, and with little braking intervention at speed. But when you get down to real low-speed stuff, say below about five kilometres, on a steep grade the braking system works so well I could fully take my hands off the bars and let the Can-Am take itself down the slope during my test. While you wouldn't do this normally, it clearly displays its effectiveness.
Keep it straight
Power-steered ATVs are still relatively new in New Zealand but they're catching on fast for good reason. Being three-way adjustable, in my opinion, Can-Am still has the best power-steer system on an ATV. This feature opens up the door for riders who may tire more easily on more difficult terrain, with less handlebar kickback. Designed to provide more assistance at slower speeds and less at higher speeds, a rider can select either low, medium or high assistance and then let the ATV do all the work for them. In essence, the unique 'dynamic power steering' (DPS) is an advantage for any farmer, of any size, and can be changed while on the run.
Specifications

Can-Am 2013 Outlander 500 DPS

Engine

500cc V-Twin four-stroke, four-valve

Max power

34.3Kw (46hp)

Max torque

Unspecified

Fuelling system

Electronic, 46mm throttle body, two-point

Cooling

Liquid-cooled

Fuel capacity

20.5 litres

Transmission

Automatic CVT

Top speed

Quick

Brakes

Hydraulic with two front calipers and one rear caliper

Max ground clearance

279mm

Wheelbase

1295mm

Length

2184mm

Width

1168mm

Height

1118mm

Dry weight

324kg

Max towing capacity

590kg

Max front carrier

45kg

Max rear carrier

90kg
For the latest reviews, subscribe to our Farm Trader magazine here.
Keep up to date in the industry by signing up to Farm Trader's free newsletter or liking us on Facebook