Test: CF Moto Tracker 800
---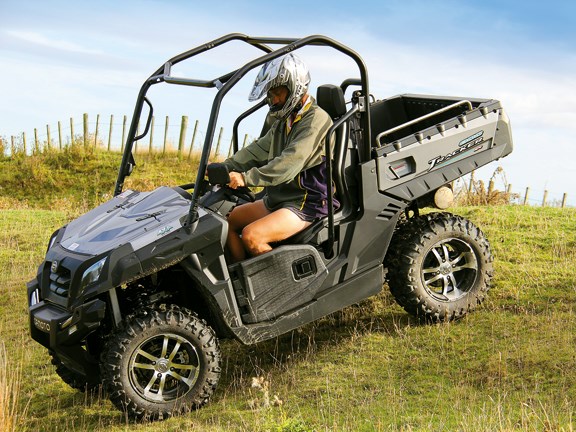 The 2WD/4WD/diff lock options cover all types of terrain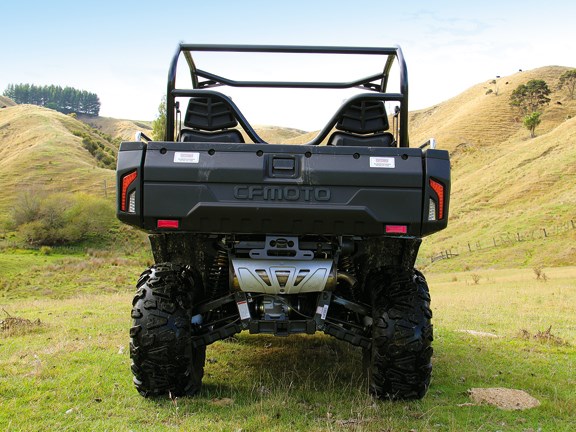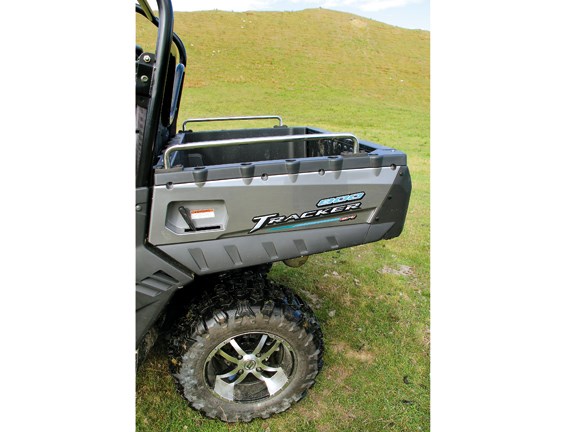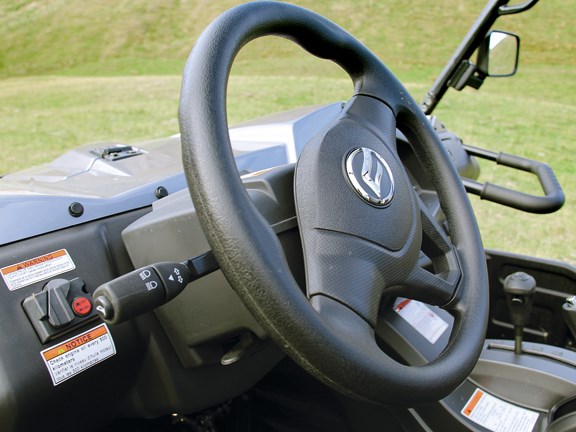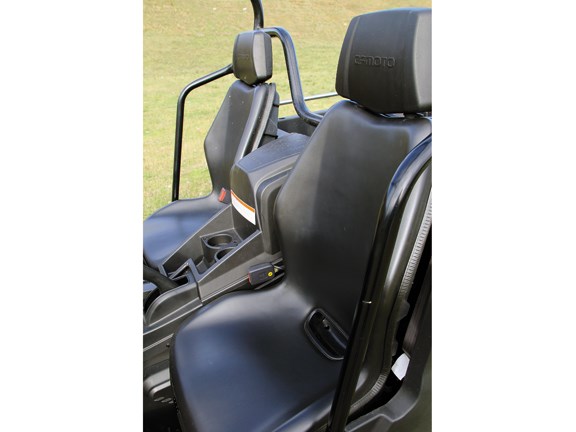 The full-height seats offer plenty of comfort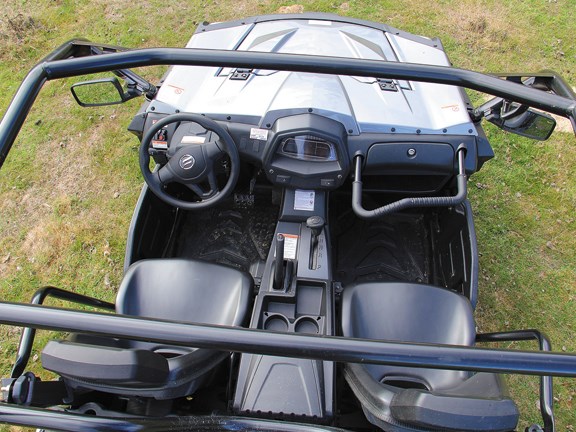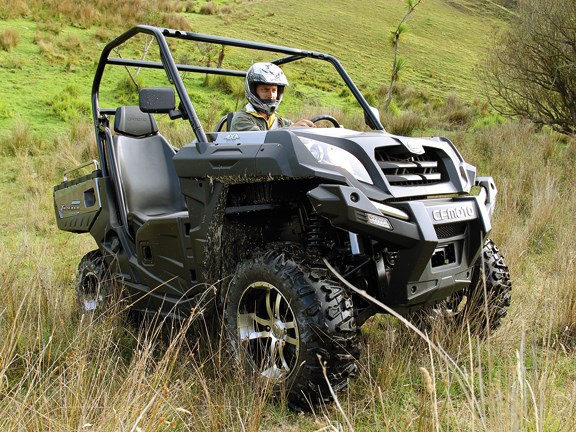 If only you could hear pictures: under acceleration the Tracker sounds like a mean machine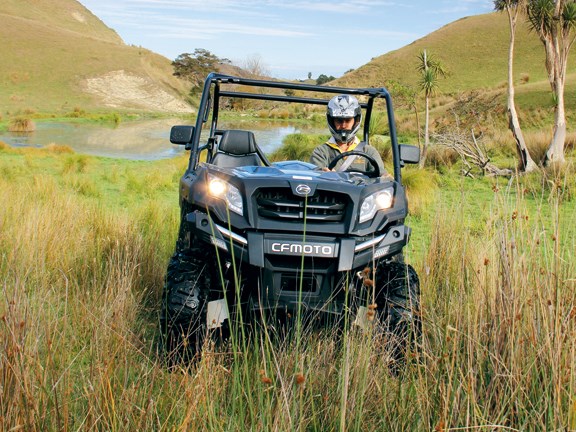 With 46kw of power on offer the Tracker was never short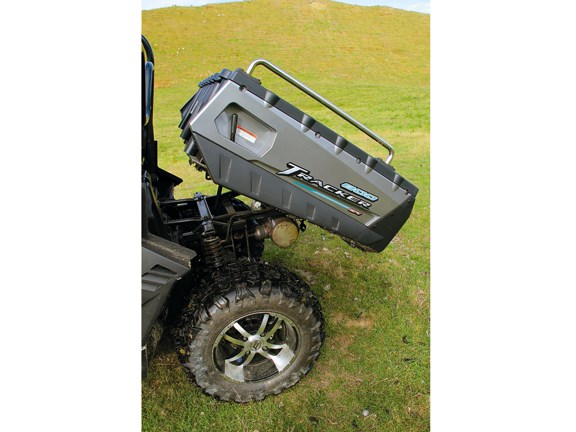 The gas strut-assisted cargo tray also has steel bars to tie stuff down to

Andrew Stewart takes the new CF Moto Tracker 800 for a spin and discovers this Chinese-built machine is designed to perform in New Zealand conditions and is a serious contender in the side by side market.
Side by side utility vehicles continue to grow in popularity on Kiwi farms, and as their popularity increases so too does the build quality. Some early, and inexpensive, offerings from the East were unreliable, unsafe and difficult to source parts for. Chinese manufacturers have sat up and taken notice of negative feedback and have started producing machines capable of tackling tough terrain and gruelling everyday tasks. Leading the Chinese charge is CF Moto, distributed by C B Norwood Distributors Ltd in New Zealand, who now offer a range of quads and side by side vehicles.
Its latest side by side is the Tracker 800cc, and from first appearances it looks like a cracker. Sleek lines rise up from the LED lights on the bonnet to the cage surrounding the cockpit, while the high-back tray offers the impression of a seriously capable off roader. The first impression is one of a machine built to perform.
Time to shine
Driving the Tracker around our Rangitikei farm, the throttle was responsive and the machine performed capably. But it gave the feeling it was holding a lot back at slower speeds, just waiting for the operator to drop the hammer. Indeed, once you drop said hammer, the Tracker bursts into life with a raw mixture of power and handling performance. The 800cc V-twin engine delivers a maximum of 46kw of power and 72NM of torque. Probably of more interest to readers are the maximum speed figures, but sadly I can only offer disappointment. Despite repeated attempts to get this beast up to top speed, I continuously ran out of paddock before I ran out of power with the speedo still climbing at 90km/h. Those of you familiar with side by sides will know that that is incredibly quick on any surface, and the fact there was more left in the tank should have speed junkies salivating.
As with the engine, the suspension really kicks in when you bury the foot. The model tested was taken at pace over rock-hard, cow-rutted dirt tracks, offering the toughest test for any off-road vehicle. Dual A-arm shock absorbers front and back took the bumps in their stride, offering both driver and passenger a smooth ride.
Up front the operating platform is simple, but offers a feeling of enclosed safety thanks to the enveloping safety cage and grab handles. The transmission is a CVT system with high and low gears and switchable 2WD/4WD and locking differential. In the middle of the dash sits an electronic display of all the vital readings: speedo, fuel, gear indicator, temperature and warning lights.
Small things, big change
With the Tracker 800cc it could well be the little things setting it apart from other side by side vehicles. This is the first UTV this writer has driven with side mirrors, and this small addition makes a huge difference. Being an owner of a UTV without any form of mirror, I have become aware of the safety aspect of having to turn your head 180 degrees when road driving to check for following traffic. It is a dangerous necessity easily removed with the addition of inexpensive mirrors, and hats off to CF Moto for introducing this feature on the Tracker. Another welcome addition are the full-height seats offering car-like support and comfort. Many other side by sides offer bench seats or half-back options that can become uncomfortable after a while. The Tracker seats wrap around the occupants offering a snug feel and good lumbar support.
Safety bars have been stepped up on the Tracker 800cc also. Side bars protrude from the roll cage, offering extra protection and restraint. Another thoughtful addition is a double-handled grab bar for the passenger to swing off when the going gets rough. You can guarantee most passengers will try and reach for something when the driver decides to go fast or sidle around a hill, and having a double bar can only be a positive thing. Nestled behind the steering wheel is an automotive type indicator, light and horn selector — again a simple addition creating a sense of familiarity for the driver. Other automotive-style additions include a parking brake lever and steering column adjustment lever. There are even two beverage holders between the seats to hold liquid refreshments.
High back end
It would be fair to say the rear-end view is one of an elevated tray. This has both positive and negative consequences for practical use. Having the tray so high means any load has to be lifted further to be put on the back, and also means the centre of gravity is raised. In reality, the suspension and width of the Tracker means handling is not adversely affected as long as manufacturer recommendations for capacity are adhered to. The bonus side to the high back end comes underneath the Tracker, with a whopping 320mm of ground clearance. Any farmer worth their salt will tell you ground clearance in winter conditions becomes one of the most important aspects of any farm vehicle, so to have such a height is a fantastic asset for the Tracker. So in my view, the positive aspects of the raised tray far outweigh any perceived negative ones.
I must admit I am nothing of a car nut or mechanical enthusiast. I would describe myself as a 'fill-and-go' type of driver who demands performance to get the job done. Having said that, once I heard the exhaust pitch of the Tracker kick in under revs I felt the testosterone start to boil in my veins. This machine sounds macho, with a rich note reverberating through your ribcage. It is impossible not to feel some sense of animalistic attraction to machines sounding as sweet as this one does.
Verdict
The Tracker 800cc goes a long way to proving the gap between Chinese-made off-road vehicles and the traditional manufacturers' machines has evaporated. Build quality is light years ahead of the early offerings from China, and this machine has full warranty and service support through C B Norwood. Ride comfort and performance are very good and the exhaust note adds to the feeling of off-road capability. If this is an example of what is going to come from China from now on farmers can rest assured we are entering a golden age where we are going to be spoilt for choice in the side by side market.
Highs
Sweet sounding
Great power
Smooth ride
Safety features
Rear-view mirrors
Lows
Could do with more engine braking
High rear tray means high lift
Specifications

CF MOTO TRACKER 800CC SPECS

Type

V-Twin cylinders, four-stroke, eight-valve

Displacement

800cc

Fuel system

Electronic Delphi injection

Maximum torque

72Nm/6000rpm

Maximum power output

46kW/6700rpm (62.6hp/6700rpm)

Transmission

CV-TECH IBC variable H/L/N/R/P

Propulsion

2WD/4WD, electric locking differential

Length x width x height

2980 x 1430 x 1885mm

Towing capacity

567kg
For the latest reviews, subscribe to our Farm Trader magazine here.
Keep up to date in the industry by signing up to Farm Trader's free newsletter or liking us on Facebook