Suzuki Farmworker Flatdeck 4x4
---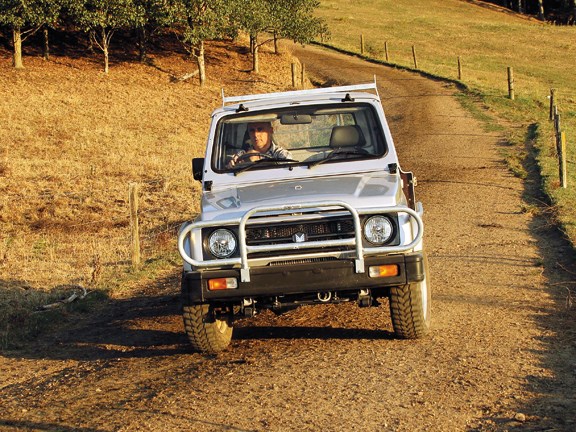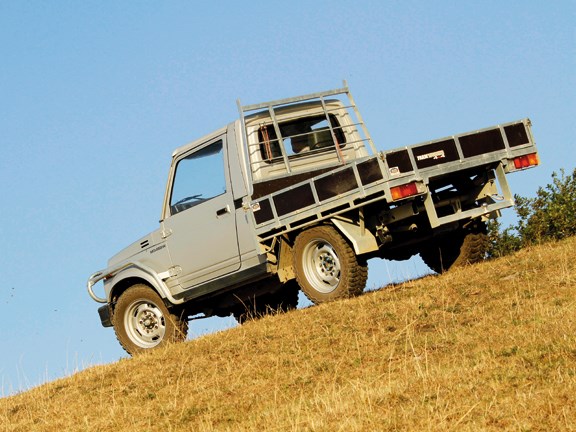 The Farmworker tackled the hills no problem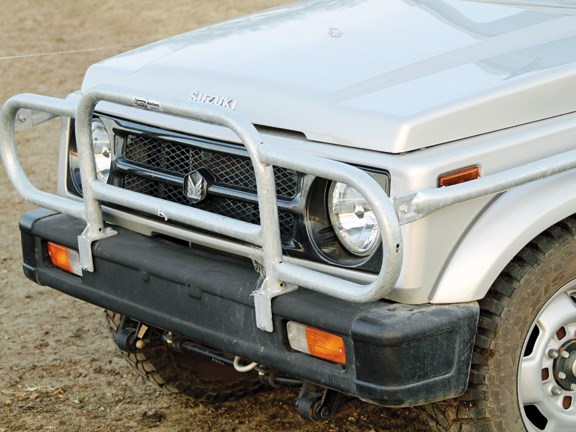 Check with your Suzuki dealer for optional equipment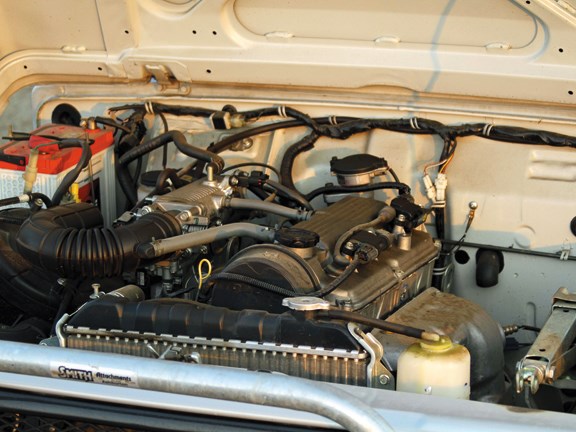 The 1.3-litre 16-valve engine provides the power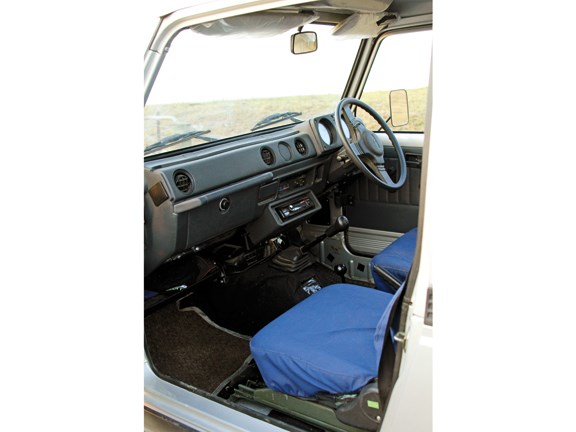 Stay dry when it's raining, and keep warm during winter. But don't forget to order a heater

Terry Stevenson takes a look at the Suzuki Farmworker and discovers a farm vehicle that brings together many features of a quad, side by side and ute, yet the result is something a little different and just a bit special.
It's winter, it's raining, and you need to feed the horses two small bales over in the back paddock. If you take the tractor, it's overkill, uneconomic and you'll destroy pasture. You'll get soaked if you take the ATV, and the farm bike is no good for carrying bales. So what will it be? Well, if it's a dry coat and something to carry your load you're after, then there's always a ute or your side by side as options — but they aren't the only game in town these days. Suzuki has come to the party offering the Farmworker 4x4 farm vehicle that's neither ute nor SxS, but a bit of both.
The Farmworker is available in four models to suit, including the Farmworker Versatile 4x4, from $12,165 + GST, the Farmworker Multi-purpose 4x4 from $13,556 + GST, the Farmworker Wellside 4x4 starting from $14,773 + GST and, if you need deck space, Suzuki offers the Farmworker Flatdeck 4x4, which kicks off from $17,382 + GST. All models are two-person vehicles.
For the Farmworker test I travelled to Morrinsville where dairy farmers Graham and Christine Conder own an 18-month-old Farmworker Flatdeck 4x4. The couple run a 170ha dairy unit on flat to rolling hills with a 40-aside shed and a two-herd system. With four staff they milk 570 cows, which are fairly evenly split into a Friesian-cross herd and a Jersey herd.
Why the Farmworker?
It was at the 2011 Mystery Creek Fieldays where the Conders purchased the newly-released Suzuki Farmworker from Phil's Motorcycle Centre.
Christine wanted a vehicle to take her from the house to the shed without getting wet, a distance of around one kilometre. They also needed a vehicle able to carry decent loads, such as weeds from their large gardens and firewood from the back of the farm — a job Christine often does herself. The decision was therefore made to purchase the Flatdeck 4x4.
Although the Condors couldn't be without their Farmworker, there are a few things on their wish list after nearly two years of ownership — one being a heater (now factory-fitted as standard) and another being a tip tray. Christine also had a radio on the list but Santa got the hint and delivered one last Christmas.
One thing you must bear in mind here is the Farmworker doesn't cost much more than the highest-spec ATV or SxS, so creature comforts are similar, but definitely better.
Although the Farmworker is a great addition to the Condors operation and used every day, both Graham and Christine insist there is still a large requirement for a 'get-on-and-off-quickly' ATV for their Morrinsville dairy farm, something potential buyers should consider before trading in their ATV. The Conder family still uses their two 400cc Suzuki ATVs a lot.
On the slopes
In the paddock the Farmworker did everything it needed to, including successfully traversing a couple of relatively steep rutted hills. It's very stable to drive around the hills thanks to its wide 1315mm wheeltrack (centre to centre). Its long 2400mm wheelbase certainly helped my confidence level when driving straight up and down, always in low-ratio 4WD.
There's a bit of a knack to changing gears quickly. If anything, high ratio may be a little too tall as the engine lost its revs going from second to third, even on a small slope when I didn't get real speed up before the change.
The 1.3-litre, four-cylinder Suzuki petrol engine performs very well. The motor revs freely after some 18 months and 3200km use, and it seems to make much of its power higher up in the rev range, so if you start to run out of steam put your foot down straight away to keep the revs up.
A couple of times I put it in high-ratio 4WD (and 2WD) on moderate slopes to see how the engine performed. It doesn't have the low-down grunt a true farm machine should provide, although I left the farm happily convinced the motor was good and fit for purpose.
"Yeah, it's good!" Graham Conder says. "This will climb better than a four wheeler [ATV], and is safer. As well as that, you've got a cab around you and it has a longer wheelbase, which is great so long as you're going straight up or straight down. We haven't had any problems with it, we've put a big load of firewood on it and it climbs the hills well, so long as it's not too wet of course. But at this time of year (high summer) it'll go virtually anywhere."
A couple of times I had to put my foot down when the rear wheels began breaking traction on the slopes, and the engine easily picked up its revs, despite the big slope. Bearing in mind we didn't have a load on the back, which could be up to 500kg — plus another 500kg for a trailer.
If anything, the throttle was a bit on the touchy side, which was certainly compounded by the drought-rutted ground conditions, making it difficult to get a smooth ride!
Of course, I didn't test the Farmworker out on the road as they cannot be registered.
Suspension
The basic front and rear suspension leaf springs have double-action dampers but they were no match for the rock-hard summer ruts, bouncing the Farmworker all over the place as they couldn't keep up. The front suspension was no match to an SxS double A-arm suspension set up, although the Suzuki chassis is far heavier and will be good for a far longer period of time.
Braking
I found the brakes were perfect for the job and they provided excellent feel through the pedal when on the steep downhills. Such is the engine braking I didn't need them at all on the lower slopes!
You can check the differences of each model out at suzuki.co.nz, Phil's Motorcycle Centre, or your local dealer. Ask for details on the optional equipment.
All decked out
One of the best features of this style of farm vehicle is its deck capacity, which I measured inside at 1530mm wide x 1520mm long and 210mm deep. Each of the three sides fold right down and can be removed for over-sized items.
Verdict
After testing the Suzuki Farmworker I believe it'd most likely suit dry stock sheep or beef farmers who don't need to get in and out of the cab regularly. However, I wouldn't rule it out for dairy farmers with its appealing features, such as the enclosed cab to keep you dry and out of the wind, a large deck capable of carrying more equipment and feed compared with your ATV or SxS, and its 4WD ability. The Farmworker may not replace your ATV, but it definitely has its place on the farm. For those who are after a practical farm-specific vehicle with many creature comforts found in a ute cab, I would seriously suggest checking out a Farmworker.
Highs
Ruggedness
Interior creature comforts
Protection from wind, rain and sun
Reasonable power
Large deck space
Good tray weight capacity
Good towing capacity
Fuel economy
Lows
Primitive leaf spring suspension front and rear
A bit more low-down power to hold gear changes
More steering lock
Can't be registered for road use
Specifications

Suzuki Farmworker Flatdeck 4x4

Engine

G13BB 1.3-litre, 16-valve, SOHC, four-cylinder, four-stroke

Max power

60Kw (80hp) at 6000rpm

Max torque

103Nm at 4500rpm

Fuelling system

Fuel injection, multi-point

Ignition system

Electronic

Starting system

Key start

Cooling

Liquid cooled

Fuel capacity

40 litres

Max ground clearance

Unspecified

Tyres

15" Maxxis Trepador tyres on steel wheels

Wheelbase

2400mm (measured)

Wheeltrack

Front: 1300mm (centre to centre)

 

Rear: 1310mm (centre to centre)

Deck

1530mm wide x 1520mm long x 210mm deep (measured inside)

Length

4010mm

Width

1540mm

Dry weight

Unspecified

Carrying capacity

500kg

Towing capacity

500kg
Fuel economy
Christine says the fuel economy of the Farmworker has been surprising and impressive. "We don't use 4WD on the flat but up on the hill we do, and it hasn't missed a beat since we got it, and it's good on petrol. The ATV uses more fuel than the Farmworker.
"It is a good little truck and it does what we want it to do. It's easy to get into and out of 4WD, so that's all good, apart from not having a heater!"
Phil's Motorcycle Centre
Based in Matamata, Phil Martin owns and runs Phil's Motorcycle Centre, with other branches in Morrinsville and Putaruru. Martin says a Farmworker and a quad go hand in hand as they complement each other but also have their specific uses.
"There have been a lot of Suzuki Carry's sold as farm vehicles in the past, however the Farmworker is an ideal replacement for the Carry, which is an urban Japanese vehicle with big tyres fitted onto small-diameter wheels therefore bogging easily. The Farmworker, however, has a proper chassis and is a proper off-road vehicle, and it's more robust than a side by side."
For the latest reviews, subscribe to our Farm Trader magazine here.
Keep up to date in the industry by signing up to Farm Trader's free newsletter or liking us on Facebook