Test: Agmech five-bale multifeeder
---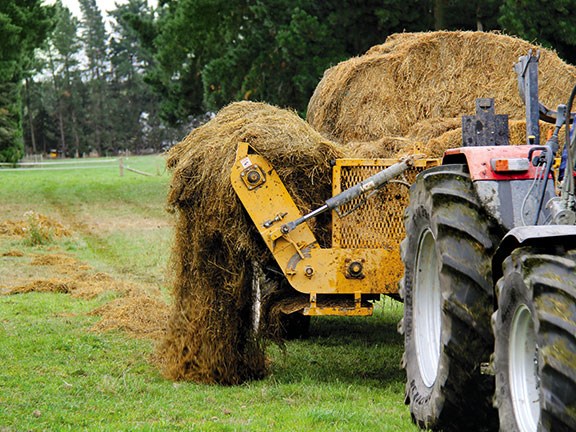 The side elevator teases the bales out into a uniform row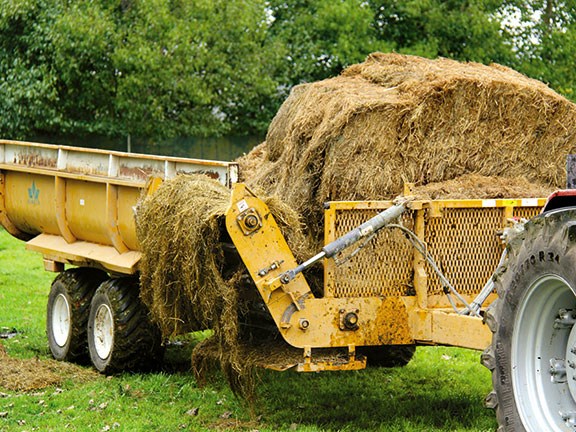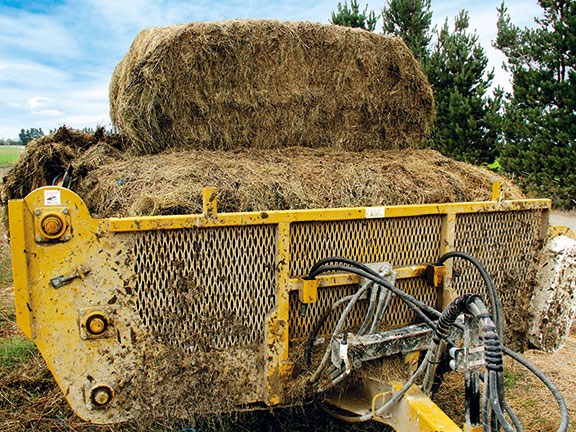 The low machine height makes it easy to load and visibility during feeding out is exceptionally good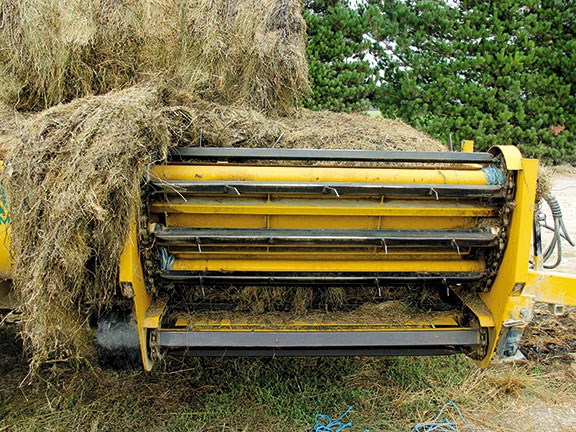 The elevator and floor chains work together through a sequencing valve to avoid overloading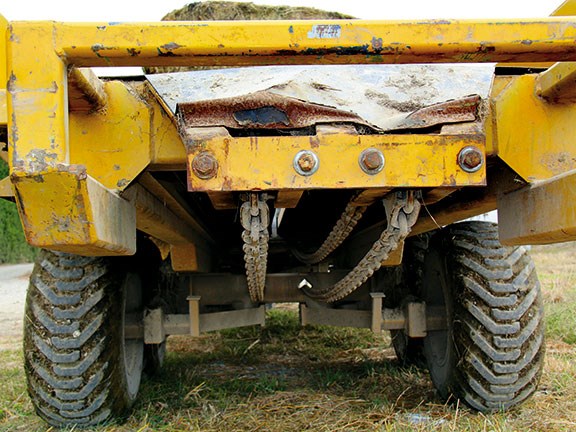 Two large chains for the pusher can move up to 10 tonnes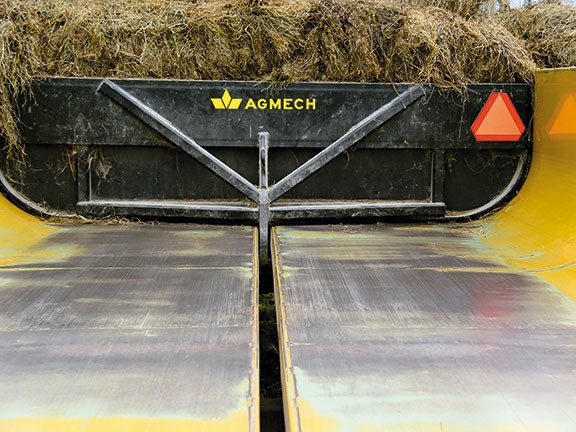 The rear pusher ensures all feed makes it to the cross feed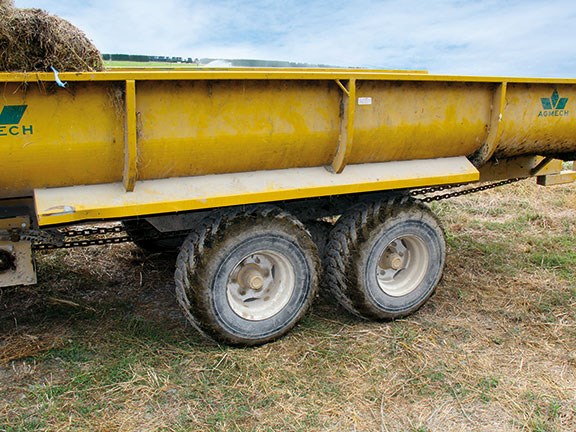 Multiple tyre options are available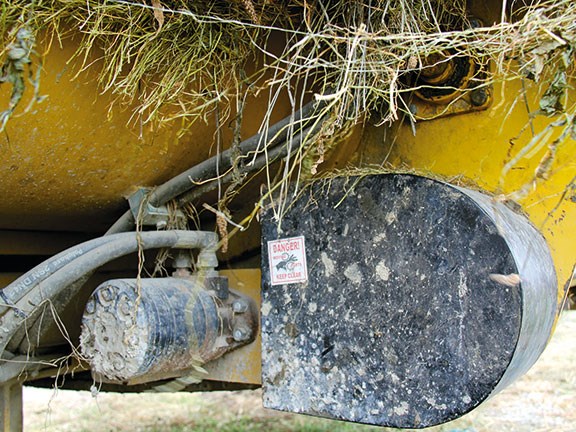 The side elevator and chain drive are located out of harm's way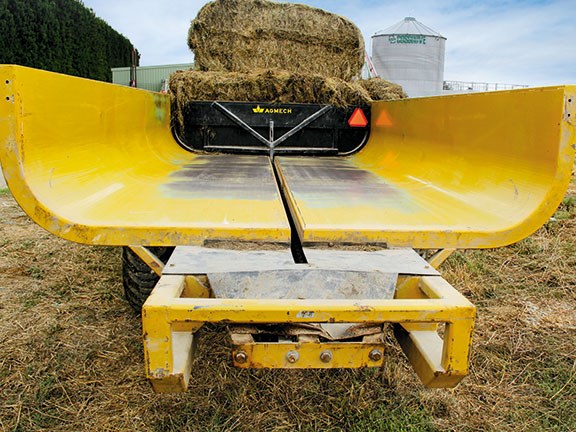 The bathtub design adds additional strength to the machine to handle the large number of loads it will be subjected to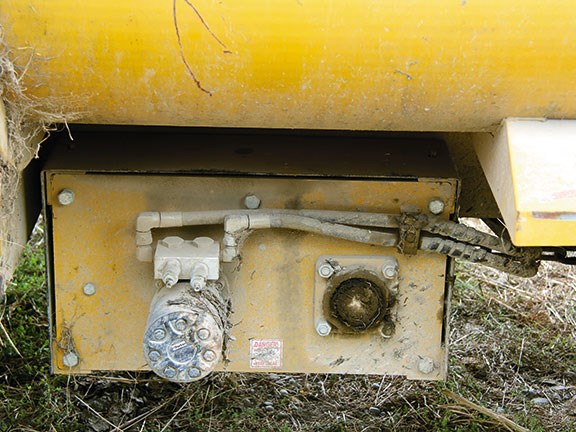 The 500cc gearbox drive for the pusher

Jaiden Drought headed south to drought-stricken Canterbury back in March to test the mighty Agmech multifeeder and was not disappointed by its robust handling.
In the midst of last summer's drought, which feels like an age ago now, I flew south to test another piece of hardy Agmech equipment. Out of the window of the plane I witnessed what looked to be reverse crop circles on the ground, where green circles of grass spread as far as the eye could see or, more truthfully, as far as the centre pivots could reach.
At the time, this was very depressing as both farms where I tested the Agmech machines were on the boarder of making mud under the pivot, which was flourishing with lush top quality feed. On the outside of the pivot, however, it was like a desert. This was very similar to my farm back in the Taranaki, where my cows were being shifted from paddock to paddock for a change of scenery and to keep their sanity if nothing else.
Here we are in July and I am over being bitter and twisted about the lack of rain as we have probably had half a metre since I tested the Agmech machines that dry summer's day. Although the weather is now the exact opposite, there are again challenges facing farmers needing to feed stock. Now, I don't have much pulling power when it comes to getting big Hughie to turn off the tap, but I can offer you a feed-out solution – the Agmech multifeeder – a basic reliable feeder that can handle the jandal.
Five-bale multifeeder
The Agmech machine I tested was the five-bale model and although rated at five round bales, getting 10 big squares on it is common practice down here. Luckily for those of you who have either used or had a close inspection of any Agmech piece of machinery, you will know overloading isn't likely to compromise the rigidity of these machines, with build quality being one of the key strengths of this company.
Unlike many publications and newspapers where bad news sells copies, here at Farm Trader we are fortunate enough to pass on good-news stories about people in the field who have almost always had a good run out of a machine. The first good-news story I can share is at Taihoa Farms, managed by Ray Seaback and his team, milking 650 cows on 160ha with an additional 40ha of crops. They have used their five-bale feeder just about every day for five years, feeding 10 big squares at a time and up to 17 a day for periods of the year, which is quite some workload. No breakdowns to report and Seaback was quick to praise the bulletproof design and rugged performance, as well as the ease of use for staff.
Next stop was Stack Farm Holdings and more praise from Steve Dellaca regarding Agmech's multifeeder. Dellaca was singing from the same hymn sheet as the guys from Taihoa Farms and feeding a similar number of bales daily with little faults to report on.
What if I don't just want to feed bales, I hear you say? Well, the multifeeder, as the name suggests, can feed bales both round and square, pit silage and maize silage (in the paddock), even vegetables and, depending on what options you tick, this can happen both left and right from the cross conveyer.
The tub
The smooth walls of the tub body design offer little drag for the pusher, yet, like a bath tub trailer, add considerable strength to the machine. Not that it probably needs it, as the amount of RHS steel in these things is quite something. But one thing it definitely won't do is fall to pieces on you. The only problem with the pusher is the inability to move feed backwards, which can be tricky as bales don't always do what you want. This means correct stacking is essential to ensure smooth feeding out, particularly with 10 bales on board.
All Agmech multifeeders have the ability for the floor chain to be slowed invariably. This is ideal for square bales that generally require agitation to break the biscuits into an even row of feed. Like on most feed-out machines, a hydraulic valve can be altered to speed up or slow down the floor and elevator (separate to adjusting the tractor hydraulic flow). The floor drive works in conjunction with the elevator via a sequencing valve, the elevator speed is direct via the block, which then allows for the elevator to stop automatically when feeding over the shredder on the opposite side (if fitted).
The pusher has a 500cc gearbox drive motor, giving nearly 10 tonnes of pull to the chains, which is one of the reasons you can load them up so much knowing you have the power to move them.
Verdict
These machines are, to me, the epitome of Kiwi ingenuity and back-shed genius. This is probably not the best analysis, as Agmech's owner Gary Baker is actually a Pom (but we won't hold that against him). What I should have said was: this is a great example of a Pom building bloody tough machinery that is easy to use in a Kiwi shed. Try an Agmech and you won't be disappointed. And that's not just me saying it, but the many people I've spoken to about these machines. This time around I actually donned my investigative journalist hat and tried to get some dirt on these machines, but nobody had a bad word to say. So you can take from that either the machines work great, or I am a terrible journalist – I'd put on a dollar each way.
For the latest reviews, subscribe to our Farm Trader magazine here.
Keep up to date in the industry by signing up to Farm Trader's free newsletter or liking us on Facebook