Test: Kawasaki Mule 610 XC 4x4
---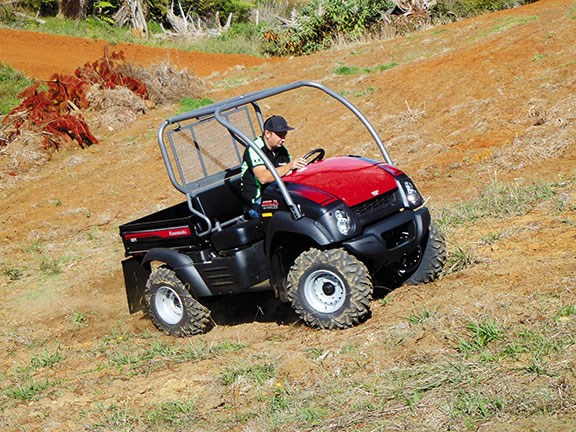 Being smaller than many other models on the market leads to excellent handling and good all-round manoeuvrability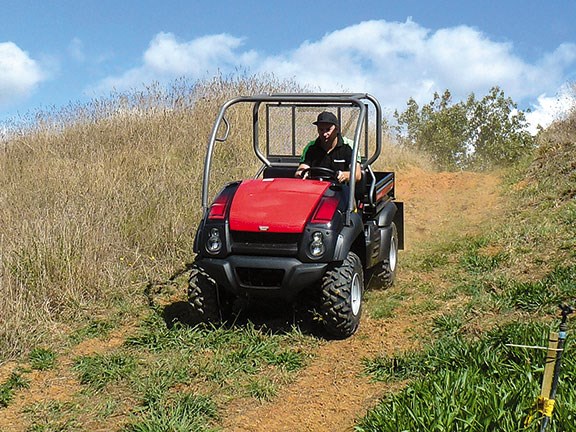 Being smaller than many other models on the market leads to excellent handling and good all-round manoeuvrability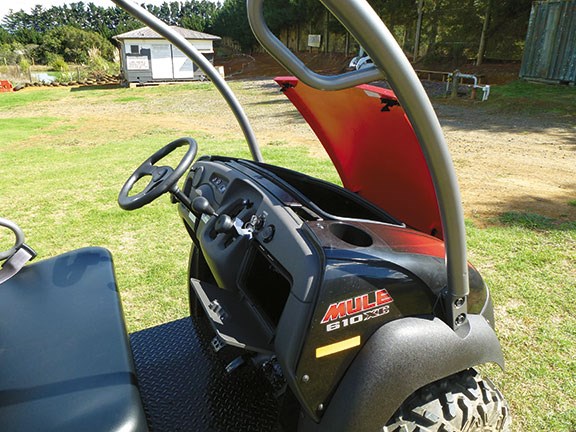 A comfortable bench seat, a well laid out dash and loads of storage space with a massive compartment under the front bonnet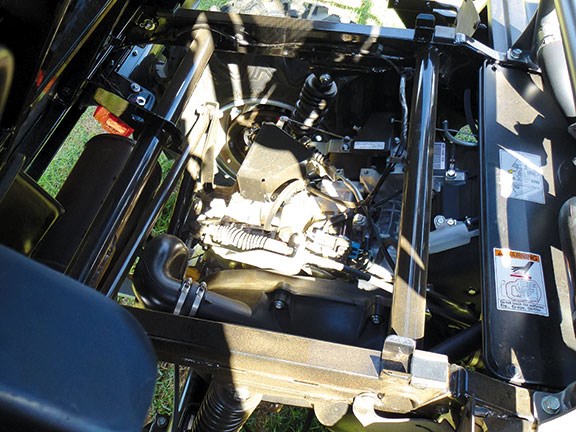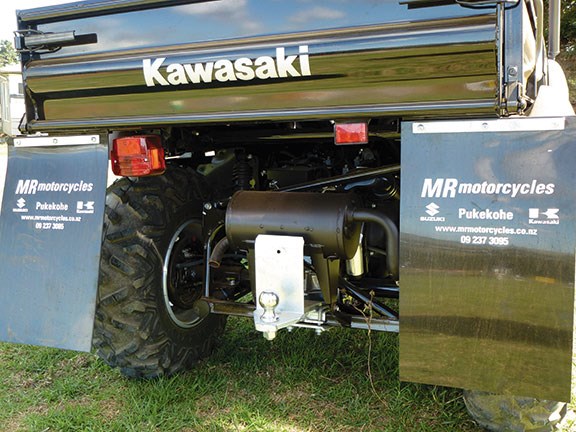 The rear suspension uses a separate pivoting sub frame for the engine and the rear bar axle, connecting to the bike with a swingarm and shock absorber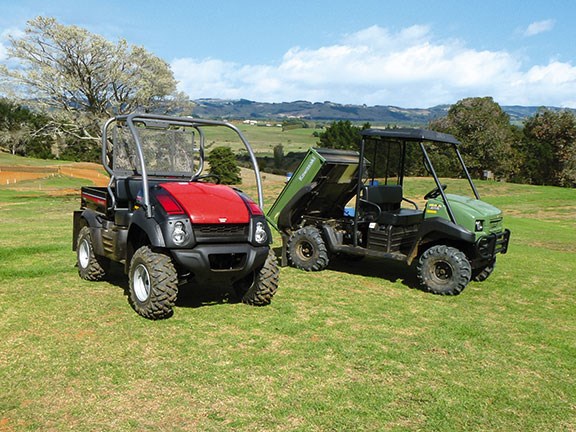 Side by side the 610 XC and the 4010 diesel are too very different machines that will appeal to a wide range of end users

The Kawasaki Mule XC is the little brother of Kawasaki's side by side line up, but Brent Lilley discovers that size aside, the little bro' is a big contender.
Engine
The Mule 610 uses a simple 401cc four-stroke, single-cylinder engine, which is compact and lightweight whilst providing adequate power for a machine of this size. It utilises an overhead valve and a carburettor for efficiency and fuel economy. A rotating counterweight is used and moves opposite to the single piston, dramatically reducing vibration and minimising noise and wear. A generous 15.5-litre fuel tank keeps the Mule going all day without running low.
The engine is air cooled with a fan to maintain an ideal operating temperature. The air supply for the engine is the same as the larger Mules, the air enters via a snorkel routed through the tubing of the overhead roll frame, ensuring a clean and dry supply of air even in less than ideal conditions — a stand-out feature seen on all Kawasaki Mules.
Transmission
Much the same as other Kawasaki Mules, the 610 XC uses the Kawasaki automatic power drive transmission, a belt-driven continuously variable transmission (CVT) that coupled with a high-low dual range transfer case offers excellent control in off-road situations and climbing hills with a heavy load. Air is drawn in from the same supply as the engine to keep the torque converter cool with filtered air reducing wear. This transmission is very smooth and has proven itself very reliable in a range of Kawasaki models.
Four-wheel drive is selectable from the cab, a limited slip differential is used in the front and a lockable differential in the rear can be locked for maximum traction to get you out of a sticky situation.
Brakes
Once again as with the larger Mules, Kawasaki has chosen to run with hydraulic drum brakes all round and, although I was expecting to find disc brakes, they are more than capable of the job, effectively pulling the Mule to a halt on even the steepest downhill slopes.
Suspension
I believe the rear suspension of this machine to be quite unique with the rear bar axle and the engine mounted in a separate sub frame, which then mounts to the chassis of the bike with a pivoting swingarm and a shock absorber allowing movement up, down and side to side. This set up allows the wheels to ride over bumps and into hollows while keeping high-wear moving parts such as driveshafts to a minimum without compromising the smoothness of the ride when compared to fully-independent suspension. The front uses a fairly commonly found independent MacPherson strut set up allowing each wheel to track over uneven ground with minimal camber change to maximise traction and maintain stable handling.
Carrying capacity
The rear tray uses sturdy pressed steel for the sides and the tailgate. The tailgate has a simple release system for opening and laying it flat to allow for extra-long loads. The bottom of the carry tray is built using heavy checkerplate steel that looks like it will quite literally stand up to whatever you throw at it. While a load capacity of 181kg may limit you, for this size machine it's more than enough for the dogs and a bit of fencing gear. The rear tray can also be released by unlocking the latch behind the seat and then tipping manually, making it easy to unload whatever you've piled into the back or to gain easy access to the engine underneath.
Storage up the front is impressive with a huge 48-litre plastic bin hidden under the bonnet, which is easily accessed. A sealed glovebox on the passenger's side will keep anything important safe and dry, while handy cup holders will carry the morning coffee or afternoon refreshment.
Price
Kawasaki gave me a recommended retail price of $15,410 plus GST, which is fairly competitive with other makes on the market, although as mentioned earlier, this model will be at Fieldays so look out for some great deals there.
Verdict
As far as I'm concerned, the Kawasaki Mules have been the benchmark in the side by side utility vehicle market for a long time now with a proven track record as rugged and reliable workhorses. Testament to this is the large number for sale online with some over 10 years old still fetching good money. I'm sure the 610 XC model will prove just as tough and reliable over the years, particularly with stand-out features such as the pivoting swingarm suspension in the rear and the clever air intake snorkel through the roll frame. Only time will tell.
Specifications

Kawasaki Mule XC 610 4x4

Engine

401cc, four-stroke, single-cylinder, air-cooled petrol

Max power

9.2kW (13.5hp)

Fuel capacity

15.5L

Transmission

Continuously variable belt drive with low, high, neutral and reverse

Drive system

Shaft-driven selectable 4WD with rear differential lock

Brakes

Front/rear hydraulic drum

Suspension

Front: independent MacPherson struts

 

Rear: pivoting sub frame on a swingarm with adjustable shock absorbers

Tyres

Front 26 x 9R-12

 

Rear 26 x 9R-12
For the latest reviews, subscribe to our Farm Trader magazine here.
Keep up to date in the industry by signing up to Farm Trader's free newsletter or liking us on Facebook