Test: JCB Loadall 526-56 Agri
---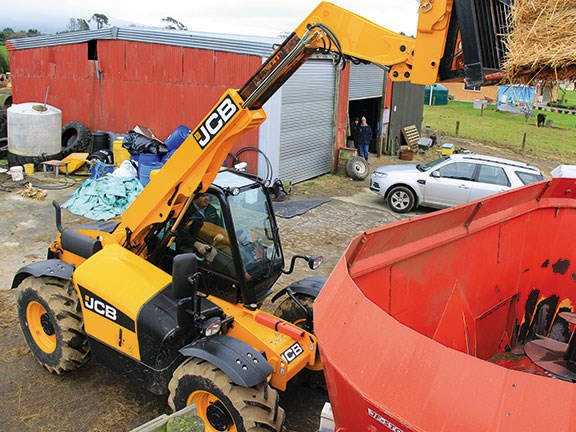 With lifting capacity of 2.6t to 5.6m, loading the mixer was drama free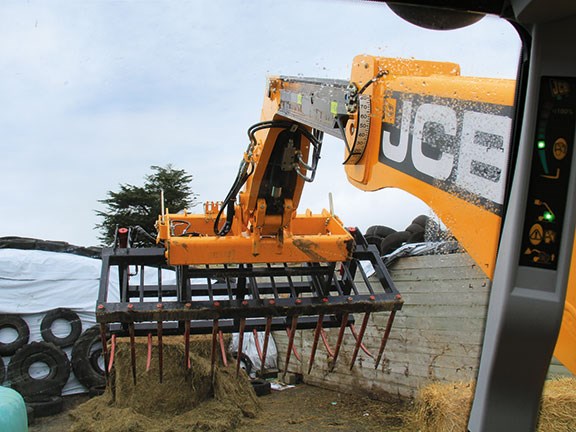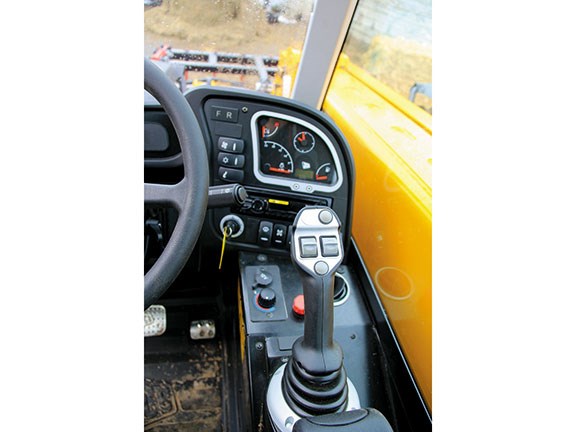 The easy-to-use joystick and simple dash make operating the JCB a breeze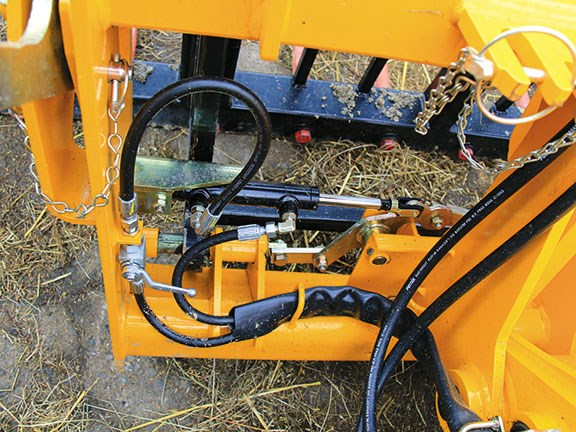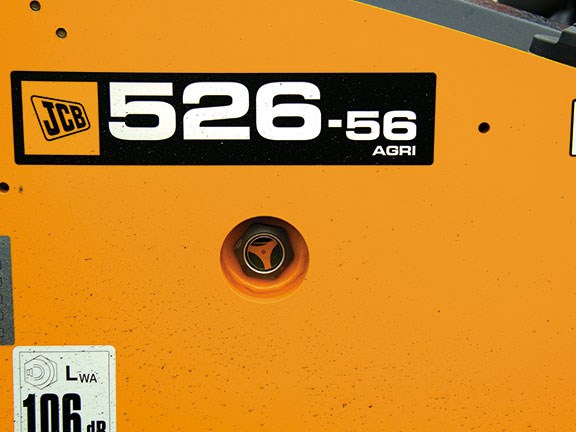 The oil sight glass is easy to check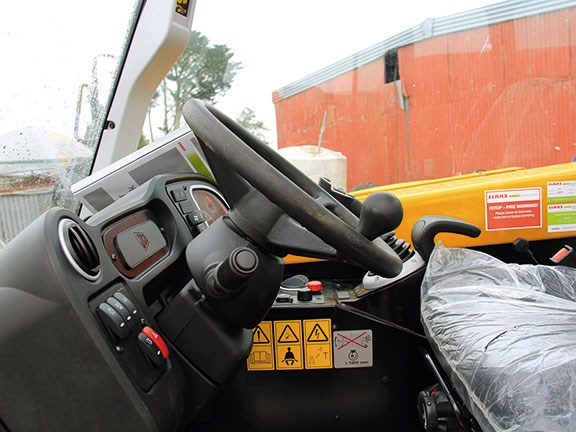 Uncluttered left-hand side makes access easy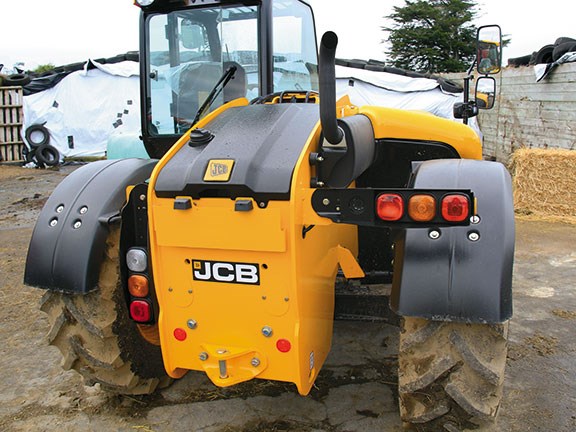 The lights can be folded down (like on the left) or up (right) — this helps prevent damage in tight situations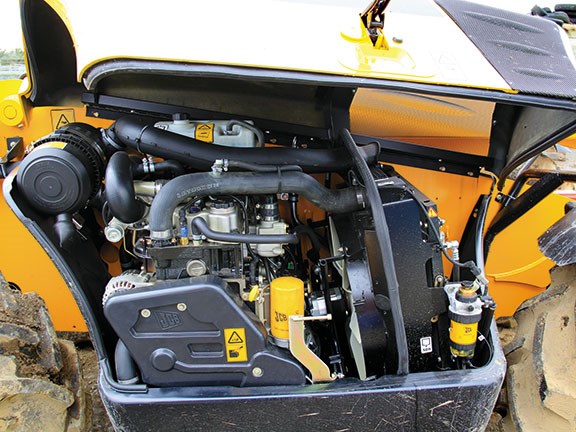 The easy-access engine makes servicing easy, a reverse fan helps remove debris build up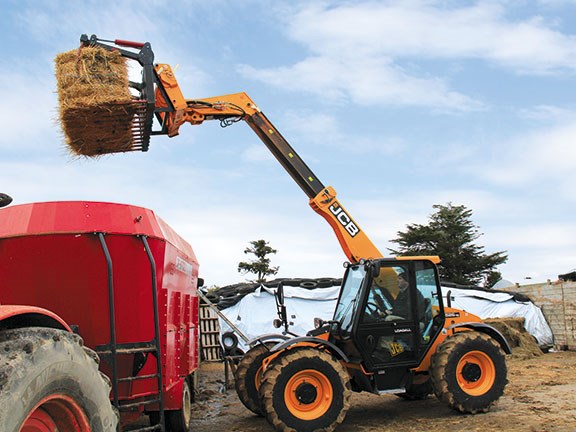 The low cab and wide frame help stability

This month Jaiden gets all scientific on us in order to get an answer to the age old farming query — what's better, a telehandler or a tractor and loader?
Sympathy must go out to South Island farmers who've been dealt an average hand in terms of wind, snow and rain deluges lately. With this in mind it might be a good time for them, and others, to consider investing in a machine that will make feeding out considerably more time efficient.
Now, you may remember that last year I tested the 531-70, which lifts 3.1t to 7m in height. Well, this month's test machine is its little brother, the 526-56, which equates to a lift capacity of 2.6t and a reach of 5.6m. The test 526 is slightly more basic in the Agri spec without boom suspension, torque lock and a four-speed (instead of six-speed) power shift. It obviously can't lift as much and as far, plus it is 30hp less than the 531, but it's smaller and more compact size enables it to be more nimble and, best of all, cheaper.
Now, the significance of this test is to determine whether you're better to spend $100,000 on a 100hp tractor with a loader, or one of these telehandlers. Yes, you did read that correctly — this month I am approaching this test scientifically and forming a hypothesis to see if my conclusion at the end of this article will provide you with any useful information. If you've read one of my articles before you'll know that based on my previous track record, when you start reading the test you don't have high expectations of finding a relevant conclusion, so we will see if this month is any different.
As I mentioned earlier, this is the Agri version. You can also get the Agri Super and the Agri Xtra spec levels. The 526-56 is the smallest in the range of what I would consider a conventional telehandler-look. There are smaller JCBs, but to me they look more like a combination of a forklift and a skid steer. Compact dimensions and the lower cab height enable operation inside buildings, while four-wheel steer gives a tight turning radius and flexibility around the farm. Being the baby telehandler, it felt very nimble but still stable, which in addition to the narrow chassis, a long wheelbase and a low cab lowers the centre of gravity, thus reducing the need for a right-way-up sticker.
Boom
The greater-lift, greater-reach boom is the main reason you buy one of these machines over and above a tractor. This boom is slightly more basic than its higher spec'd siblings, looking more like an 'I' beam, and the hydraulic lines are routed outside the boom. This isn't actually a downside as the hoses are internal hoses and so create few problems for the technicians to fix. The nose of the boom is all one piece, meaning there's no weak spot as the boom is not angle cut with another short drop welded on. Keyhole castings continue the strength theme and are used to attach the tilt, lift and extension rams. The lift rams are centrally mounted to avoid offset stresses and twisting of the boom. The Q fit carrier is the upmarket name given to the hydraulic quick hitch. The third service valve controls the hydraulic hitch and by turning a small tap, this locks the hitch and diverts the flow for implements requiring oil — all controlled via the joystick.
JCB's boom suspension is dubbed 'Smoothride', working like a damper on any normal loader. Our test machine didn't have the suspension option but, unless the machine is stuck in feed bunkers all day, it would be an option you should seriously consider adding. One handy, standard feature is the parallel lift system. This works exactly like self-levelling on your normal loader and is perfect at keeping all the fine material in the bucket when loading heaped buckets of feed.
Hydraulics
This particular model had an 80L/min flow which I found was fast enough, although I did find myself using the throttle to speed it up most of the time, but this was due to my impatience more than anything else. On the larger models however, like the spec level, there is a range of hydraulic pump options. Although not equipped on this particular machine, you can have a pick-up hitch which is rated to eight tonnes (the standard tow bar on this machine is rated at the same). One SCV can be spec'd at the rear, coming in handy for farm work. Although, to be fair, if you buy a machine like this it is unlikely you will hook the trailer on the JCB and load with the tractor.
Engine
The JCB Dieselmax engine is the same throughout the Loadall range. All are turbocharged, with the exclusion of an intercooler in this particular model. The engine is dubbed the 444: four-cylinder, four-litre with four valves per cylinder. The one-piece hood folds up easily to expose all the major daily service points. The main hydraulic fluid level sight glass is on the left behind the cab, meaning there's no excuse for not checking it. The inclusion of a reverse fan allows you to blow off any debris from the comfort of the cab while used air is expelled though a duct under the engine. This aids cooling as the engine air flow is positioned where heat can escape, unlike most normal tractor engines. Most service intervals are at 500hr, depending on working conditions, and includes the boom wax application. The engine performs well with no major horror stories to report, although, realistically, 95% of their life is just spent driving the hydraulic pump, if we are honest.
Steering and stability
Again, even this lower spec machine offers the three steering modes (two-wheel, four-wheel and crab steer), although it has a lever rather than buttons and the wheels must be straight to change modes. This still worked well and the greater number of mechanical features always translates into less things to go wrong. The JCB is automatically in 4WD but can be switched to 2WD for road work. Although we were on concrete with a mixer for this particular test, during my test of the 531-70 I can tell you the four-wheel drive and limited slip diffs performed very well and given the running gear is near identical, I can't see the 526-56 coming into any strife.
Transmission
The Agri spec comes standard with a four-speed power shift torque-converter transmission, so essentially gears three and four are for the road. Many will be familiar with the torque-converter transmission — essentially it sends the power where it's needed, so if you use the boom you will slow down as the power is sent to the pump rather than the transmission, but all in all works pretty well. My only gripe is the shuttle uptake being quite aggressive, but this can be calibrated by the dealer to make it smoother. Both were brand new, though, so will still be pretty tight.
Operator comfort
In the last test I commented on the noise the telehandler made at start up and this time around it was exactly the same — it really cuts through you. Other than that, the cab is a comfortable and relatively quiet.
Obviously, given the lack of space available to mount a cab on a telehandler, it isn't the roomiest, nor does it offer the 360° views due to pillars placed for safety, but overall visibility is excellent. A glass roof panel allows you to look skyward when the boom is extended, which again for safety reasons has metal bars across the top to stop rogue debris ending up on your lap. Access into the cab is easy with a galvanized step and a two-piece door of which the top section can fold right back so you can let fresh air in, while the bottom section stops you falling out.
The joystick covers lifting, crowding, extension and the third service (or diverter to hydraulic hitch). The shuttle lever is still on the left for those who are used to that in their tractor, and a flick switch handles the four power shifts. What I found peculiar about the joystick was its inability to shake the crowd ram effectively when silage gets stuck to the forks — there seemed to be a delay.
Verdict
If you are in a position to purchase a second or third tractor where loading will be a big portion of that tractor's duties, then, in my opinion, a telehandler makes more sense. Not only can you load faster and in bigger quantities, but these things are built specifically for loading. Tractors are designed to have loaders attached, but often we place bigger loaders without the correct ballast to get more reach or lift capacity. This not only places more stress throughout the entire machine, but your front axle and tyres won't be thanking you either. As a direct result their life expectancy will be well down. For roughly the same price as a tractor and loader, telehandlers are built specifically to load and they will increase the lifespan of your tractor, meaning less repair and maintenance. The hypothesis has led to a conclusion — it's a no brainer.
Specifications

JCB Loadall 526-56 Agri

Overall height

2.4m

Overall width

2.3m

Wheelbase

2.6m

Ground clearance

.44m

Maximum lift capacity

2.6t

Lift capacity to full height

2.6t

Lift capacity at full reach

1.25t

Lift height

5.6m

Maximum forward reach

2.95m

Engine displacement

4.4L

No of cylinders

4

Aspiration

Turbocharged

Power at 2200rpm

100hp

Torque at 1300rpm

425Nm
For the latest reviews, subscribe to our Farm Trader magazine here.
Keep up to date in the industry by signing up to Farm Trader's free newsletter or liking us on Facebook