Test: Massey Ferguson 5455 tractor
---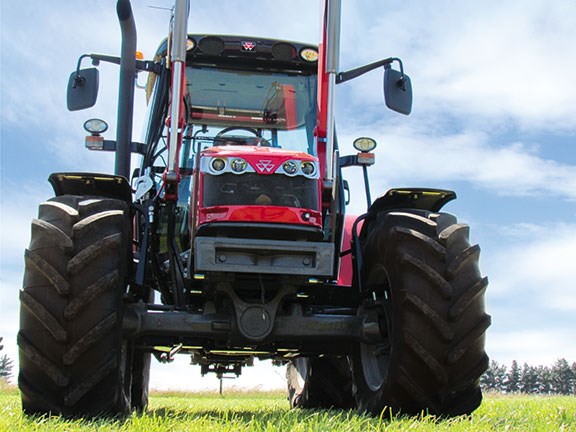 The new sloped bonnet gives great forward visibility for loader work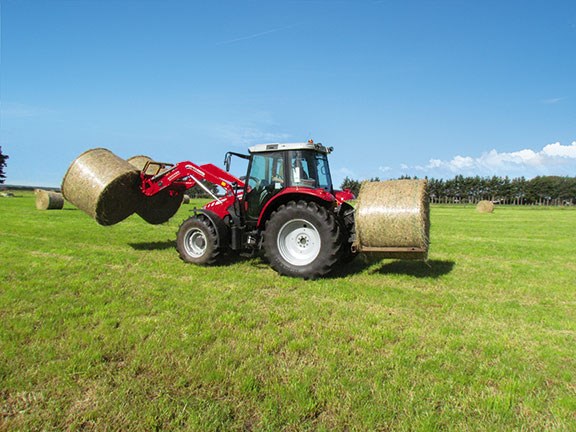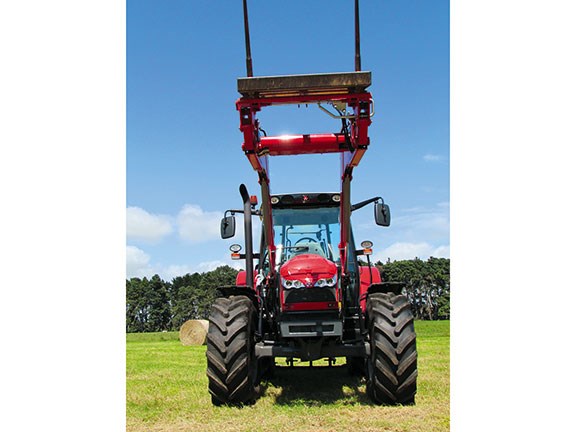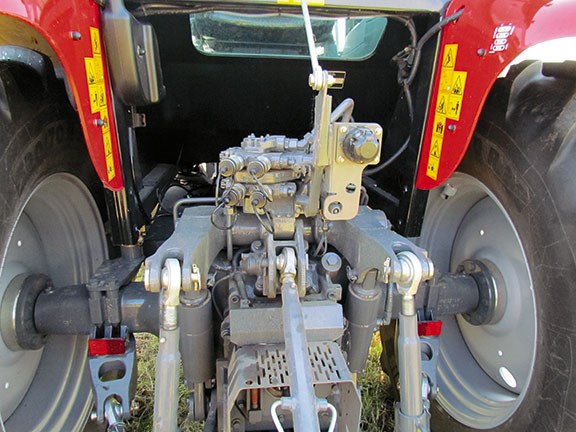 The back end is uncluttered which makes hitching implements easy, although it's an area I think could be refined slightly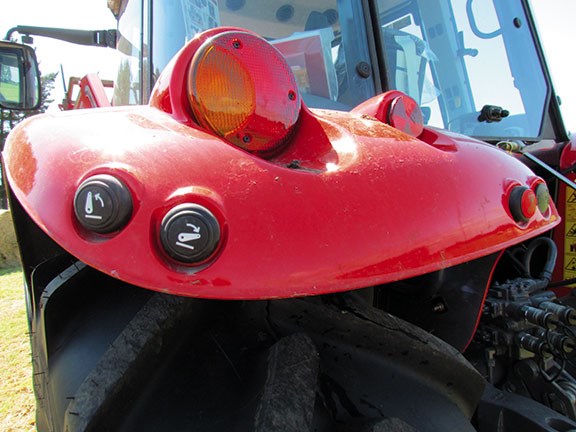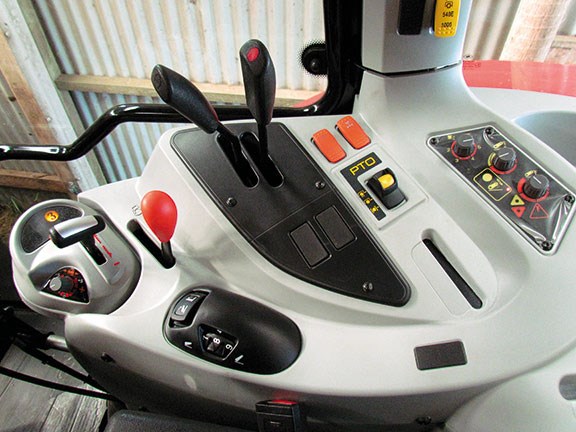 The controls are well laid out in a logical and practical manner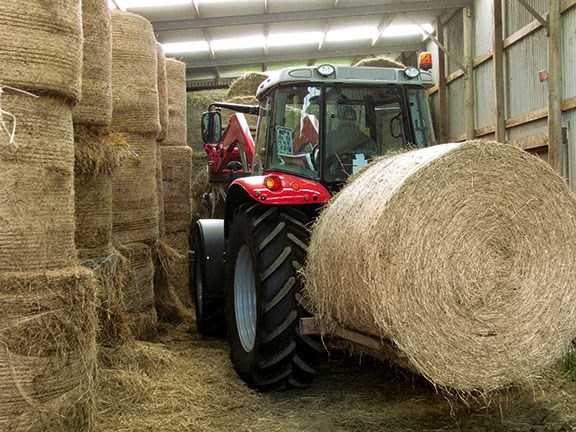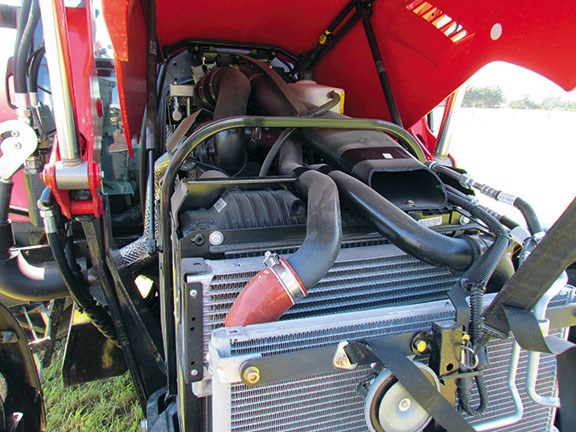 The one-piece bonnet lifts high for easy accessibility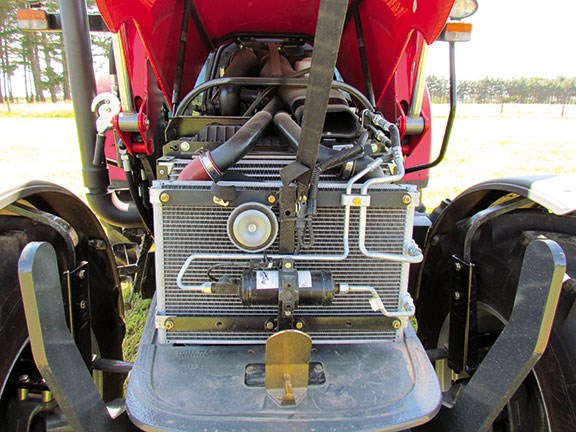 The radiator and intercooler unfold easily to make cleaning easy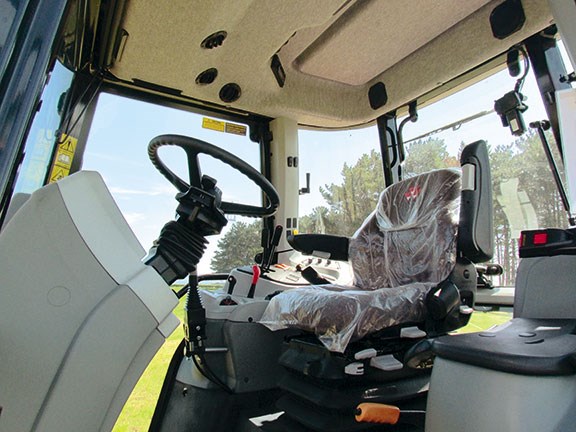 A comfortable day at the office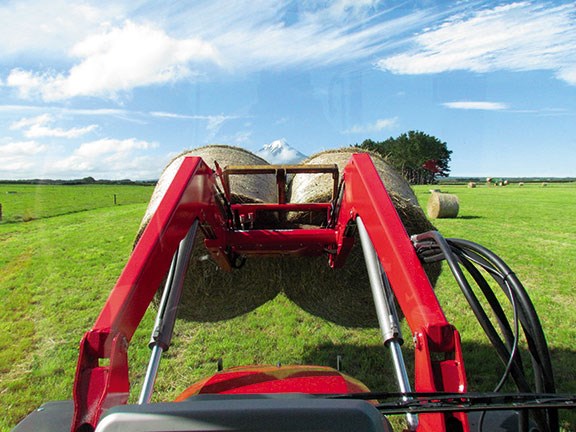 The view from the seat — forward visibility is some of the best on the market

Often plastic surgery and tractors aren't brought up in the same sentence, but in terms of forward visibility for loader work, the Massey Ferguson has opted to give the 5400 a rhinoplasty so we decided to test and review the Massey Ferguson 5455 tractor.
Loyal Farm Trader readers out there will realise we have tested the 5455 in the past and it is essentially the same tractor, although this model has had a few tweaks both internally and externally. The most noticeable being the new drop-nose bonnet with the primary role of boosting forward visibility, and with its four snake-like eyes, if nothing else, this tractor gives a striking first impression.
Engine
The test MF 5440 is the third smallest in the versatile 10-model line up from the AGCO corner with a mix of four- and six-cylinder engines throughout the 86-145hp (unboosted) range.
Those familiar with this size from Massey will be pleased to find a Perkins engine under the hood, which has been Massey's preferred choice for some time now and is renowned for its reliability. Under the one-piece hood our test 5440 has the 4.4L, four-cylinder, Perkins two-valve engine with mechanical fuel injection instead of the common-rail fuelling or power-boost functions on most modern engines. The perky little Massey still produces a healthy 100hp, helped along by an intercooler, turbocharger (with electronic waste gate control) and a viscous fan, all of which combine to meet the Tier 3A emission requirements.
Transmission
Most will be very familiar with the Dyna-4 box, boasting four ranges and four power-shift steps which can be shifted either via the small lever on the side console or on the steering column-mounted Dynashift power shuttle. Standard features include speed matching as well as a small dial to adjust the shuttle uptake aggression. Overall, it's a well thought out setup and the fact it can all be done electronically without clutching between gear changes, is not often seen in the sub-100hp class.
Inside the cab the transmission controllers all look the same, but underneath Massey has tweaked a few things, which isn't uncommon throughout any tractor model's history.
The plan was to reduce the weight of the Dyna-4 transmission so it suited the lower-powered tractors in the range, while obviously trying to retain its strength. While the engineers were in there fiddling around, they managed to create an additional six centimetres of ground clearance, increased axle loadings and added an extra 25 litres to the oil reserves, which will come in handy for large rams on tip trailers.
Linkage hydraulics and PTO
There is a two-stage pump to handle all the main controls. The first stage offers 32 litres per minute and takes care of steering, brakes, gearbox range changes, diff lock, PTO, and four-wheel drive, while the second stage offers 57 litres per minute, supplying three-point linkage, SCVs, the loader and trailer brakes. Fifty-seven litres per minute doesn't sound like much, but essentially all that oil can go to the loader, which I felt was smooth and responsive. I didn't notice much difference between that and my own tractor, which has a pump with twice the output, so Massey must be doing something right.
Our test MF 5440 was equipped with two SCVs, although up to four can be spec'd, which will be enough to meet the needs of most users in this power category. One issue I had with this feature was that just one spool has flow control and even when four are fitted only two have a float function, which seems a little bizarre for a tractor in this price bracket. Furthermore, what should be dust caps are plugs and are a pain to pull out and will eventually get lost, and there is no container for catching any oil leaks.
On a more positive note, the 5440's PTO offers three standard speeds (540, 540E and 1000rpm) where swapping PTO speeds is handled electronically and with a stop button on the guard — a nice luxury in this power class.
The 5000kg lift capacity with twin assistor rams will not disappoint and will be more than sufficient for what most farmers in New Zealand will throw at it. Controlling the linkage in the cab was a breeze with a mixture of mechanical and electronic adjustment, while adjusting around the back was simple, easy and uncluttered. Finer adjustments are handled by the buttons on the large flared guards.
Operating environment
Although some now consider the six pillar cab to be a negative in terms of design, I feel quite the opposite. Maybe it's because I grew up in Taranaki where I believe the only negative factor in the history of the region is the wind, and believe it or not, wind and one-piece doors do not co-habitate particularly well. The curved back windows help with rear visibility and although not much of the linkage and drawbar can be seen out the back window, another small window near the base of the cab takes care of that. The controls are well located and easy to reach, and even the large SCV levers located up high are still within comfortable distance. The cab felt cool as you were shaded well in the sun, which means the air conditioning doesn't have to stretch its legs too often and combined with the large head room, great visibility and a comfortable deluxe seat, it's a comfortable day stacking hay.
Standard on all the 5400 series is active transport control (ATC), a shock-absorbing system which works to reduce bouncing, particularly when travelling on the road with heavy linkage-mounted implements. On the subject of reducing shock, the revamped Massey Ferguson now lists cab suspension as an option — a rare find in the sub-100hp class of tractor, which will only enhance an already comfortable ride.
Verdict
There is certainly no hung jury when it comes to the verdict on this tractor. With large flared guards, big wing mirrors, electronic PTO speed selection, electronic gear changes with adjustable shuttle response and even the cab suspension option, it all makes for a very impressive sub-100hp tractor. But (and there's always a 'but') the presence of plugs in the rear remotes and only having a float on one of the SCVs does seem a little bizarre. This shouldn't overshadow the fact this perky little tractor has, in my view, class-leading visibility for loader work and Massey Ferguson has built in some groovy features to only enhance its position as a top contender in the livestock sector.
Specifications

Massey Ferguson 5455 tractor

Engine:

4.4L, four-cylinder Perkins

Power:

105hp (rated), 125hp (boosted)

Torque:

463Nm (max)

Transmission:

16 forward, 16 reverse four-speed semi-powershift

PTO speeds:

540, 540E, 1000 and 1000Erpm

Hydraulic flow rate:

43L/min (pump one) and 57L/min (pump two)

Rear-linkage lift capacity:

6000kg with optional assistor rams

Wheelbase:

2460mm

Base weight:

3900kg

Tyres:

Firestone 540/65 R34 (rear) and 440/65 R24 (front)

Service intervals:

400 hours
For the latest reviews, subscribe to our Farm Trader magazine here.
Keep up to date in the industry by signing up to Farm Trader's free newsletter or liking us on Facebook