Test: ProPark feed bucket
---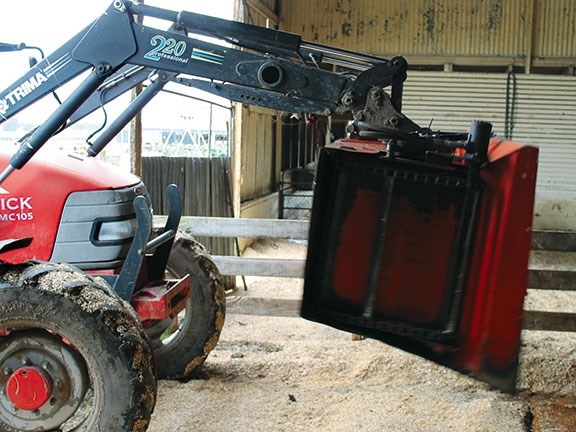 Loader mounting point means dump angle is OK for emptying product from the bucket, but to load a wagon you need to run the feeder bed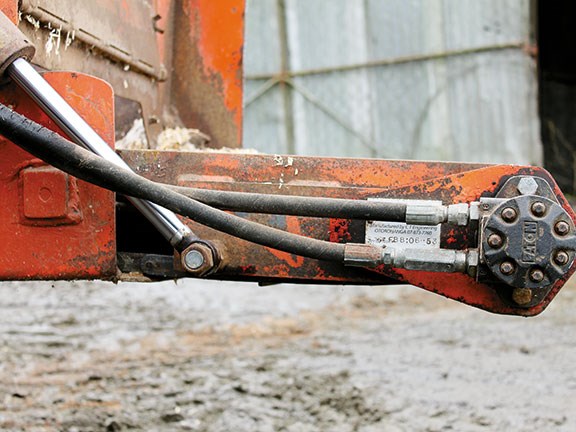 The arm and feeder bed both run on the same hydraulic circuit making operation simple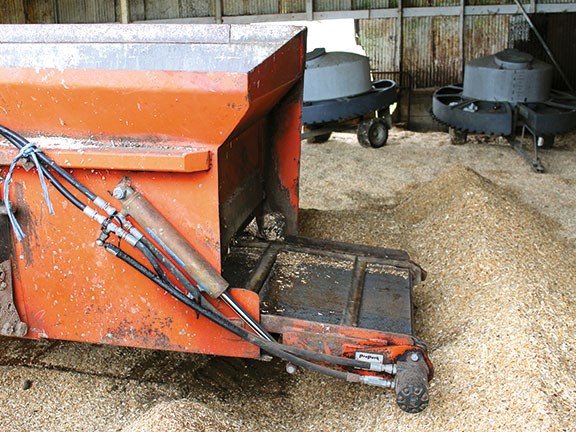 A variety of products can be handled by the ProPark bucket, including wood shavings for the calf shed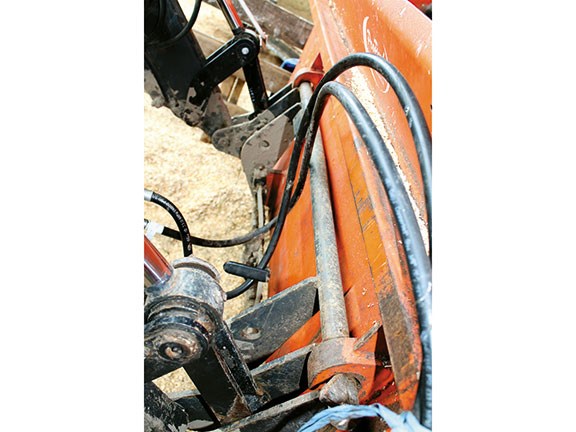 Easily mounted on standard Euro loader hitch, or custom made to suit your machine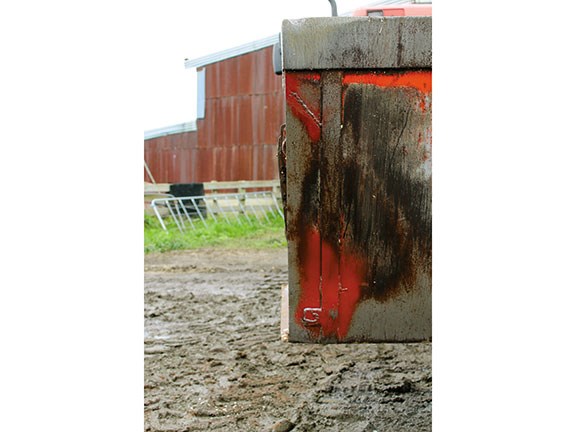 Feed arm folds in neatly to give a clean edge on both sides of the bucket for loading

Mark Fouhy discovered a handy looking feed bucket at the Mystery Creek Fieldays so decided to do some further investigation and take it for a test run.
I must admit to being quite a fan of the Mystery Creek Fieldays — there is so much to see and learn. There is also the opportunity to see what clever new ideas and inventions other people in the rural industry have come up with to make life a little easier on the farm. This year I came across the ProPark bucket, made by Ross Cumpstone at CT Engineering, Otorohanga. Originally designed for feeding maize on a feed pad, it's actually very handy for a number of other jobs too, like a personal safety cage for painting the house, for example.
Although not technically a 'new idea', the ProPark bucket was originally designed and made 17 years ago using a bit of no-8-wire mentality. However, over the years the design has been continuously tweaked and improved, and now with over 140 units in use throughout the country, I think CT Engineering falls into the 'clever ideas' category.
The test
I caught up with Peter Numan who farms 600 dairy cows on 185ha between Otorohanga and Te Awamutu. Numan owns not one, but two ProPark buckets, so clearly sees some merit in these attachments.
Initially when he bought his farm, he had maize harvested in a pit and fed into troughs on his feed pad, but had no side feed wagon or similar to feed it out with — until he came across the ProPark bucket. His latest bucket is able to carry up to 1000kg of PKE and around 850-900kg of maize silage. He has around 500 tonnes of maize and PKE to feed out each year and luckily has his feed pad right next to his maize stack, which saves time carting long distances. It also makes life easier if he only needs to feed out a small amount, saving the hassle of having to drive to the back of the farm for very little feed, and it saves on diesel and tractor running costs.
Numan's first bucket was about half the size of the current model, which is still available if required. He bought his second bucket when he replaced his older Kubota with a new 105 McCormick. The newer, bigger bucket makes cleaning out the silage pit, stack or shed much easier as it's the same width as the tractor and can get right into the corners. Other than the size, one of the key improvements for Numan is the new heavier-duty roller chain. Furthermore the new ProBucket has arms that fold out to feed and then fold back inside the edge of the bucket, so you can load right into both corners of a bunker, not missing or leaving expensive feed for the rats or, worse still, having staff wiping it off on the shed door.
We tested the ProPark bucket loading and spreading wood shavings for the calf sheds, as it's one of the many jobs it comes in handy for.
Shavings are easily scooped up, although as Numan indicated, you do need to be a little careful with the action you use to load — having a flat bed for the feeding chain in the bottom, and the loading mouth at almost 90 degrees, you can put pressure on the heel of the bucket if you crowd your loader up too sharply. This can damage it over time, so loading with a scooping action will minimise this issue. Operation is very simple, the arms on the loader fold down to feeding position and then the bed starts to rotate. Feeding speed is altered by the pressure you apply to the loader's joystick, allowing more or less flow rate as well as tractor revs and forward speed. To slow flow rate down there is also a plate which can be shut down — helpful when feeding palm kernel. Cumpstone has modified the design from Numan's machine to use drop locks (like on the flat deck of your ute) and holes to adjust the setting, which I think is good because having bolt holes and PKE together is asking for trouble. Aside from its ease of operation and ability to feed a variety of feed types evenly, its ability to reduce waste through spillage, and being able to clean out 90-95% of the product, in my opinion, makes the ProBucket one of the better options when it comes to feeders available in New Zealand. Having the bucket mounted on the front end loader makes it easy to see what rate you are feeding. The height of the bins is not a problem either, as the bucket can be raised and lowered very easily to suit your situation. I asked Cumpstone about measuring/site gauge options — there aren't any, but he says a pressure gauge could be added to your loader hydraulic system, so you can check what the pressure was at and the amount required. For small amounts of high cost feed you can also mark with a paint pen or similar.
Construction
The main bin of the ProPark bucket is made from folded sheet steel, to provide strength, with the ends welded in. All welds are done with a mig welder, which Cumpstone uses for strength when welding different metal types and it achieves a tidy finish. I can vouch for the quality of welding given the excellent job they did on my fencing spade, which had been used and abused making highways and cutting down trees. Most of the bucket is made on site from scratch, including the drive sprockets for the bed of the feeder. The drive sprockets are cut from plate steel and machined to their own specification. The hydraulic pump for driving the bed is from another local engineering firm. Mounting brackets are the last thing to be added, which are made to suit your loader, be it a front end loader with a standard Euro fitting, a telehandler, or a hough-type loader requiring something different or specific to your machine. Whatever it is, Cumpstone and his team will custom make it. The finishing touch on the ProPark bucket is a bright orange paint job (or any colour that matches your tractor). Numan's seven-year-old bucket still appears to be in very good order, given the corrosive nature of PKE in particular. For a standard ProPark bucket, turnaround is ten working days from point of order.
Options
Since building the original ProPark feed bucket, Cumpstone and his team have created many options and variations to suit the needs and requirements of their customers. Cumpstone has also modified the design to be mounted as a rear linkage attachment, (still able to self-load) if you have no front end loader. This machine has its own frame with two hydraulic rams to give you the scooping/filling action of the bucket. Your tractor will require one single and one double rear service valve to operate. The ProPark bucket can be ordered as both front and rear mounted, with only four pins to remove to change from front to rear.
The ProPark system has also been adapted to make trailed versions, and used to spread mulch under vines in the kiwi fruit industry.
Other options include a mineral dispenser, rollers for crushing potatoes or other vegetable waste feeds, a face cutter that mounts off the top edge of the bucket and a spreading roller mounted at the end of the feeder chain, ideal for spreading mulch/woodchips.
Verdict
The ProPark bucket will not suit every situation, but it is handy for quite a number of jobs on the farm, although feeding maize or PKE is what it was originally designed for and excels at.
For the latest reviews, subscribe to our Farm Trader magazine here.
Keep up to date in the industry by signing up to Farm Trader's free newsletter or liking us on Facebook