Test: Soilmax drainage plough
---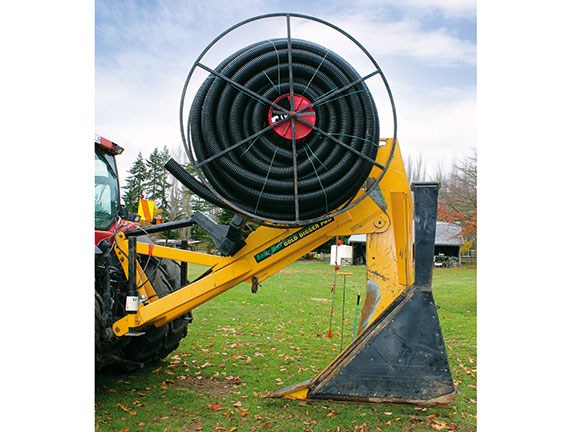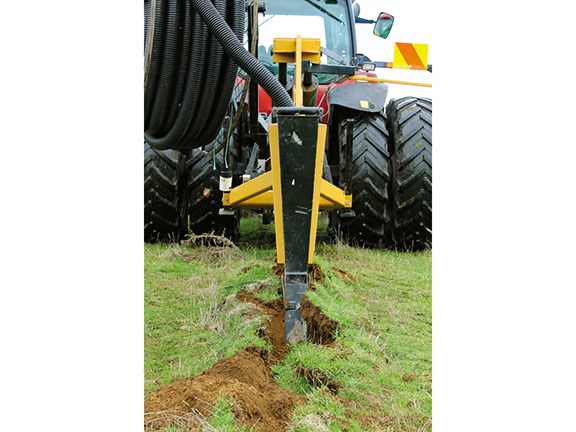 As the pipe is laid, the top soil falls down the trench to cover the pipe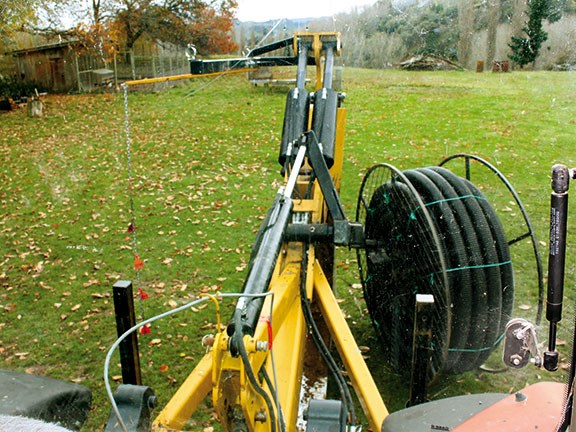 View of the Soilmax from the cab, showing the pipe dispenser designed by Andy and Rob Law for the Soilmax plough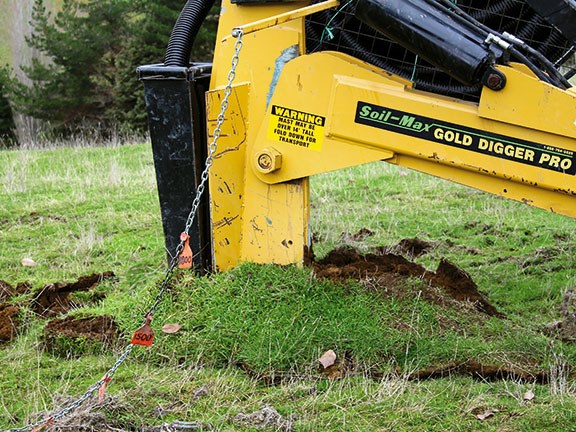 Simple visual chain depth gauge (pipeline at 1.5m deep)

Mark Fouhy roadtripped his way to New Zealand's gumboot capital, Taihape, to test and review a Soilmax drainage plough.
This month I have been testing a Soilmax drainage plough owned by brothers Rob and Andy Law of Taihape, who import these machines direct from the state of Indiana, where they obviously still believe in the mantra 'bigger is better', as the Soilmax stands somewhere between three and four metres high, while parked up, not working.
Soilmax has also applied the 'tough as nails' theory by using the best T1 military-grade steel available, to provide the highest tensile strength available, with the lowest degree of pull/hp requirement.
Andy and Rob Law are farming four blocks of land totalling 850ha and wintering 11,000 stock units, just outside Taihape. Passionate about farm improvement, the pair came across the Soilmax plough which claimed to install drains carefully, forming a circular base for the pipe to bed into and for the crumbling topsoil in a column above the pipe to provide a permanently porous layer for rapid water filtration.
After making contact with the US-based company, Andy was invited to join a contracting company in the US to trial a Soilmax plough for three months. So off he went with wife and kids in tow. In 2010, Andy and Rob imported their first Soilmax plough and in 2011 they gained dealership rights for New Zealand trading under the name SoilmaxNZ. These machines are already sold in Europe, Canada and the United States.
With few moving parts, and three grease points, maintenance costs are very low in comparison to other conventional methods used for drainage in New Zealand (e.g. chain trencher/tracked excavator) so cost per metre of drainage is usually quite a lot less. The main wear point of the machine is the foot, costing about $250 to replace, but you will get many metres of drainage done before needing to worry about that. The Laws' machine has installed approximately 10,000 metres of drainage, and still looks like new.
I had hoped to have the Soilmax drainage plough tested for last month's issue of Farm Trader, but it was away in Gisborne ploughing 1500 metres of pipe in varying soil types. Given the amount of work the Soilmax appeared to be able to get through in that short space of time, I was keen to see it in action and learn more.
The Soilmax plough has the ability to plough in up to 3000 metres of pipe in eight hours under the right conditions, which Andy experienced first-hand while in the US. With very good accuracy, below two centimetres with RTK guidance, the cost for a metre of pipe in the ground with the Soilmax is $6.50, where as a digger-laid metre of pipe with metal backfill would cost around the $15-$18 mark. And this doesn't take into account the extra time taken when using a digger, which is about 800m per day plus, requiring a whole lot more shovelling to get your pipe laid where it should be.
Guidance
You have three options for guidance with the Soilmax plough system — laser, GPS and water level. Laser guidance, which the Laws' machine is set up with, provides the greatest accuracy over the first 50 metres of drain. GPS guidance, RTK spec, has within two centimetres of accuracy.
Laser guidance can be upset by strong wind, or sunlight reflecting off your ute, for example, and when you're working on rolling contour you'll need to shift your laser to keep your signal.
I would opt for the GPS, which some contractors will already have in their 200hp-plus tractors used for precision planting maize etc.
You will require the highest level RTK GPS, as I mentioned before, and you will almost certainly need your own portable base station to get signal. GPS provides access to the 27 American satellites and if you buy the licence/software you can also access Glonax, the Russian version of GPS, giving you another 23 satellites, almost doubling the number available to you at any one time.
Soilmax also has the unique feature of intelli-slope, basically a very clever sensor mounted on the shank of the plough. This knows what the plough is doing and, if GPS happens to drop out, will allow you to carry on and finish the run you are working on. I like the accuracy GPS offers, along with the ability to map the drainage lines as you complete them for reference in the future. If technology is not really your area of expertise, you can still use a Soilmax plough for drainage work, as long as you have some 1.5 degrees of fall or more, as they come with a visual depth gauge chain and water level (mounted north/south on the plough), which will allow you to complete basic land drainage — it's also good to have as backup.
Operation
You don't actually require a D8 to pull the Soilmax plough. Andy and Rob pull their plough with a 215hp Case Magnum, which they already had to pull their Crosslot drill. Their Case is only a little over the 200hp minimum requirement. Andy pointed out that weight is more important than straight-out power — they run duals on the back of their tractor, with water in the tyres to make it 11 tonne, 10 tonne being the minimum.
They get away with the lower hp requirement with this brand as the thinner shank is made strong, using high tensile strength, T1 military-grade steel.
Controls are limited to a switch to turn on your guidance, or turn to manual, with a raise and lower. You have a light bar to then guide you as to whether you need to raise or lower the toe of the plough to achieve the fall you require.
Hydraulic pump demand is not huge so some of the bigger, older tractors with insufficient capacity for other new implements would be capable of operating the Soilmax. The adjustment of the depth is like a submarine, alterations of depth take time, several metres, and given it is like a big anchor, there is no way you will ever lift it straight out of the ground.
The day we tested the Soilmax in Taihape, the area had just received 40mm of rain during the previous week. I was therefore a bit dubious about whether we could test the machine at all. The test paddock was a heavy, alluvial, silt loam type, with some quite big rocks, and the Soilmax handled it with ease. In Indiana, where the Soilmax is made, the soil types are basically clay or a mix of clay, which is the reason they're tough enough to handle most conditions in New Zealand. Andy says the basic rule of thumb is: If the weather is too wet to be cultivating, then its too wet to be drain ploughing.
So what happens if you get the big anchor stuck on something a metre underground? Andy says, stop before the tractor digs itself in. He will then dig a hole down next to the blade of the plough, which in wet conditions is often enough to release the pressure to get you going again, or it may allow you to start lifting the plough if you have hit something hard.
Final option is get another tractor to hook onto the plough, as a bit more traction and pull may do the job, but this is a pretty slow option by the time you borrow the neighbour's tractor.
Andy said a tractor with a creep box or CVT transmission is recommended. A normal powershift or manual transmission will work, but it's hard on the tractor till you get underway. Slow is better as it allows more time for the plough to lift the soil. You can pull along at 1200rpm, so pretty low revs.
Basically the job is one or two passes (if using GPS to set your line). Once you have your pipe in the ground you will have a reasonable fracture line across your paddock. For best results, this should be left as is, i.e. no driving back along it on your way out of the paddock. If the drainage has been done in preparation for cultivation, I would recommend leaving cultivation for 6-12 months.
Verdict
First impressions were of a fairly basic plough. However, on closer inspection and having witnessed it in action, I soon realised a lot of thought had gone into it. Not only is it built tough to handle New Zealand conditions, it's a well-designed plough capable of accurate drainage work, which is faster than conventional methods and at a reduced cost.
Although it is not cheap, it is cheap in comparison to an excavator. If Andy and Rob's investment and belief in the machine is anything to go by, it's worth having a look at.
For the latest reviews, subscribe to our Farm Trader magazine here.
Keep up to date in the industry by signing up to Farm Trader's free newsletter or liking us on Facebook