Great Wall V240
---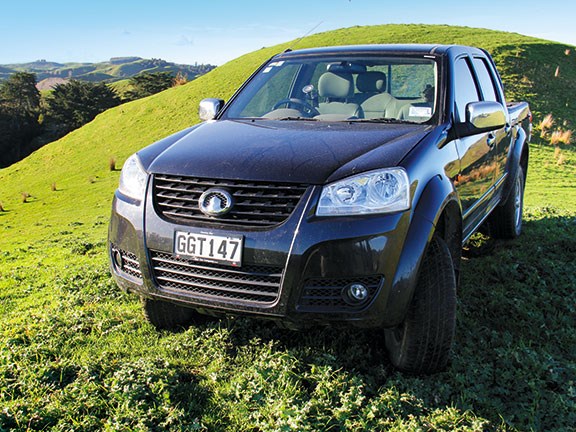 The Great Wall V240 performs well both on road and off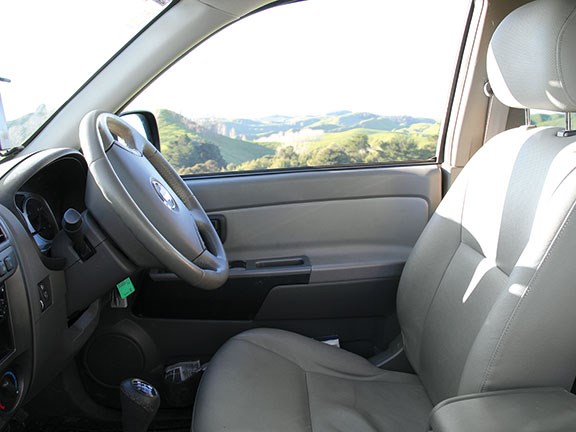 Inside the cockpit: leather seats and steering wheel come as standard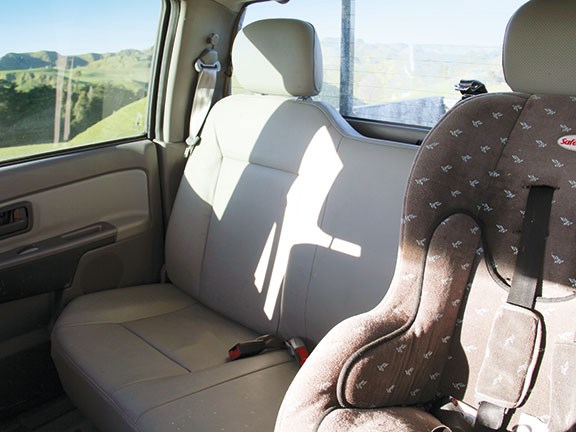 There is plenty of room in the back for three and the windows are well tinted for the little ones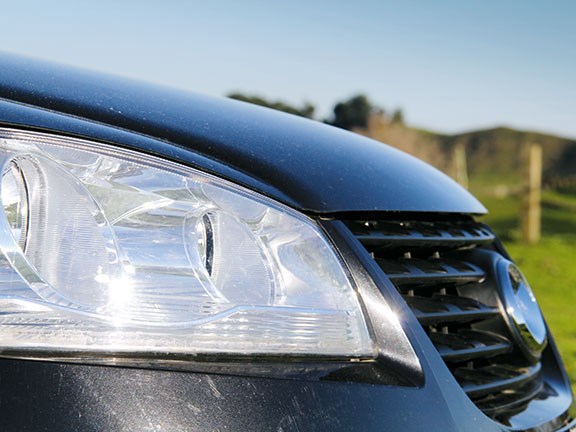 Front headlight styling is bold and distinctive and fog lights come as standard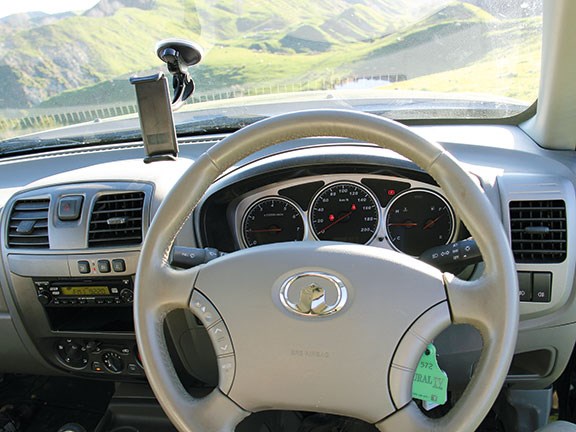 The driver's view is not hindered by the bonnet in any way and offers excellent visibility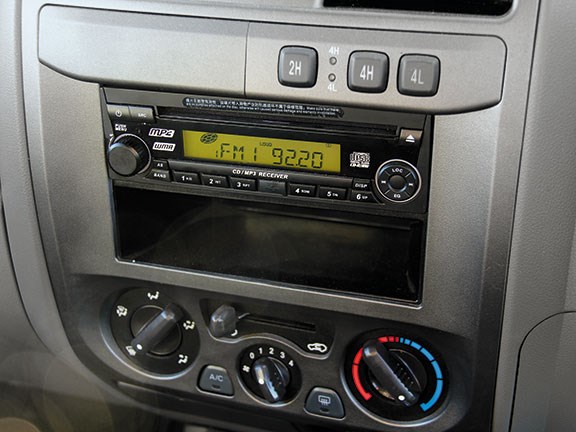 The dashboard offers basic controls that are more than adequate for any farm ute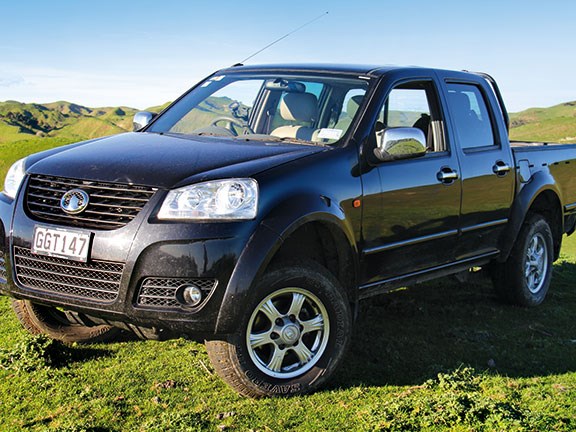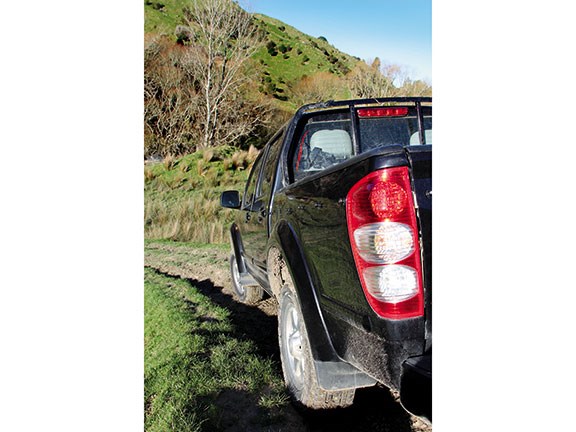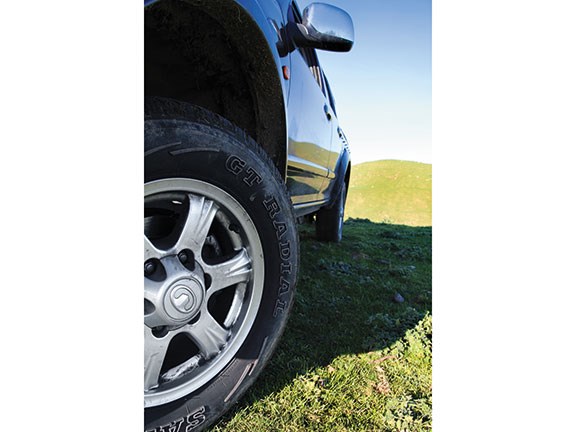 16" alloy wheels come as standard

Kiwi farmers need not turn their noses up at Great Wall utes. Hill-country farmer Andrew Stewart has discovered a farm vehicle that costs less dollars but makes a lot of sense.
Farmers may not like to admit it but they are a tight-fisted bunch at the best of times, myself included. They'll spend hours trolling through websites and rural publications doing their best to sniff out their next farming purchase. Twelve months ago I was having a sniff of my own, determined to get a reliable farm ute for a reasonable price. Despite spending hours searching on various websites, I found only limited options. I could buy a piece-of-junk, old-hack of a ute for under five grand but it would be a ticking time bomb in terms of maintainance costs. A new 4WD ute from most manufacturers would set me back over $50,000 in most cases, and the farming business could not stomach that sort of capital expense. This left me floundering somewhere in between, frustrated by the lack of options and determined to still get myself a good deal.
If your budget is between $20,000 and $30,000, the options on second-hand utes are endless but they all have one thing in common — high mileage. So, like the $5000 hunka, a twenty-something-thousand ute might be a lot more modern but it will still be a time bomb in terms of reliability.
It was while searching online that I first came across Great Wall utes. I had seen the first edition to hit these shores up close and personal at the Mystery Creek Fieldays and must admit they didn't strike me as the sharpest-looking tool in the shed. But the new 2012 model has had a significant makeover, especially in the front end. This made it comparable to many other ute shapes, before they all launched their 'big is good' models. But what set the Great Wall apart was definitely the price. For $27,000 plus GST I could own a new double cab 2.4-litre petrol 4WD and pay it off over three years at a better finance rate than any bank. Great Wall also offers a full three-year factory warranty which provides peace of mind for those that need it and three-year roadside assistance.
First impressions
My first impression of the Great Wall V240 was a positive one. Although I am not really into the way a vehicle looks on the outside, the fact it is a smart looker is not lost on me. Once inside I was greeted with a simple cabin layout, but with a splash of modern features. Leather seats and steering wheel come as standard, as does a CD/MP3/USB stereo, steering wheel audio controls and dash-mounted 4WD control buttons. Throw in electric windows, air conditioning and electric mirrors and the basic package starts looking very well appointed. In terms of safety, dual front airbags and ABS braking also come as standard features. The Great Wall V240 reminded me of how utes used to be, before they tried keeping up with the bells and whistles offered in cars. On the outside, fog lamps are standard as are alloy wheels but if you want a towbar and deckliner it will cost you another grand.
Under the hood the Great Wall V240 houses a 100kW/200Nm 2.4-litre four-cylinder petrol engine with a five-speed manual gearbox. The engine performs well for its size but don't expect it to set any records for speed, especially on hills. Fuel economy could be better, with the manufacturers claiming 10.7L/100km.
There is a diesel version of the V240 (the V200) which offers 105kW/310Nm from its two-litre four-cylinder diesel engine. The V200 is paired with a six-speed manual transmission and consumes 8.3 litres per 100km, and I couldn't help but wonder why the V240 wasn't equipped with the six-speed transmission.
Drive time
There are two distinct and different types of driving for any farm ute — on road and off road. For me, the off-road capability far outweighed the on-road comfort for any ute. We live on a well-tracked hill-country farm, but those tracks are only grass and there are gradients and surfaces that demand respect. Rolling from tarmac to turf in the Great Wall is incredibly simple, as 4WD high range can be engaged on the move with the push button on the dash. I always operate a farm ute in low range off road and with the Great Wall this needs to be engaged when you are stationary. Once again, it is with the simple push of a button and a dashlight confirms what range you are in. The gear ratio on the Great Wall is superb in low range, tackling hills and pulling loads with ease. Possibly of more interest to farmers will be the differential performance and I am pleased to report it has never let me down. There is nothing more frustrating than driving a '4WD' vehicle off road only to watch one wheel spinning by itself when the vehicle is slightly off balance. In terms of carrying capacity, the Great Wall cannot match other claims by ute manufacturers. But I have carried a bundle of posts and loads of manuka firewood to and from the back of our farm with no issues, and that ticks all the boxes in my book. One aspect of the V240 that you do have to be aware of is the 4WD engagement system. If you are out on the farm in low range and you turn the key right off you will have to push the 4WD-low button once you start the engine again. This is a minor detail but one to be mindful of, especially if the ute is being driven by less-experienced employees.
Head turner
One of the aspects of owning a Great Wall that has surprised me is the general public interest. Whether it be filling up at a servo or when someone visits the farm, people always ask about the Great Wall ute. It seems everyone knows what they are but are almost afraid to buy one for themselves, hence the questions. Chinese-made goods have long had a negative stigma associated with them, but times are definitely changing. The Great Wall V240 ute is proof of a practical, no-nonsense workhorse that shames its competitors in value-for-money terms.
And what answer do I offer to the most commonly asked question of all ("So what does your Great Wall ute go like?")? I normally just throw them a smile and say the only word that encompasses my experience thus far: "Great."
For the latest reviews, subscribe to our Farm Trader magazine here.
Keep up to date in the industry by signing up to Farm Trader's free newsletter or liking us on Facebook