Attachments: Sigma 4 loaders
---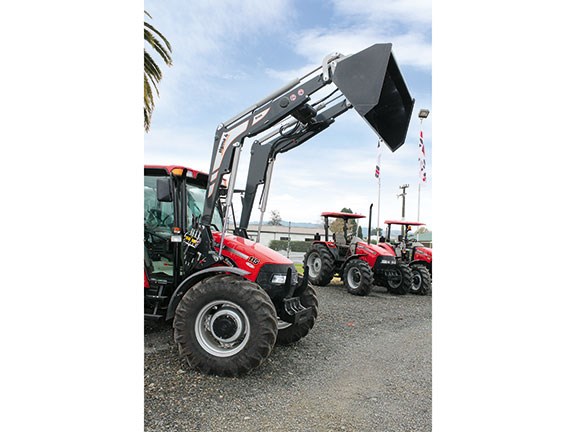 High lift and dump angles standard on Sigma 4 range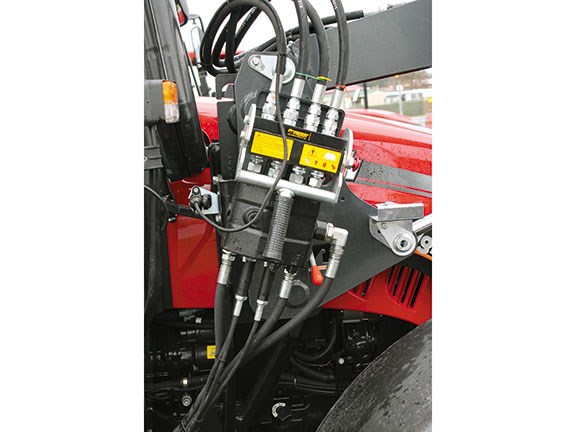 Flash system multi-hydraulic coupler for quick attachment/removal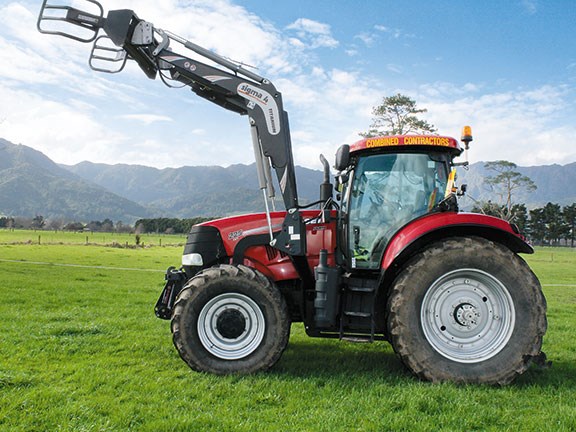 Combined Contractors' Case Puma with Titanium loader waiting for the grass silage season to begin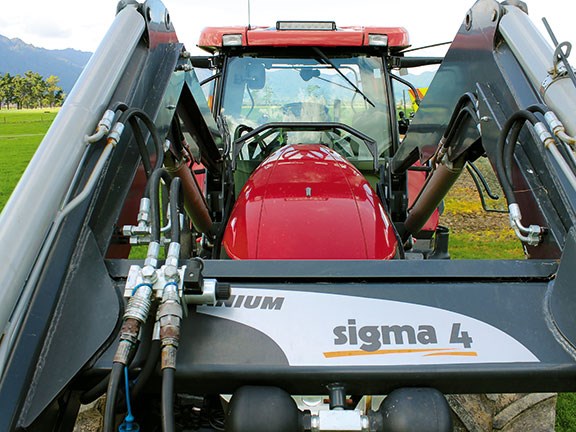 'Tap to lock out' anti-bounce: now standard across all Sigma 4 models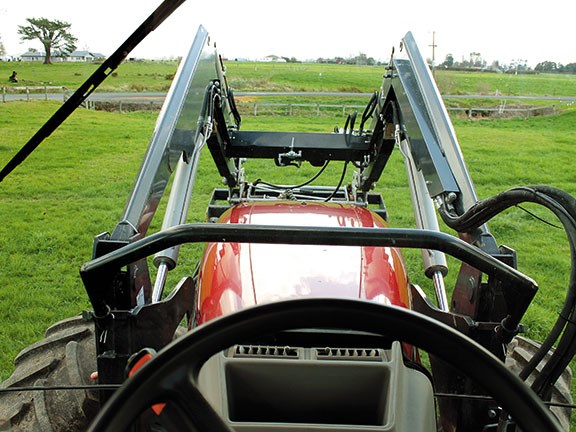 Excellent visibility of the Titanium loader provides strength without excess bulk and weight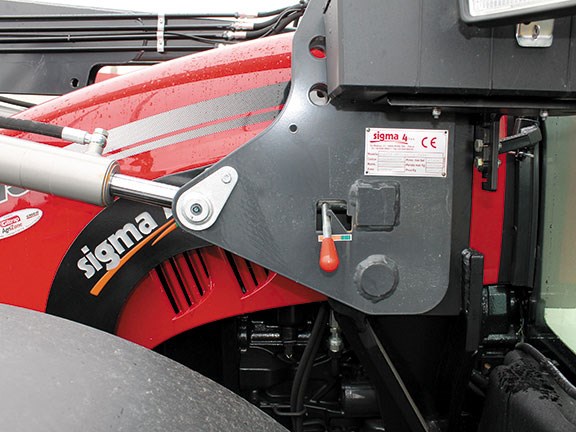 Secure, easy to use VeloTak mounting/locking system
This month Mark Fouhy checks out the range of Sigma 4 loaders available in New Zealand, from the entry-level Iron series to the high-spec Platinum series.
One of the most used implements on the farm is the trusty front end loader. There are countless jobs these machines can and will do. This month I thought I'd give you an insight into the range and features offered by the Sigma 4 brand.
Sigma 4 loaders are built in Italy and range from the lower-spec Iron series suited for 45hp tractors, through to the Platinum series, which suits up to 250hp tractors. There are four series of Sigma 4 loaders available in New Zealand: Iron, Gold, Titanium and Platinum. Within each range are three sub-ranges: F – manual implement levelling, M – mechanical implement self-levelling, and H – hydraulic implement self-levelling. Within each of these ranges are a further two to six ranges, offering different loader length options, which change overall maximum lift heights, etc. If you're looking for something specific, I advise speaking to a Sigma 4 product manager and explain how you'll be using the loader and what type of tractor it'll be fitted to. The weight and balance of your tractor will change when any implement is mounted, especially front end loaders, so this should be a serious consideration.
The test
With the help of Giltrap AgriZone's head mechanic Mike Ritch and product manager Chris Brown, I got the lowdown on the entire range and was also given the lower-spec Iron series to test drive on a 115 Case JXU tractor.
As well as a lower-spec loader, I also went in search of a higher-spec model to compare it to. I found myself heading to Combined Contractors in Te Aroha, where Jack and Jonathan Tesselaar operate a Sigma 4 Titanium loader attached to a Case Puma 225 CVT.
The Tesselaars use their Sigma 4 loader for all the grunt work during grass and maize season, working it mostly on the stack. If there's one way to determine the strength and durability of a loader, this would be it. Jack and Jonathan have had their Sigma 4 Titanium for just on two-and-a-half years, clocking up 2200 hours (around half of this being loader work). They have removed the hydraulic self-levelling — normally standard on this model — but they claim the work on the stack is easier without it. Being Te Aroha-based, they have up until now supported locally-manufactured product, using all Pearson engineering loaders. Not unhappy with Pearson, they changed simply because they were unable to get a new Pearson loader for the Case IH 225 Puma. Originally a little sceptical about the strength of the new Sigma 4, the pair were pleasantly surprised by how well the monobloc single sheet of metal formed into the boom has coped, giving strength without being heavier, and providing better visibility.
Given this is Combined Contractors' first Sigma 4 loader, it has adapted a Pearson mount instead of the Euro hitch supplied as standard, mainly because all its other implements (grabs, buckets, forks, buck rake) are Pearson attachments. Sigma 4 can supply a number of hitch options from Euro to a Euro/MX dual system, or even a hydraulic option allowing you to connect and disconnect implements without getting off the tractor. Although a nice addition, in my opinion the hydraulic option wouldn't save a lot of time as most implements require a third service line connected, such as switching a bucket to soft hands.
Features
As you move up the Sigma 4 range, you'll notice small improvements and additional features like plate-covered hydraulic lines on the high-spec Titanium and fully-hidden hoses and lines in the frame on the Platinum, improving operator visibility.
The booms on all loaders are made strong. On the Iron series the booms are made of plate steel on the outer edges and welded to a C section on the inner, which is both strong and light. The booms on the Titanium and Platinum ranges are made of a single piece of sheet steel formed and bent into a monobloc welded underneath giving very high strength levels and a tidy finish without excess weight.
Most standard features found on Sigma 4 loaders are extras on many of its competitors, including the handy Genius anti-bounce system, which has two accumulators to better cope with loaded and unloaded situations.
Also standard on the new Sigma 4 models is a tap to turn this feature off, which Combined Contractors had retro-fitted to its loader. This feature is important for jobs like loading trucks and stacking bales. I tested this feature ripping around the paddock at Jack and Jonathon's base. I tried many different settings, such as anti-bounce locked and unlocked and front suspension locked and unlocked, which all worked really well. Jonathan says they find this feature excellent when travelling on the road between jobs. Over the life of the tractor you will save a lot of wear and tear taking the shock out of the rough ground and it's also much better for the operator's own wear and tear.
Loader operation comes with a number of options and in New Zealand third service control is standard. Sigma 4 makes its own joystick controls as fitted to the Case IH JXU tractor I tested with the lower-spec Iron series loader. The joystick had a simple locking system, which only requires the operator to push the collar down on the joystick to lock, and back up again to unlock. This is much better than the fiddly little buttons some loaders have and it's a great safety feature if you've got little children around who are compelled to hop on the tractor and push a few buttons.
Connecting the Sigma 4 to the electro hydraulic joystick on the Case IH Puma tractor is a different story again. Joystick operation seems like hard work in comparison to the JXU.
Flash quick coupling is also standard on all Sigma 4 loaders, making connecting and disconnecting the loader quick and easy. With only a brief introductory lesson at Giltrap AgriZone, I had the loader off in less than five minutes. Jonathan on the other hand believes he can do it in considerably less time than this, which bodes well for Sigma 4. There are no tools required to complete the process and with decals clearly showing locked and unlocked positions, the operation is very straightforward. Another improvement is the spring-loading of the locking pins for the support legs which remove the risk of losing pins. A spring to lock the fine adjustable support braces in place is another reasonably new feature of the Sigma 4 loaders, helping speed up the attachment job. The one small thing I noticed missing from the Sigma 4 range was any form of protection for the front end of the tractor, as I imagine lights and bonnet repairs don't come cheap. Having said that, a work colleague of mine dropped a bale of straw on the bonnet of a tractor fitted with another brand of loader featuring a small protection structure. The said bonnet was badly beaten up, meaning extra grills and protection can't protect a tractor from a poor operator.
Construction
I struggled to find any fault in the construction of the Sigma 4 range. The only damage Jonathan had experienced was catching the back of the support on the Zuidberg front linkage. Boom ends are cast, pressed and welded into the boom. If the Combined Contractors' loader is anything to go by, it's still looking in good condition after two-and-a-half years.
Having large-diameter heavy-duty steel pins with the K4 plastic polymer bush used by Sigma 4 adds to the strength of these machines, plus pivot points on Sigma 4 loaders have grease nipples tucked inside the end of the pin to avoid damage and, better still, they all point out from the loader, making regular maintenance a breeze. The way the Sigma 4 loaders are mounted onto tractors is very impressive, being mounted at three main points — front axle, gearbox area and rear axle — again adding strength at the key points of the tractor, and spreading the weight and load of the loader. These sub-frames did limit steering ability, front linkage and mudguards but they provide the strength required and allow the tractor's engine to be easily accessed for regular servicing.
About Sigma 4
Giltrap AgriZone has been importing the Sigma 4 brand over the past three years (since 2010), but you may have seen the brand in New Zealand before as it has been imported for the past 20 years.
Sigma 4 was the first company in the world to produce a hydraulic self-levelling loader and it now turns out 3000 loaders each year. These are sold locally, throughout the UK and exported globally, with around 100 each year making it to New Zealand's shores via Giltrap AgriZone. At this stage mounting loaders and brackets are only brought in for Case IH or New Holland tractors. However, Sigma 4 does make loaders for all other common tractor brands. Since beginning importing the Sigma 4 brand, Giltrap AgriZone has found them very good to deal with and willing to listen to suggestions and make changes. Some of these changes include tweaks to the guards to protect the accumulators from damage, designing a tap to turn the Genius anti-bounce off, which is very important when stacking bales and loading trucks. Plus any changes to tractor designs affecting loader mounting has been attended to. Giltrap AgriZone has had very few issues since it has been importing the brand, but still carries a wide range of parts should a problem arise. When buying a Sigma 4 loader a lot of confidence can be gained from knowing it offers a longer warranty than its competitors. Even the Sigma 4 base model Iron series comes with a 24-month warranty and the higher-spec Titanium or Platinum series will cover you for 36 months. Giltrap AgriZone also imports a wide range of attachments to mount onto the Sigma 4 loaders, including buckets, forks and grabs. Sigma 4 also makes rear backhoes and heavy-duty back blades, something I'm quite keen to try in the hydraulic version as the farm tracks need attending to again.
Verdict
Being one of the most used implements on the farm, a robust and hard wearing loader is what you need. The Sigma 4 loaders excel in strength and durability, plus the level of specification from the base model through to the top of the range means there's a model to suit every customer. A 24-month warranty on the base models and a 36-month warranty on the higher-spec range will also increase your confidence in the brand. The fact Sigma 4 is constantly adapting and improving its models means they're only going to get better and better. All farmers with varying needs and tractors should seriously consider a Sigma 4.
For the latest reviews, subscribe to our Farm Trader magazine here.
Keep up to date in the industry by signing up to Farm Trader's free newsletter or liking us on Facebook