Test: Pottinger 1252C S-line rake
---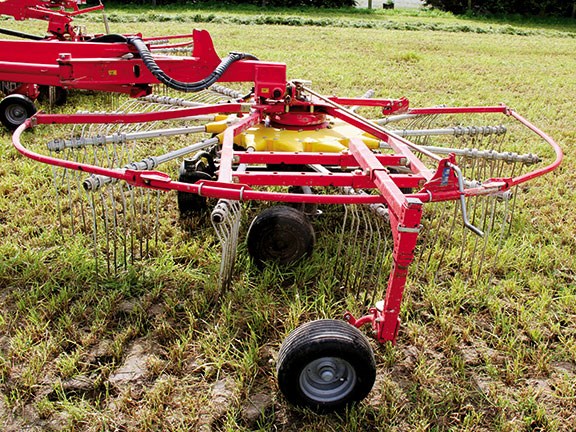 The Multitast wheel, mounted on the front of all four rotors, ensures the front tines don't end up digging into the soil through humps and hollows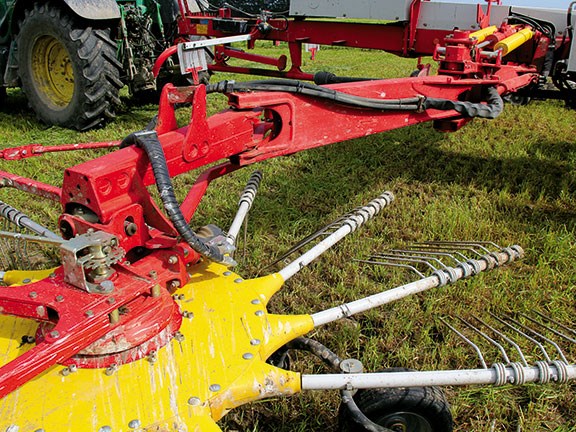 The front rotors are hydraulically-driven, allowing for excellent manoeuvrability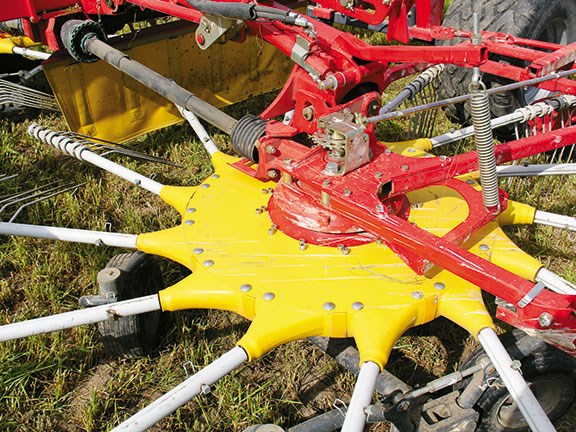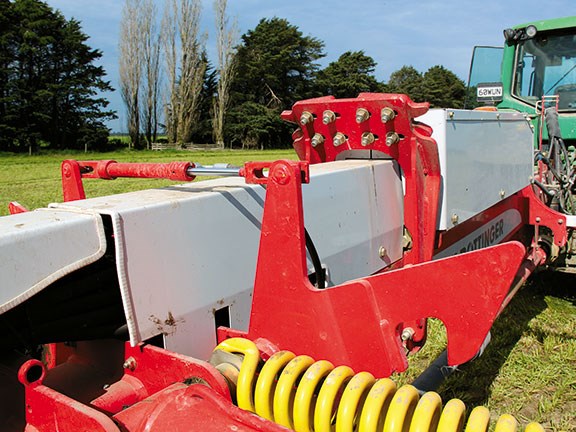 The hydraulically-operated transport latch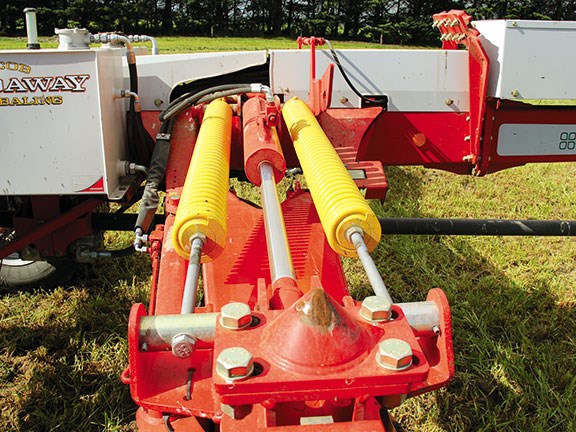 The large adjustable flotation springs ensure the correct travel over the paddock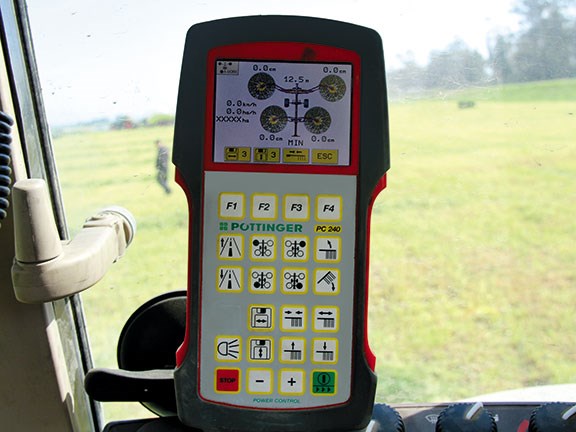 The PC 240 in-cab controller is both well laid out and intuitive to use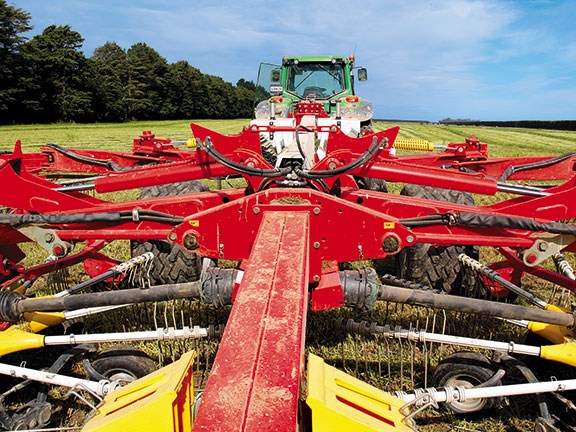 PTO drive to the rear rotors: this combined with the hydraulic front drive, give the hybrid concept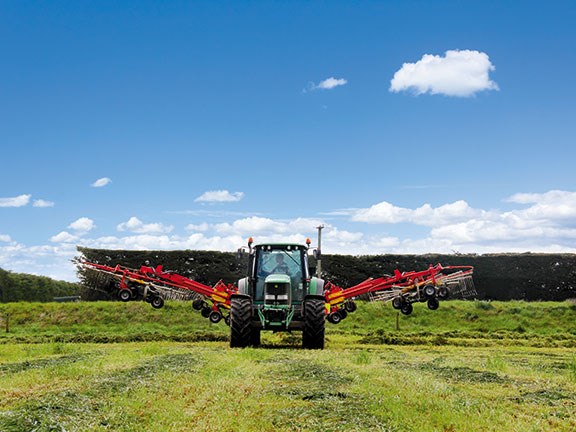 High rotor lift at the headlands ensures both swathed grass and obstacles are well cleared

The test machine had manual tine-height adjustment, although hydraulic adjustment from the in-cab controller can be spec'd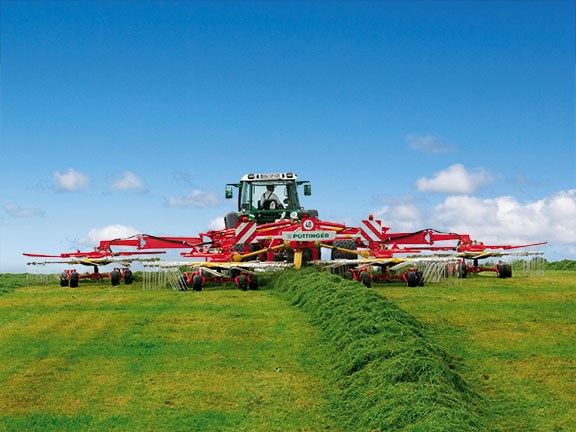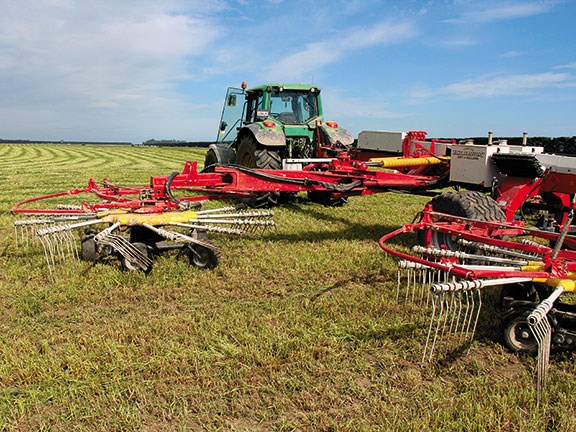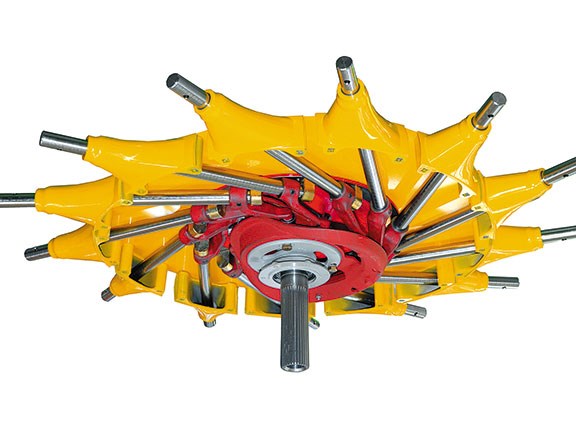 The DuraTech rotor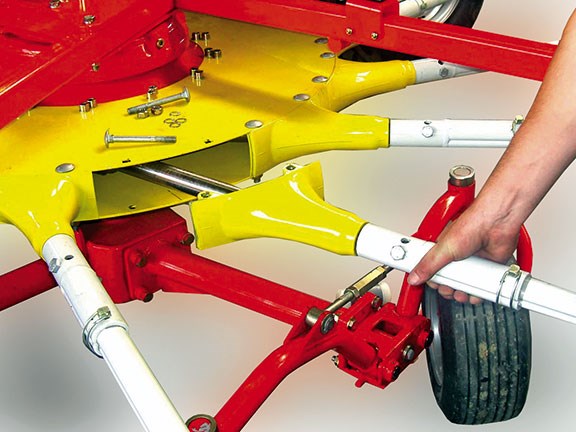 Tine arm and the cam track roller unit can be removed with just two bolts

This month Jaiden is reminded that not all rakes are created equal, thanks to Pottinger's clever 'hybrid drive' system.
On a recent trip to Christchurch I realised the next few months will be busy for rural Cantabrian folk. This lightbulb moment came when I witnessed up close the aftermath of their recent storm, which looked bad on television, but it wasn't until I saw it from the air and then from the ground, with widespread devastation, including whole pine plantations and shelter belts flattened, that I realised the true extent. Irrigators had also been tossed around like rag dolls and, to add insult to injury, some had been parked under trees for shelter and subsequently crushed by those trees when they fell — you just can't win! So being involved in either supplying or erecting irrigators will keep many busy, although I don't envy people in this line of work as there's not enough time in the day or parts in the country to repair them quickly enough. Causing further headaches for farmers is the fact that at any given stage, Canterbury is only 10 days away from a drought so, if irrigators are not repaired quickly, milk production is severely impacted, not to mention crop yields as we head into the summer months.
On a more positive note, the reason for my visit was to test the new Pottinger TOP 1252C S-line four rotor rake owned by Jared Holdaway, just outside of Ashburton. Why not test one in Taranaki, you ask? Well, two-hectare paddocks and four rotor swathers are not generally considered a good mix. It is fair to say these are much better suited to vast open areas like that of the Canterbury plains, where triple mowers, foragers and big square balers take pride of place. That's not to say they wouldn't suit two-hectare paddocks, but they are built for output and negotiating your way through 11ft gateways won't be favourable with these machines.
Now to discuss the strengths of this machine — and there are plenty to choose from. To start with, my favourite feature, which Pottinger has called the 'hybrid drive', works on the same principles as a hybrid car. The car uses a petrol engine to power the batteries, which in turn provides drive and significantly increases fuel economy. This swather will not charge batteries nor does it resemble a Toyota Prius. Instead it uses normal PTO drive to the rear rotors and the PTO drives a hydraulic motor which draws from two oil tanks on the machine to give hydraulic drive to the front rotors. This is beneficial because the front rotors are mounted on swing arms, which fold back and forward rather than telescopically sliding in and out, or folding up like most other makes. This allows the front rotors to be individually swung around troughs or power lines on the move, thanks to the pivoting under-carriage wheels. In the field the hydraulically-driven rotors are very smooth starting rather than giving off a jolt that usually occurs with a PTO-operated rotor. For transport they fold forward to achieve a transport height of less than four metres without removing any tine arms thankfully.
Rotor
Pottinger uses DuraTech rotors on all of its TOP series rakes with the main features including a large rotor surface area, which offers better protection and support of the lower tine arm and, in turn, significantly reduces bearing stress. In terms of servicing, the rotor transmission is immersed and runs in a sealed grease bath and the cam track is completely sealed in a dust-tight environment without lubricant, resulting in no oil checks or changes and more importantly, no oil leakage problems.
Cam track and tine arms
The Pottinger machine has one of the largest cam tracks on the market with the 420mm diameter track made from high quality globular cast iron for smooth running of the hardened-steel cam rollers. The cam track is infinitely adjustable so it can be set exactly to match your conditions. You can also tailor the drop-off point to change the dynamics of the row, eg flatter, squarer, heaped etc. If something is hit and broken, the tine arm and cam roller can be removed with just two bolts and due to the lubricant-free seal, you don't have to worry about oil leaking out.
Serviceability
The steel cam rollers are fitted with sealed bearings which require zero maintenance and provide long service life. The tine arm bearings are as far away from the hub as possible, which gives a larger support area and stability in bumpy ground (like the winter pugging in the paddock we were testing in!). The tine arm bearings are separate from the cam control bearings, which reduces the collateral damage when you do smash into something (which will inevitably happen) but because the complete system is fully sealed and maintenance-free, the cam track only needs to be lubricated a couple times a year — you can't argue with that!
Contour following, height control and tine adjustment
It may look a bit unusual with a lead wheel out the front of the rotor but think of it as the swather version of a Zimmer frame — not in the age-related sense but more in the way of offering guidance and stability over rough ground. Because the Zimmer wheel wouldn't be a great marketing idea, Pottinger has dubbed it the 'Multitast' ground-hugging wheel, and it's standard on the front of all the rotors in the TOP range.
Behind the front wheel is a tandem axle (directly under the rotor) where the wheels are not only set wide but are staggered so the rotor will only move up and down half as much as a conventional tandem setup. This means the tines spend more time in contact with the ground and less time in the air. As I mentioned earlier, the wheels can go in all directions, meaning you can move the front rotors in and out from 8m – 12.5m working width on the move, even at high forward speeds. As an option you can get a pentagonal chassis which has an additional fifth wheel inside the sweep of the tines. This can be spec'd either instead of or in addition to the Zimmer (Multitast) wheel and will offer six wheels per rotor, so our test machine uses 24 wheels following the contour of the ground and hopefully not too many boxthorn hedges!
In-cab controller and hydraulic requirements
The electronic power control terminal, called the PC 240, is bright, easy to see, well laid out and very intuitive to use. You can lift the rotors individually, lift and lock the hydraulic transport lock and move the front rotors in and out, as well as storing jobs with both work rate and hectares completed. Optional extras not on this particular machine are hydraulic tine height adjustment, LED lights and steering axle, again all controlled off the in-cab console.
The machine runs off the power beyond coupling of the tractor if it is equipped with the load sensing function, although alternatively one double-acting remote is for lifting the rotors and two double-acting remotes are used to adjust the working width. The machine is also ISOBUS compatible so you can run it through the tractor's on-board computer.
Verdict
I was very impressed with this machine, particularly the hybrid drive system and the front support wheel, which when you think about it, makes perfect sense — PTO drives to the rear as they are fixed and hydraulic drive to the front to give maximum flexibility. Goes to show the amount of thought that has gone into these machines and, although they may be heavier and longer than some of the competition, Holdaway and his team have never had a problem with its manoeuvrability, saying, "It's no different to a dual rotor swather." And they use it every day, so who am I to argue?
For the latest reviews, subscribe to our Farm Trader magazine here.
Keep up to date in the industry by signing up to Farm Trader's free newsletter or liking us on Facebook