Test: Deutz Fahr Agrotron M600 Summit
---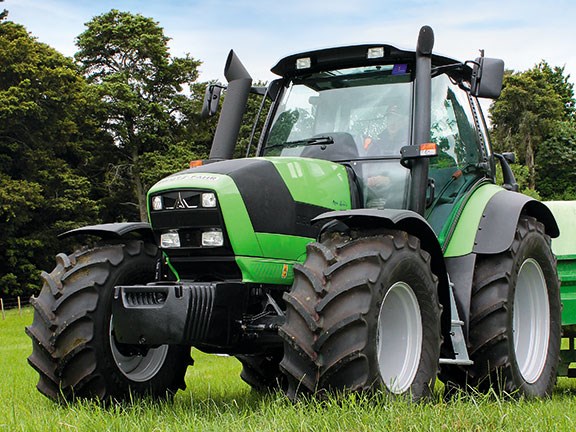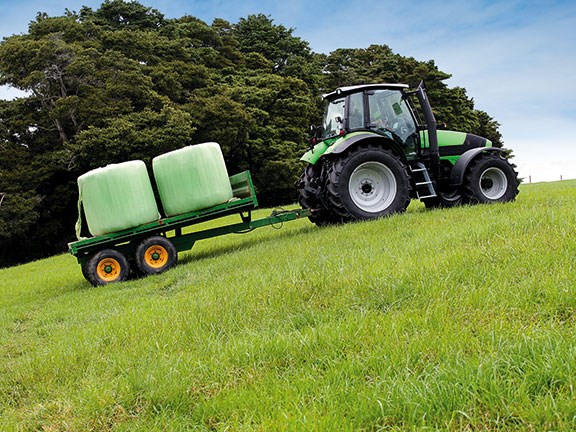 The Deutz engine made light work of the small load of baleage with loads of power to spare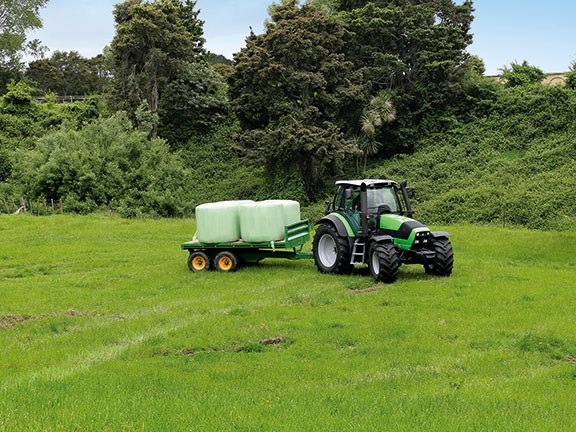 The environmentally-friendly green Deutz blending into the Waikato countryside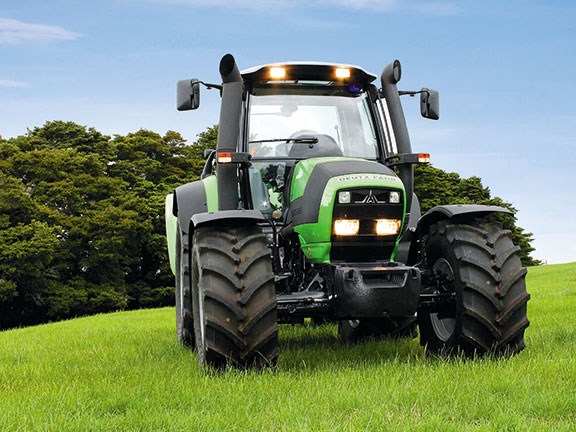 Upgraded rubber completes the tough, rugged styling of the Summit spec Deutz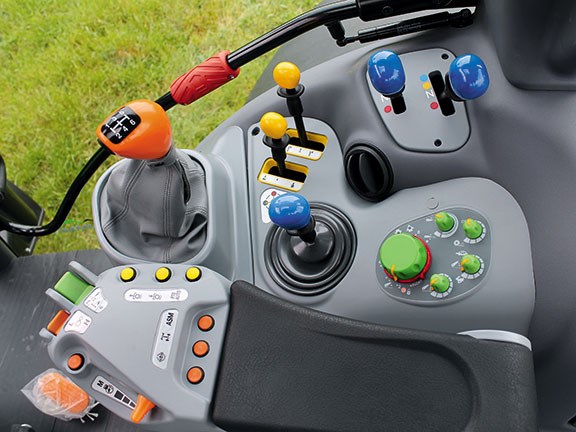 I liked the colour coding and excellent layout of the major tractor functions on the hand control unit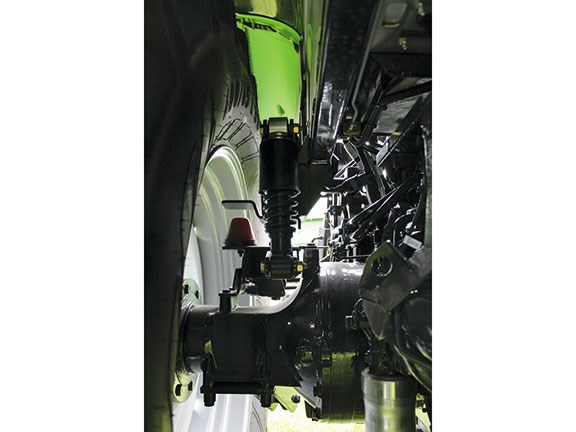 Mechanical/hydraulic cab suspension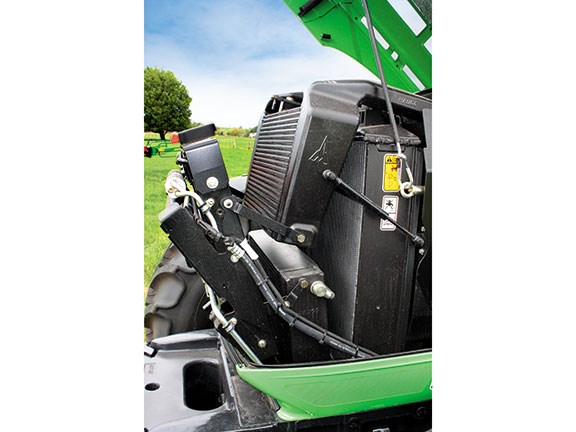 Fold-out, easy-clean radiators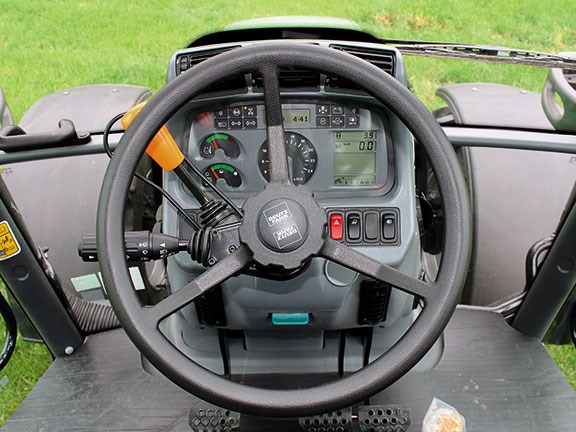 Sloping hood gives great forward visibility over the functional/well-laid-out dash console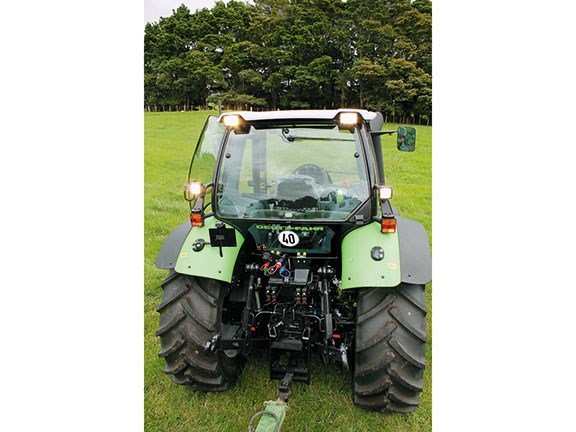 The hydraulics used on the backend offer power beyond and trailer connection as standard

This month Mark Fouhy got to blat around in an Agrotron M600 Summit — a great mid-ranger offering some big features not included on the base model Vista.
This month I was all hyped up to go and test a big new Deutz-Fahr, which for me meant the brand-new 7000 Series TTV7250, some 270hp of German engineering technology and finished off with the design and sophistication that only the Italians could take credit for. And being named 2013 Tractor of the Year overseas, thanks to its excellent fuel efficiency, excellent operator comfort levels and technology, I was pretty excited. Alas, that was not the machine for testing this month! However, Power Farming had a just-as-exciting brand new Agrotron M600 Summit specification waiting for me at a property near Morrinsville, so I couldn't be too disappointed. With an open mind, I gave this mid-ranger a good going over and was suitably impressed.
Engine/transmission
Sitting at the bottom of the six-cylinder range of the M-series, the Agrotron M600 Summit is also the lightest overall in terms of horsepower. This is not to say it is lacking in the power department, far from it actually. Although for this test we only had a little six-tonne SAM tip trailer with a few bales loaded on it and so couldn't fully investigate the power, although we took the Deutz, with loaded trailer, up a small hill and it didn't even break a sweat. The tractor comfortably pulled up the incline in fourth gear and I was able to shift smoothly though the four speeds of the power shift available in each gear. To test the torque of the engine I was selecting third range, with low revs at the bottom of the hill. As it started to work, I gave it some acceleration and the Deutz charged away, almost as if it was unloaded. I would have liked to have tested it with a set of discs or something more substantial to really make it work, however, like I said, what we did have to work with was a walk in the park for this model. The range transmission does sit off square with the rest of the cab, which is fine as all gears are still within easy reach. I did find selecting fifth and sixth gear quite stiff, but would put this down to the whole tractor being stiff and new and needing a little running in.
Deutz-Fahr has a very good reputation for manufacturing engines, used in not only its tractors but in powering a variety of machines built by other manufacturers. Built in Germany, the two-valve Deutz common rail engine produces up to 132 horsepower using the Deutz Power Control system. Peak engine power is achieved from 1600 to 2000rpm approximately, and thanks to the power you achieve at these lower levels of revs means you save on fuel. To its credit, Deutz is looking to run its engines on bio diesel, whilst still maintaining its 24-month warranty — something that'll keep the greenies and the bank manager happy. With the Summit's 40kph gearbox, it will cruise along at a leisurely 1680rpm at top speed. Deutz-Fahr continues to invest in new technologies and features for its engines with a real focus on increasing fuel savings whilst increasing the end users productivity.
Hydraulics
The rear hydraulics on the M600 Summit has a maximum lifting capacity of 9.2 tonnes and its hydraulic capacity is 120L/min — a bit more than the smaller models, which only offer 83L/min. Another feature is its four rear remotes instead of two. To operate the remotes you have one cross gate/joystick valve and two single valves all double acting, so all you need to do is turn the collar on the lever. Power beyond connectors are standard and provide uninterrupted flow to devices that require it, like air seeders. In the cab all the linkage functions are coloured green, which makes things easy to work out. The linkage controls are also on both fenders, which operate at a third of the normal speed. These can be turned on by holding down for three seconds. If you have forgotten to enable hydraulics from in the cab, this is very helpful. Deutz has fitted trailer brakes as standard, which I think is a great feature and should be more common than it is. Relying on the tractors five-tonne weight to stop an eight-tonne loaded trailer is not a very good idea and is hard on the tractor's braking system.
Cab
I found the Maxivision cab on the Agrotron very light and spacious and as the name suggests, offers a great amount of clear vision for the operator. Operator comfort is looked after, with a total of 14 adjustable vents for heating and cooling the cab. Visors front and rear and a sun shade on the roof hatch allow the operator to control the light as and when it suits. The operator's seat also comes with a seatbelt and all air conditioning controls are tucked behind it, out of the way. The Summit spec offers mechanical cab suspension, which seemed to do a good job, although a ploughed paddock may have been a better test for it. In-cab noise levels are rated at 70-73dBA. I found the armrest setup very comfortable and easy to operate, with its colour-coded buttons (green for rear linkage, yellow for PTO and orange for movement speed, gears and 4WD). All these major functions are right at hand and the buttons are neither too big nor too small. The downlight for working at night, instead of backlighting the buttons, though, was a bit of a let-down. A fully-adjustable, swivel air-suspended seat and tilt telescopic steering provides the right driving position for each different operator. The flat operator platform has a full rubber mat that can be removed for cleaning purposes. A drink cooler bin and storage to the left rear of the seat, along with cup holders, round off a comfortable user-friendly cabin space. In this model you have all your tractor information displayed on the LCD display on the right-hand pillar or within the dash. If you want extra you can order an I-monitor, with an 8.5-inch display, although a lot of your newer implements will have their own display boxes which work well. There is a rubber cover for cables coming into the cab in the corner of the back window, with three various electrical auxiliary cable connectors.
Styling
The Agrotron is famous for introducing the radical sloping bonnet, which is now common on many other tractor brands and is still present on the latest Agrotron models. The sloping bonnet gives better visibility to the front, ideal when using a front end loader or with implements on front linkage. Dynamic front mudguards are standard and important for keeping the mud where it belongs. The air intake up one pillar and the exhaust up the other look cool, like a big American prime hauler. They just need the chrome detailing to finish them off. Although they appear big from the outside, the mudguards disappear from sight behind the pillars once you're the cab. The B pillars of the cab each conveniently conceal an air filter, removable without tools. With the low-profile cab, thanks to most of the air vents being located around the front dash console, head space does not feel cramped — quite the opposite in fact, with a large opening hatch or a blind/cover to keep the sun off.
Maintenance/servicing
The one-piece bonnet has the European safety 'locking device' on the front — with a coin or pocket knife, this is easily opened, no key required. The bonnet lifts open on hydraulic struts for maintenance work but, for your daily checks, the oil dipstick is mounted near the diesel tank filler on the
left-hand side of the tractor to make checking easy. The transmission and hydraulic oil levels are also easy to check with a large sight glass on the rear axle housing. Radiators are mounted at the front of the tractor for access to air. They have a clever system where they all unfold together to allow them to be cleaned. Deutz Fahr has gone to 500-hour oil recommendations, but if you look at the cost of oil versus a new tractor, 250-hour changes is quite a good idea to protect your investment and keep it moving and productive. Like most of the major brands, Deutz Fahr offers a two-year, 2000-hour warranty. There is a large array of parts, for further reassurance, carried by Power Farming in both Morrinsville and Christchurch.
Hire/trial/buy
At present, Power Farming are running a promotion on the Agrotron tractors which allows you to hire a brand new machine, instead of forking out a heap of capital for a small summer job. Then, if you decide at the end of summer that you would actually like to keep it, you can purchase it minus your hire fees and set-up costs. There's no better way to know if this is the right tractor for you than test driving it for yourself in the conditions you require it for.
Verdict
I found the M600 Summit an excellent tractor to operate, with some great new features, compared with the Vista spec, and as a bonus, it hasn't added too much to the price tag. The cab was a stand-out feature, being very roomy with a great layout, and I really liked the armrest setup. The engine's fuel efficiency offered plenty of torque, making it a favourite feature. I believe the deal is a great way to get you into a new Deutz — even if it's just for the summer months — and also a great way to trial the tractor if you're considering purchasing one. As for the Deutz-Fahr TTV7250, I did get to have a quick spin around the Power Farming yard, on one of the few to make it to New Zealand, before it was shipped out to its new owners somewhere around the country. Now that I've had a taste of it, I'm keen to give it a full test in the near future.
For the latest reviews, subscribe to our Farm Trader magazine here.
Keep up to date in the industry by signing up to Farm Trader's free newsletter or liking us on Facebook