Test: Hardi Saritor 2 5500 self-propelled sprayer
---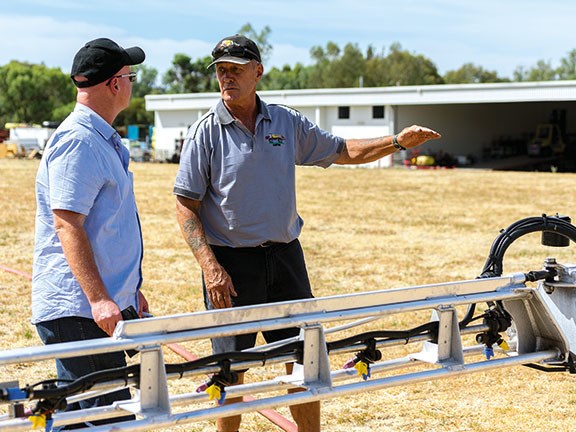 Hardi's Trevor Pahl indicates just how big South Australian rabbits really get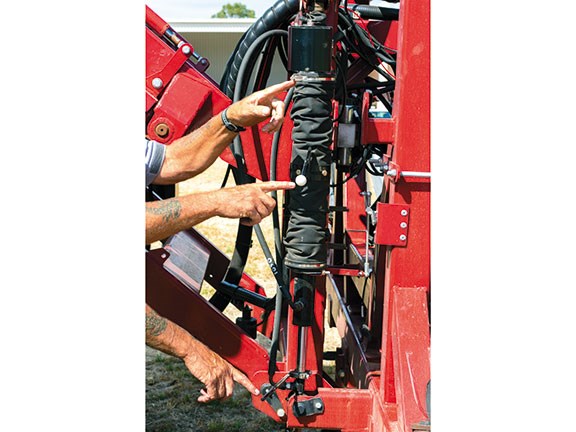 Trevor uses all three of his hands to point out the pendulum sensor that is the heart of the AutoTerrain system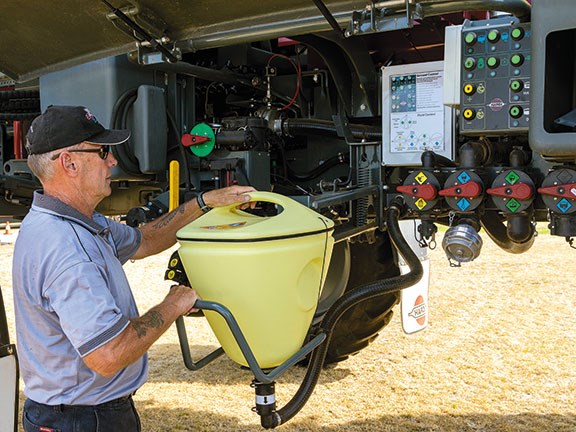 Trevor demonstrates the turbo filler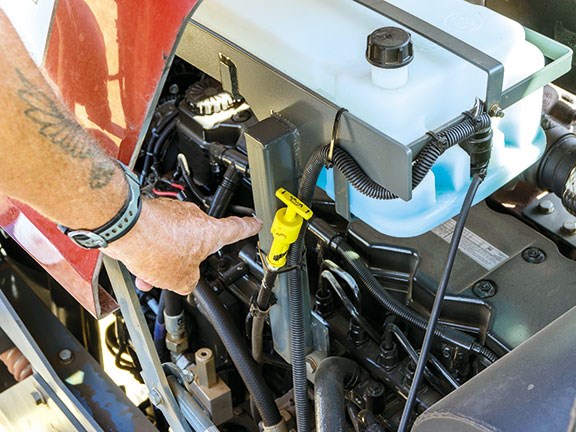 Daily checks are easy done from the access stairs and gantry

Hardi has just launched the new French-manufactured Hardi Saritor 2 5500 self-propelled sprayer. Matt Wood heads to South Australia to check it out.
Hardi's latest self-propelled sprayer is named after Saritor, the Roman god of hoeing and weeding, which conjures images of a toga-clad bloke rummaging through your vegetable patch. However, the newly-released Saritor 2 5500 is a serious machine. It is a bigger, lighter version of the sprayer from the European manufacturer and sports some interesting features.
At the outset the Saritor doesn't look that special on paper, power is provided by an unremarkable yet tried-and-true 275hp (202.8kW) 6.7-litre Cummins QSB turbo diesel engine and, like many of its competitors, the sprayer uses hydrostatic drive to get power to the ground. But on closer inspection, the big red French-built sprayer does have some interesting things going on. For example, the Pommier TR5 aluminium boom is available in widths from 36 metres to 42.5 metres, although Hardi also confirms a whopping 48-metre example is out in the field at the moment. The use of the lightweight boom leads Hardi to claim a 14.5-tonne tare weight for the sprayer, which isn't too shabby for a hydrostatic machine.
Hydrostatic drive
The wheel track of the Saritor can be hydraulically varied from three metres to four metres, or anywhere in between. This makes matching the wheel track to those of other machines that have been working in the paddock easy. It also allows the track to be varied to avoid compaction over the life of crop, as well as maintaining a crop clearance of 1.45 metres. The sprayer also uses a twin 1100cc pump Sauer-Danfoss hydrostatic system to both drive and steer the machine. However, the system isn't rpm dependant, the idea being you can run at a lower rpm while still maintaining optimum hydraulic pressure, and as a consequence save some dinosaur juice along the way. Hardi claims engine rpm of around 2000 – 2100rpm while spraying. For those long drives between paddocks, the Saritor will boogie along at up to 55kph with the booms safely tucked away.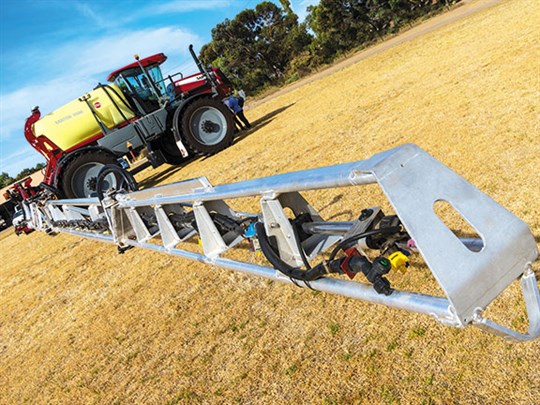 But, sitting between that lightweight Pommier TR5 boom and the tractor unit is an interesting bit of kit — the AutoTerrain centre. The boom itself sits on a wide paralift for stability, with four ultrasonic sensors (six is optional) mounted along the boom length. There's also a pendulum-type sensor that is constantly making adjustments via computer-controlled electro-hydraulics to the boom level, while the machine is in motion at up to 10 times per second. In short, the AutoTerrain works to keep the boom from smacking the ground, and given the undulating nature of some of our agricultural areas and the ever increasing size of spray booms, this is a handy feature indeed.
Yaw dampening is handled by plunge cylinders mounted in the end of the fold cylinders with centrally-mounted nitrogen accumulators. This means each boom wing can move backwards and forwards independent of the other when braking or turning. Now that I've given myself a headache, what this all means is that it's pretty hard to hit stuff or break stuff while spraying.
Tank
Of course, before you actually hit the paddocks with this machine, you have to fill it. The low profile 5500-litre main tank is a noticeable part of the Saritor, but it's also equipped with a 600-litre rinse tank as well. A fast fill hose nozzle drops from the underside of the machine, which is a nice touch to stop hoses kinking. There's also the option of a banjo fast-fill pump. But the bit that caught my eye was the front mounted fill point which would come in very handy when self-filling out of dams.
OnRate centrifugal pump
Once all fluids are in place, something has to move them and that's where the OnRate centrifugal pump comes into play. The pump, which can run dry without doing itself an injury, puts out 11 bar of pressure, and is capable of running 680 litres per minute through its curly innards. The Mazzotti hydraulic motor puts out up to 275 bar. It's a pressure-based system and the idea is that OnRate is capable of maintaining consistently high pressure across the pump system, and is able to respond almost instantaneously to changes in spray rate. In fact, Hardi is claiming a response time of two seconds or less.
The system is charged and maintains pressure regardless of speed by using a variable hydraulic valve. You can also opt for a closed loop system with auto prime to save spraying and flushing needlessly.
Inside the cab
The steering wheel and column are the only real dominant features forward of the driver's seat. Controls for all major functions are located on a side-mounted console, including a paddle control for forward and backward drive. Boom wing control, spray on and off, and section control functions are also mounted on the paddle, while sturdy rocker or toggle switches take care of most other functions. But what really stands out is the HC 9500 screen mounted beside it. In keeping with the lack of clutter in the cab, there are only two screens to look at. The smaller one displays basic drive information about the machine. Above this is the large HC 9500 spray control unit, this interface is standard with auto section control. The ParaDyme global positioning system comes to the party for job mapping and auto steer.
But it's the simple user-friendly interface of the unit that catches my eye. I'm not a seasoned sprayer by any means, but the layout of the menu, functions, and real-time data seems quite intuitive, and very easy to read. Specifying the whole GPS, section control package gives you the ability to map and store paddocks for future use, as well as the ability to record obstacles. Hardi claims accuracy to within an inch using the ParaDyme GPS and auto steer setup. All of this combined with the rapid response of the OnRate fluid control system seems to have the goods for constant spray coverage and ease of use.
The drive
Turning the key and firing up the Saritor is an especially good idea as it is 44 degrees outside and we're sitting in the middle of a vacant block in Adelaide's industrial north surrounded by concrete. After giving the climate control a chance to bring the temperature down, I take the sprayer for a bit of a spin.
For a hydrostatic machine, noise levels on the Saritor 2 are quite low and there is only some of that characteristic hydraulic whine in the background as we trundle along. The paddle control is quite easy, but there's also a foot pedal that can be used for drive control as well. The Saritor doesn't roar in an effort to maintain hydraulic pressure — you get the feeling that it's doing its best to balance engine rpm and torque with efficiency and performance at all times.
Suspended animation
It handles quite well though. The airbag suspended body soaks up undulations well and the suspended Gramma seat also pitches in to smooth out any bumps. While these things are never meant to handle like sport cars, the sheer size of the machine with wings unfolded to a stretch of over 40 metres means that they do need to handle with some precision. From my limited spin I can say that it did seem to be an easy bit of gear to throw about, although I reckon the small steering wheel could perhaps do with a knob to make low-speed manoeuvring a bit easier.
As you'd expect for an auto-steer capable machine, the Sauer-Danfoss steering system is electronically-assisted and very light. The 20.5-metre turning circle isn't exactly tiny, however, Hardi claims this also prevents crop damage in the headland while turning. Folding the boom wings in for transport is reasonably easy. It involves some console button pushing to unlock the wings, while the rest is done by the simple joystick-mounted wing controls. Of course, if you do manage to smack a tree, a strainer post, or the boss's ute, the boom wings have 2.5-metre break-away sections at each end. The Saritor 2 also has plenty of lighting options, with six spotlights facing forward and six smaller cab-mounted lights — and six under-the-snout, boom-mounted light packages are also available.
Verdict
The Saritor 2 is an impressive machine. The use of aluminium booms not only helps trim some weight, but also potentially paves the way for even longer boom lengths in the future — and ditto goes for the AutoTerrain and paralift setup. In-cab ergonomics and visibility are impressive indeed, and the HC 9500 spray control unit is a very approachable interface. Does an Australian sprayer really need to be hydrostatic 4WD? Perhaps not, but in a global market you tend get what you're given. In this case, the Sauer-Danfoss system is very user-friendly and quiet in operation, and Hardi says gains in fuel economy can be had with this system. The gods would be pleased.
Positives
Visibility is superb
User-friendly spray control interface
Big spray coverage, yet relatively lightweight
Negatives
Lack of a 2WD option
May be seen as too complex for some
For the latest reviews, subscribe to our Farm Trader magazine here.
Keep up to date in the industry by signing up to Farm Trader's free newsletter or liking us on Facebook