Test: 2014 Honda TRX500FM2
---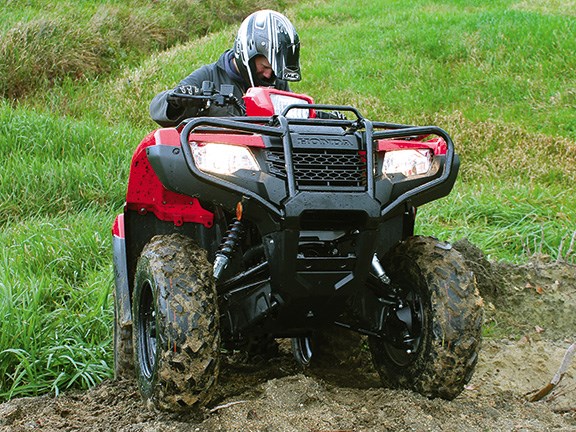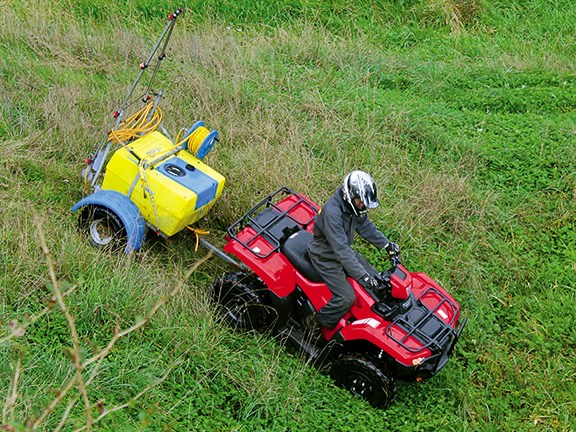 Twin hydraulic front and sealed drum rear brakes provide plenty of stopping power on the hills.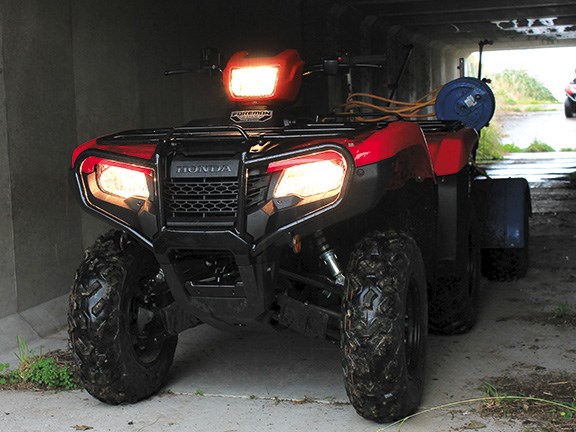 Three headlights - centre light only functions on high beam.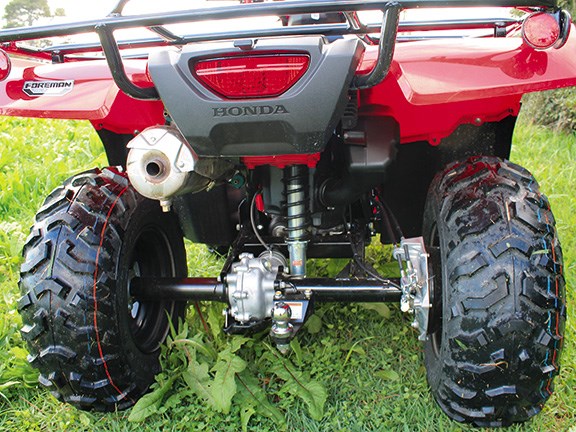 Single adjustable rear shock and swing arm setup leaves fewer places for mud to build up.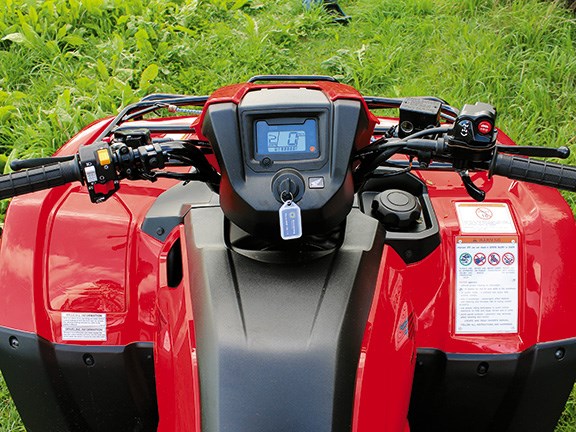 Push button 4WD engagement with new diff-lock feature for 2014.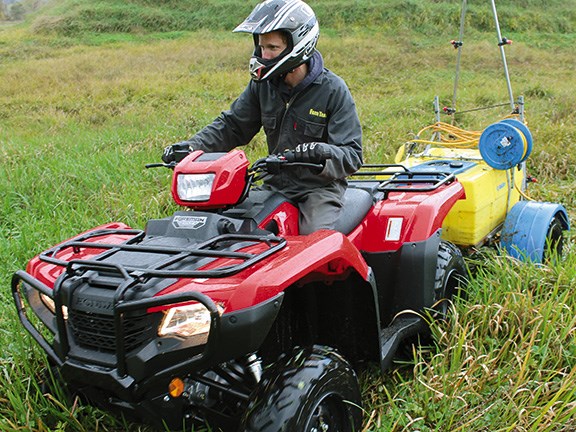 New Honda 500 - at work or play?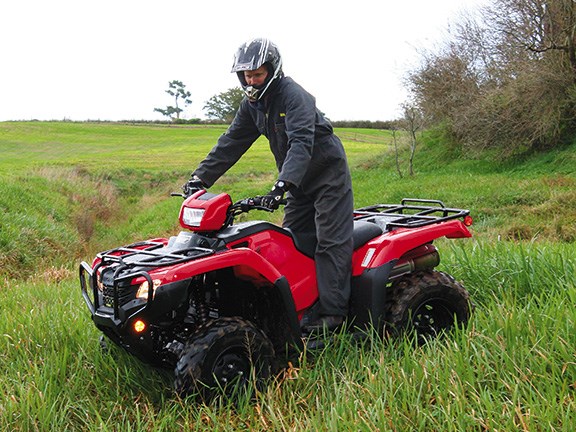 20% stiffer new frame design, with 185mm travel shocks to take care of the bumps.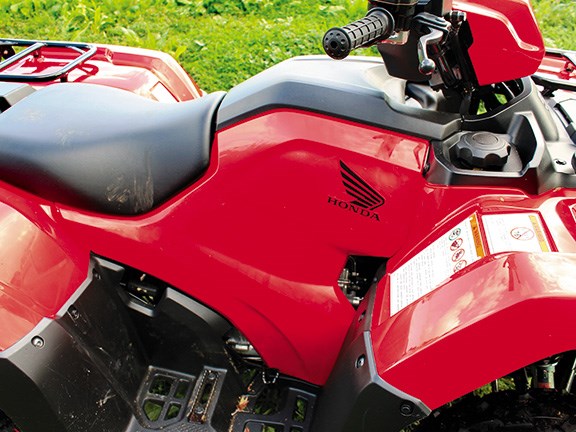 Single-piece side panels, with fuel filler in front right guard, avoids any spillage down the seat.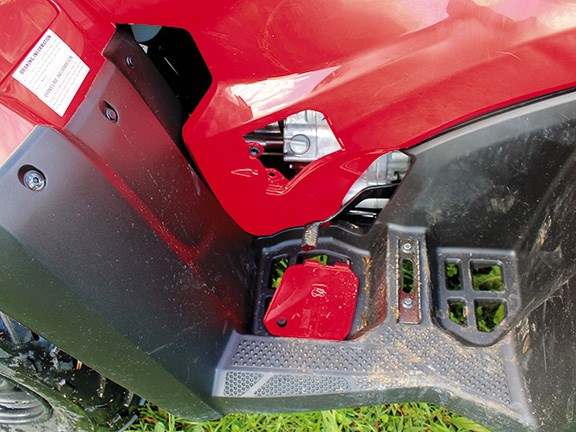 Easily removed inspection panel for daily oil check.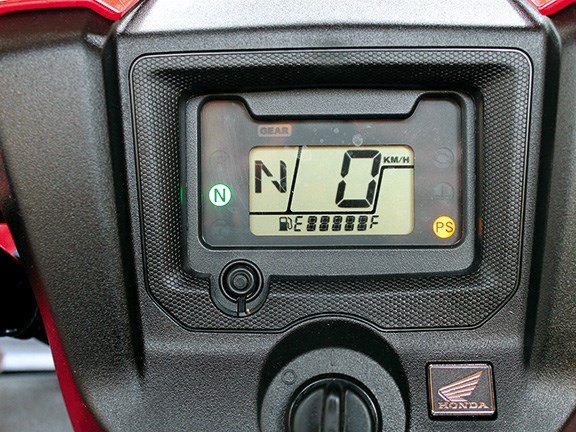 Revised display with single touch toggle through function button.

After testing the new Honda Pioneer earlier in the year and being very impressed with its style and features, Mark Fouhy was keen to check out the new Honda 2014 ATV lineup, which promised more of the same when it came to performance and attributes.
To test the new TRX500FM2, I headed out of Morrinsville, back towards Matamata, where I had a block of rough ground to put the Honda through its paces.
The property was comprised of hills, a bit of rough ground, a few drains, and a small swamp — not a bad testing ground for the machine. To test the towing capacity of the ATV, I threw on a CDax sprayer.
Load ratings have been increased to 40kg on the front carrier and 80kg on the rear, plus extra braces have been added in each corner of the carrier to help keep loads secure. ATVs are designed as a single-person machine, so the 80kg rear-carrier capacity doesn't include passengers.
Towing capacity is rated at 385kg, so the 200-litre CDax sprayer was well within this range, and the ATV had no trouble with it.
Drive/FWD system
With the new 2014 TRX500FM2, Honda has gone back to electro push-buttons to engage four-wheel drive and incorporated a new locking front diff. Front diff-lock has been one feature most of the other brands have offered for some time, but Honda hasn't offered it until now.
Personally, I prefer the simplicity and reliability of the mechanical FWD lever engagement system, so I'm not sold on the new electro system.
Transmission/engine
Honda has gone with the "if it ain't broke, don't fix it" policy and kept the five-speed manual gearbox, with reverse engaged from neutral by pressing the red button on the rear brake handle and pulling in, before pressing down on your gear lever.
Like a lot of farmers, I appreciate the simple reliability of a manual gearbox for my everyday workhorse.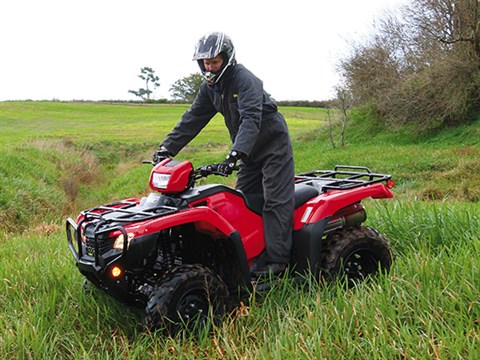 Ride quality/handling
The all-new chassis on the 2014 model is claimed to be an extra 20-percent stiffer, which has been achieved using some clever design techniques, rather than just adding extra steel and weight. The redesigned chassis has allowed the use of 185mm adjustable shocks front and rear, an increase of 15mm front and 10mm on the rear of suspension.
The rear suspension setup is a revised swing arm, not an independent system. As a work machine, this allows you to carry or tow a load without impacting on your ground clearance, with the increased stability offered by a solid rear axle.
The trade-off is perhaps not quite as smooth a ride as offered with independent suspension, but it is clear and open under the back end, offering fewer places for the mud to build up. The reconfigured chassis has also given a 12mm-lower seat height, which will make a small difference on the centre of gravity and stability for the machine and rider.
Power steering is an option on the TRX500 Honda bikes, which our test machine had and is great in rough terrain, or long grass where you can't exactly tell what you are riding over, it makes riding a lot easier and will save fatigue setting in at the end of the day. However, at around $1000 dollars, it's an option you can do without if finances are tight. 
The addition of the new diff-lock system is my favourite feature of the 2014 Honda, as it's great for getting out of sticky situations by adding extra traction to the wheel requiring extra drive. The new diff-lock system does make steering heavier when engaged, but the power steering helps.
The CV boots on the 2014 TRX range have also received an upgrade. I'm sure they'll help keep the water and mud out, looking after the drive shafts and wheel bearings, ensuring longevity and low service costs.
Styling
With the new chassis, comes new body work and plastics. Large single side panels are now used instead of smaller ones, which limit where the mud can splash or build up. Mudguards front and rear are large enough to cover the tyres and keep the mud where it belongs, without extra extensions.
If you are in the 95 percent of farmers who tow trailers and other implements with their ATVs, you will want to add mudflaps to the back to prevent mud covering whatever it is you're towing.
Honda has incorporated small panels for checking oil and filling radiator coolant, which aren't awkward to remove and replace, so there is no excuse for not checking them in your pre-ride inspection.
The air filter is mounted high under the seat with the battery mounted under a plate behind the seat — also accessible without tools — and all which will save you expense and the technician's time at servicing.
Instrumentation/controls
Handlebar controls on the left have remained the same; however, the mechanical four-wheel drive lever has been replaced with a push button, and slide front diff-lock engagement control (similar to that used by both Suzuki and Yamaha on their ATVs) has been incorporated into the right-hand throttle control.
The handlebar-mounted central light, which only turns on when you turn the lights to high beam, means you can still carry a box of essentials on the front without being blinded. The light unit also contains the revised LCD display, along with LEDs for neutral, reverse, diff-lock, engine, temperature, and power steering.
The LCD screen displays gear, FWD, and speed. With the single-touch button, you can scroll through other functions, such as fuel, hours, odometer, trip meters, and the reinclusion of a clock for those farmers who use the bike to check they haven't worked right through lunch.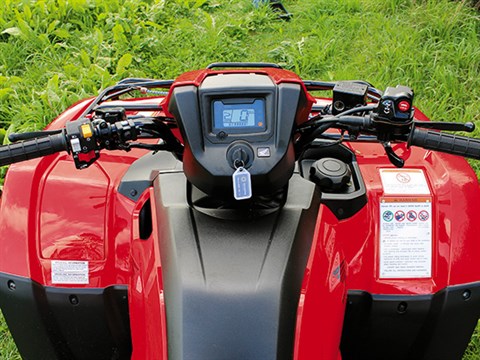 Verdict
The aggressive new styling of the new Honda TRX500FM2 is taking a bit of getting used to, but the new features are bringing me around. In my opinion, the TRX 500 is still one of the best ATV farm workhorses available on the market in New Zealand – mainly because Honda hasn't tried to add too many fancy features.
So make sure you check out Honda's range at Fieldays 2014 – they'll be at sites E25, E27 and E29 – or get to town and visit your local Honda dealership.
Pros
New lockable front diff
Functional display incorporated into centre light unit
Manual transmission suits everyday farm work
Easy-to-remove panels for oil and coolant checks
Cons
New styling takes a bit of getting used to 
New electronic push-button FWD selection isn't as reliable as old mechanical selection (a personal preference)
For the latest reviews of farm machinery, subscribe to Farm Trader magazine here.
Keep up to date in the industry by signing up to Farm Trader's free newsletter or liking us on Facebook