Test: CFMoto Z8
---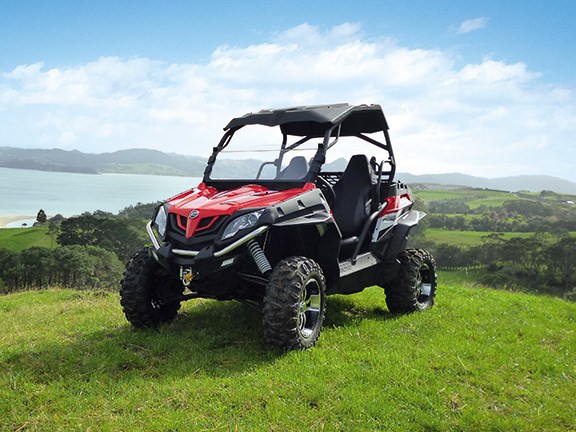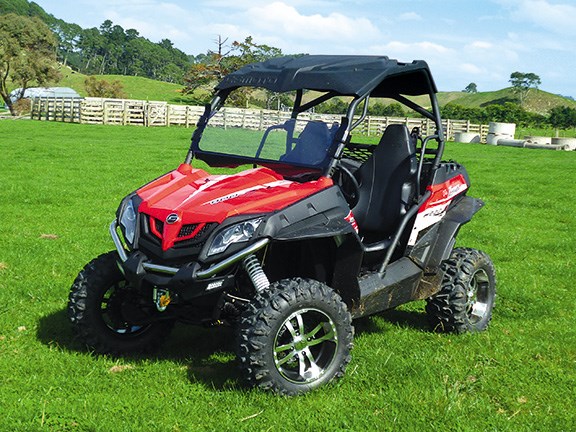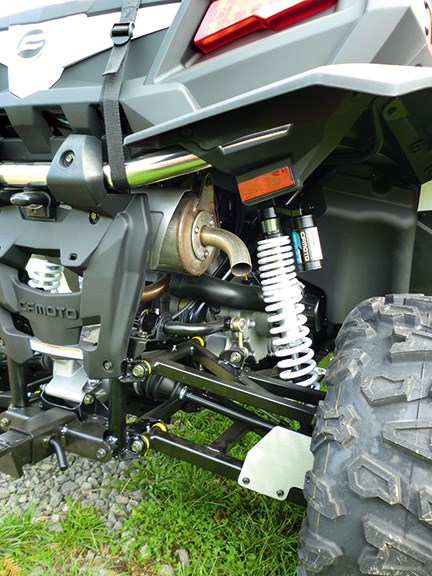 14-inch alloy wheels add to the overall aggressive-yet-pleasant styling.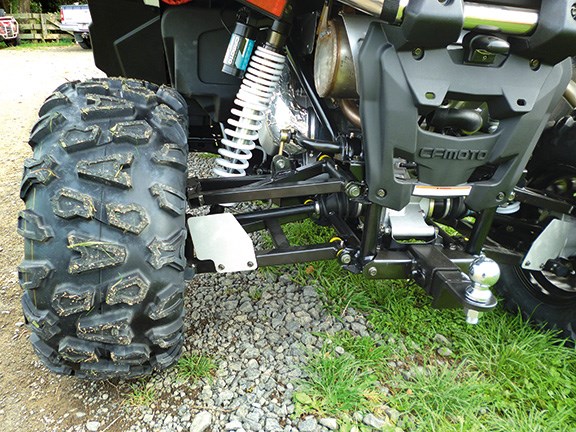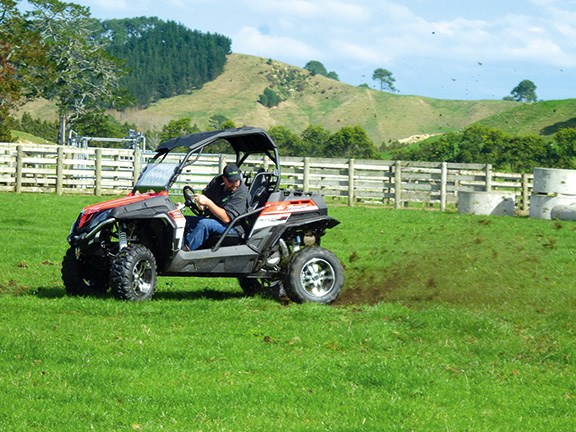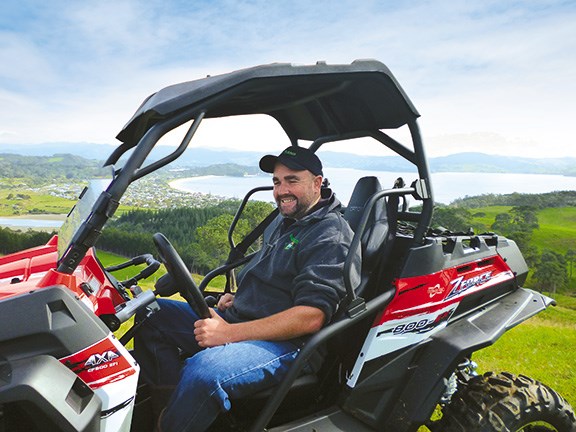 The CFMoto Z8 is a whole lot of fun and should leave a smile on everyone's face.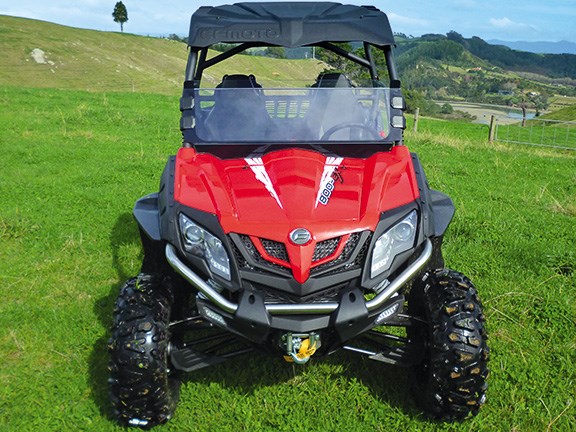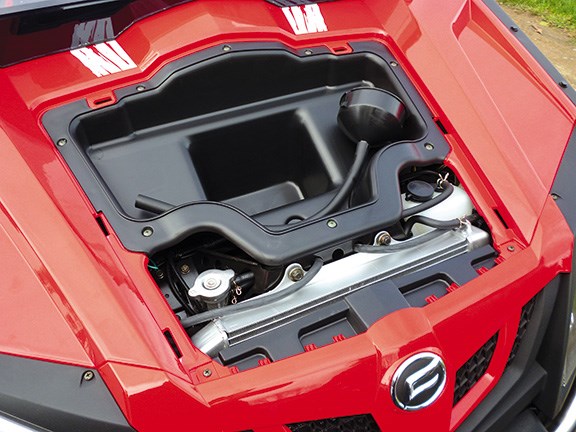 A sealed compartment under the bonnet provides handy storage space.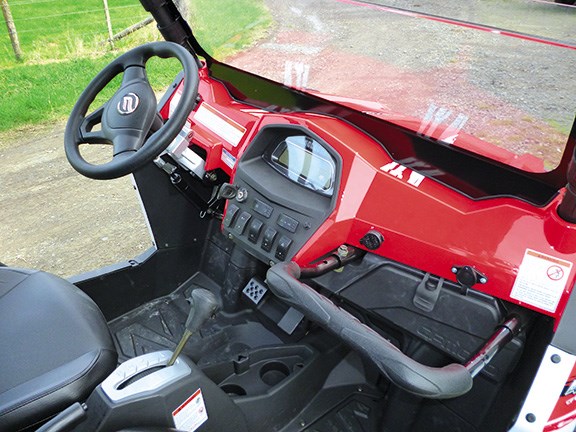 Controls are well laid out on the dash, which also features a large easy-to-use display. A grab handle on the passenger's side will get plenty of use in tough-going.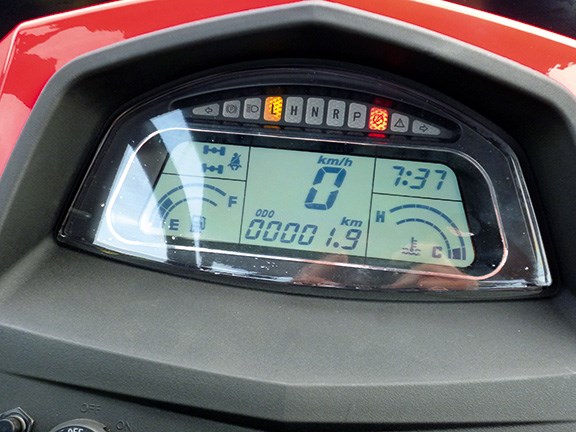 CFMoto has been around for years but the brand itself has never really taken off in rural New Zealand. This may be about to change, however, as more and more Kiwi farmers realise the value for money these machines offer. Brent Lilley took the CFMoto Z8 for a spin and was pleasantly surprised.
The CFMoto Z8 has been designed as a nimble, yet powerful, two-seater side by side or SSV for off-road, all-terrain use. Now, while it isn't really a dedicated farm machine, it may just strike a chord with some out there as it will make everyday jobs on the farm a whole lot more fun, and when the weekend comes around — look out.
Design and build
At first glance the CFMoto Z8 is quite striking, with its shape aggressively styled and red-and-white plastic panels that shroud the exterior. It also has slanted LED lights at the front and rear, along with a wraparound chrome nudge bar and 14-inch alloys, which all add to this impression.
A small tray on the back is largely more for show than to carry anything, with a load rating of only 100kg. The Z8 also features a tow hitch and winch.
The racing-style seats and the four-point harness are great for safety, although not overly practical on the farm when you have to get in and out often to open gates. One thing I'm pleased to report that I didn't test first-hand is the roll cage.
Up front, the controls for the driver are kept simple and well laid out. In the centre of the dash are a collection of large toggle switches, including control indicators, hazards, lights, the horn, and a kill switch.
An adjustable steering wheel offers some extra comfort and a large LCD screen provides easy-to-see information that includes fuel level, engine temperature, speed, odometer, and a handy clock. Mirrors mean the Z8 comes ready for conditional registration.
CFMoto has opted for a double wishbone setup with adjustable shocks all round to take the bite out of the bumps. Around 200mm of travel on each wheel and 300mm of ground clearance under the machine is great for climbing over deep ruts or rough rocks.
Z8 engine
The Z8 has an 800cc, four-stroke, liquid-cooled, V-twin engine slung low in the chassis centrally behind the seats to keep the machines centre of gravity low and well balanced.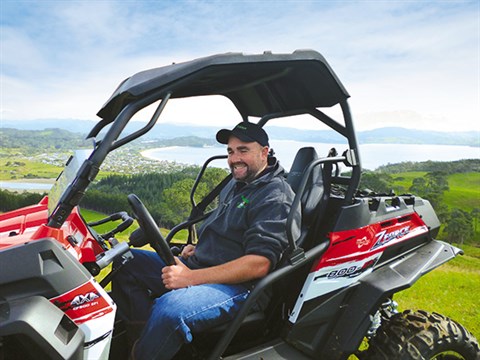 The inclusion of a Delphi throttle body and electronic injectors, along with a Bosch fuel pump, should provide some piece of mind for those weary of the unknown.
With 62hp or 42kw of power on tap, when you give it the jandal, the Z8 jumps off the mark without hesitation — which makes it incredibly fun to drive. Out on the farm I was most interested to see how this engine held on when climbing hills and the result was impressive.
It held 40kph going straight up a steep climb over a good distance. Stop-starting on a hill was equally impressive, with plenty of low-end torque to get the machine moving, although low gear was definitely necessary on the steepest slopes.
Access to the engine is tough on such a compact machine and, while it's no worse on the Z8 than anything else on the market, there is room for improvement. Panels behind the seats can be removed for limited access or the air filter and dipstick can be accessed by reaching past the rear wheels and under the tray.
Transmission
CFMoto has included a Canadian CV-Tech (CVT) transmission, which uses a combination of a centrifugal clutch and a variable-speed drive belt. A T-bar gearshift between the seats gives the driver high, low, neutral, and park.
In high, it was claimed it would do 100kph, so, in the interests of readers, I felt the top speed needed testing and I can confirm the Z8 is more than capable and wasn't tapped out. My only real gripe with the transmission was that changing between high, low, and park can be somewhat clunky.
Electronic push-button 2WD/4WD makes it easy to change on the fly if the going gets tough and once in 4WD a diff-lock can also be engaged at the push of a button. With the rear diff locked at all times, locking the front diff will get you out of the toughest situations.
Braking
In a machine that goes this quick, it's important it can also stop quickly. Thankfully, with hydraulic disc brakes all-round and braided steel brake lines, the Z8's brakes provide solid and responsive braking, with no problems bringing the machine to a stop even on a steep hill.
Where I did encounter a problem was with the mechanical handbrake between the seats, which had trouble holding the machine on a hill without it creeping off.
The Z8 does have engine braking, which is a relief. In high range going down a steep hill, the belt in the transmission noticeably held the engine speed back, although it wasn't aggressive enough to stop it gaining speed.
Low range is where it really shone — aggressive enough to hold the machine under 10kph on a very steep downhill without locking the wheels up and sliding.
About CFMoto
CFMoto has been manufacturing engines since the late 1980s and, more recently, motorbikes, scooters, ATVs, UTVs, and SSVs. CFMoto now exports to more than 60 countries and it's seeing strong growth in western markets such Australia, USA, and Canada.
Here in New Zealand, for the past few years CFMoto ATVS were sold through CB Norwood. However, this changed recently and Mojo Motorcycles is the sole importer for the brand and is currently working on establishing a strong network of independent motorcycle dealers throughout NZ.
Being a subsidiary of Mojo Motorcycles Australia, this gives dealers support and access to an impressive stock of parts from the Melbourne warehouse which can be shipped overnight.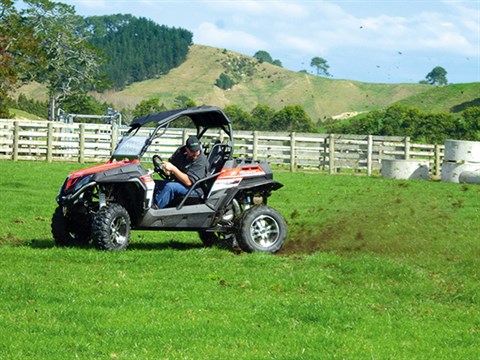 The verdict
A big plus for this machine is its fun-factor. The V twin engine provides enough get up and go to get the heart racing and, combined with its lightweight design, you just can't help but do the odd donut out in the paddock or drift round a corner, making it a winner even if it's not totally suitable for everyday use on the farm.
For anyone in the market for a side by side, don't dismiss the CFMoto Z8 without first taking a look and deciding for yourself. I for one can't wait to check out more products from CFMoto's range of great value farm vehicles.
Pros
Unbelievable pricing
Impressive engine braking
800cc V-twin engine gives excellent power-to-weight ratio
Cons
Transmission can be clunky to shift
Handbrake did not hold the machine on a steep downhill
Engine access could be better
For the latest reviews of farm machinery, subscribe to Farm Trader magazine here.
Keep up to date in the industry by signing up to Farm Trader's free newsletter or liking us on Facebook