Farm forestry: Wood-Mizer sawmill
---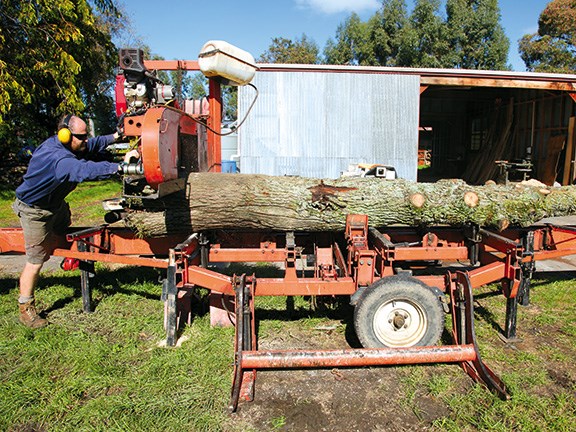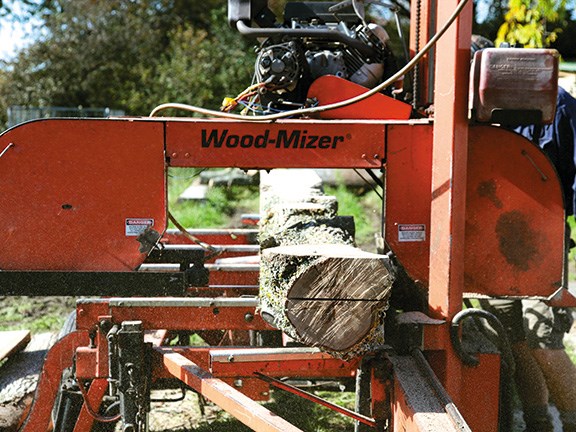 The sawmill completes the cut through the centre of the log.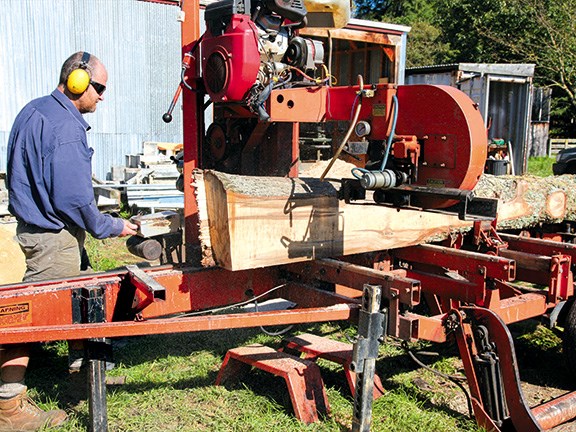 Tim Meredith keeps a close eye on an oak log as it goes through the Wood-Mizer.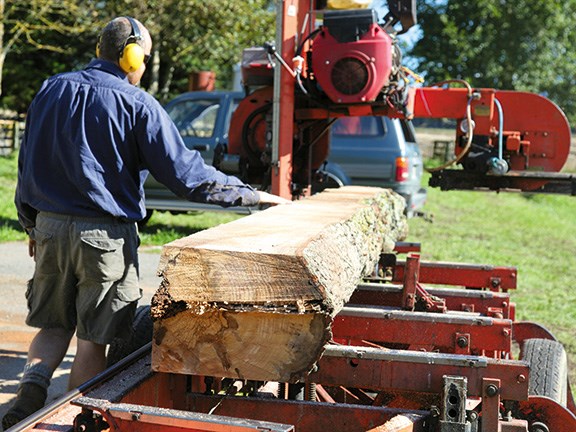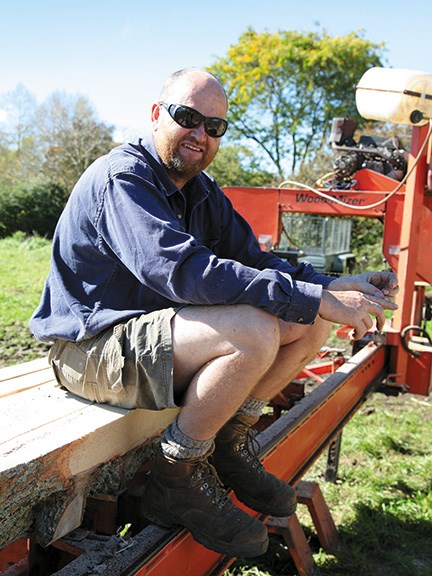 Tim enjoys working in the country and being his own boss.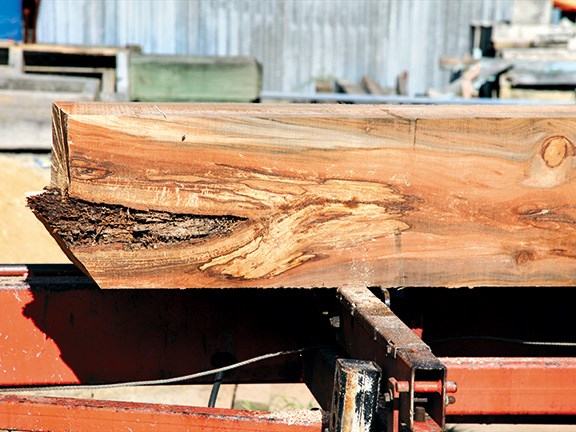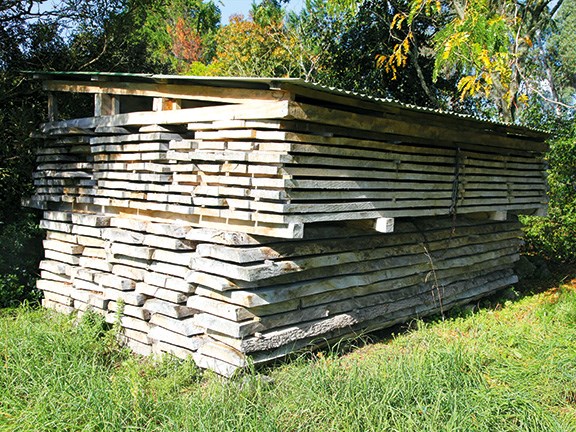 Milled timber, fillet stacked, is kept in a sheltered place untilr equired.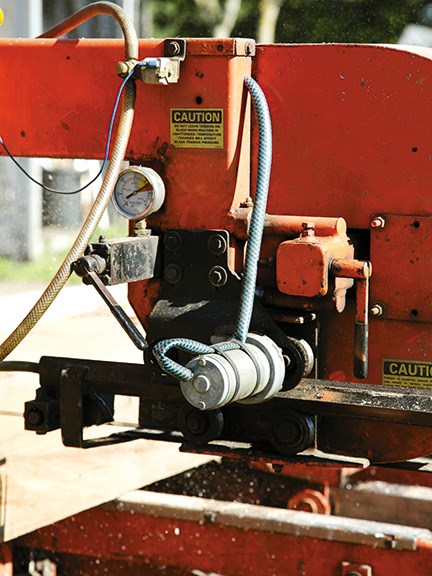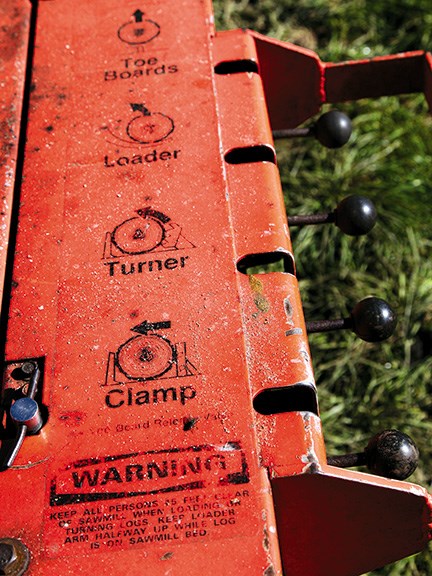 The hydraulic controls for the machine's different functions take the slog out of saw milling work.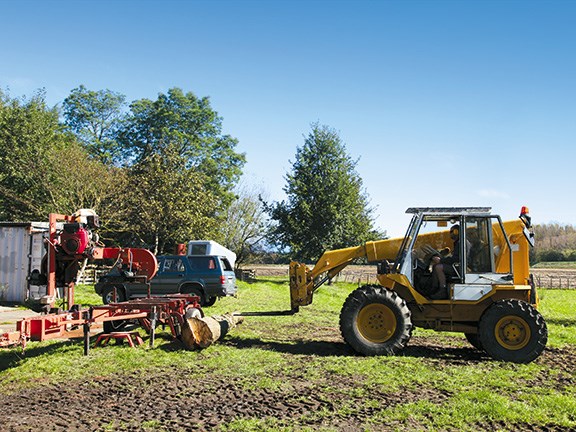 The JCB loader delivers the log to the Wood-Mizer's lifting arms.

Portable sawmill business owner Tim Meredith bought his Wood-Mizer sawmill in England 24 years ago, and it's still going strong.
Tim Meredith's portable sawmilling business is a compact operation. With his 4WD he can load up everything he needs for mobile milling and tow the Wood-Mizer. A JCB telehandler that he keeps on his farm completes his work unit.
"The sides of the Wood-Mizer fold up so it's like a long trailer. It's very simple and that's the beauty of it," he says.
His first job with the Wood-Mizer was milling a large number of oak trees that grew on his brother in law's property. "We had 100 tonnes of oak, so that got me started."
He says apart from a two-day course with Wood-Mizer in England, he's basically learned on the job.
"It was a learning curve. I read lots of books on the subject, but yeah, there's a lot to learn about cutting trees and in a way, you never stop learning."
He says although the Wood-Mizer is not a high-production sawmill, its versatility is what he likes about it. Plus the sawmill wastes very little timber.
Portable sawmill business
The Wood-Mizer was well suited to England, where the trees are smaller and there are many artisan furniture makers and builders who use high value timbers, such as elm, English oak, sycamore, and beech.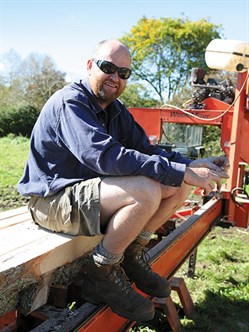 While the work he does in Hawke's Bay is very different, the Wood-Mizer still does what he needs it to do. Meredith mills timber for non-structural building use: cattle yards, fence posts, and firewood. "When you have a sawmill, you end up cutting a lot of dimension wood, such as 4x2 for framing or fencing 5x1.5 or 6x6 for posts, because that's what people use a lot of."
Changes to building code law — the Building Act 1991 was replaced by the Building Act 2004 — following the Leaky Homes crisis, meant big changes to the portable sawmill industry. "You are not allowed to use farm sawn timber as structural timber in houses now. It can be used only for non-structural purposes, such as window frames, doors, and floors," he says.
"That, as well as three to four years of drought, caused a significant drop-off in our work. It put a lot of mobile sawmills out of business in this area."
Meredith works on demand on farms all around Hawke's Bay. Because he is well established, his work generally comes through word of mouth. He's from a farming background and says what he most enjoys about his work is the contact with people and the wood.
A typical job would be a woodlot on a farm that requires felling and once this is done, Meredith will come in and process it. "It is usually for a specific purpose. The farmer might be building a set of cattle yards or doing alterations to a wool shed so he requires a large volume of timber."
The trees are usually pine or macrocarpa and sometimes, eucalypt. Once milled, he fillet stacks and straps timber in packs ready to store and dry on-farm.
He often works with shelterbelt trees too. "That has mixed results because the quality of trees isn't as good. Shelterbelts have a limited life because they are usually made up of exotic trees that grow too fast and then have to be cut down.
A job of a different sort came from a man who wanted Meredith to re-saw some wood so that he could build his own coffin. "It was a pine tree from his farm that once belonged to his grandfather, so he felt that connection."
Trouble-free Wood-Mizer
In spite of its age, the Wood-Mizer LT40HDG24 has been mostly trouble free.
"Like any sawmill, it is basically different bits bolted together and you can always replace and fix parts. I have replaced the engine — I put a 24 HO 650CC Honda on it because I think it's better than the original one, which was an Onan."
In 1978, two Polish American inventors, Don Laskowski and Dan Tekulve, designed the Wood-Mizer. "It was revolutionary in that it doesn't have much power and uses a very small blade for doing primary break down of a log."
If there is a downside to the Wood-Mizer, it's that the blades need to be re-sharpened after two hours cutting, and replaced after 15. Meredith does this himself, as well as all other maintenance.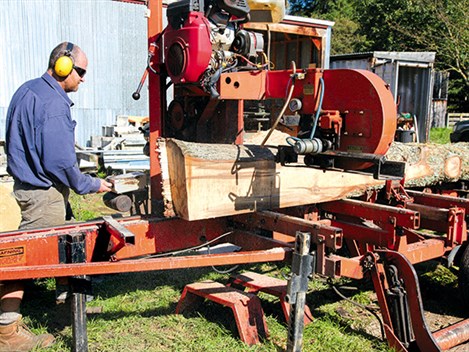 He charges clients by the cubic metre of yield. "I measure everything. I cut to size and grade, filet stack it and grade out defects, so they only pay for what they can use. I also reserve the right to turn work away if the quality of a tree isn't good enough."
Having been in business for a while and having seen different mobile sawmilling operations come and go Meredith has a couple of pieces of advice. "I think it's wise that they understand it's not a full-time business and they'll end up cutting their throat to try and keep working. It's not a very high value industry and the ups and downs in building industry substantially affect this business."
"For those reasons it's a good idea to dovetail it with something else."
For more information contact Paul Marshall on 021 331 838
The benefits of using Wood-Mizer
The sole agent for Wood-Mizer in New Zealand, Paul Marshall says, "Wood-Mizer sawmills use a band saw for woodcutting, so they have a significant advantage in blade thickness and timber recovery over other sawmill types. This is most pronounced when cutting high value timbers where 10 to 15 percent (or more) timber from the same volume of logs can add up to significant financial gain."
"Another significant benefit is the flexibility of these sawmills to successfully cut a wide range of log types from the very-short less-than-one-metre long, up to 12 metres with bed extension or more on some of the manual models. Wide cuts up to 60cm wide can be done. Wood-Mizer is the world's largest manufacturer of sawmills with over 60,000 machines sold."
For the latest farming news and reviews, subscribe to Farm Trader magazine here.
Keep up to date in the industry by signing up to Farm Trader's free newsletter or liking us on Facebook