Mower review: Kioti CS2610
---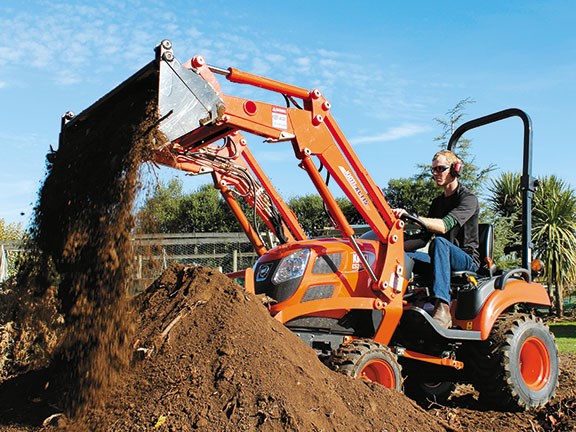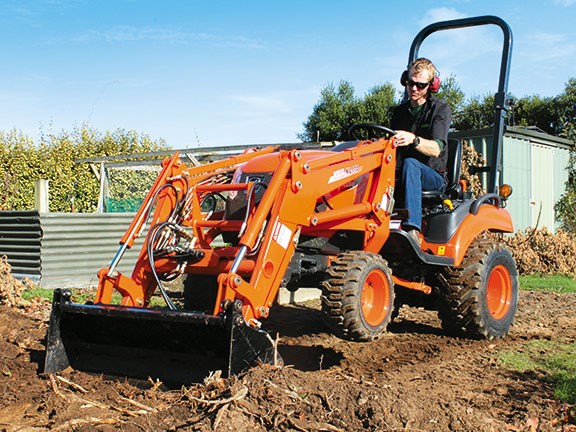 The 26L/min hydraulic pump provides plenty of power for loading jobs.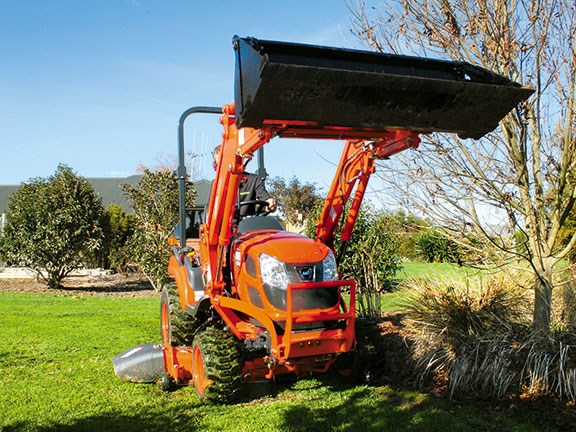 Modern styling, like the bigger tractors of the Kioti range.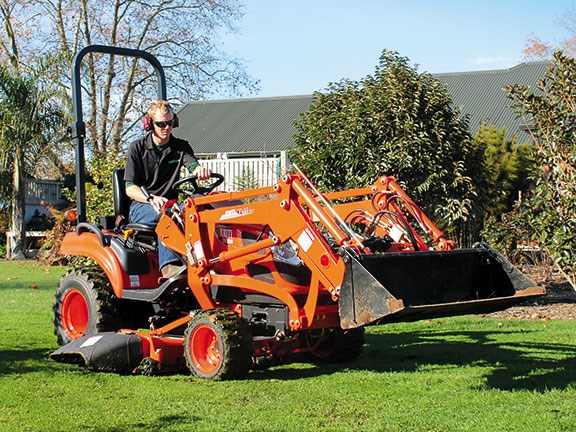 The CS2610 racing through lawn duties.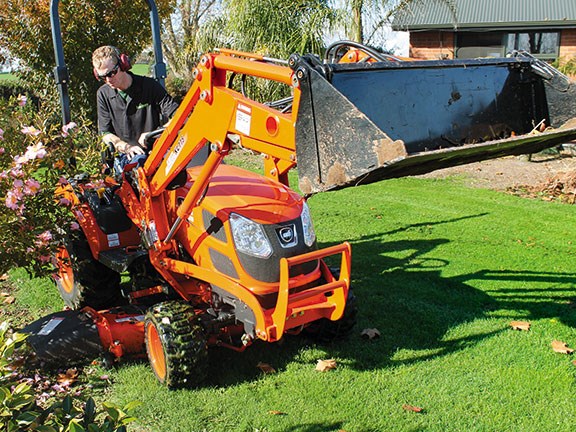 Industrial tyres come standard and are good for digging or on concrete, but fine on turf also.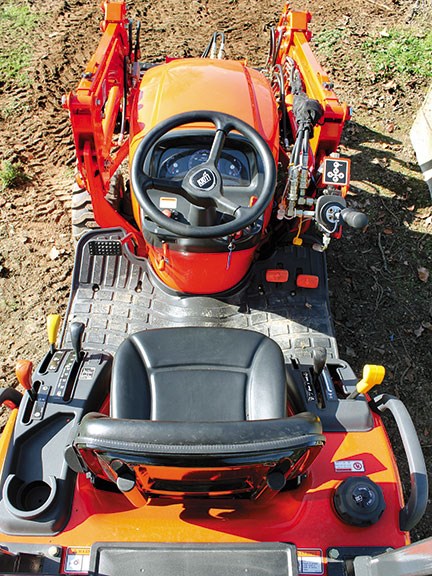 Simple, well-laid-out, comfortable Kioti operator platform.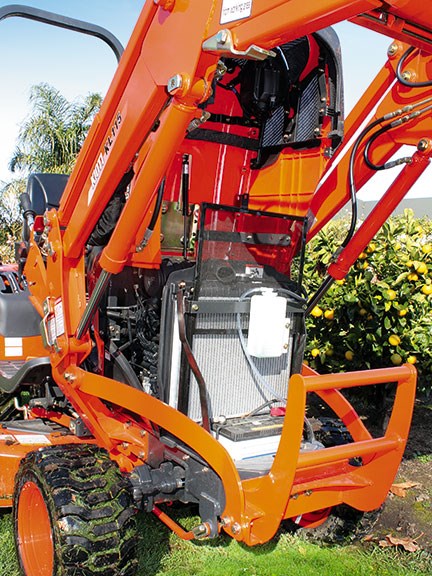 East service access points, radiator/dipstick.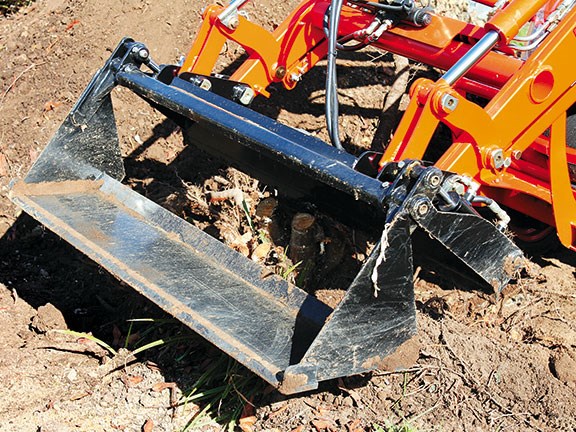 Bonus of the package - a handy 4-in-1 bucket.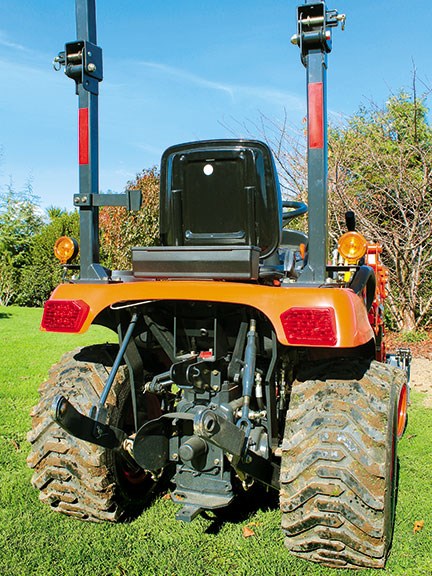 Cat I rear linkage to take care of a range of tasks.
Mark Fouhy took a trip to Eureka this month to test out Kioti's smallest mower, the CS2610, and had a 'eureka!' moment of his own.
To test the hardy little CS2610 Kioti, I headed to Eureka, home of Mark Daniel, tractor training manager for Power Farming. It was there that I was set loose to manicure the back orchard and blitz up a cocktail of feijoas, lemons, and grapefruit.
Putting the CS2610 to the test
The deck is made for some serious cutting, with steel that would appear to be twice the thickness of your average lawn tractor, and replaceable wear plates on the front, for years of mowing.
Deck height adjustment is found on the left-hand guard and is easily locked or changed to different heights. One improvement I could possibly see was the addition of castor wheels on the front of the deck, which moves the most when locking around tight corners, preventing it skidding over the ground.
Given the dampness of the ground and tight corners I was mowing through, the little Kioti made very little mess with the industrial tyres fitted. Being fitted with a loader I would certainly see no real advantage in fitting turf tyres. 

Removing the cutting deck
After completing the lawn service, we removed the cutting deck, which is easily enough done but would be much faster the second time around, once you know what you are doing. Ground clearance with the deck on is good, but I had a shed site to start preparing, which involved shifting some soil, and digging out a couple of stumps.
With stands incorporated into the frame with quick-release hydraulic couplers, removing the loader is quick and simple. With the four-in-one bucket included as part of this package, you can make use of the third service valve on the loader. With the four-in-one bucket you can grade with the back of the bucket, instead of wearing the cutting tip down, or use it to pull posts (within reason).
Operating the CS2610 
The low range of the two-speed hydrostatic transmission works best for digging work. With the industrial tyres and mechanical four-wheel drive and rear diff-lock, it is a handy little loader tractor — not a 10-tonne excavator, but certainly better than a spade and shovel.
Controls are well laid out, with an almost flat operator platform. Lights, horn, and indicators are included in one unit on the left of the steering wheel with the hand throttle on the right. The illuminated dash shows fuel/temp/rpm etc. Adjustable seat, loader controls, and twin forward/reverse pedals are features to offer a comfortable driving position.
One feature I think could be improved was the park brake. I found it hard to tell when it was on or off — a dash light may help with this.
Engine
Kioti has fitted a three-cylinder Shibaura 26hp diesel to the CS2610, providing 19.4kW of power at 3000rpm. The main job of the engine on this machine is to power the 24.6-litre-per-minute hydraulic gear pump, which will drive the two-speed hydrostatic transmission, rear linkage, and loader functions.
The little diesel engine is an economic option as it's fairly frugal on fuel, with a 25-litre tank you won't be filling up after two hours' work.
Hydraulics
With a hydrostatic transmission, hydraulic flow rate is quite important. Luckily the Kioti scores well in this area, with almost 25 litres per minute available for power steering. Lift capacity on the Cat I linkage is rated at a hefty 318kg.
PTO
The Kioti is equipped with two independent PTOs, one 2200rpm mid-mounted to operate the mower deck, and another 540rpm at the rear for those who would rather a rear-mounted mower setup or for the use of a small rotary hoe type implement.
Loader
With the addition of the high-spec loader, coupled with heavy construction, the CS2610 is more versatile and useful around the lifestyle block or farm. While destroying tree stumps, I certainly didn't feel like the Kioti was going to break in two, although, with ample hydraulic power, a rear counterweight could be quite beneficial.
Safety
The Kioti has a number of safety features to help keep operators safe. There is a cut out if you leave the seat while the tractor is in gear. A seatbelt is standard as well, and a folding ROPS allows access and manoeuvrability in spaces with low head room, as well as protection in case of a rollover.
Another important factor to consider is stability, with a wheelbase of 1400mm and width of 1181mm, making it pretty stable. Any implements added will alter this to some degree.
Tyres
Power Farming is importing all the CS2610 machines fitted with industrial tyres, which I think is a good compromise. The industrial tyres still made a tidy job while on lawn duties, but the extra grip was quite beneficial for loader work and digging applications. Industrial tyres do have a flat profile, designed for use on hard surfaces.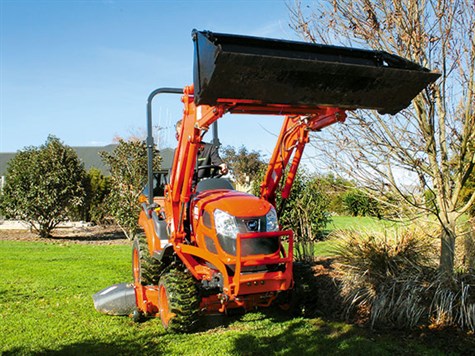 Servicing/warranty
It's good to see Kioti applying some of the design features from its bigger tractors, making daily servicing and checks easy with a one-piece lift bonnet, radiator removable screen, and easily accessible engine/transmission oil sights and fillers.
Lengthy service intervals are also good, at 100 hours for the engine, 200 hours for the transmission filter, and 400 hours for transmission oil change. Like all Kioti tractors, the CS2610 comes with a two-year, 2000-hour warranty.
The verdict
As a lifestyle machine, the CS2610 would be an excellent option. You could look at other options — a ride-on mower for lawns, and old Fergie for the bigger jobs, but I think the price could be similar when you take into account R&M of the two machines.
For those on a bigger farm, a smaller machine to clean out the calf barns, or scrape around the feed pad etc. can be quite helpful. With the 60-inch deck, you have a decent mower to quickly tidy up driveways and tanker tracks, as well as the lawns. If I had one, doing the lawns around home might cease to be such a chore.
Thumbs up
Heavy construction, plenty of steel in axles, loader mounts etc.
Sensible layout of controls makes for easy familiarisation
Lock out of mower deck/three-point linkage controls so operation of one is not affected while using the other
Thumbs down
Park brake – a visual light to show it is on would be good
For the latest reviews of farm machinery, subscribe to Farm Trader magazine here.
Keep up to date in the industry by signing up to Farm Trader's free newsletter or liking us on Facebook