Tow & Blow portable frost protection
---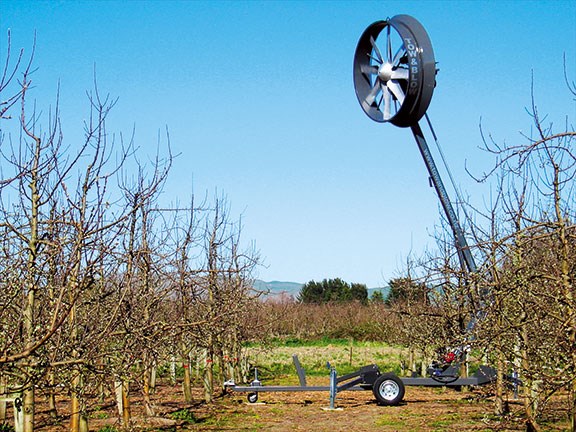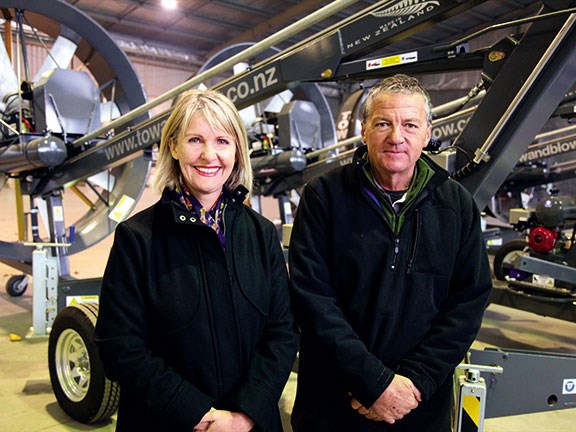 Tag team: Janice Atkinson and Kim McAulay.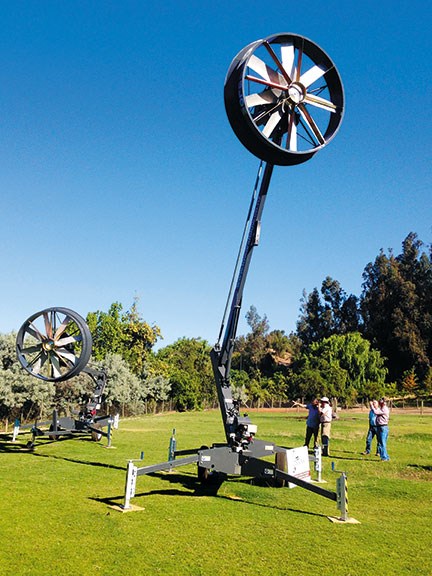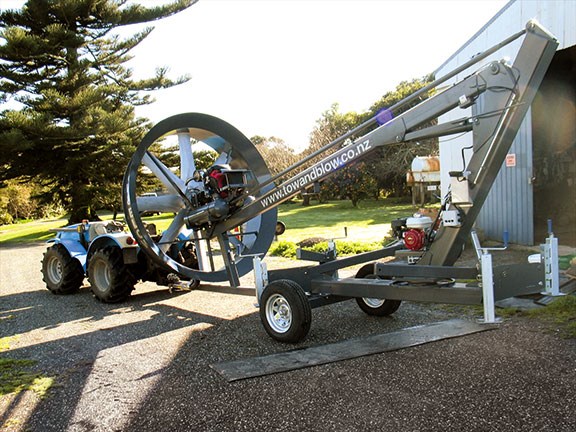 The Tow & Blow can fold down and is easily towed and stored.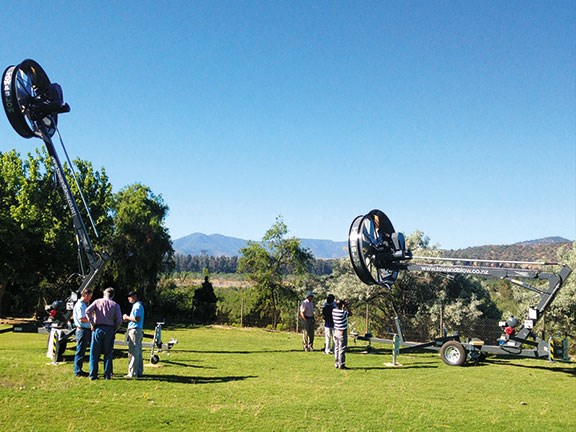 Tow & Blow demonstrated its machines at a field day in Rancagua, Chile, following the country's devastating frosts.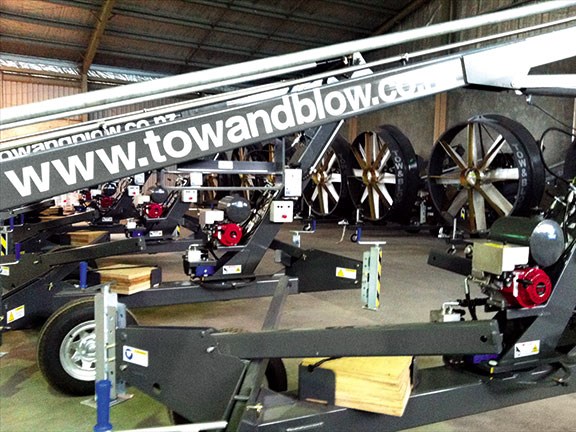 A small engine drives the hydraulics and the rotation/oscillation system.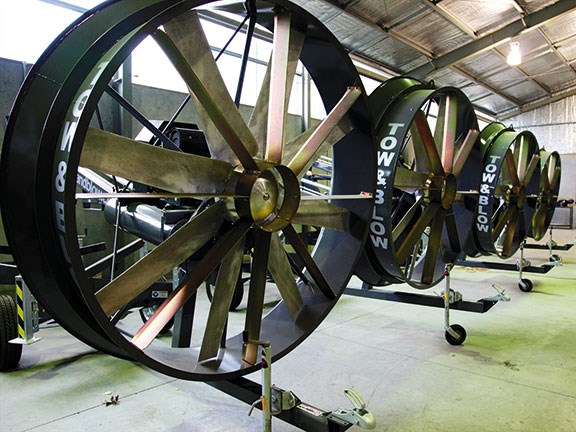 Assembled Tow & Blow fans in the factory ready for dispatch.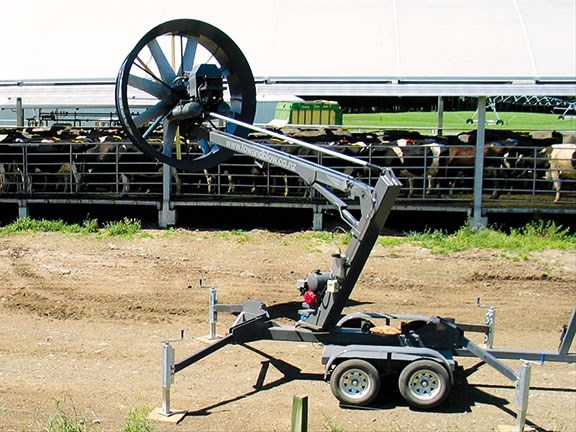 The Tow & Blow cools cows waiting for milking at a dairy farm in Hawke's Bay.

Frost damage is one of the worst hazards of nature for horticulturalists. The Tow & Blow portable frost protection machine could help.
Hawke's Bay engineer Kim McAulay has developed a portable frost machine called Tow & Blow. Simply described, it is a fan in a bell-shaped shroud on a hydraulic hoist that can be towed behind a ute or tractor, and easily stored when not in use.
McAulay is well experienced in the ways of fighting frosts. He used to own frost protection company, FrostBoss, selling it in 2006.
In the 1990s he spent eight years in the United States, where he studied wind machine technology. He imported American-built wind machines to New Zealand before deciding to build his own. In 1998, he came up with his first FrostBoss machine.
The day *Farm Trader* visited McAulay and his wife, Janice Atkinson, at their premises, Hawke's Bay was experiencing its first frost of the year.
The factory floor is chocka-block with Tow & Blow machines. A group of orchardists from Chile are learning how they are assembled. Last year Chile was devastated after a late frost caused an estimated $1 billion worth of damage to fruit crops.
Tow & Blow machines are manufactured under license at Hastings engineering firm DSK before they are transferred to the Omahu Road factory for assembly. "We oversee this, plus handle the agents, markets, distribution, and shipping end of it," says Atkinson.
When McAulay sold FrostBoss he'd actually retired, but his restless and inventive mind kept thinking about making a machine that was more efficient at frost protection than the standard permanently-mounted, ground-powered models.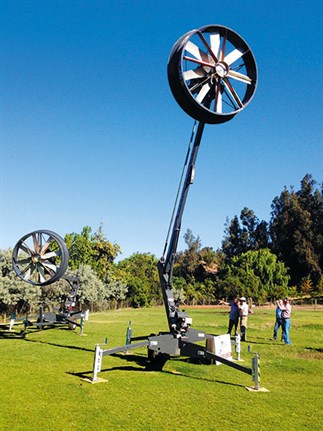 In his 'retirement' (that in reality was a five-year 'gap year') he began the design process at the kitchen table in "thousands of different ways, on the back of lots of envelopes."
"Kim is very clever," says Atkinson. "He's a typical Kiwi who always wants to find a way to do something better."
"It took me hours and hours to figure out. My prototype was a redundant cherry picker, which I modified, creating the shroud with a fan in it. We then trialed it in an orchard, took the prototype to DSK Engineering, and went from there," says McAulay.
Having built frost machinery for 22 years, he knew what the industry wanted and that was portability, adjustability, and a 180-degree oscillating fan.
"The oscillation factor allows the machine to utilise Mother Nature's strength and work with it, rather than against it. With the fixed tower machine, all it could ever do was a circle. There is always a slight wind drift on a frost, so when a frost machine is doing its circle and turns into the drift, it covers a small area and leaves the rest of the area exposed.
"With Tow & Blow, several machines are able to be synchronised with each other rather than working against, and blowing at, each other."
This is not its only attractive feature. It also uses a small amount of fuel (six litres of petrol an hour) and is very quiet.
At 1.6 metres wide, Tow & Blow can easily fit between vineyard or orchard rows, without interfering with posts or irrigation devices. When not in use, it can be stored in a shed.
Since coming on the market in 2012, Tow and Blow has been gathering a steady number of awards. The most recent one is Victoria's 2014 Mildura Field Day Innovation in Horticulture award in Australia.
It has won the Innovation award at the Eastern Horticultural Field Days in 2012, the Hawke's Bay Fruitgrower's Association Fourneau Award in 2013 for its contribution to technological advancements in horticulture, and an Innovation Award in Ontario, Canada in early 2014.
The first buyers of Tow & Blow were kiwifruit, avocado, and apple growers from Te Puke, Whakatane, Hastings, and Germany. Now they're exporting the machines worldwide.
"When you look at the frost protection industry, it's a specialised area. When a grower has been eaten by frost, he gets on the internet to find a cure. When he finds a solution, he is more than happy to share his secret," says McAulay.
And it's not only horticulturalists that are latching on to Tow & Blow. The machine is also being trialled for aircraft de-icing and there is some interest from the movie industry.
For more information visit towandblow.co.nz
Just the facts:
Tow & Blow uses a 23hp V-twin Honda engine with a close-coupled belt drive to the fan and protects at least four hectares. The engine runs at 2850rpm and the impeller runs at 600rpm
The engine is positioned on top, delivering 85 percent of its power capability directly to the impeller. 
The impeller has six one-metre blades.
The impeller is in a bell-mouthed case/shroud that increases its performance by 95 percent.
It blows unobstructed, away from the machine.
It uses six litres an hour of fuel.
Easy service — no specialty service equipment needed and no reliance on manufacturer for unique parts.
No installation costs.
Has lights for night work.
It can be ordered with a wide or narrow wheelbase to suit plant spacings.
A traditional wind machine uses a 150hp engine to protect six hectares. Tow & Blow uses a 
23hp engine to protect at least four hectares.
Provides frost protection for all forms of horticulture: plants, trees, vines, and ground crops.
For the latest reviews of farm machinery, subscribe to Farm Trader magazine here.
Keep up to date in the industry by signing up to Farm Trader's free newsletter or liking us on Facebook