Test: Fendt 724 Vario tractor
---
Farm Trader puts the Fendt 4400hr 724 tractor to the test.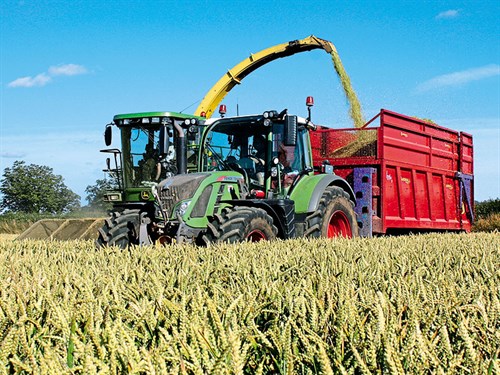 When it eventually broke cover at the Cereals Event in June 2011, Fendt's third generation 700-series signalled a big step forward for the Bavarian tractor maker. Since the original Vario range was launched in 1998, it was these middleweight prime movers that had proved to be the biggest sellers in the company's line-up.
For contractors, mixed farms and, in particular, owner/operators, the original 700 and 800s hit the sweet spot in terms of a balance between weight, power and technological sophistication. Originally the 700 range stretched from 120hp up to 180hp, all models kitted out with the firm's stepless Vario 'box, which at the time led the field.
But, despite phenomenal sales success, over a decade on the late '90s line-up was beginning to appear dated. The bulbous, bug-eyed nose cone looked out of place alongside Fendt's recently revamped 800 and 900-series tractors, and the cramped cabin was becoming a consistent grumble from operators who saw what drivers of different coloured machines were being treated to.
By 2011, a revamp of the 700-series was long overdue, and both dealers and drivers breathed a big sigh of relief when the firm finally whipped the wraps off its refreshed line-up. Initially three models appeared — the 720, the 722 and the range-topping 724, maxing out at 200hp, 220hp and 240hp to replace lower-end 800s. Smaller 145hp, 165hp and 180hp tractors followed soon afterwards to complete the line-up and elbow out the old 700s.
Externally the biggest change came with the arrival of a completely new five-post Visio Plus cab with its distinctive curved front windscreen swooping back into the roofline to provide uninterrupted views skywards. New 175mm and 260mm Vario terminals made their way down the range from bigger heavyweights, bringing the likes of Vario guide auto-steering, Vario active fast-steering and, most importantly, easier-to-access settings menus.
Alongside LED lighting and chrome trim, the tractor got a facelift too, knocking it into line with the rest of the company's tractor family. But it was underneath the hood that the main changes took place. As before, a four-valve, 6.06-litre Deutz six-cylinder was employed, but to comply with Stage IIIA emissions regs it gained an AdBlue SCR exhaust after-treatment system.
As one of the first machines on the market to adopt this SCR option, the extra filler cap came as something of a shock for many operators used to just piling gallons of cherryade into their tractors each day. Now, of course, AdBlue is commonplace but initially there was a certain amount of resistance to the technology.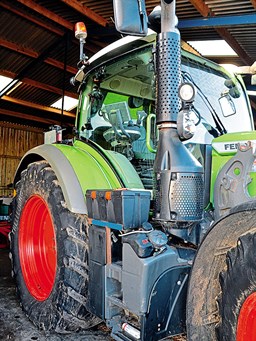 In driveline and build, the new 700s shared little with the 800-series models they replaced. Chassis, back-end, front-axle and Vario CVT stepless transmission were heftier to cope with the output increase up to 240hp, and, around at the rear linkage, lift increased by 500kg. In the hydraulic department there was also the ability to specify seven spools rather than the old 820's max of five.
Test machine
Unsurprisingly it's the most powerful model in the 700 range that's the best seller, so we tracked down a 724 that has amassed some serious hours in its short existence. When it arrived as an ex-hire machine at its current home 18 months ago, our long-termer had 900 hours on the clock. Since then its operator has added over 3500 hours to that total in a wide range of work.
As part of a contracting fleet, it spends a good deal of time on the road generally with either a 16t silage trailer in tow or with a trailed Bredal lime spreader hitched up. For the latter, a Fendt 5X90 loader is also used. And its lugging abilities are further tested with a 3.0-metre Väderstad TopDown and 4.0-metre Rapid drill. A five-furrow Kverneland plough rounds off the tractor's cultivations workload, while a 9.0-metre set of Lely triple mower conditioners gives it plenty to do throughout the spring and summer.
There's no strict replacement policy at the 724's contracting base. It's unusual for prime movers to show up brand-spanking as the business owners prefer to let someone else take the initial hit of depreciation. Machines are expected to work hard, generally clocking at least 2000 hours a year and reaching a total of 6000 to 8000 hours before they're considered ready for a change.
CVT gearboxes are preferred for the work the tractors do, although there is currently some doubt as to their longevity and fuel efficiency, no matter what shade the paintwork.
Engine
Rated at 220hp, the 6.06-litre Deutz engine is felt to have plenty of power for most tasks. On the lime spreader and trailers its muscle is frequently in demand, especially in the rolling countryside where our test tractor spends most of its time.
But it's the 9.0-metre triple mowers that really test the motor, especially in tough, wiry late first-cut grass. Also with the business' 3.0-metre Väderstad TopDown tynes set to work at 200 too 225mm to establish oilseed rape, heavyish clays can bring the tractor to its knees.
But power isn't the key limiting factor for tillage work. It's traction that is the 724's weak point. Being a powerful yet light in weight machine, it requires serious ballast and gets a 1500kg lump on the nose as well as 600kg wheel weights for heavy draft jobs.
And when hitched up to a 3600-litre Amazone fertiliser spreader the front block is essential, too. Seven 600kg bags hoisted in the back can make the tractor dangerously light on the nose.
Service access is one area where the 724 scores poorly. AdBlue filters live in a recess within the injection-moulded fuel tank. Positioned directly behind the left-hand front wheel, this fills with mud and muck, making 500-hour filter changes a tricky task and heightening the risk of contamination.
A sealed compartment would seem like a simple solution. And it's not much better news when it comes to the air filter, either: with the loader hitched on it's tricky to remove and inevitably gets smeared with grease from the loader's main pivot pin nipples.
Fuel use varies wildly depending on the work being done. For hedge trimming, with the PTO in 540eco, the engine runs at around 1500rpm. This results in diesel being sipped at just over seven litres/hr and Adblue consumed at under 0.5 litres/hr. On lime spreading duties, fuel consumption rises to between 17 litres/hr and 23 litres/hr with AdBlue use climbing a proportional amount.
For heavy draft work it's a completely different story and, depending on conditions, the Deutz motor will burn its way through up to 45 litres/hr. It's in this area that the Vario box is felt to be at its weakest. With the TopDown or Rapid drill hitched up in some claggy clay, the tractor labours and the transmission opens right up to allow engine revs to recover. This means it uses a greater proportion of hydrostatic drive and runs at a slower pace, with the result that more diesel is burnt for every hectare covered.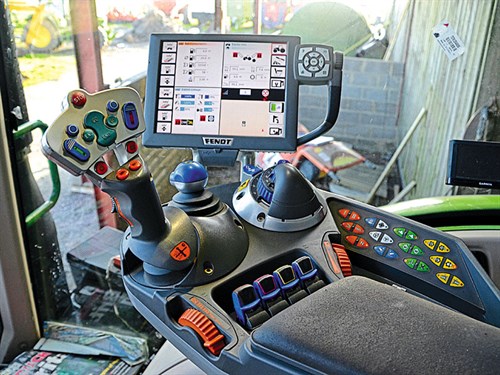 Transmission/hydraulics
With Fendt Varios having been a fixture on the fleet for a number of years there are no surprises in the transmission department, although the 724's tractor management system (TMS) is reckoned to be a big help in making the driveline work to its optimum. The Vario terminal's ability to store TMS settings for a range of different jobs is seen as a big time saver, and the fact that it can be triggered to come to life by PTO, linkage, spools, direction changes, means it's used for virtually every job.
Having infinite control of forward speeds makes applications with lime and fertiliser spreaders more of an accurate operation. And the feeling that TMS works to find exactly the right ratio according to the desired speed and the load on the engine has instilled a lot of confidence in drivers looking to limit fuel use.
On the road the transmission is used in combination with the exhaust brake to slow the tractor, with the pedal kept as a last resort. That said, the brakes are rated highly and provide decent anchors on power even at 50km/hr. But downhill braking does come in for a certain amount of criticism, too. Depressing the twin pedals or activating the exhaust brake causes TMS to momentarily kick out, a feature that is disliked because it lowers engine rpm with the result that pto revs drop. When fertiliser spreading, for example, this can affect spread patterns when applying precise rates of granular material.
The Fendt-branded loader is a mixed bag, too. Visibility is good either down low hitching up to attachments or up high through the arching front screen. And lift capacity/tear-out force is also reckoned to be about as good as it gets with a tractor-mounted fore-end loader. But, possibly as a result of this (chunky lift rams take longer to fill), it's slow in operation compared with the business's other Quicke loaders.
Generally, the 724's spool-valve flow isn't a limiting factor. However, the loader jib has not stood the test of time too well. Welded webbing plates are beginning to show significant cracks and will need cutting off and replacing with heavier gauge steel if they're to do much more work.
The loader is generally unhitched from the tractor when it's not required – a straightforward process thanks to the 724's in-built pressure relief system. But the hydraulic multi-coupler has a habit of developing regular leaks.
And the Fendt boom suspension system isn't thought to be as effective as on other loaders either: with just one gas accumulator it's never quite right, loaded or unloaded.
Cab and controls 
Having had 818s and 716s on the fleet previously, the 724's cabin is viewed as a monumental improvement in pretty much every area. It's roomier and more comfortable with plenty of storage space unlike the old tractor, and the controls are a whole lot easier to master.
The multifunction joystick is liked for the range of functions it can handle, and being able to simply assign different controls to the different buttons through the Vario terminal means they get properly used.
By being able to store different configurations in a drop-down menu, it's just a case of hitching up the relevant implement and finding its saved settings. The buttons then change their function to what's required and operations such as auto-steering activation and spool valve oil-flow alter accordingly. It's the same story for the automated headland turn system. Because it's so easy to programme, edit and store a sequence, it gets used for virtually every job.
As an ISObus implement controller it makes for effortless switchovers and, even with GPS steering and all the tractor functions to monitor, the Vario terminal is reckoned to be more than adequate.
The joystick gets a lot of use and with over 4000 hours its action has become a little slack. That's not generally a problem until the tractor hits a bump and the stick lurches forward, propelling the tractor along at even greater speed.
Located next to the main lever is a stubby cross-lever that is assigned to loader duties mainly on our test tractor. It's liked for its proportionality but unfamiliar operators can struggle with its sensitivity — it requires a delicate touch and will occasionally stick if not treated with care.
The tractor's overall stability and handling on the road are reckoned to be second-to-none, though not having the top-spec three-point cab air-suspension is reckoned to be a mistake. The standard twin air-bag set-up does the job just fine, but it isn't as good as the all-singing and dancing system.
The verdict
When Fendt launched the revamped 700-series in 2011 the firm set the bar high. In terms of cab and controls it was clearly a massive improvement on its predecessors, but the tractor also generated a huge amount of power from a surprisingly small package.
While that's generally proved an asset, it's no heavy draft tractor, and in our testers' minds the 724 wouldn't be the right choice if that's what its main task in life was to be. However, with all that oomph packed into a small frame the tractor is ideal for contracting work where there are plenty of road miles involved with heavy loads.
The jury is still out on fuel use. From the perspective of the guy writing the cheques, it's felt that it could be better for certain tasks. Our test tractor has also not had any engine-related problems, something we've heard from other owners. However, users love the Vario box for its versatility.
And it's the same story for the controls — the multifunction joystick and large colour touch screen mean all the tractor's clever tricks are easy to find, so they get used on a daily basis. Add the big, airy cabin into the mix and it's no surprise that drivers are very happy to spend over 2000 hours a year on the 724.
For the latest farm machinery reviews, subscribe to Farm Trader magazine here.
Keep up to date in the industry by signing up to Farm Trader's free newsletter or liking us on Facebook