REVIEW: New Holland CR10.90 combine harvester
---
New Holland's CR10.90 Combine has smashed the existing world record for most grain harvested in an eight hour period. The machine has now arrived in Australia and Tom Dickson travelled to Esperance to try it out.
There are two very important details I need to disclose before we get too deep into this review.
Number one, I have never driven a New Holland combine harvester; in fact I have never driven any sort of combine before. I have been receiving driving advice from my son, Adam, who began driving combines to earn money over the school holiday period at the age of 16. 
I actually see my lack of experience as a good thing and will give a genuine indication of whether it's easy enough to operate.
The second and more disappointing detail is that after travelling about 4,000km across the Nullarbor Plain in Western Australia to catch up with the CR10.90 in Esperance, it rains the whole time we are here.
I will let the CR10.90's Guinness Book of World Records success do the talking for its ability to perform while I give you an insight into some of its interesting and user friendly features.
Contents
Setting a world record
On August 15, 2014 in front of Guinness Book of Records adjudicators the CR10.90 set about blasting its way into the history books.
The weather is not great at Lincolnshire in the United Kingdom on the day. In overcast conditions the temperature hovers around 18-22C with light showers predicted. The crop being harvested is a variety of wheat called Santiago with an average yield of 9.95 tonnes per hectare and 16.2 per cent moisture.
The only variation on the equipment is the use of a 13.7m 840CD draper front as opposed to the 12m rigid auger, or tin front, we've got to play with.
Another statistic coming out of the record breaking run is the ability of the CR10.90 to auger out its 12-tonne load in about 90-100 seconds.
After six hours and 36 minutes the CR10.90 breaks the old record of 676 tonnes and goes on to record a massive 797 tonnes of wheat harvested in eight hours.
This record is exactly why I am not going to try and invent a story about its performance on a day we can't harvest. I choose rather to trust the performance figures that have been achieved under the scrutiny of the independent adjudicators from the Guinness Book of Records.
Find New Holland combine harvesters for sale.
New Holland CR10.90 power
The CR10.90 is powered by the Fiat Powertrain Technologies (FPT) Cursor 16 diesel engine, which is currently celebrating victory in the 2014 diesel engine of the year awarded by Diesel Magazine.
Compliant with Tier 4B emissions regulations, the CR10.90's engine incorporates ECOBlue Hi-e SCR (high efficiency selective catalytic reduction) technology on a hydrostatic drive transmission.
The award-winning 16-litre engine pumps out a massive 653hp (487kW) putting the CR10.90 into the Class 10 category for combines. Most of the credit for the high output of the CR10.90 can be attributed to its massive engine, new dynamic feed roll system and 22-inch (56cm) twin pitch rotors.
New Holland CR10.90 wheels and tracks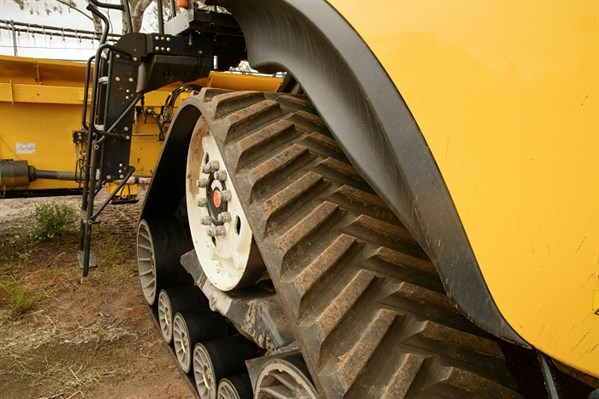 The fact that the front drive wheels have been replaced with rubber tracks will keep this header working when others will have to pull out. Often following rain the crop is ready to strip after a couple of days but the paddocks are too wet under foot.
A tracked machine however will be back on the go long before its wheeled counterparts.
I am really impressed with the performance of the tracks on the CR10.90 for a few reasons. Built into the track assembly is hydraulic suspension.
It is providing a really smooth ride for me in the cab but more importantly prevents shocks from resonating into the machine itself.
Even in these wet conditions it isn't leaving much of a track mark while turning. This is because the two larger end idler wheels at the bottom of the track assembly are slightly raised causing the rubber track to engage with the ground at a gentler angle.
Matt Newham of local machinery dealership Staines Esperance says in the last few weeks there have been guys who've had anywhere from forty to one hundred millimetres of rain so those paddocks are extremely wet.
"While we have been demonstrating the machine we have been able to do the wet parts for them. The tracks have allowed us to harvest those areas of paddocks no one else has been able to get to." he says.
New Holland CR10.90 Cab and comfort
The cabin feels somewhat smaller and more compact than other combines I've been in and that's certainly not a criticism because I actually like the snug feel of having all the controls placed close for easy reach.
Apparently it's an illusion because the floor drops away in front of your feet creating a larger and deeper front windscreen, which gives better vision of the header front. It's actually larger than previous models with an increased amount of shelving and storage behind the driver.
For that added bit of comfort the seat automatically self-adjusts. When I first jump in I think it has gone flat, then after a second or two it reinflates to match my weight.
New Holland CR10.90 Controls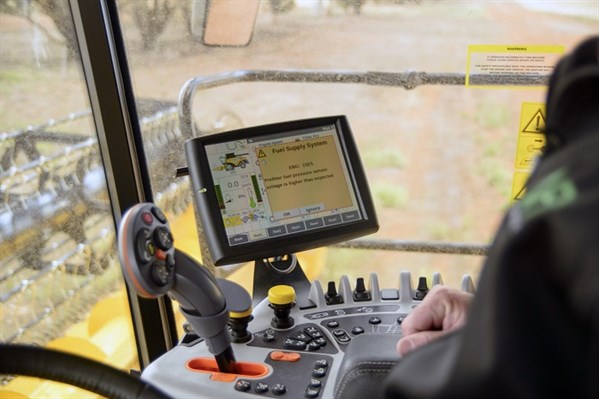 After driving around for about 10 minutes I feel it's time to explore what it would be like to be in control in a working situation.
Putting the header front on can't be that much harder than attaching a bucket onto a frontend loader. Can it?
My biggest fear is that when I try to hook it up I'll lurch too far forward and smash into the front, but that's not the case at all.
It only takes a couple of goes to line everything up then lift it up and clear off the trailer. One mechanical lever locks it in place then it's just a matter of plugging in the hydraulic bank, electrical cable and the drive shafts, one either side.
The command grip multifunction lever does virtually everything in the way of operating the header. One button lifts, lowers and tilts the front while a second one lifts the reel up and down forwards and backwards and a third function on the same button extends the platform to create a larger surface area.
Underneath the platform are drop down sensor plates that keep the front working at a consistent height off the ground preventing damage in uneven paddocks.
Other functions on the command grip relate to starting the auger and auger position. Of course the multifunction lever controls all speed and directional changes as well.
It also has a built in shuttle mode to perform quick directional changes without having to go back into neutral. This requires me to hold down a button on the command grip to activate the shuttle and it signals with a beep that it's transitioning.
I recall Adam telling me to bump the revs up a bit before trying to start the rotors and reel so I don't put too much pressure on the engine but the CR10.90 takes care of this automatically. Basically it caters for idiots. This is probably why Newham isn't too worried about letting an inexperienced combine operator like me get behind the wheel.
I started to realise driving the combine isn't that complicated and if it's set up right then even an inexperienced operator can take control. I keep expecting to discover something complicated but it doesn't occur.
The 10.4-inch (26.4cm) Intelliview IV color touchscreen monitor clearly displays all the information regarding rotor speed, concave opening, fan speed and sieves.
For convenience a second Intelliview monitor can be installed for auto steer and mapping.
New Holland CR10.90: Miscellaneous points of interest
Automatic sieve levelling makes sure the sieves remain level even when the combine is working on the side of a hill.
The auger on the CR10.90 is 34-foot, or a bit over 10m, which means the chaser bin can travel in the combine's tracks from the previous run. This eliminates the risk of grain spillage because the driver of the chaser has a clear path to follow and keeps all the vehicles in the same tracks that minimises compaction.
Stubble residue can be spread or placed in a neat windrow for baling or burning at the flick of a lever. This manual device directs stubble flow down onto the spinners for spreading or out over a platform where it is funnelled into a neat windrow.
As I take a walk around the machine it becomes clear the light package is designed to keep the Australian market satisfied. Here we demand clear vision both day and night.
There are lights pointing in every direction to illuminate the whole paddock and even an auger light so you can see exactly what's happening during the unloading process.
The biggest fear of any operator is the ever present threat of the combine catching fire because of dust and chaff build up in and around the engine compartment.
After about one hundred hours of work the CR10.90's engine is virtually dust free because its cooling fans have been placed at just the right angle to create a huge amount of cross flow air which clears dust before it can settle in the engine bay.
The Verdict
Many farmers overcapitalise on headers because in many parts of Australia unpredictable weather conditions mean just small windows of harvesting opportunity.
This could make the New Holland CR10.90 combine a really attractive option for farmers and contractors alike.
If you are only getting favourable working conditions in short bursts it makes sense to have a machine that can get the most amount of crop off during these periods.
To achieve Guinness Book of Record status the combine must adhere to a certain standard of performance, it's not just a matter of flogging off a heap of crop.
Samples of grain are inspected regularly for purity and the team checks to make sure not too much grain is being thrown out the back.
The record speaks for itself and is testament to the performance of this combine and I am amazed at just how easy it is to operate.
New Holland CR10.90 Hits:

World record performance
Tracks
Self levelling sieves
Cabin layout
Dust free engine compartment
Auger speed
Uncomplicated
New Holland CR10.90 Misses: NIL
New Holland CR10.90 Specifications
ENGINE:
CAPACITY: 15.927 litres
HORSEPOWER: 653hp (487kW)
TYPE:TIER 4B (ECOBlue SCR)
TRANSMISSION: HYDROSTATIC
HARVESTING:
CUTTING WIDTH: 6m – 13.5m
ELEVATOR: DYNAMIC FEED ROLL
ROTORS: TWIN PITCH ROTORS
ROTOR SIZE: 22 inches (56cm)
GRAIN TANK CAPACITY:14,500 litres (410 bu)
UNLOAD SPEED: 142 litres/sec (4 bu/sec)
For a detailed test report, pick up a copy of New Farm Machinery magazine issue 17, on-sale from December 29. Subscribe to the magazine to guarantee your copy.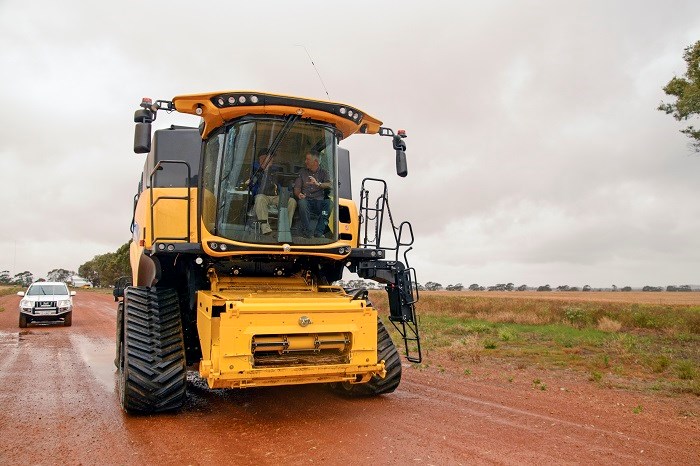 Rain has temporarily stopped harvesting at Esperance in WA but the CR10.90 will be back on the job way before its wheeled counterparts.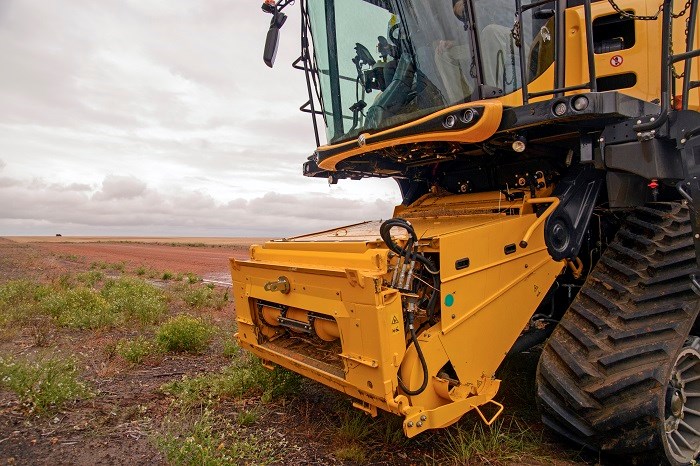 Clearly visible, the new dynamic feed roll system speeds up crop entering the rotors.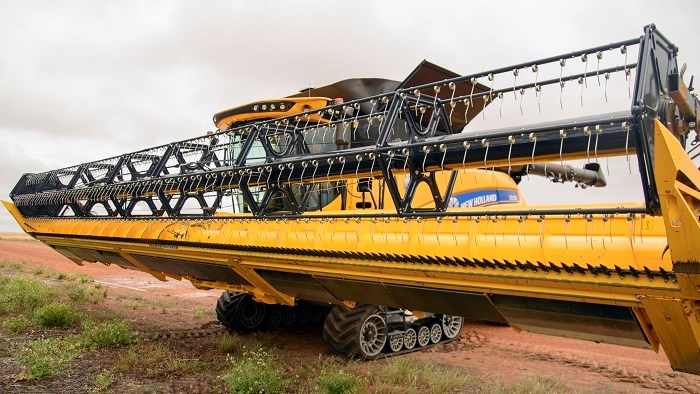 The 12m rigid auger front, or tin front, has hydraulic up, down, forward and reverse movement on the reel and features platform extension.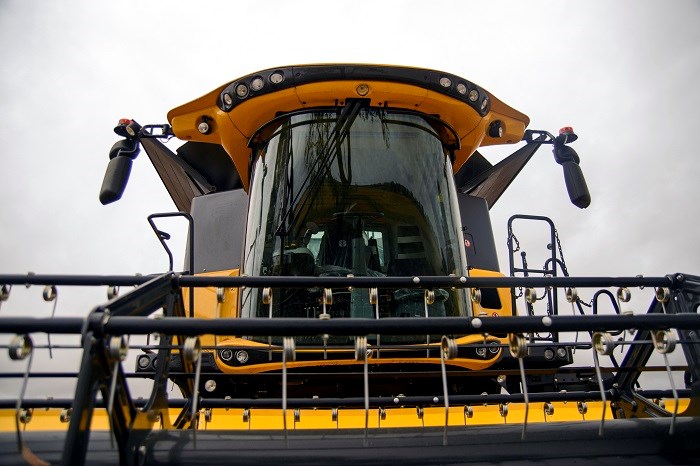 More glass and an improved lighting package maximises vision both day and night.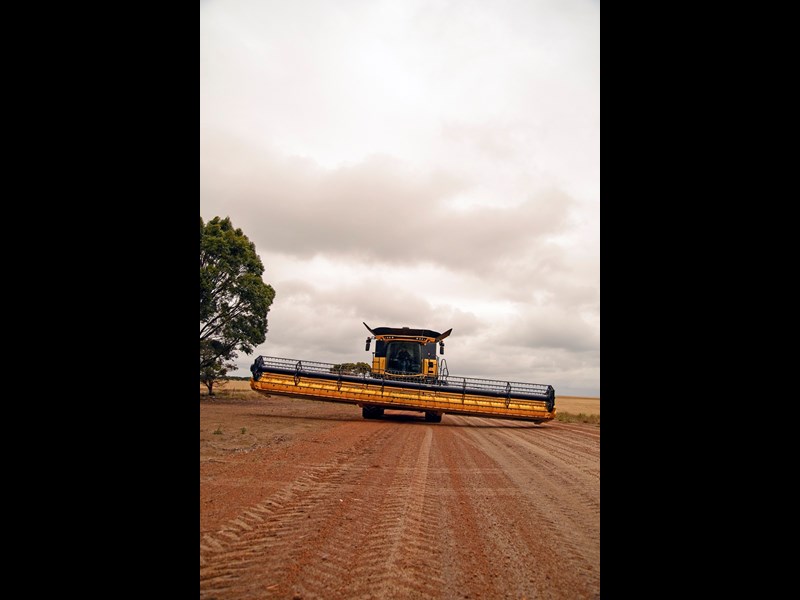 The header front tilts both left and right to follow ground contours perfectly.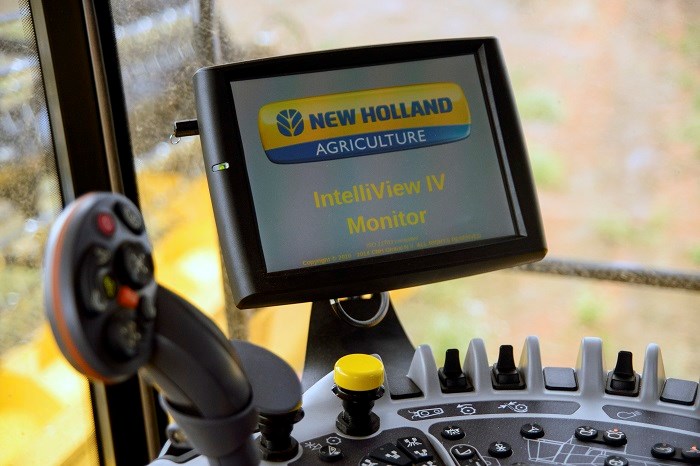 The 10.4 inch Intelliview IV color touchscreen monitor is fixed on rollers which can move along an ideal viewing arc so you can position it just where you want.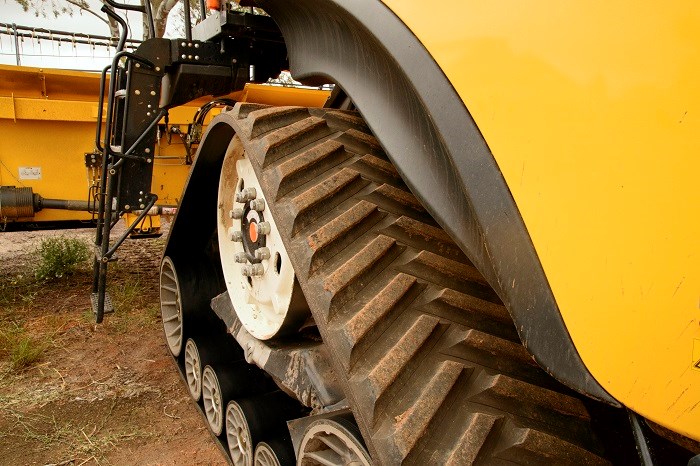 The track assembly with hydraulic suspension maximises comfort and ride but more importantly provides better traction and less soil compaction.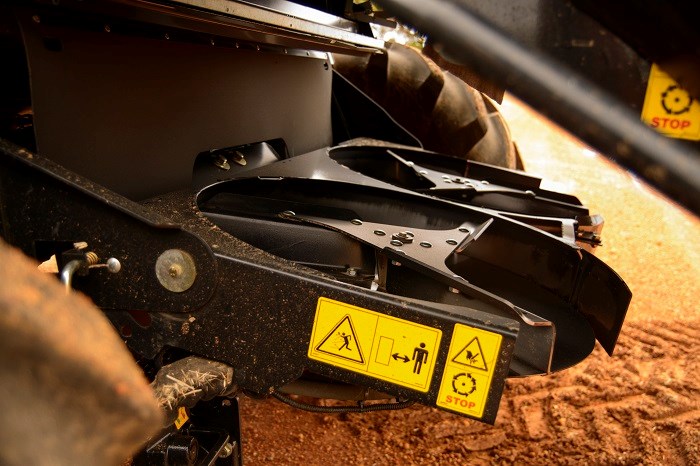 Permanently mounted trash spinners mount underneath the windrowing chute.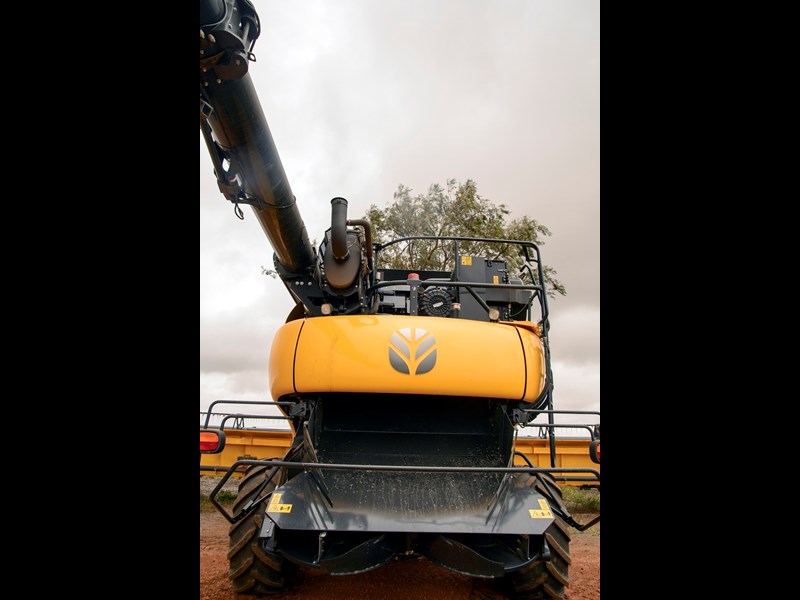 Perfect windrows can be formed ready for baling when trash is directed away from the spinners and over the windrowing platform.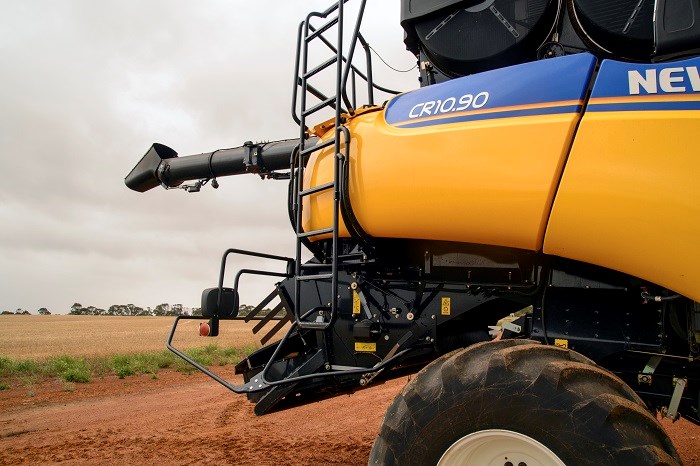 The manual pull down ladder allows quick access to the rear engine bay then folds neatly away after use.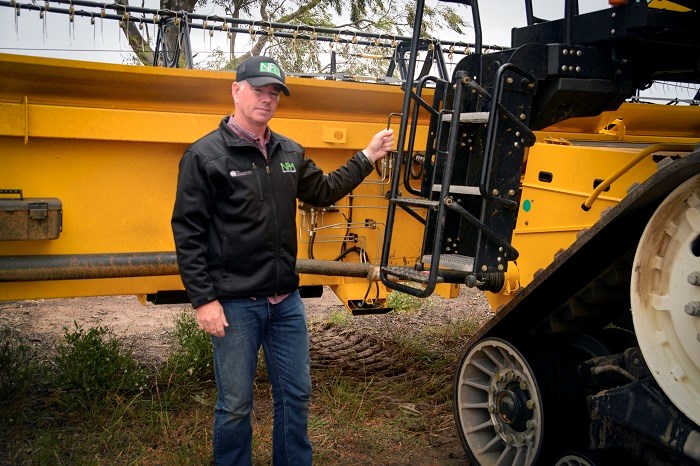 The CR10.90 has a simple but effective manual front access ladder.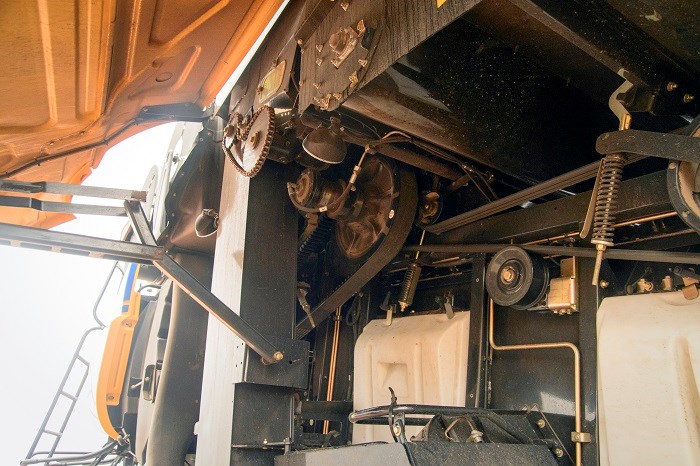 Service intervals on most of the grease points are either 50 or 100 hours.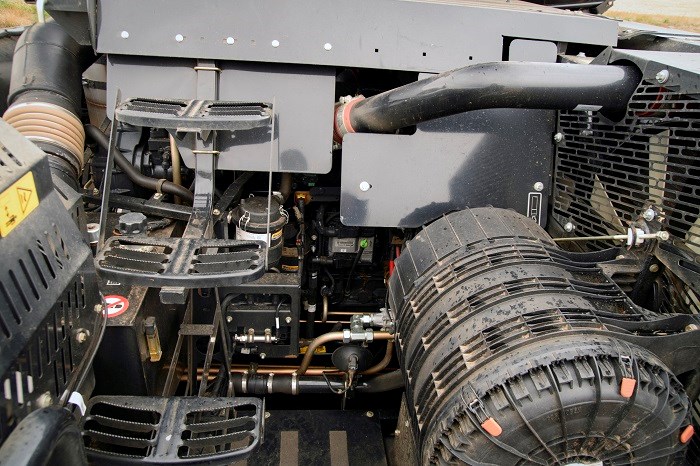 Cross flow air from the cooling system fans help keep the engine compartment free of dust and chaff.

Keep up to date in the industry by signing up to Farm Trader's free newsletter or liking us on Facebook