Top Tractor Shoot Out: New Holland T6070 Elite
---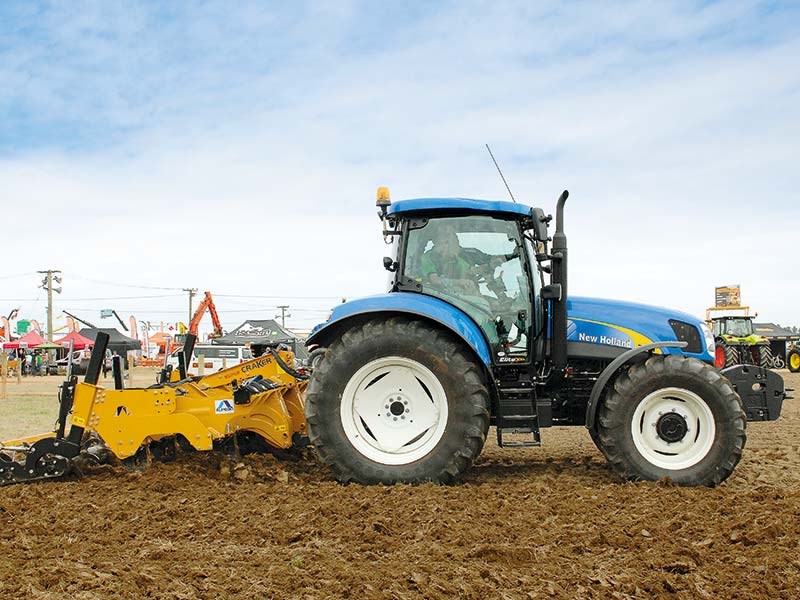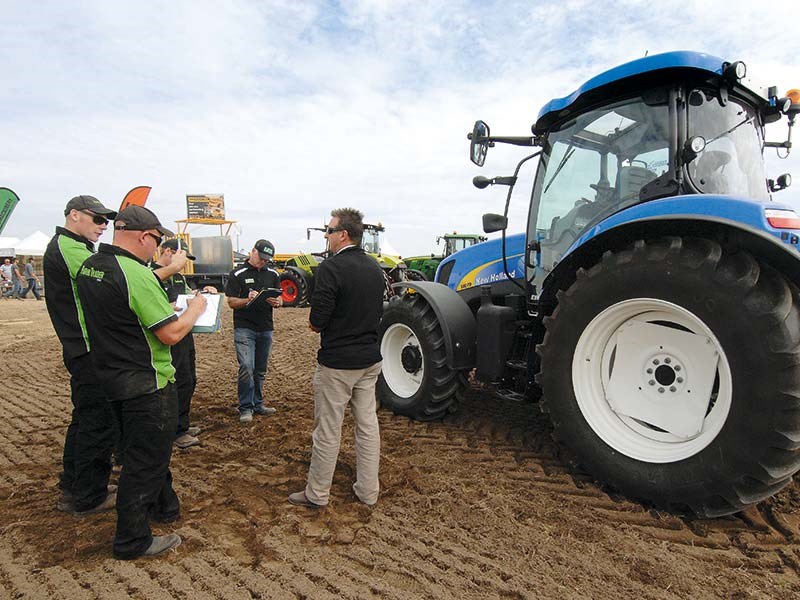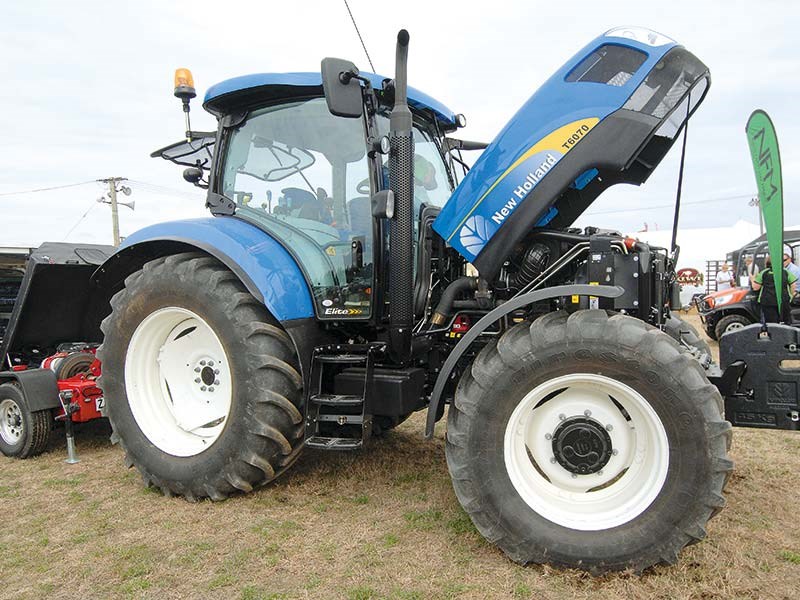 There is so much to like about this New Holland T6070 Elite. Coming in at just over $116,000, it is one of the most affordable tractors in our Top Tractor Shoot Out.
This year Greg Moore from CB Norwood, distributor for New Holland tractors and machinery in New Zealand, brought along the English-built T6070 Elite model to compete in the Top Tractor Shoot Out.
The T6070 is not the latest tractor model released onto the market, having been in production since 2010, yet given this, the other judges and I agreed it must have been well spec'd at the time, and still measured up well against the other machines tested.
Top Tractor awards 2015
Highly commended
Best ease of operation
Best linkage
Best longest service interval (equal)
Engine
The T6070 uses a Tier 3 Fiat Power Train engine, where most of the tractor models in the Top Tractor Shoot Out this year are Tier 4i (or 3B). Benefits of this Tier 3 engine over the newer technology comes in the form of being single fuel machines, although they are 100 percent bio diesel capable.
For the second biggest horsepower machine tested, the T6070 looked to be the second smallest in stature – so a powerful machine in a smaller package. With Tier 3 engines being older technology (which is still perfectly fine for New Zealand regulations), bang for buck in terms of horsepower for your dollars spent is very good.
Serviceability
All four judges were impressed with the service intervals of the New Holland, scoring equal top marks with its Case IH Puma 160 cousin.
After initial servicing, they both offer manufacture leading 600-hour engine oil/filter service and 1200-hour transmission. A one-piece bonnet provides good access for cleaning cooling units. Oil dipstick/filler is on the left side, a handy reminder to ensure operators don't forget this in daily checks.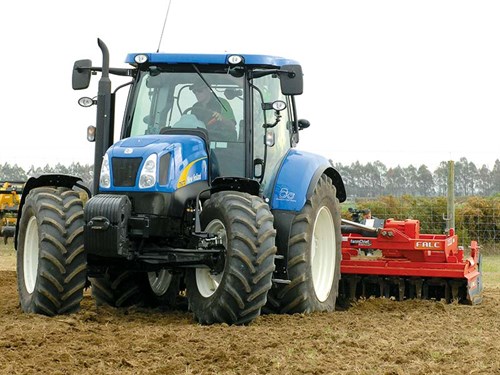 Transmission
A 17x16 Active Electro Command transmission is fitted to the Elite model of the T6070. This is not a new transmission and has been fitted to tens of thousands of New Holland tractors over the last 10-plus years, so reliability is not a major concern. There are four ranges split into four gears (although the top range has a fifth, which gives an eco gear for haulage applications).
The change between gears 4-5 is push button range change, but the change between 8-9 requires the clutch. We did find there to be quite a lag between fourth and fifth gear, so it is just a matter of getting to know your machine/implements.
User-friendliness
The T6070 has a host of features to make long days in field easier. In terms of ease of operation, we scored the New Holland best in this area, being the easiest of the tractors to get on and start working.
We put this down to simple controls, linkage controls built into your armrest, single gear lever for range changes, two button choices for gear changes within ranges and clearly colour coded rear remotes, with corresponding colours in the cab and at the rear of the tractor.
Controls
All information on the T6070 is displayed either on or around the dash – just scroll through for options. A variety of electrical connections are available in the back right hand corner of the cab.
A bugbear with New Holland in the past has been mounting the air con controls in back left of the cab, tricky to reach. They are now mounted in the top right of the cab by the Bluetooth radio, fitted as standard, providing a more natural position when working with rear mounted implements.
Hydraulics
New Holland use a Closed Circuit Load Sensing (CCLS) system on the T6070 tractors, with the Elite model offering 113lt/min of hydraulic flow, enough for the most demanding of hydraulic loads. To make sure this is not compromised, a second pump runs the steering, producing a further 40lt/min. Three mechanical rear remotes are fitted as standard, with the option of more or electrohydraulic remotes.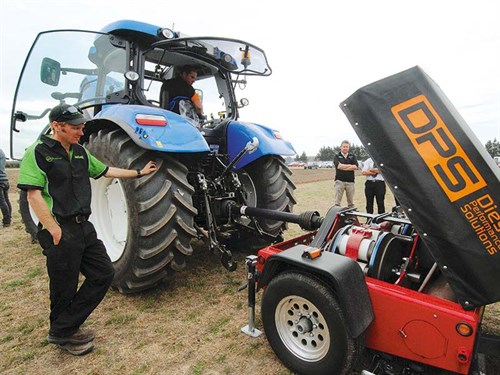 Linkage
With linkage setup, you don't want to lose time changing implements. The T6070 has this area well sorted. A top link holder which doesn't get in the way of implements is always a good start and good length on the lower arms makes connection of implements easier.
Lift capacity is important, with 7.8T available, which should be sufficient for most. It was ample for the Falc five-metre power harrow and Alpego cracker we tested the tractors with.
The verdict
For a model that was released around five years ago, the New Holland T6070 has certainly aged well. The features offered, for the horsepower you get provide great bang for buck.
Pros
Simple easy to operate tractor, with a host of features for making every day jobs easier.
A solid performer offering good Hp for initial purchase price.
Large service intervals, keeping the overall cost of ownership down.
Good linkage, high lift capacity, easily adjusted stabilisers, and good top link system.
Cons
Reach from driving positon to high range to shift gears and also the same applies with the hand throttle with higher revs.
Not as technologically advanced electronics/engine, less things to go wrong, basic can be good.
Read the full review in issue #217 of Farm Trader magazine. Subscribe here.
Keep up to date in the industry by signing up to Farm Trader's free newsletter or liking us on Facebook