Farm bike review: Honda CTX200
---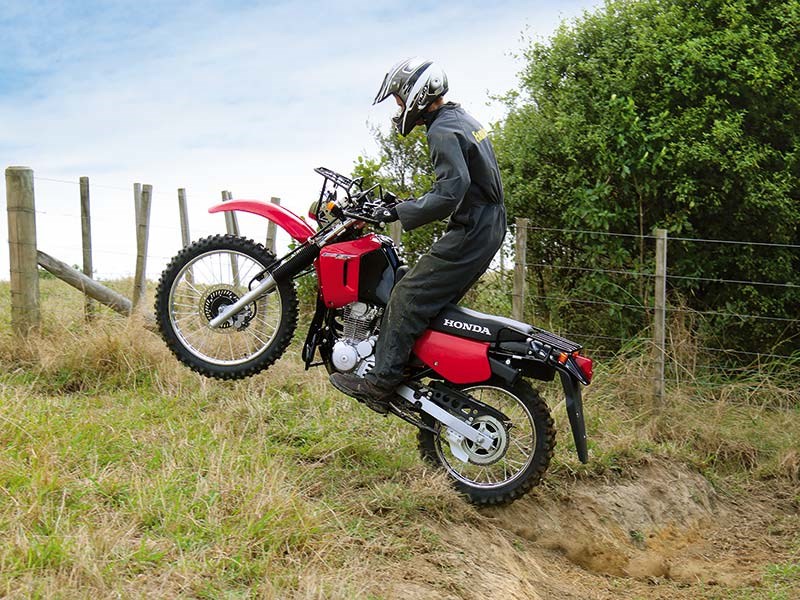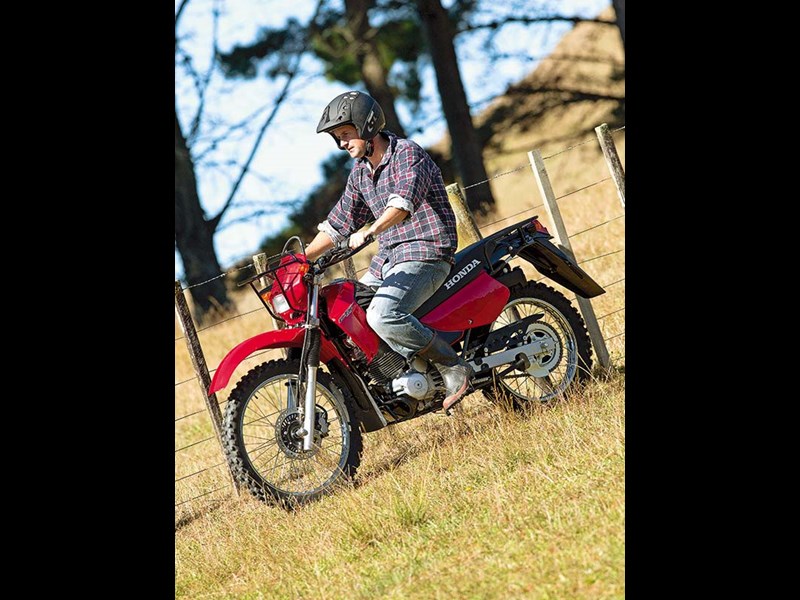 The Honda XR has been crossed with the CT to create the modern farm bike, combining to make the new farmer's trusted friend in the form of the CTX200. Recently I got to take the new 2015 model for a skid.
Engine
The XR engine has not had a lot of changes in the last few years. Originally twin carb engines back in the early eighties, the fact you can still buy some of these early XRs today removes any concern you may have about engine life. Being a four-stroke motor, you have an oil sump from which oil is pumped around the engine to lubricate moving parts.
As long as you keep the oil topped up and air filter clean, there is not much else to worry about. Being air cooled only, you don't have the extra weight of a radiator, or coolant levels to worry about. Keeping the fins on the head of the engine clean is important to allow air flow to cool it. Engine noise is low and not going to wake the neighbours if you happen to be heading down the farm early on a Saturday morning.
Transmission
A five-speed transmission, with a one down four up configuration works well. Some people prefer to have bikes with neutral in the bottom position. I found that neutral was easily selected from either first or second gear, with a bright green led light in the dash indicating neutral also. A one-handed clutch lock is a good feature and not found on all farm bikes nowadays.
I also found the gearing to be good. In first gear the CTX will idle along without any throttle along flat ground, or on the hills climb anywhere your balance will take you. Covering the ground is not a problem with the CTX capable of getting along at 50-60km/hr if required. If the standard gearing doesn't suit your situation, the beauty with two wheel farm bikes is you can easily change front and rear sprockets to decrease or increase speed in different gears.
The long life o-ring chain has a guard to prevent things getting caught in it, but is not fully enclosed like some. This has pluses and minuses. If you can see it, chances are higher that it will get attention when it needs adjusting, and oiled more regularly. The minus is that it is exposed to a lot more environmental dust and muck day-to-day, and may not last as long because of this.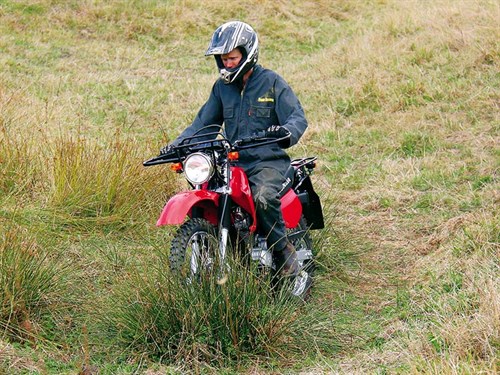 Suspension
To be honest I thought the suspension was a bit soft. I think this opinion may be due to the peppy little engine telling me it was keen and capable of a whole lot more than just putting along behind cows and doing farm work all day, which the 158mm of suspension travel on the front forks and 150mm on the single shock prolink rear suspension swingarm setup is more than adequate for.
Not really suspension, but important in terms of ride quality, is the seat which I found to be firm but not too firm. The CTX seat had a strong quality covering to minimise the chances of rips or tears. Riding position felt good, with a seat height of 823mm you don't need to be a giant to operate this model.
Farm features
The CTX has a host of features to make the daily jobs on the farm easier. Dual side stands with the right angle preventing the bike from falling over, even in the softest of ground conditions. The electric start is a favourite feature for me.
My farm bike is kick start only, cold morning starts can be fun, and you're warm before you have even got the bike out of the shed. No such problems with the CTX, which also has a backup kick starter, should you need it. A small front carrier is fitted over the light for small tools, with a more substantial carrier mounted on the rear capable of carrying loads up to 20kg.
The handle bars are fitted with a steel brace to prevent damage to brake and clutch levers. Mud guard extensions are fitted to the front and rear to keep the mud away from the rider. Front and rear lights are standard along with a horn and turn signals, although you cannot register the CTX as a road going motorcycle.
One of the main changes or additions for the new 2015 CTX is the option of a bigger round headlight. The original style is still available and at this stage you can have either specification for the same price. The bigger round light may suit some dairy farmers better with their early morning starts to get cows in for milking.
The frame construction is steel, built strong to last. Instrumentation is basic, with cable speedo and indicators for lights and neutral. I thought the instrument cluster moved around a bit, perhaps due to it being rubber mounted. It could possibly be tightened on this mounting.
The verdict
A nifty, nimble, handy yet fun machine is how I would describe the CTX200. It is obvious to me that there is XR breeding behind the peppy, responsive engine, which still provides a pretty economical machine to get around on. I had so much fun testing the Honda CTX they were lucky to get it back.
Read the full review in issue #217 of Farm Trader magazine. Subscribe here.
Keep up to date in the industry by signing up to Farm Trader's free newsletter or liking us on Facebook