Top Tractor Shoot Out: Claas Arion 630
---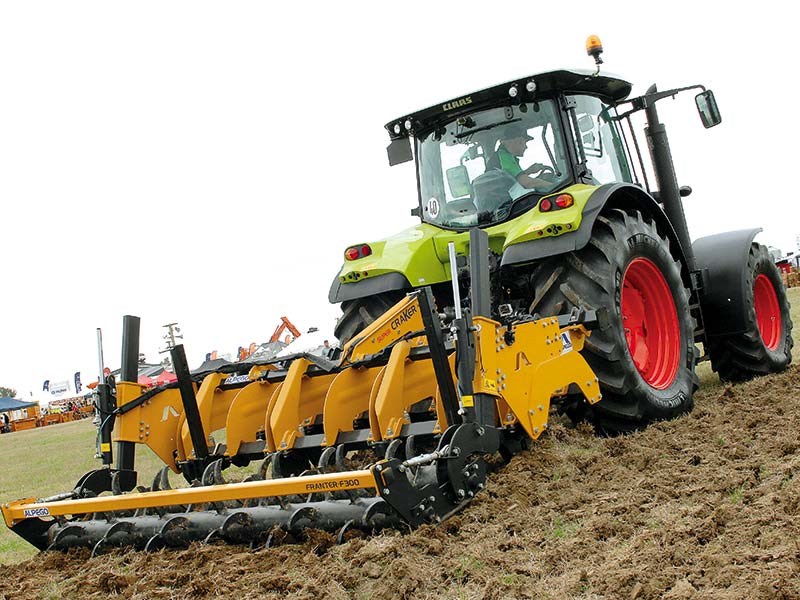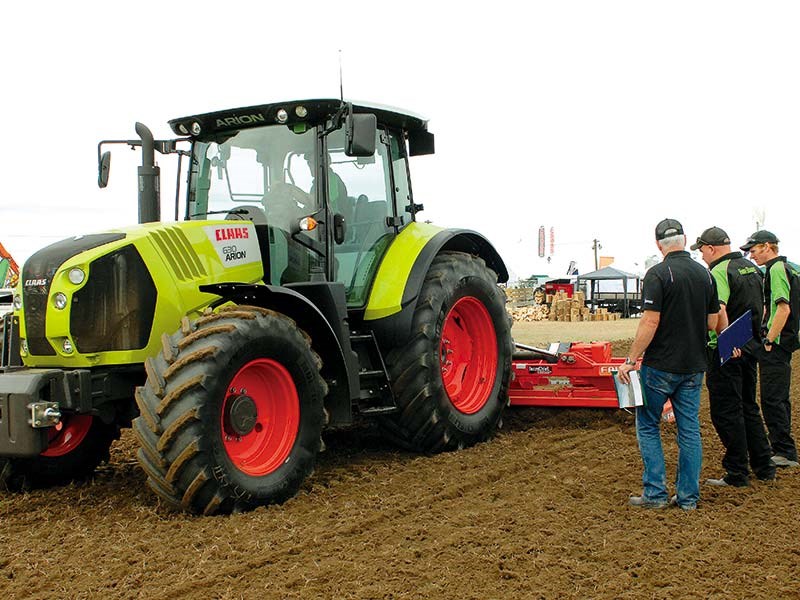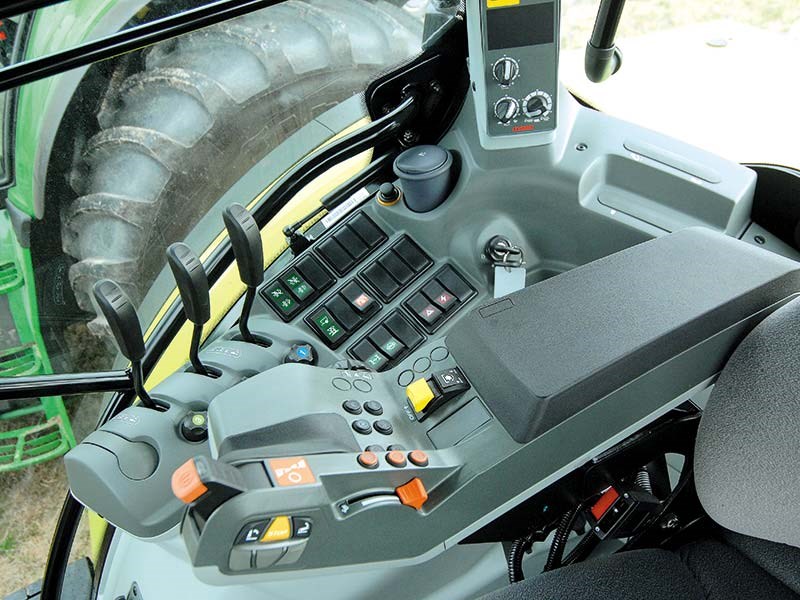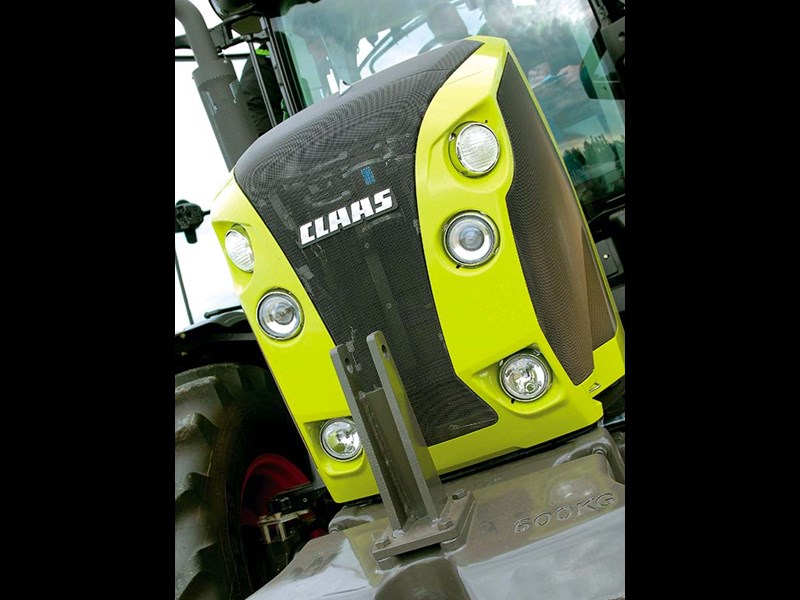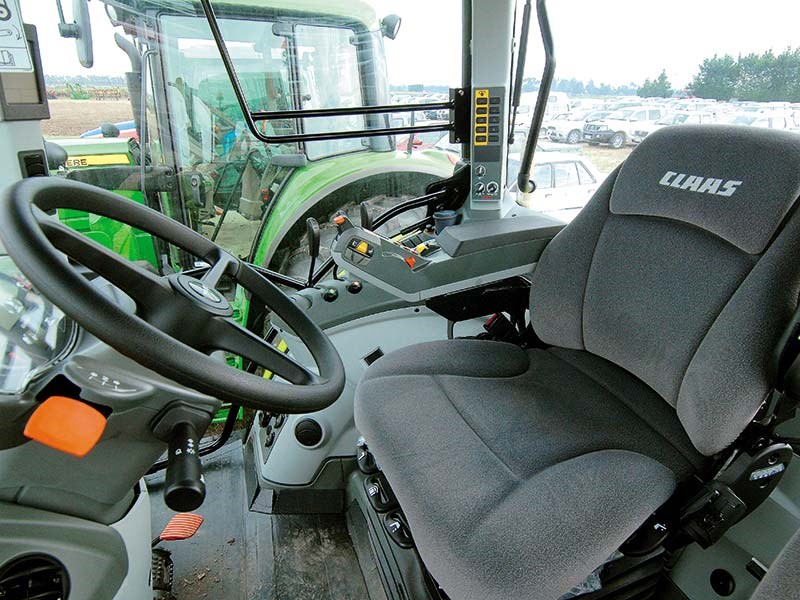 When it comes to cab layout and visibility, the Claas Arion 630 is in a class of its own in this year's Top Tractor Shoot Out.
The Claas Arion 630 clearly excelled in the areas of operator comfort, but it also made an impression when it came to engine power.
The very flat torque curve means near max horsepower is available through a wide range of revs, lowering fuel consumption and keeping the cost of ownership down over the lifetime of the tractor.
Top Tractor awards 2015
Best visibility
Best operator comfort
Best cab
Engine
Claas have used a Tier 3B 6.8-litre DPS Power Tech engine in the Arion 630. A variable turbo helps produce high torque at low revs, with almost constant power output of 152hp (dyno tested) being available, within 2hp of max right from 820rpm to 1060 rpm (PTO speed). We found this particularly noticeable on both the Falc five-metre power harrow and Alpego Cracker, where ground speed could be increased even if the engine was lugging down.
Engine performance has until now been mostly tested at PTO, because it is easily measured. However Claas headquarters in Germany is working on a $50 million facility to test power in transport type applications, or power to the ground in line with PTO power, which will give a greater overall picture of tractor engine performance and power.
Serviceability
The Claas Arion 630's one piece bonnet offers easy access to radiators that conveniently open out for cleaning. The left-side mounted dipstick can be checked or filled with the bonnet down, and all daily checks can be carried out without the need for any specialised tools.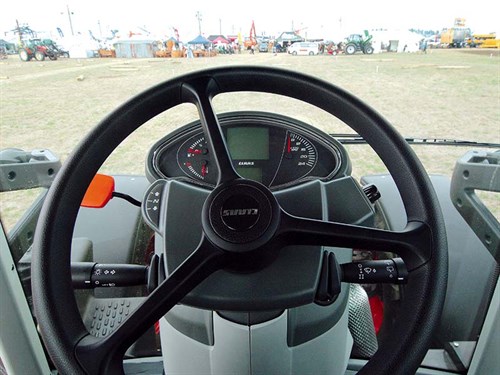 The new Tier 3B engines use EGR to comply with European regulations. While particulate filters initially had a life expectancy of 1000-3000 hours, Claas now expect to get the life of the engine from these filters (10,000hrs), saving cost over that time changing and replacing filters.
Transmission
The Claas Axion 630 Hexashift transmission is a 24-speed, four-range six powershift box. You can go through all the gears without touching the clutch and it also includes 'range skip'. By pushing the lever right forward, you can go from B1 say to C1 without having to clutch. Speed matching and start fwd/rev gears when shuttling are also standard features.
The only small gripe is that there is still a lag between ranges, which was noticeable when hooked up to the Falc five-metre power harrow. However, there are enough gears in the 4-12km working range to ensure this doesn't cause any problems.
User-friendliness
In my opinion, Claas is a leader in the area of operator comfort. The four-corner suspension offers a great quality ride without the extra expense of fron suspension. The New Arion range is fitted with a large five-pillar cab, which judges agreed was the best tested.
A well designed armrest puts most user functions at your fingertips, with hexashift gear lever, hand throttle, linkage controls, and engine management controls all well placed.
Controls
A well laid out cab is a distinctive feature. In CIS form (Claas information system), a small monitor on the A pillar displays the gear selected, with more in-depth information displayed in the dash. To access different functions, you simply tap the rotary control switch and scroll through to select different modes.
Hydraulics
The three mechanical rear hydraulic remotes are well marked and colour coded to avoid any confusion. A push/pull pressure release system allows lines under pressure to be coupled without being covered in oil. A load sensing hydraulic system offers flow rates of up to 110L/min with 100L/min available out of the coupling, and power beyond as a standard feature.
Extra hydraulic ports are available – two mid-mount electro hydraulic ports are an option with armrest mounted joystick control, ideal for loader controls.
Linkage
Solid would be a good way to describe the back end and linkage on the Arion 630. The safety guard for the PTO shaft is solid steel down both sides, with a moveable top plate. A Peyton hook is fit as standard, which most people use to sling safety chains over. They are also ideal for loader wagons, keeping weight as close to the tractor as possible. Linkage controls are on both rear fenders, the rear pillar in the cab, and on the armrest.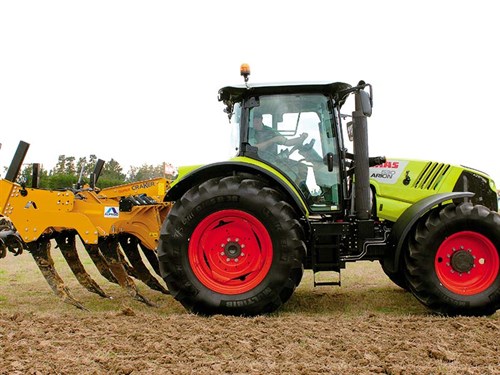 Performance (implements/dyno)
As the first tractor we tested, the Claas Arion 630 was our guinea pig for setting up the implements. We quickly had the Alpego Cracker buried as deep as possible, digging through the pan of stones hidden below. A long wheelbase and the 50:50 weight set up of the base tractor provided a stable platform, but with a 600kg block on the front as an extra it felt very stable.
The very flat torque curve allowed us to get along in B-range at over 4km/hr at just 1000rpm (engine) with the Alpego Cracker, right in the sweet spot of power in this engine, saving fuel and getting the job done in a timely manner.
The verdict
The Claas Arion 630 certainly did not disappoint. All four judges agreed the layout and comfort of this machine was up amongst the best we tested. Performance on the kit we were using was impressive and given the engine doesn't 'boost', all the power was available from the get-go.
Pros
Large well laid out 5-post cab offers great visibility
4 corner cab suspension and high quality air seat provided excellent operator comfort
Availability of engine power, 153 max hp dyno tested, between 2hp right from 820rpm to 1060rpm
Electronic PTO speed selection and soft start PTO
Clutchless shifting through all 24 gears
Pressure relief levers on all three couplers
Cons
The position of the top link holder gets in the way of some implements. Being able to move it sideways somehow would easily fix this.
Read the full review in issue #217 of Farm Trader magazine. Subscribe here.
Keep up to date in the industry by signing up to Farm Trader's free newsletter or liking us on Facebook