Amazone Cenius 3002 mulch cultivator review
---
The Amazone Cenius 3002 mulch cultivator is primarily designed to go straight into stubble after harvest, but its ability to be used for other jobs makes it very cost effective. Check out this review by our mates at New Farm Machinery in Australia.
Research has shown that crop stubble and residue left behind after harvest still contains many valuable nutrients and trace elements.
There are a number of benefits both financially and ecologically to utilising the remaining stubble. First, if it is mulched back into the soil soon after harvest then much of the goodness can be returned to the soil.
Second, mulching is also a good way of improving soil structure and helps to retain moisture and create a healthy environment for microbial matter to thrive.
After hearing about a machine that can get this particular job done and done well, I set out in search for it to have a play with.
Class Harvester Centre in Tasmania has one of the first to arrive in Australia and sales rep Glenn Grandfield has invited us to come down and put the Cenius 3002 to the test in the highly intensive farming area of Sassafras, south of Devonport.
Grandfield has mounted it up on a 400hp (298kW) Class Axion 950 tractor, which is a bit of overkill but will allow me to push the Cenius to its absolute maximum.
Amazone Cenius 3002 overview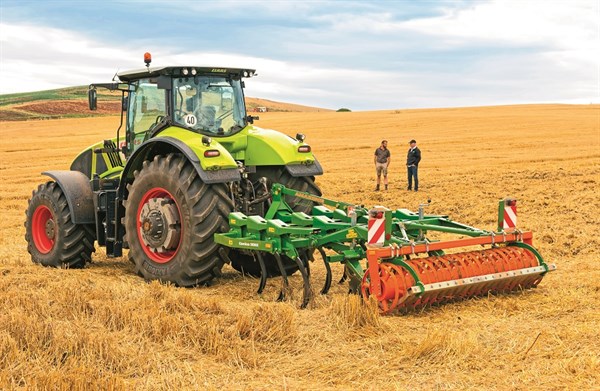 Amazone's Cenius 3002 mulch cultivator is a 3m-wide linkage unit weighing in at approximately 1,612kg. Combining cultivation, levelling and stubble mulching all into one pass, this machine is well equipped to be an effective primary cultivator and do a great job preparing a seedbed ready for sowing. 
With the Amazone Cenius 3002, I get a strong sense that it will not crumble under pressure. It's larger and stronger than I had perhaps assumed.
The quality of workmanship in its construction is faultless and all of the mounting assemblies, tines and components appear to be stronger than they need to be. The Cenius looks like it's built to do the job rather than to fit into a price bracket.
My only criticism is Amazone's suggestion that it will only require a 125hp (93kW) tractor. I think given the size and weight of the Cenius you'll really need a tractor somewhere in the vicinity of 160hp (119kW) to get this machine's full potential in tough going and operate safely in undulating country.
Amazone Cenius 3002 tines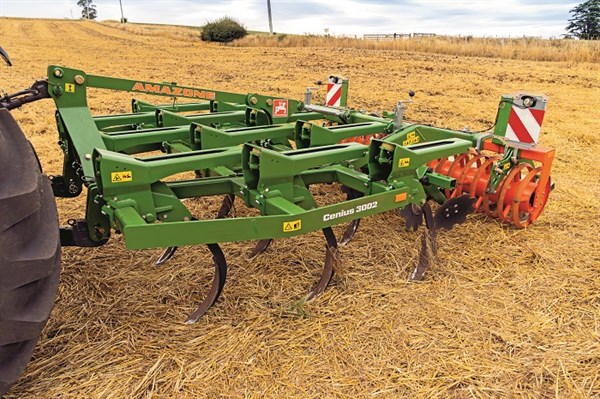 A total of 11 tines with three dimensional spring overload protection are mounted along three rows. Each tine is dual spring loaded with 500kg breakout pressure and can release backwards as well as sideways. Inside the tine mount is a poly bumper pad to absorb the shock of a recoiling tine.
The Cenius mulch cultivator has the option of attaching inversion, stubble or narrow points to each tine. Our demo machine is fitted with the 75mm wide, double-ended, bolt-on inversion points for good all round use in most conditions.
Amazone Cenius 3002 discs
Trailing the third row of tines is a set of levelling discs. Each pair are attached to the bar using the increasingly popular rubber spring element mounting system.
They effectively spread the lines of soil and trash left by the final row of tines. The bearings on the discs are sealed and therefore completely maintenance free. The gang of levelling discs can be raised and lowered on manually adjustable arms.
These arms are fitted with grease nipples and are the only item on the cultivator that requires regular maintenance.
Amazone Cenius 3002 roller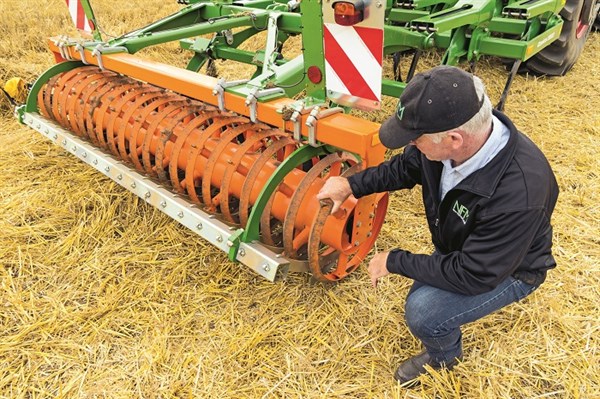 The third and final stage in the mulching process is done by the roller, or in this case the knife ring roller.
 Individually mounted knives positioned between each ring on the roller slice through the stubble and break clods of soil as it passes under. Each knife is individually mounted to the roller using a spring clip so damaged knives are quickly replaced by hand without requiring any tools.
The knife ring rollers also govern the working depth of the machine. The height of the roller is altered manually using a long handle spanner included with the machine.
 I actually found making adjustments a bit awkward because I had to climb onto the back of the cultivator to get at the top link on the roller. This could be an issue for aging operators and those that suffer from limited mobility.
After making the adjustment I couldn't find anywhere on the cultivator to store the spanner. I like to be able to stow tools with the machine so they don't get misplaced or lost.
There is an option to replace the manually adjustable working depth link with hydraulic depth control which I believe is a valuable inclusion and would allow the driver to make adjustment for varying working conditions instantly without having to leave the comfort of the tractor cabin.
Amazone Cenius 3002: The test
James and Ali Hortle have generously allowed us to come onto their well-maintained mixed enterprise property for the demo.
 It's a pleasure entering their farm where machinery is neatly lined up, clean and ready for use. Each paddock on the 450-acre (182-hectare) farm is perfectly planted right up to edge of each fence line leaving no ground unutilised.
A rotation of wheat, potatoes, poppies, carrots, pyrethrum, and maize grow side by side resembling a carefully made patchwork quilt draped over the rolling hills of Sassafras, northern Tasmania.
Entering the wheat stubble is sapping a little of my confidence. It's one of the heaviest stubbles I've seen for a while, supported by James Hortle's claim about 8 tonnes of grain per hectare has been harvested off it. That's not unusual he says, "Often these rich soils in Tasmania do better".
Amazone Cenius 3002 performance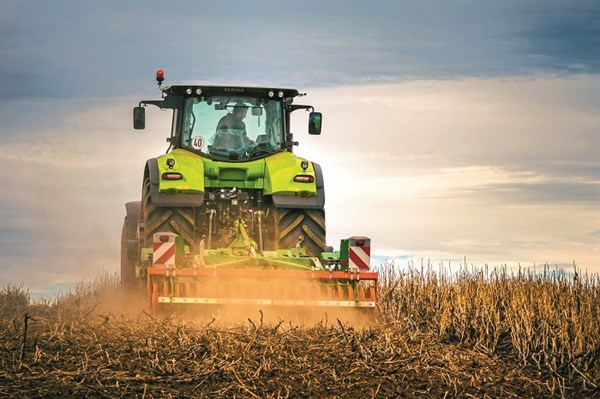 The stubble is thick and the ground hard so we are attacking at low speed. Grandfield drives so I can keep a watchful eye out the back.
At 6km/h the tines rip straight down to about 25cm without hesitation and without any sign of breaking out under load. The stubble and trash left behind by the combine flows freely through the tines and under the roller where it is chopped by the knives.
At 7km/h the same result and so on until we are travelling at about 9.5km/h to 10km/h. At this speed it is starting threaten an imminent blockage and in fact does block in the next heavy part of the stubble.
This is certainly not a poor reflection of the machine as we are pushing it in heavy going just to see what it can do.
Already the Cenius is well and truly exceeding my expectations because I know stubble this heavy will test most tined machines. I think a key factor in its performance lies in the fact that while the tines are at 25cm spacings they are 75cm apart on each of the three rows.
Even when operating at 20cm to 25cm deep the tines still have a frame height clearance from the ground of about 60cm. This gives a good indication of why the trash continues to flow so well. A second and third pass continue to break the soil up further and incorporate more stubble.
The Verdict
I'm of the belief the Cenius 3002 has a huge place in the cultivation game, especially now when farmers are looking for alternatives to burning stubble and recognising the financial and environmental advantages of mulching.
The benefits of this particular tine mulch cultivator are twofold. Firstly it does a great job of mulching and returning stubble to the soil but equally importantly it can rip deep down into underlying layers to allow moisture penetration and encourage deeper root growth of following the plantings. 
Amazone Cenius 3002 Hits:
Doesn't block easily
Knife roller
Deep ripping
Zero maintenance
Three dimensional movement of tines
Poly bumper pad
Amazone Cenius 3002 Misses:
Manual rear roller adjustment
Nowhere to store adjusting spanner


Amazone Cenius 3002 Specifications
Make/Model: Amazone Cenius 3002 mulch cultivator
Working width (m): 3
Working speed (km/h): 10-15
No. of tines: 11
Type of tines: 3D spring overload protection or Shear bolt protection
Levelling: Concave discs or Spring loaded covering tines
Depth roller: Knife ring / Wedge ring / Cage / Tooth packer / Tandem
Power requirement: 125hp / 93kW
Transport width (m): 3
Keep up to date in the industry by signing up to Farm Trader's free newsletter or liking us on Facebook