John Deere 9410R tractor review
---
The 410hp articulated 9410R is part of the recently released 9R series of tractors from John Deere primarily designed for broadacre cropping, and is ideal for dragging scrapers and land planes. Australian tester Tom Dickson writes.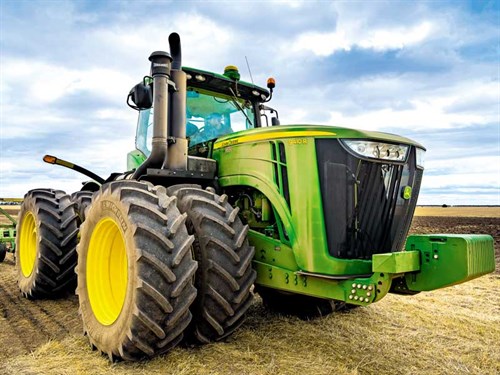 The first step and often the hardest is getting access to a new piece of equipment to review. On this occasion it's a breeze. The management team from Cervus Equipment could not have been more helpful and within a day its Ballarat dealership regional manager, Brad Fisher, has lined up a brand new 9410R recently delivered to the Barr family at Lismore, Victoria. Even better it's in familiar territory only about an hour from where I live at Warrnambool.
Lismore is one of many small towns along the Hamilton highway about 170km west of Melbourne and 14km east of Mount Elephant at Derrinallum. Silently this dormant volcano stands guard over the surrounding farmland as a reminder of how the rich soils of western Victoria were formed.
The Barr family, Greg and son Jeremy, have been farming in this area for about 30 years. They crop about 1400 hectares of canola, wheat, barley and beans at Lismore and a further 700ha at Donald where Vetch hay is included in their cropping rotation.
Most farmers have strong links to certain makes of machinery so it's no surprise to be swamped by a sea of green and yellow as we drive onto the property. A John Deere combine waits patiently for the weather to fine up and get back to work. Alongside it is just one of the other John Deere tractors pulling a chaser bin and a green and yellow round baler is parked in the shed.
Off in the distance, in freshly burnt stubble, I can see the 9410R expectantly observing our arrival. As we get closer it seems to grow and by the time we pull up alongside it a massive piece of machinery reveals itself. Dual wheels with Michelin 620/70R42 tyres all round make the already impressive looking articulated tractor seem even bigger. I love its sleek sculptured look and can't wait to take it for a spin.
Under the bonnet
In total there are eight models in the new 9R series. The smallest in the range is the 9360R, a 360hp (268.45kW) tractor sporting a nine-litre six-cylinder version of the John Deere PowerTech engines. The rest, eight models ranging from the 410hp (306kW) 9410R to the most powerful 560hp (418kW) 9560R all feature the same John Deere PowerTech PSX 13.5-litre inline six-cylinder diesel engine.
Correct me if I am wrong but I am thinking that if the 410hp model has the same engine as the 560hp then it may be possible to access more power from the lower horsepower models via the computer or installing a different chip. I realise it's not that simple but may be possible.
Cervus Equipment sends Brett Swan to help us out with any queries we may have. Swan is a member of its integrated solutions technical support team. Its role is to ensure every customer is given appropriate after sales support and product training. He advises that the 13.5-litre PowerTech engines are still Tier 2. It is not yet a compulsory requirement for Australia to be Tier 3 or Tier 4 compliant and the longer that is the case the better. The Tier 2 engine is a lower maintenance, trouble-free motor and means there is no AdBlue, no exhaust gas recirculation (EGR) and no variable geometry turbocharger (VGT). It does however have a fantastic deep throaty note and doesn't falter when we drop the nine-metre trailing scarifier into the ground.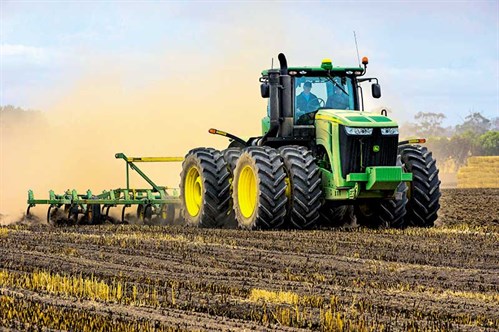 Future proof
Barr concedes their nine- and 10-metre equipment really won't stretch the tractor but the power and traction at their disposal will make it possible to purchase larger equipment in the future. A quick check of the GS3 Command Centre display tells me we are doing 1600 revs in 11th gear travelling at 9km/h and burning about 37 litres of diesel per hour.
Daily engine oil checks can be done from the ground without the bonnet having to be lifted and that is probably a good thing because it weighs a tonne. Unlatching it is easy but it does take a bit of muscle to get it up, on the other hand it comes down easily under its own weight.
As far as I can tell the only time I would have to get off the ground to carry out maintenance is cleaning the engine oil filter. It's mounted high on the right-hand side of the tractor at the base of the cabin and is a little bit out of reach from the ground, but it appears possible to move around the outside of the cab using a carefully placed handrail for assistance.
The rest of the daily checks can all be done from the ground. Fuel, coolant and the combined hydraulic and transmission oil reservoir have visual sight gauges for quick inspection. Then there is just the normal greasing of the main articulating pivot and steering rams.
On the subject of articulated steering, I find it a bit jerky in the beginning but this is because I'm not used to the sensitivity of its response. Once I lessen my aggressiveness on the steering wheel the tractor responds in a very smooth manner even at low speed.
Fingertip control
The GS3 Command Centre is a touchscreen display monitor, and while I certainly don't get to explore all of its capabilities I do find it very intuitive and am confident that with a little time I would have been confidently scrolling through the vast array of functions and fully utilising its capabilities.
All the usual tractor performance info is provided for, and auto steer and mapping can be run through the GS3 Command Centre. But for convenience, the Barrs have installed a larger autotrack monitor to permanently display mapping and GPS information. It makes sense to run two monitors and it gives me a better idea of what is going on at all times without having to scroll through the screens.
The cheapest time to include options is at the time of purchase, so in order not to be disappointed later, the Barrs upgraded from the standard 24-speed manual shift transmission to the more advanced 18-speed power shift with efficiency manager transmission. The power shift transmission shift lever is conveniently mounted on the armrest of the seat, CommandArm. It has three positions of park, reverse or forward.
Once the lever is in either forward or reverse it is easy to perform clutchless gear changes by moving the little lever forwards or backwards. Operating the transmission this way has a traditional feel; however, I find I get much better fuel economy by using the new efficiency manager. By setting my speed to 9km/h then pressing the S1 button on the CommandArm, I let the tractor operate in cruise control. Straight away the software changes up a gear, decreases revs and the fuel I am using immediately drops by five litres per hour.
In fact from a driving point of view there is very little to do. Once I have engaged auto steer and pushed S1 for cruise I have plenty of time to listen to the surround sound system with built in subwoofer, familiarise myself with the GS3 Command Centre or just read the paper till I get to the end of the run. With the correct set-up programming, the 9410R can go through the process of turning on its own as well, which indicates we are not that far away from seeing driverless tractors taking a more active role in agriculture.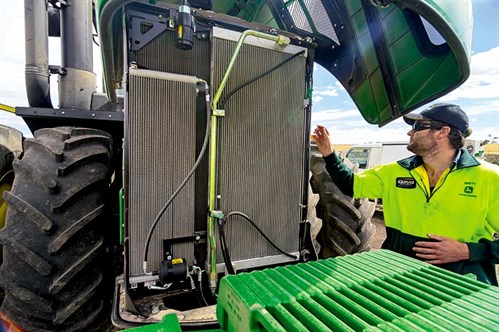 Hydraulically speaking
As it rolls off the production line, a standard 9410R with Power Shift transmission has a maximum hydraulic oil pump flow of 182 litres per minute, but again the Barrs wanted a little more security and peace of mind. They boosted it up to 295 litres per minute with the optional high flow pump and added a fifth set of remotes to the standard four.
Hydraulic functions can be split between the two systems. Functions requiring high flow and low pressure can be combined on one system. Airseeder fans and planter motors, while functions requiring high pressure and low flow such as implement lift, fold and down pressure, can be connected to the remaining system. The high flow will guarantee sufficient oil flow to maintain consistent fan speed at all times.
Hydraulic oil flow rate and timed flow can be programed to each remote, taking the guess work out of positioning implements in just the right place.
Clear view ahead
The optional 1000rmp, 1.75-inch (4.45cm) 20 spline power take-off (PTO) has been included on this tractor to extend its working capabilities. My first observation is that the PTO is going to be a nuisance because the safety shroud mounted above and around the PTO shaft completely blocks my view of the drawbar pin from the driver's seat. Swan reveals something that neither Barr nor I notice that quickly resolves the problem. When nothing is attached to the PTO shaft the safety cover can be folded down allowing a clear view to the drawbar.
The five sets of remote valves have also been mounted at the rear to the right of centre, so don't provide any obstruction to the visibility of the drawbar either.
In fact vision to the drawbar is good as I have seen on an articulated tractor and will make the job of hitching up equipment on your own a breeze.
Jeremy Barr says they will be hitching up a PTO driven 10-tonne chaser bin during harvesting. He concedes it's a bit of overkill using such a small chaser but it's all they have at the moment. He's hoping to upgrade to a much larger one down the track.
"Buying this tractor is not just about what we are doing today but what we want to be able to do in the future," he says.
"We are already planning to purchase new larger multipurpose machinery that gets the job done faster and more effectively. When that time comes our John Deere 9410R will provide more than enough power to do the job.
"We still burn all our stubbles here but permits are now being issued quite late into the season sometimes into the end of April and early May. That only gives us a short window to work on getting beds sorted before sowing.
"So the idea with this bigger horsepower tractor is that we can put a machine on capable of discing, ripping and bed forming all in the one pass and try a get all the beds into shape during that short window before sowing," he adds.
"The agronomists are advocating sowing early but we've only just finished burning and thinking about a bit of bed renovating. Weeds haven't even germinated to spray, so sometimes so we are up against it trying to get it all done."
He adds implements combining deep ripping, discing, bed forming and rolling all in one pass demand a lot of horsepower and traction but are ultimately more efficient than individual passes.
"I am thinking of purchasing a trailed scraper or landplane at some stage in the future to further improve our property and am 100 percent sure our new 9410R will be up to the task of pulling it."
For anyone who is thinking of purchasing one of these tractors for heavy haulage work I suggest upgrading the drawbar from the standard Category 4 drawbar support with a 2470kg vertical load to the optional Category 5 with heavy-duty drawbar support with 5440kg vertical load, as the Barrs have done.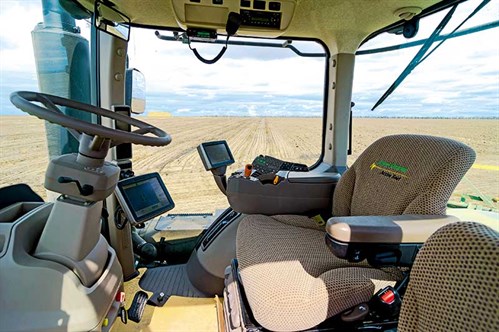 Show me the way
A lot of tractors on the market have a door on the right-hand side of the cab, but have you ever asked why. You can't ever use it because there is always a monitor or front end loader lever or some other piece of electronics in the way. Generally the hinge support or door lever only creates a hindrance to vision.
John Deere has taken a common sense approach and left the right-hand door off. In its place a huge single panel glass window is installed. While this adds to the already exceptional daytime vision a triple battery 12-volt system services a fantastic light package once the sun goes down. From my experience, good visibility during night work reduces stress and fatigue on the driver and helps to provide a sense of control when working around obstacles or in unfamiliar territory.
Two mountains
The only thing bigger than the 9410R on this occasion is Western Victoria's Mount Elephant standing prominently in the background, but the 9410R proves a Deere is more agile, has better grip and at 40km/h is much faster than an elephant.
It's a beautiful looking tractor that is easy to access and exit, which may not seem that important to some but try scaling down from one of these massive machines that isn't and you will soon appreciate its value.
The large cab offers plenty of space to move around in and includes an extra seat ensuring a bit of comfort for the passenger.
Perhaps a highlight for me is the CommandArm console incorporated into the driver's seat. It seems to be positioned perfectly and each function is very clearly labelled, as opposed to some which are more confusing creating stress for the driver. An example of how John Deere is reducing the risk of error can be seen in the hydraulic switches. If you are not using a set of remotes, the control switch inside the cab can be covered over, reducing your option only to those applicable to the specific job you are doing. Simple but effective.
High flow hydraulic pumps, three point linkage and a 1000rpm PTO can be included to further enhance its capability of performing more tasks around the property making this Deere more than just a one trick pony on the farm.
It also impressed me that this twenty plus ton mountainous machine hardly left a footprint suggesting that the dual wheels will dramatically reduce the effects of soil compaction and will be invaluable in the future when hauling much larger equipment than we have been playing with today.
Pros
Dual wheels (traction without compaction)
Tier 2 engine
Simplicity/visibility and efficiency
Powershift transmission with efficiency manager
High flow hydraulic pump
Sounds powerful
Cons
Aircleaner cleaning
Heavy bonnet
Keep up to date in the industry by signing up to Farm Trader's free newsletter or liking us on Facebook