Krone Comprima V 150 XC X-Treme baler review
---
Krone has upped the ante and taken the existing Comprima round baler to the extreme to meet the demands of serious hay and silage producers and especially contractors, Tom Dickson investigates.
Under advice from contractors such as Malcolm Manks, who operate a hay and silage operation with his sons at Korumburra in Gippsland, Victoria, Krone set about designing a baler that could better handle the rigours of working with heavy, freshly cut silage as well as hay and crop stubbles.
Krone Comprima V 150 XC X-treme overview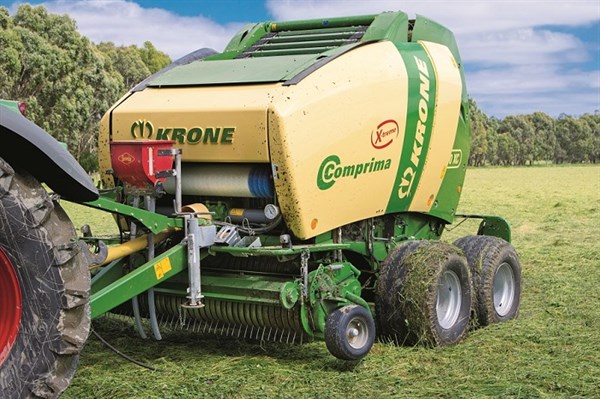 The new V 150 XC X-treme has heavier duty chains and sprockets, dual bearings instead of single bearings and a beefed up chassis and walking beam axle assembly with four 500/50-17 floatation tyres.
These modifications have increased the weight of the X-treme baler by about half a tonne on its predecessor the Comprima V 150 XC. It is a variable chamber baler that rolls out bales up to 150cm in diameter.
The V150XC is the first round baler to utilise a camless pick-up. Manks also selected the optional 17 knife rotor cuter. Krone has developed NovoGrip which connects the steel slats to endless rubber/fabric belts.
The X-treme baler has its own brakes and requires two sets of hydraulic remotes and a dump valve. A 90hp (67kW) tractor would be sufficient to run the baler however in hilly country I reckon around 120hp or 130hp (89.5kW or 96.9kW) might be a safer option.
Manks and his sons Shane and Matthew took possession of their V 150 XC X-treme baler for the 2014 silage season. Manks says they are "rapt with the way it's performing".
"We are baling silage with high moisture content of around 50 per cent at faster rates than before and the baler is doing it easy," he says.
 "If everything goes to plan we achieve protein figures of around 18 per cent."
Krone Comprima V 150 XC X-treme pick-up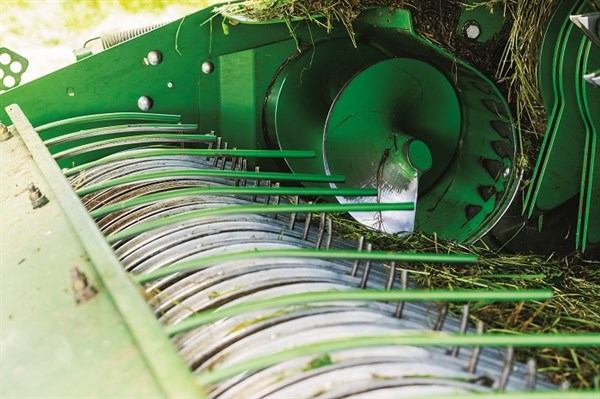 All the new X-treme balers are using a 2,150mm camless pick-up. This is the first one I've seen and as far as I know Krone is the first to use this design. Its benefits are immediately obvious and I think will soon become the norm for all balers in the future.
The lack of moving parts makes its operation quieter than any baler I have come across so far and obviously there will be less wear or maintenance requirements.
From where I am sitting I am able to observe the crop feeding in to the revolutionary new pick-up beautifully. There are a couple of pneumatic guide wheels mounted either side that can be adjusted manually.
In fact many of the adjustments are performed manually which keeps it simple and reduces the complexity of computer operated functions.
Krone Comprima V 150 XC X-treme cutter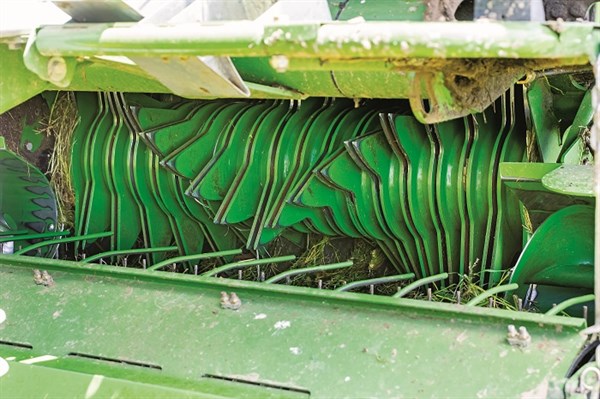 Manks has the 17 knife rotor cutter which gives the option of using either zero, eight, nine or all 17.
A time saving approach is to run a bank of nine knives until they lose their edge then swap over to the other bank of eight. This approach allows the baler to be operated for longer periods before stopping to sharpen knives.
Sharp knives considerably reduce the drag on the machine and tractor. If a solid foreign object happens to enter the rotor cutter the blades have the ability to fold back for protection then return to their working position when the obstacle is cleared.
It only takes seconds to engage the blades using a lever to manually turn them up and for those who never want to leave the comfort of the cabin an optional hydraulic engaging device can be included.
"We have tested and proven chopping the crop as it enters the baler increases the density of the bale by about 10 to 15 per cent," Manks says.
Krone Comprima V 150 XC X-treme NovoGrip system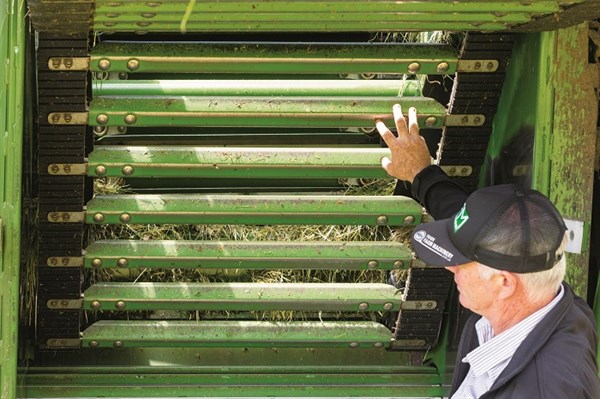 During the time I watch each bale made I never once see any evidence of slippage within the chamber.
The steel slats and endless belts, NovoGrip, grip and start the core without hesitation. To my surprise the baler has a very smooth and quiet operation. I think I expected it to be noisy like the old slat and chain mechanisms.
Manks maintains the slats grip silage better and are much gentler on dry hay, saying he's witnessed far less chaffing and shattering of leaf compared to belt balers when the two different types are working side by side.
An interesting statistic Manks points to is when he is running the baler at maximum pressure the NovoGrip belts, the slats are attached to, are only at about 10 per cent of the pressure they are designed to withstand.
Krone Comprima V 150 XC X-treme baling performance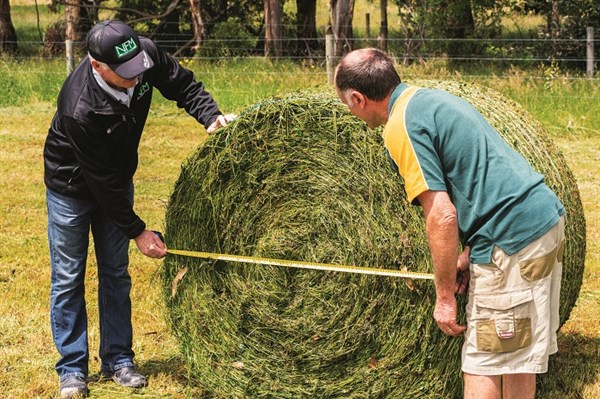 On average Manks rolls out about 50 bales per hour but in saying that he says he always works at a conservative speed, around 8 to 10km/h, to protect the machine and could easily work at a faster rate.
When the bale reaches the pre-set diameter of 125cm, or 4 feet 2 inches, a beep signals the start of the net wrap; so we stop, wait a few seconds then spit it out.
The net comes in from the front, is picked up by the feed roller and fed into the baler. This system does not require crop to be entering the chamber to drag in the net. All these steps can be assigned to the on-board electronic system or manually done by the operator.
Catching up to the rake provides me with the perfect opportunity to jump out and check the finished product. My opinion is a baler can be best judged by the quality of bale it produces and I am certainly not disappointed.
Every bale looks perfect, at a guess I think they would easily exceed 700kg each.
Manks looks on with surprise as I pull a tape measure from my pocket, but his expression quickly turns to satisfaction as I reveal each bale is nearly spot on the desired 125cm.
Krone Comprima V 150 XC X-treme soft core kit
Standard on the X-treme baler is a soft core kit. It has three different settings with adjustments made manually.
Electronic soft core provides far more options for sizing but in my experience baling hay and silage over the years I only used one or two different sizes anyway. Again, manual operation eliminates one more piece of electronics that could fail in the field and stop proceedings.
Manks engages soft core for silage bales with pressure set to about 110 bar and still achieves weights over 700kg in a 4 feet by 4 feet bale.
"Once we get into hay I disengage soft core and bump pressure up to about 150 bar, spitting out 4 inch by 5 inch bales at about 350kg," he says.
Krone Comprima V 150 XC X-treme Maintenance
Maintenance is an absolute breeze. The chain lubricating oil reservoir has nearly doubled in size on previous models providing about a day's work before a top up is required.
All the grease points are grouped together in banks in protected and easy to access points. Best of all there is no repair work needed for broken and frayed belts.
Krone Comprima V 150 XC X-treme bale quality
Come feeding time the chopped silage is far more palatable and digestible, so the cows use less energy to consume it and are able to utilise every ounce of protein during the process of producing milk.
Manks says it's absolutely imperative silage be inoculated during the baling process, inoculants assist silage fermentation, thereby preserving more nutrients and dry matter.
He adds, every day cut grass lies in the paddock before being baled means losses in valuable nutrients, so it is imperative he has a baler able to handle crop that is so freshly cut.
The Verdict
Quieter, smoother, chops, stronger and capable of baling very green silage. Contractors will love the new V 150 XC X-treme because it has the capacity to work under the toughest conditions.
Farmers will love it because having been baled in a greener state, the silage it produces is more palatable, digestible and of a higher nutritional value.
Krone Comprima V 150 XC X-treme Hits:
Robust design
Easy flow camless pick-up
NovoGrip slats and belt
Quiet operation
Grease point banks
Krone Comprima V 150 XC X-treme Misses:
Krone Comprima V 150 XC X-treme Specifications
Make/model:                                    Krone Comprima V 150 XC X-treme round baler
Bale diameter:                                  1,000mm to 1,500mm
Bale width:                                         1,200mm
Length:                                 4,995mm
Width:                                                  2,610mm
Height:                                                 3,150mm
Cam trackless pick-up:                   2,150mm
Rows of tines:                                   Five
Rotor cutter (17 knives):               Standard
Rotor cutter (26 knives):               Pptional
Tyre size:                                             500/50-17
Power supply:                                   12 volt
Hydraulic couplers:                          Two, plus free return line
For the latest farming news, subscribe to Farm Trader magazine here.
Keep up to date in the industry by signing up to Farm Trader's free newsletter or liking us on Facebook