Mahindra mForce 100P review
---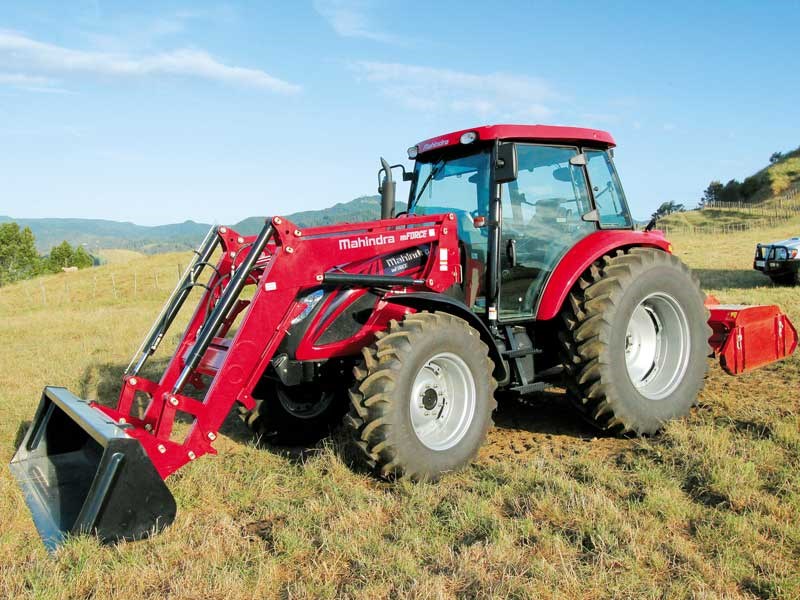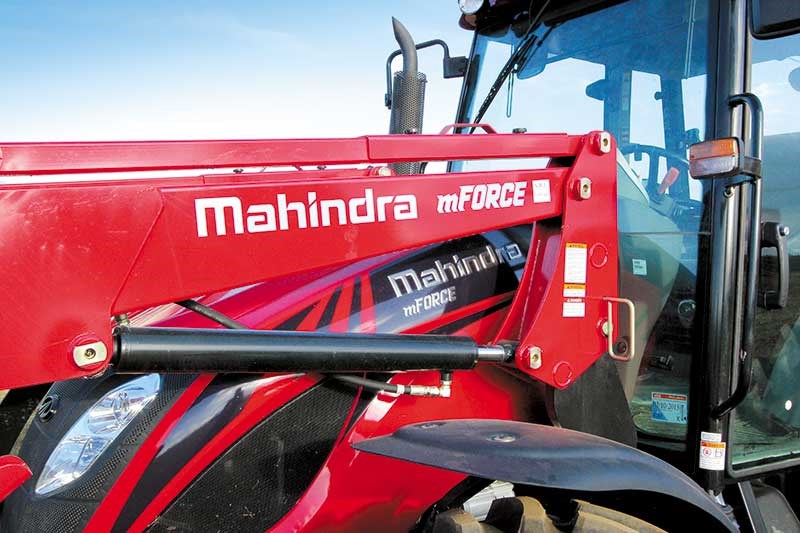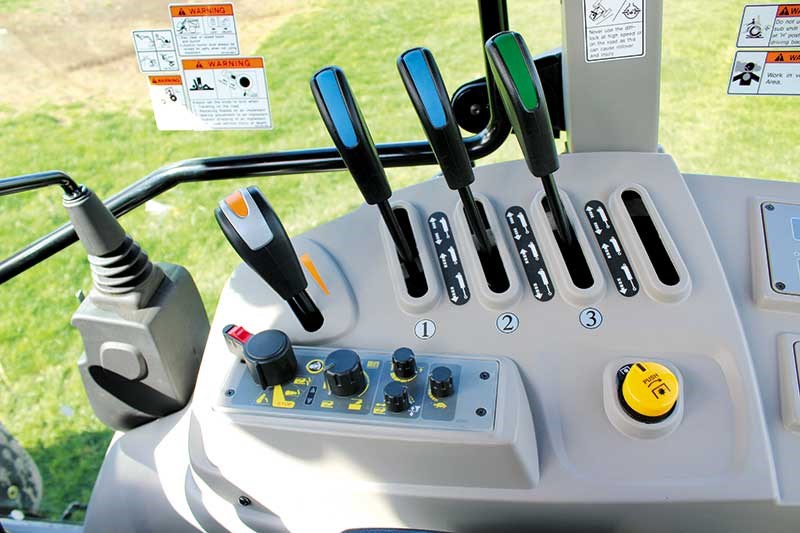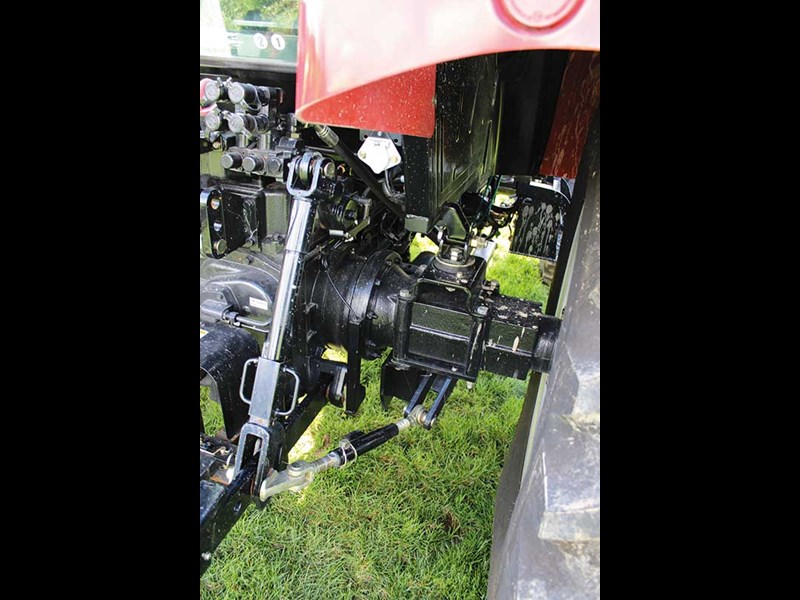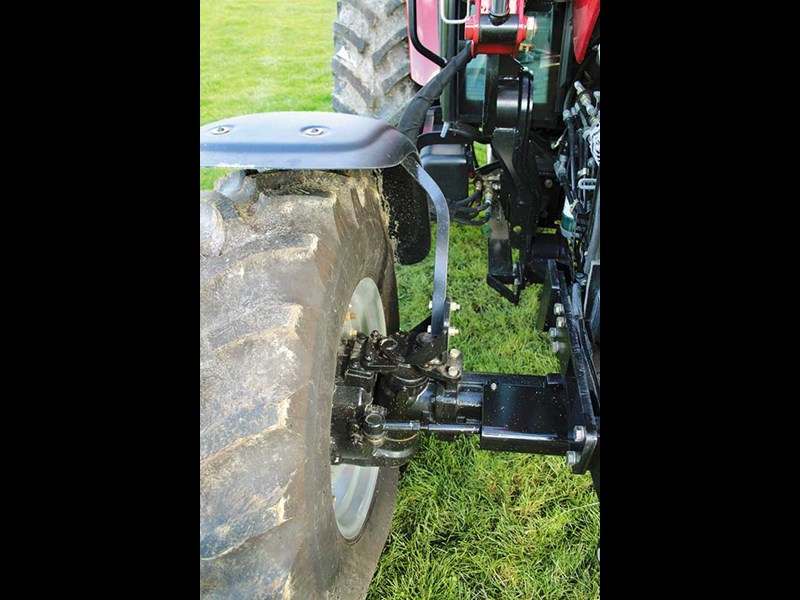 This month Brent Lilley reviews the Mahindra mForce 100P tractor.
If you're in the market for a 100hp tractor, you'll know there are more options than you can poke a stick at. While it is sometimes easy to dismiss little known brands, they're often worth a look for the surprises they present.
After having recently had the opportunity to check out a wide range of Mahindra machines at a demo day on the Coromandel, I thought it was time to give my thoughts on the higher horsepower tractor models. For me, the Mahindra mFORCE 100P was definitely the star of the show.
Engine
Up front the sleek sloping single piece bonnet opens high to give good access to the engine and reveals a pleasant surprise, a 4.4-litre Perkins engine. Whilst I never got to test the power of the engine as much as I would have liked, this Tier 3 compliant, common rail, turbocharged diesel engine with a maximum output of 100 horsepower, was responsive and fired immediately when started.
The fact it is a Perkins engine should also give peace of mind to kiwi farmers, with its long standing reputation for reliability. Service intervals are pretty much the standard at 300hrs on the engine oil/filter and 1000 on the transmission; an ample 123-litre fuel tank capacity will keep the tractor on the go for all hours. A decent sized cooling package along with the air cleaner is located at the front of the engine bay making it easy to access and clean.
Transmission
For a tractor of this size and spec, I found the transmission quite impressive, the setup gives you a remarkable 32 gears in both forward and reverse. A lever beside the seat gives four ranges – high, medium, low and creeper, which in turn has four gears in each that are selected with the main gear shift.
There is then a power shift splitter in each and every gear that is operated with push buttons on the main gear shift and displayed on the dash. On the left of the steering column an electro- hydraulic shuttle gives easy clutch less direction changes. In operation the transmission setup works well, top speed is 40km/hr and the creeper box offers speed under 1km/hr.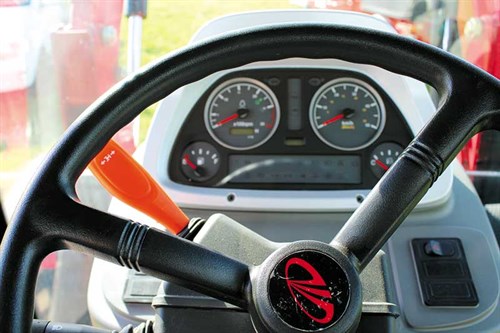 PTO
The impressive electronically operated three speed PTO features 540, 540e and 1000 is engaged with an easily accessible push and turn button on the right hand console. A trap for young players, myself included, is trying to actually locate the lever to change PTO speeds.
It's tucked away on the left-hand side of the seat, simple once you know it's there. An automatic function that can be turned on to shut off the PTO when the linkage arms are lifted above a certain height is also good to see on a tractor of this size.
Linkage
Around the back of the tractor the three point linkage has a respectable lift capacity of over three tonne. The fixed ball end lower link arms make hitching implements slightly trickier than hook ends, although they are telescopic to help with the task. Sway chains are easily adjusted with a turnbuckle and pin set up.
A simple no-nonsense top link holder is easy to use and holds the top link by the adjustment handle when not in use. In the cab, electronic linkage controls on the right hand arm rest use simple dials to control height, max height, draft and rate of drop. Raise and lower controls on both the rear mudguards was also good to see.
Hydraulics and loader
The open centre hydraulic system uses a gear driven pump that gives a reasonable 56 litres/min output; three sets of remotes with quick couplers are standard at the back with an option for a fourth. They are mechanically controlled with easy to reach leavers on the right hand console, although there is a lack of flow rate control.
Cab and layout
The cab is spacious with plenty of glass to ensure good 360 degree visibility and large doors on either side provide unhindered accessibility. Air conditioning controls are located on the ceiling along with the radio. An adjustable steering column helps with operator comfort and ensures a clear view of the dash. Controls are laid out fairly logically on the right-hand side of the operator.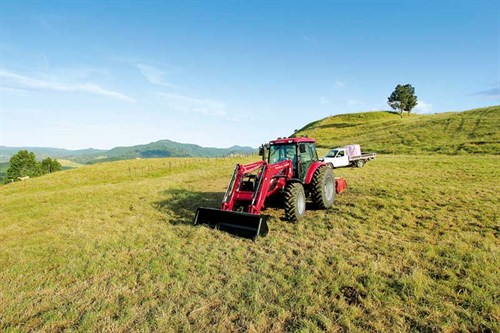 The verdict
The Mahindra mForce 100 really manages to pack in some remarkable features for a tractor of this size such as the 32-by-32 speed transmission that includes a power shift splitter in each gear, a three speed electronically engaged PTO and an electronically operated rear linkage that includes some clever auto functions. The loader included in the package fits nicely on the tractor and includes self-levelling and a third service.
But the most exceptional thing about this tractor is that the whole package is just $71,490 + GST which offers some fairly exceptional value for money and when comparing it to other makes, it really is a case of the extras you get with the Mahindra.
Pros
32 by 32 speed transmission with clutch less forward/reverse shuttle.
Power shift splitter in every gear.
Responsive, reliable 100hp Perkins engine.
Electronically engaged three speed PTO.
Purpose built Mahindra loader with self-levelling and third service.
Electronic three point linkage with external controls on both mudguards.
Spacious well laid out cab with good all-around visibility.
Cons
Lack of flow rate control on the hydraulics.
Backwards shift pattern on the main gear shift takes a little getting used to.
Fixed ball end linkage arms.
For the latest farming news, subscribe to Farm Trader magazine here.
Keep up to date in the industry by signing up to Farm Trader's free newsletter or liking us on Facebook