Review: Hardi Presidio self-propelled sprayer
---
Yes it's another Hardi. But this time Matt Wood has a squiz at the Hardi Presidio, the compact, lightweight self-propelled baby of the Hardi range.
Compact self-propelled (SP) sprayers are nothing new but they've kept a low profile on many markets. A low capacity compact SP may seem a bit over the top for smaller mixed farm holdings, but once you have a closer look at some of the compact units available on the Australian market they do start to make some sense.
The Hardi Presidio is just one example of a relatively simple machine that makes sense in the right application. Clearly a machine like this is a no brainer for high value crops and row crops that see quite a bit of chemical application throughout the crop cycle.
The little red machine has also seen some Aussie action on pyrethrum and poppy crops as well. Roles like these call for a delicate touch and a lithe footprint. But the Presidio also has some potential for mixed farm roles where its compact size and nimble turning circle may come in handy.
Hardi Presidio: An overview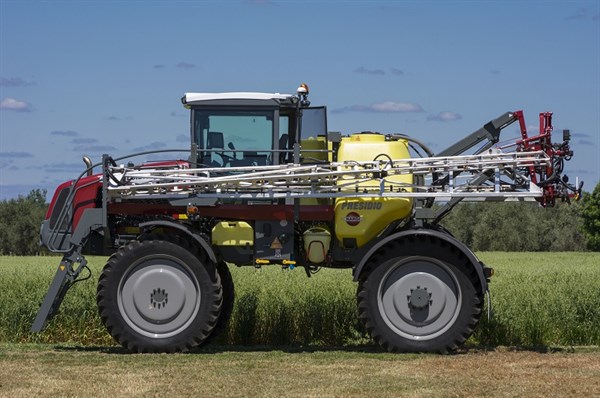 The Presidio tips the scales at respectable 12,000kg depending on spec, which also doesn't put too much pressure on that small footprint. Another plus for spraying mature crops is the 1,500mm clearance under the machine which helps minimise crop damage late in the growth cycle.
One of the advantages of using an SP is that they are quite economical to run in comparison to a tractor and trailer unit.
A tractor-trailer set up is much more dependent on engine rpm for driving a spray unit. An SP is a more streamlined and efficient way of delivering chemicals.
On the Presidio's back is a 2,700-litre main tank, 500-litre and a flush litre rinse tank and these sit quite low on the chassis.
The work station on the side of the Presidio uses the same brightly colour coded chunky valve handles that are used across the range. The whole work station is well laid out and easy to understand.
A swing down turbo filler make loading dry and palletised chemicals that bit easier as well. Main tank and rinse tank filling points are via two camlock couplings.
Standard wheel track for the Presidio is 2,000mm but this can be mechanically widened to 2,500mm.
Hardi Presidio engine and drive system
Providing power to the Rexroth drive pump and motors is a 6-litre 190hp (141kW) Deutz turbo diesel. This is touted to be quite a thrifty little engine using common rail high pressure fuel injection at a pressure of 1,600 bar.
This engine has been designed to provide power to construction equipment in all sorts of applications so is more than up to the task of providing consistent hydraulic power to four hydrostatic wheel motors.
The Hardi drive system uses a twin pump hydrostatic set up that provides drive to all four of the sprayer's wheels. The advantage of using the twin pump system is that it can maintain high hydraulic flow at lower rpm to reduce fuel consumption. An added bonus is it also helps reduce engine noise both inside and outside of the cab.
Hardi Presidio cab and visibility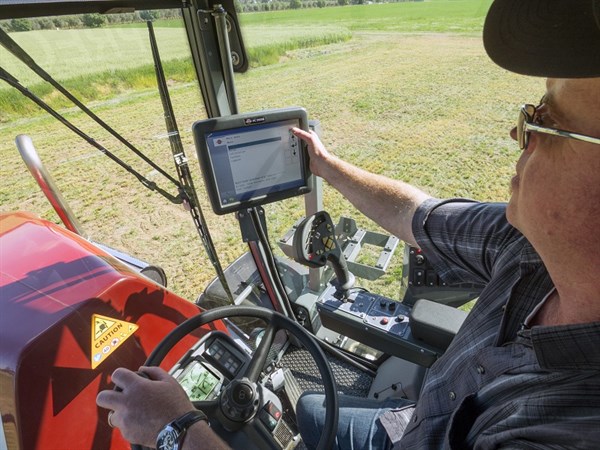 A park brake activated flip down stairway provides access to the entry catwalk but entry into the cab is via a rear door rather than a side door.
Once parked in the air-suspended seat the visibility offered by the clean uncluttered lines of the cab is very apparent. There is hardly a blind spot to be found from the driver's seat.
The cab itself is so devoid of clutter it's almost Spartan in appearance.
Creature comforts extend to climate control which is a must with so much glass around the cab. A filtered cab ventilation system and the obligatory Bluetooth enabled stereo system will help while away the work day.
The cab could probably do with a little more storage, but then again that may interfere with the impressive view from the driver's seat.
Hardi Presidio Controls
This machine is fitted with the Hardi HC 9500 spray control unit which provides an intuitive interface via a colour touchscreen PLC.
As this is a compact spec machine the inside of the Presidio doesn't really intimidate. Maybe because I've spent some time with a few Hardi products in recent times most of the control layout does seem hassle free. Even the boom control box is easy to read and operate.
Like most machines these days the Presidio uses a controller area network (CAN bus) system to allow its various components to talk with ease.
Cruise control is on hand to keep things rolling without human intervention. For transport between jobs the traditional brake and accelerator pedal controls make playing with traffic a little easier.
Hardi Presidio Ride quality
I took the baby SP for a spin in a paddock just south of Shepparton in central Victoria. But before you go thinking that someone may have let me handle dangerous chemicals all on my own I should say I am just playing with water instead.
The very nature of these compact SPs does mean they tend to be a bit choppy at speed out on an open paddock but this isn't something that's isolated to the Hardi. A short wheelbase and a light tare weight means SPs tend to pitch and nod more than longer, heavier machines like the Saritor.
The Deutz powerplant is reasonably quiet in operation as well though pushing it higher up in the rev range will provide a bit more thrum through the cab.
Making the Presidio go is quite easily done, just a matter of pushing the armrest mounted paddle controller forward and then adjusting engine and vehicle speed via the console mounted dial.
Hardi Presidio Performance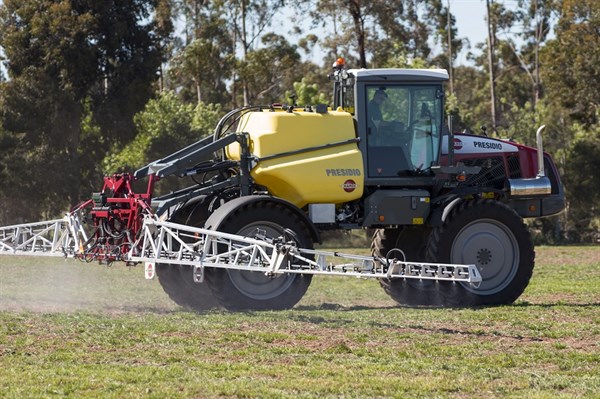 The Presidio I drive is fitted with a 28m aluminium Pommier boom. The bi-fold boom rides pretty darned well at this width and is mounted to the standard paralift with nitrogen dampening to take care of any pitch and yaw.
One handy little feature is the ability to fold in the outer boom sections and still spray which helps out in tight spots.
Hardi is keen to talk about the virtues of the On Rate fluid system, which is pressure based rather than relying on flow rate. Hydraulic pressure driving the main pump is constantly monitored and can regulate to constantly to maintain a consistent flow right up to the boom nozzles.    
One thing definitely worth talking about is how the machine handles at operating speed. It has a turning circle of 13.5m with the 2m wheel track setting and this makes headland turns at speed a cinch.
The Verdict
The Presidio is more likely to mosey up and down row crops than belt along vast tracts of crop at full bore all day long. 
The view afforded by that fancy looking glass house is excellent and one thing you really notice when you hop into an SP after using a trailing unit is just how much easier it is to keep an eye on the boom.
On an SP the boom is right beside you rather than over your shoulder like a trailing boom.
The Presidio is a neat little machine with ease of use and ergonomics on its side. Does it really need to be hydro static all-wheel-drive? Probably not, but it's a nifty and nimble unit that will sit well in a number of applications.
Hardi Presidio Hits:
Great visibility
Excellent turning circle
Hardi Presidio Misses:
Powerplant a bit uncivilised when working hard
Four-wheel drive over kill on such a lightweight machine
Hardi Presidio Specifications
Make/model: Hardi Presidio 2700
Engine: 6 cylinder Deutz turbo-diesel
Power: 190hp (141kW)
Transmission: Hydrostatic drive to all four wheel motors.
Main tank capacity: 2,700 litres
Boom length: Up to 30m
For the latest farming news, subscribe to Farm Trader magazine here.
Keep up to date in the industry by signing up to Farm Trader's free newsletter or liking us on Facebook