Review: Krone Big M420 CV mower
---
Krone's new Big M 420 self-propelled mowers are winning over contractors with their powerful new engines and comfortable cabs full of features to keep operators happy.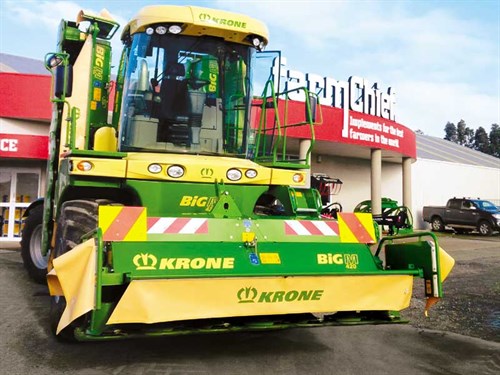 Rabco Ag Limited, which is owned and managed by contractor Eddie Rabbitt, bought the first Krone BiG –M420 CV self-propelled mower conditioner in Southland. Purchased from Tulloch Farm Machines, it will be serviced by Tulloch agents, Farmchief Machinery Limited, Invercargill. In fact, two Farmchief Machinery technicians, Matthew Burgess and David Knight, recently attended a two-week course at the manufacturer's plant in Germany to learn how to service this new and revolutionary agricultural machine.
Rabco bought the Krone machine to improve its mowing capacity and all-round efficiency as an agricultural contractor. According to Rabbitt, the self-propelled BiG M420 with its big motor overcomes a problem the company has experienced with overheating when using tractors. He says having a self-propelled mower also means that a tractor is not tied up with mowers at a busy time of the season.
Krone's new Big M 420 self-propelled mowers have impressed contractors throughout New Zealand because they are powered by new common-rail engines from MAN. These engines deliver more horsepower with greater economy. In addition, the new models feature a cab that is very comfortable for the operators who will be driving the Big M 420 for long hours in the Southland summer. Rabbitt says with its vast improvement in the field of vision available to the operator, mowing will be a much easier task for operators.
Equipped with a 400hp MAN common-rail engine, the new Big M 420 has all it takes to deliver extraordinary performance in dense crops and on slopes. The new engine uses SCR technology with AdBlue to comply with Stage III B/EPA (Tier 4 interim) exhaust emission standards and, as a result, provides maximum fuel efficiency.
Like its predecessors, the Big M 420 features automotive trans-mission, which controls engine speed automatically to match it to the ground speed selected and the current load on the driveline. 
The cooling system also received an update to match the massive engine power. This explains the large radiator with a rotary screen and exhaust system. Another interesting feature is the automatic cleaning process which prevents the engine from overheating and reduces the time spent on cleaning. This provides the singular advantage of much cleaner air.
This new engine technology is not the only new feature in the mower. It is also fitted with a new cab design and enhanced operator space. Operators will enjoy an unprecedented view – courtesy of larger glazing and slimmer posts. High build quality and improved damping result in low noise levels while climate control and a mobile cool box give unmatched comfort. Both features are standard specification on the new Big M. 
Not only is the cab more comfortable, but the machine is much easier to operate with a new Krone-developed joystick customised to the self-propelled mower conditioners and combines state-of-the-art ergonomics with comprehensive multi-functionality. An example of this is a cross control, which raises and lowers all mowers at the same time on the headland.The same control also operates the optional self-levelling feature on slopes. 
Every mower is assigned its own control on the joystick, which adjusts every mower separately to its individual area of work. Two further buttons control the hydraulic cutting height adjustment system, which is an optional feature. It allows operators to store and retrieve two cutting heights, thereby reducing stress on the operator and allowing him to adjust the machine quickly and simply to a wide variety of harvest conditions. 
This concentration on operator comfort is also reflected in the overall level of specification. For example, Big M 420 features the new heavy-duty mower bed with SafeCut auto-reset system, Like the Big M 400, the Big M 420 is available with a choice of three conditioner versions. The high-performance CV conditioner offers a 9.7m work width and uses freely pivoting V-type steel tines, which give extremely intensive conditioning. The rotor speed is set conveniently on the gearbox (700rpm and 1000rpm). 
Leafy crops such as Lucerne and clover require gentle treatment, which comes from the ultra-durable nylon bristle rollers of the high-performance CRi conditioner from Krone. However, a steel roller version is available to condition tall and dense crops. Both of these CRi versions offer a 9m work width and 25cm roller diameter. Rabbitt says heavy-duty mower beds are "also a plus".
Feed augers are available for the two side mowers. This Krone Big Swath System transfers the conditioned crop from the conditioner to the middle of the machine without the material dropping to the ground and becoming contaminated.
This Big Swath merging system operates in combination with both the CV conditioner and the CRi conditioner, and when the auger hoods are open, it spreads the crop across the full width. Innovative diamond-treaded CARGO XBIB tyres are available for the Big M 420 to run on in delicate crops such as Lucerne. This special tyre benefits from a substantially larger contact area and a pressure as low as 1.0bar to minimise the load on the root stock, protect the soil and ensure fast crop re-growth. 
Rabbitt says his company plans on using existing GPS components on the BiG – M420 CV over the summer. Currently these have been fitted to a company tractor it has been operating in harvesting fodder beet for cattle. This will permit auto-steering of the big machine when it starts its long hours of work in the south over the summer.
For the latest farming news, subscribe to Farm Trader magazine here.
Keep up to date in the industry by signing up to Farm Trader's free newsletter or liking us on Facebook