Honda 500 Pioneer UTV review
---
Honda bucks the trend with a compact, lighter 500cc UTV, designed for dairy farmers and those with difficult-access properties. Check out this review.
No doubt you have noticed that off-road utility vehicles have grown in size in recent times.
Engines are bigger and more powerful, not because it's what farmers need but because it's what recreational riders want, particularly those in America. We now have 1000cc utility vehicles from people like Polaris, Can-Am and Arctic Cat.
Most real farmers don't have time for 1000cc utility vehicles and for a lot of sensible reasons. Employees are more likely to be hurt on more powerful machines, and these funky quads are also more expensive to buy and operate and use more fuel.
A 1000cc side-by-side can't traverse rocky terrain any faster than a 500cc machine can, the rocks make sure of that and in any case, the larger the vehicle the more difficult it is to manoeuvre in difficult conditions. 
Honda knows all this and has demonstrated its virtuosity in the subject with the Pioneer 500, a compact, light, two-seat side-by-side with a 475cc single-cylinder engine and a semi-auto transmission, operated by nifty little paddle shifters on the steering wheel.
The unit we tested was prepared by Roe Motorcycle and Mower, an obviously prosperous Honda dealership on Raglan Parade Warrnambool (Vic).
Dealer principal, David Reinheimer, couldn't have done more for us when we arrived to pick up the Pioneer. He filled us to the brim with first-hand info and gave us plenty of brochures.
The machine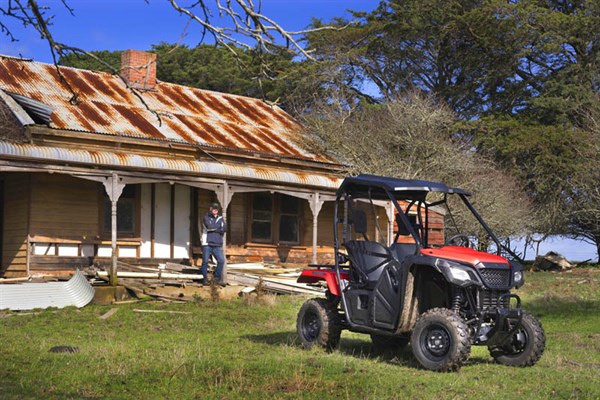 To give you an idea of how compact this machine is compared with a full-size UTV, here's a comparison between it and the Honda 700cc side-by-side chassis:
Kerb weight – (500) 458kg/ (700) 571kg
Wheelbase- (500) 1856mm/ (700) 1950mm
LxWxH (500) 2603 x 1270 x 1838mm/ (700) 2916 x 1552 x 1971mm.
The 700 is 313mm longer, 282mm wider and 133mm higher, so Honda has obviously gone to some trouble to keep this thing as compact as possible without making it too small for the average human being to get in and drive. 
Cab and storage
There isn't a huge amount of space in the cab though, and not a lot of storage space either.
To keep the Pioneer uncomplicated in its basic configuration, where you'd expect to find a cargo box is a mere carry rack. Fellow NFM contributor (and farmer) Tom Dickson agrees with me when I suggest the Honda would be more practical with a storage box on the back.
Honda offers a huge range of accessories for the Pioneer but you'll have to ask your Honda dealer which box would best meet your needs, and if in fact your dealer stocks or can order that particular one. 
While we were loading the Honda onto the trailer that David Reinheimer lent us we noticed one of his customers was having a windscreen fitted to a brand new Pioneer. If we were buying one, we'd fit a windscreen too.
The weather in Warrnambool was awful during our test, with a strong, frigid wind and intermittent rain, so having a windscreen would cut the wind-chill factor for men and women who spend a lot of time outdoors in crappy weather.
A windscreen will also prevent mud flung from the front wheels from smacking you in the gob.
A smart piece of design is that the safety nets are actually attached to the doors. This means you don't have to haggle with the netting every time you get in and out.
That's clever. We like it, and it's less provocation for dairy farmers to remove the doors altogether.
Controls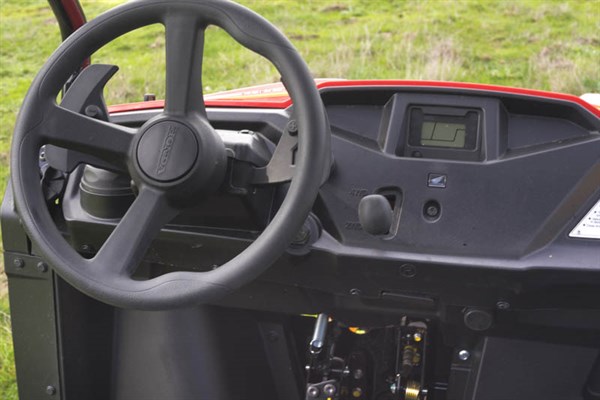 Tom and I don't have too many complaints about the ergonomics.
It doesn't have power-steering, doesn't need it, and no doubt all the less than burly individuals will be glad to hear it. The steering is light, neutral and direct, but not so direct that the vehicle feels twitchy.
Instrumentation is minimal but it works. The small LCD in the centre of the dash will cycle through a number of useful functions at the press of a button, including one that tells you when a scheduled service is imminent. The 2WD/4WD selector is a simple up-down lever. First gear is low range but there's no diff lock.
There's no park position in the gearbox either but the handbrake works fine, so you can safely leave the vehicle in gear with the handbrake on when you alight to open yet another gate.
Transmission
The Pioneer has a five-speed 'semi-auto' transmission, with shifting accomplished by 'paddles' on the sides of the steering wheel. 
To up-shift, tap the right-hand paddle. To down-shift, tap the left-hand one. End of story.
True, your first shifts might be a bit clunky as you get used to it, but after 10 minutes you're making smooth changes every time.
The harder you accelerate the smoother the upshift, while feathering the throttle when down-shifting gives the best results.
There are several characteristics Tom Dickson and I like about this transmission:
It's easy to use.
With direct-drive, throttle response from the 475cc engine is quite good.
Direct-drive gives excellent low-speed throttle control when you're climbing over obstacles
First gear is low range but the engine has enough grunt to lift off in second or third gear on flat ground. In other words, you don't need first gear unless you need low range
This transmission puts you in charge
You always know what gear you're in because a number in the LCD tells you
Ride quality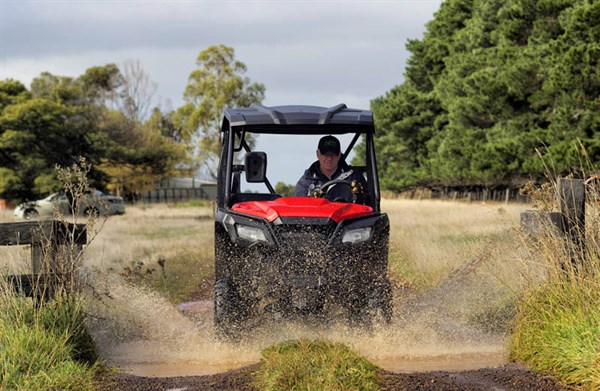 Though the pre-load-only shocks were set up for load carrying, which implies a bone-jarring ride, ride quality was actually pretty good as we drove across paddocks populated with a million rocks, as well the usual ruts, bumps and scrape marks you'll find on any rural property anywhere in the world.
The Pioneer is only 313mm longer and 50mm wider than the Polaris Ace we tested a year ago but feels a lot more stable on broken ground.
Verdict
It ought to be obvious by now that this is not your average side-by-side.
It's a not a flash three-seater with a 700cc engine. It's a compact, narrow, midsize machine made to get in and out of tight spots. It's certainly not fast, but you don't need speed on a farm, you need reliable functionality.
It's also good value for money. For the ready-to-ride price of $15,000 you get Honda reliability and a whole lot of accessories you can't get for an ATV.
Only thing a farmer needs now is a horn. We couldn't find one.
Hits
Purpose-built with no frills
Easy to use electric-shift transmission
Practical and functional
Good price ($15,000)
Misses
Needs a rear storage box, not a rack
Needs a horn
Specifications
HONDA PIONEER 500
ENGINE
Type: Single cylinder four-stroke
Capacity: 475cc
Fuel delivery: Programmed fuel injection
Fuel tank capacity: 15.5 litres (inc. 4.1L reserve)
TRANSMISSION
Type: Five-speed electric shift with reverse
Park brake: Mechanical
Keep up to date in the industry by signing up to Farm Trader's free newsletter or liking us on Facebook