Kubota RTV-X1120D review
---
Kubota's hydrostatic 1120D adds muscle to its utility task vehicle range and gives the company a better chance of ripping a chunk from the all-conquering Polaris Ranger diesel, Barry Ashenhurst writes.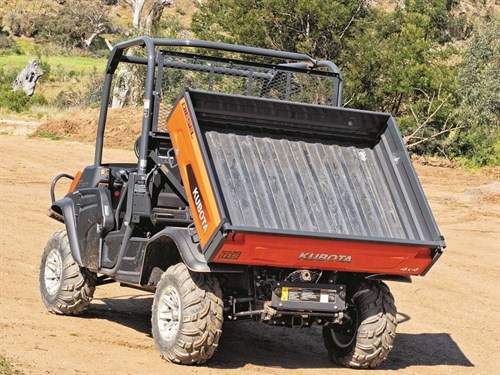 It goes without saying so of course it must be said: Utility vehicles — big four-wheel drives in which two or three people can be transported in a civilised manner — are more practical than small vehicles that accommodate only one.
All things being equal, that would be the end of the argument about which vehicle is best suited to farm work, but all things have never been equal and never will be.
The ultimate farm machine : UTV vs ATV
Utility task vehicles (UTVs), also known as side-by-sides, are grabbing a fatter slice of the rural rough terrain market every year.
This is largely because they're more practical than a regular quad and offer more safety features, such as a rollover protection structure (ROPS), a falling object protection structure (FOPS) and even a totally sealed cabin with full-length doors.
They can legally carry two or three people as well, and have a dump box on the back that can be used as a repository for all kinds of farmy stuff.
Utility vehicles are chosen in preference to quads where the vehicle is destined for light haulage duties a quad is incapable of performing.
UTVs are useful tools for park and golf course maintenance precisely because of the advantages I've mentioned. They also have a relatively light footprint, wreaking less damage to a fairway than a hacker who thinks he can sand iron a ball onto the green from 20m out.
One thing attracting buyers to these machines is that they can be driven; they require no riding skills to operate and that's a big thing. Not everyone has the confidence to jump in a largish ATV and go for it, even at granny speeds.
But when they climb into a UTV they immediately appreciate the car-like controls and with that comes confidence.
The main drawback with the side-by-side is the cost. We're talking $20,000 for a recognised brand, around $10,000 more than you'd pay for a normal 4WD quad.
Some users are not willing to pay more so they stick with a conventional all-terrain vehicle (ATV), but others are seeing the benefits of larger, more versatile vehicles.
Kubota RTV-X1120D: Model with a mouthful
The machine we're examining here is the Kubota RTV-X1120D. That's a mouthful I know, but this model is unusual for two reasons.
First, like many tractors and earthmoving machines it has a variable hydrostatic transmission and second, apart from other members of the Kubota hydro family, it's the only diesel-powered UTV on the local market that does.
The Kubota's opposition primarily comes from Kawasaki's Mule 4010 diesel; John Deere's Gator XUV855D; and the Polaris Ranger 4WD diesel. Polaris sells more of these vehicles than anyone else.
Kubota RTV-X1120D: Engine
The 1,123cc diesel engine produces 24.8hp (18.5kW) at 3,000rpm. It's a quiet engine, even when working hard.
I'm tempted to say of this machine, as I said of the JCB Workmax, that it would make a bigger mark with another 5 or 10hp, and I still think that. But conservative output is typical of UTVs in this class.
There seems to be an agreement among manufacturers, that none of their diesel models should have more than 25hp, mainly, I presume, for the protection of driver and passengers.
"If you give them more power, they will use it", seems to be the cautionary policy when it comes to UTV top speed. That's why every one of these machines does around 45km/h and feels grindingly slow uphill.
Kubota RTV-X1120D: Cabin and controls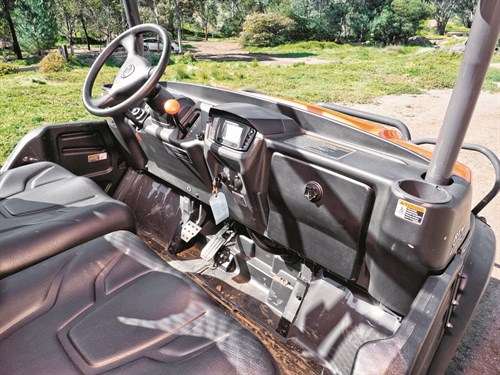 Climbing aboard the Kubota yields no startling surprises. The new cabin is larger and has more legroom but all the controls look familiar in a generic sort of way.
The steering wheel position is adjustable. Because the engine is behind you, not underneath you, the bench-seat tips forward to reveal not the engine but a handy storage tray.
The steeply sloping bonnet lets you see objects close to the front of the vehicle while a sleek bullbar does little to obstruct the view.
Pretty much everything about this UTV suggests a devotion to hard work. The front differential is a limited-slip unit and the rear diff can be locked by pushing on a small pedal behind the driver's left foot.
You can buy one of three windscreens for the Kubota, laminated glass, polycarbonate or acrylic, as well as a range of other useful accessories.
Plastic half-doors, standard on this model, are way better than the stupid side-nets you find on recreational UTVs, and since the cab has a flat floor it can be entered easily from either side.
The small digital meter cluster has all the functions you expect but would have been easier to read at a glance if angled a little more towards the driver.
Kubota engineers resisted the temptation to bolt metal shoulder bolsters on the sides of the cabin where they can injure driver and passenger if the thing rolls over.
Kubota RTV-X1120D: Performance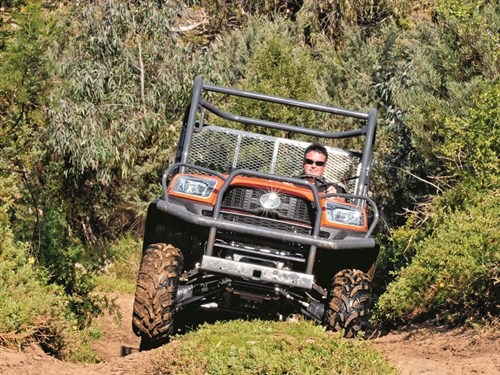 The Kubota goes about its job in understated fashion. The 2-speed transmission is smooth and engine braking certainly up to the task of slowing the little truck on the type of hills you would expect to negotiate during a day's work.
Disc brakes front and rear are immersed in oil to protect them from abrasive materials and they feel fine to me.
The rear diff lock is unusual in that it's actuated by a small foot pedal, but you soon get used to that, and the device can be locked if you prefer not to physically depress the pedal all the way through snotty territory.
Even with a wheel off the ground — a long way off the ground — the machine feels stable and its progress was uninterrupted.
A secondary benefit of having on-board hydraulics is that the dump box can be hydraulically raised or lowered, in this case by manipulating a lever next to the driver.
These hydraulics too can be locked out if for some reason you decide to raise or lower the box manually — or you enjoy watching someone else do it "Watch how you dump them decorative pebbles, Martha. They're expensive".
Suspension on this hauler is independent front and rear by means of dual A-arms and, down the back, coil-over shocks with preload adjustment only.
None of this is startling or innovative but ride quality is excellent. I thought the Kubota handled and rode as well as any UTV I've driven equal to any Polaris Ranger I've experienced.
The gear selector is a little notchy I'd have to say, but this is a brand new vehicle so that isn't exactly a surprise.
In a nutshell
Kubota RTV-X1120D Hits
Good rough terrain ability
Comfortable and easy to operate
Built for hard work
Kubota RTV-X1120D Misses
Digital meter would be easier to read if angled towards the driver
Kubota RTV-X1120D Specifications
MAKE/MODEL: Kubota RTV-1120D
ENGINE
TYPE: Overhead camshaft (OHC), 3 cylinder/four-stroke
CAPACITY: 1,123cccc
POWER: 24.8hp (18.5kW) at 3,000rpm
TORQUE: 51.4ft-lb (69.7Nm)
FUEL TANK CAPACITY: 30 litres
TRANSMISSION
TYPE: Variable hydrostatic high/low range, reverse and neutral/ lever-operated park brake on rear
DRIVE SYSTEM: Two-wheel drive /4WD/ front limited-slip differential (LSD), pedal-operated rear diff lock
RUNNING GEAR
SUSPENSION: Front double A-arms. Rear double A-arms with coil-over shocks
BRAKES: Oil immersed hydraulic discs front and rear
TYRES: 25x10-12 6-ply
DUMP-BOX
WIDTH/LENGTH/DEPTH: 1,465mm x 1,030mm x 285mm
VOLUME: 0.43 cubic-metres
BED HEIGHT: 887mm
DUMP BOX LOAD: 500kg
DUMP: Hydro power lift
VEHICLE DIMENSIONS
LENGTH: 311cm
WIDTH: 160cm
HEIGHT: 202cm
WHEELBASE: 204cm
CLEARANCE: Front: 266mm. Rear 263mm
DRY WEIGHT: 935kg
TOWING CAPACITY: 590kg
PAYLOAD CAPACITY: 686kg
PRICE: $23,500.
Keep up to date in the industry by signing up to Farm Trader's free newsletter or liking us on Facebook