ODES Pro 800 UTV review
---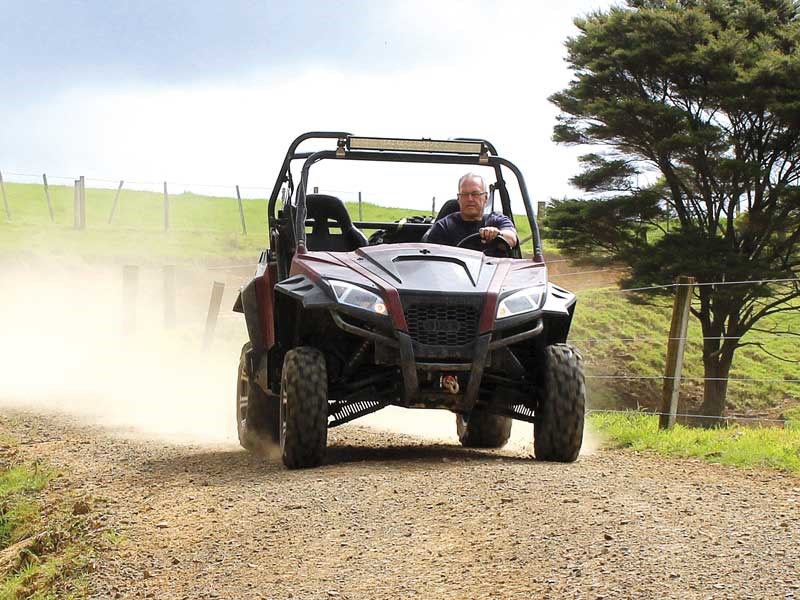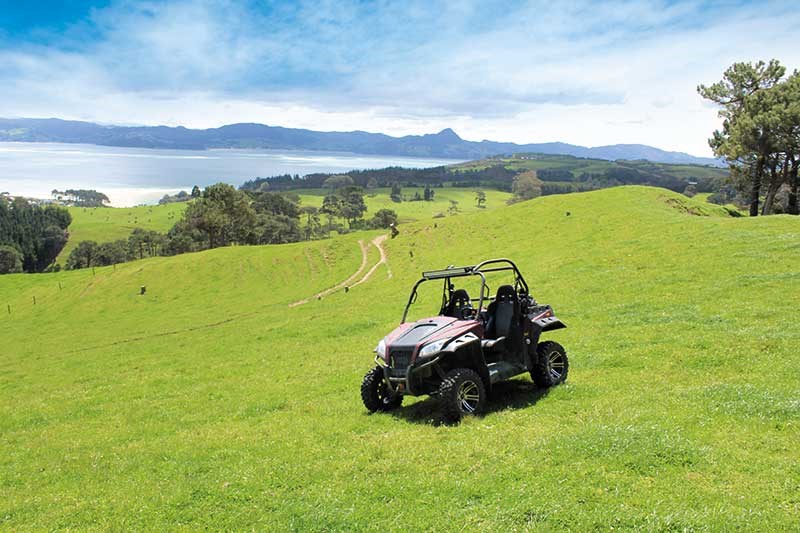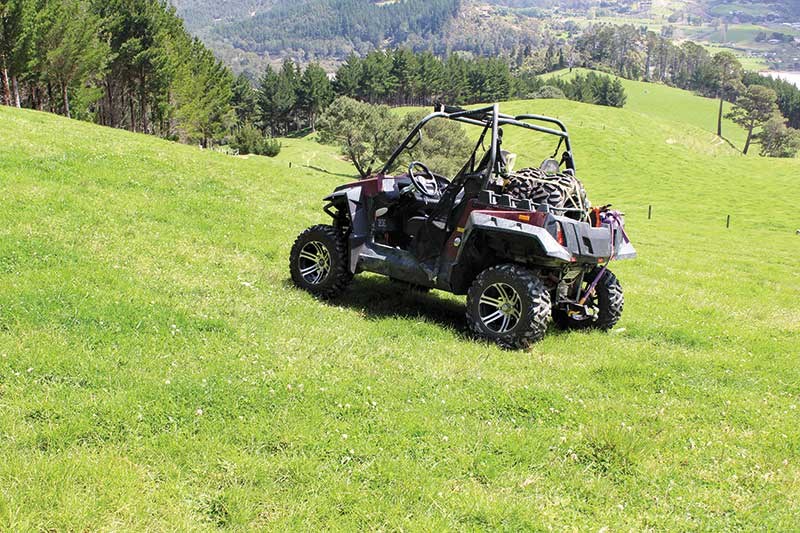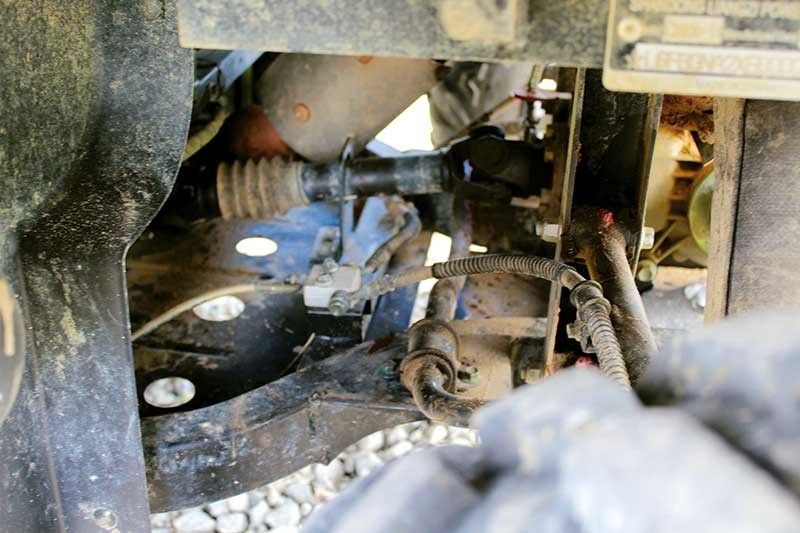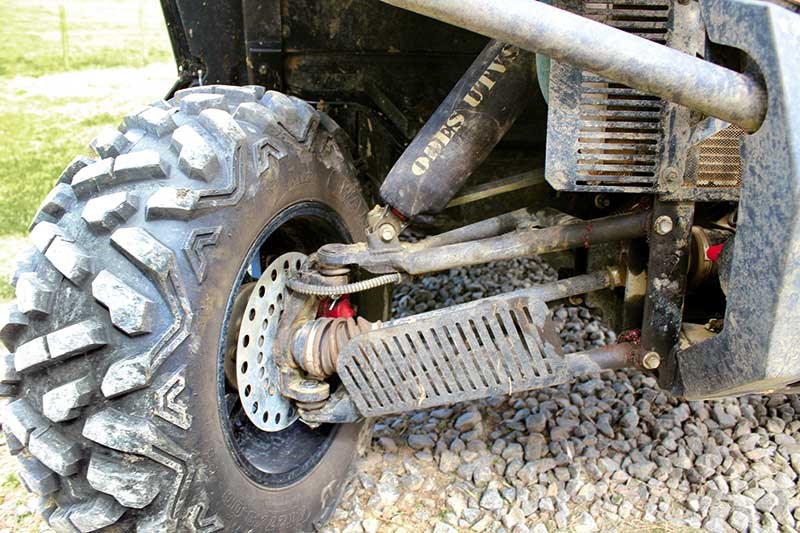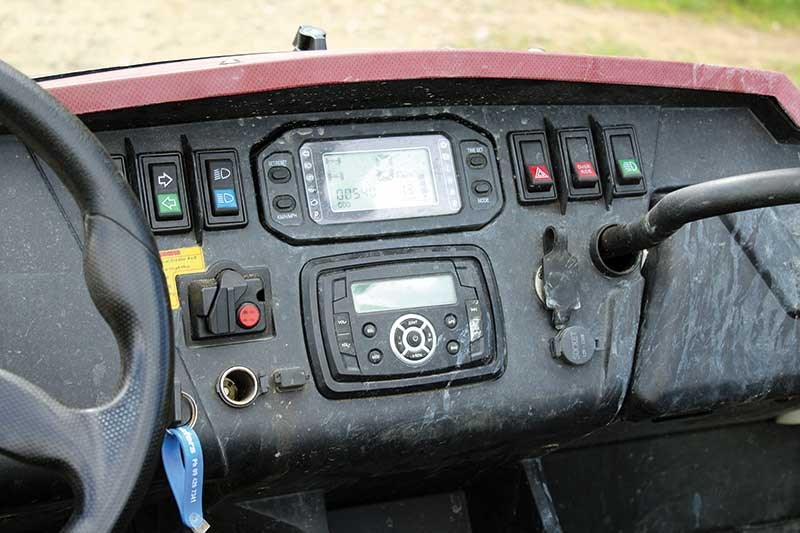 Farm Trader puts the ODES Pro 800 UTV through its paces.
I'm happy to admit that until recently, I had never even heard of the ODES brand, let alone seen one first-hand, so I was immediately curious when offered one to test.
What turned up was an ODES Pro 800 UTV, which is owned by ATVUTV New Zealand Limited, the importer and distributor of the brand in New Zealand. While the ODES Pro 800 has been designed as a nimble yet powerful two-seater for off-road racing and leisure rather than for farm or utility work, the company's representative was quick to point out that they also sell an ODES Dominator 800 that uses exactly the same engine, frame and running gear, but has a steel tip tray that would be far more useful around the farm.
Design and build
While the ODES machine itself is built in China, its design has had plenty of input and collaboration from an American company. This machine is built from the ground up on a robust tube steel chassis that sets the weight of the engine, fuel and occupants in the centre of the machine, as low as possible to improve stability and handling. The frame is clad in sleek plastic panels which give a clean and tidy finish.
A roll frame is also incorporated into the design for safety, and aggressive 26-inch mud grip tyres running on 14-inch alloy wheels add to the appeal and ability of the machine. Interestingly, what are usually considered extras on many brands, come standard on the ODES, such as front and rear winches, a windshield, a light bar and tow hitch.
Racing style seats with diagonal three-point seat belts are great for safety although not overly practical on the farm – especially if you're getting in and out often to open gates. The same can be said about the side safety nets. Centred on the dash, a reasonable-sized digital display is easy to see and includes the fuel level, engine temperature, speed, odometer and a 4WD/diff-lock diagram.
Lights down the side of the display show which gear is selected, the indicators and several warning lights. Sturdy toggle switches also on the dash are used to control indicators, hazard lights, lights and a horn. A good-sized steering wheel is well positioned and the pitch is adjustable.
Engine
Power comes from an 800cc, SOHC, liquid-cooled, V twin engine built in-house by ODES. It sits centrally and low in the frame, behind the seats to keep the machine's centre of gravity low and well balanced. Many will be pleased to see well-respected Delphi components used in the throttle body and electronic injectors to provide peace of mind to those who are weary of the unknown.
The engine puts out an impressive 60hp or 44kw of power and the machine jumps off the mark without hesitation, making it incredibly fun to drive. Stop/starts on reasonably steep hills proved no problem at all. Access to the engine is tough on such a compact machine and while it's no worse than anything else on the market, there is room for improvement.
Basically the seats and possible panels need to be removed to give access for servicing. Fuel tank capacity sits at a healthy 32 litres which will keep the machine on the move all day.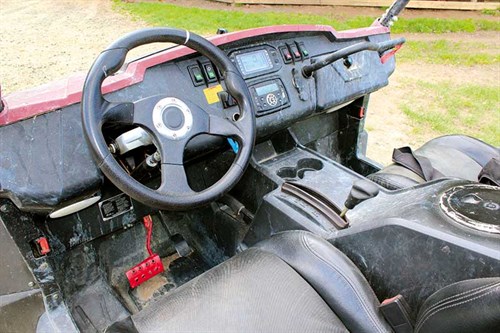 Transmission
Like many other brands on the market, the ODES uses the well-proven CV-Tech CVT transmission, which uses a combination of a centrifugal clutch and a variable-speed drive belt. The gear shift between the seats gives the driver high, low, neutral, and park. Interestingly, the low gear on the ODES is probably the fastest of any machine I've come across and gives a range from zero to 40km/hr, so you tend to find yourself in low almost all of the time.
While this is great as there is no need to stop before tackling a steep slope, you do lose some low speed control and the only time you will really use high, which gives the machine a top speed of over 90km/hr, is on a road. My only real gripe with the transmission was that changing between high, low and park can be somewhat clunky, especially when moving out of park on a hill.
The electronic push-button 2WD/4WD makes it easy to change if the going gets tough and once in 4WD a diff-lock can also be engaged at the push of a button to get you out of the toughest situations.
Braking
With a machine this quick, how quickly you can stop is pretty important. Thankfully the hydraulic disc brakes all round provide solid and responsive braking with no problems, bringing the machine to a halt even on a steep hill. A mechanical handbrake between the seats is good to see and saves putting the machine into park every time you get out.
Sometimes I wonder if I harp on about engine braking too much, but for me it's a pretty important feature on any machine with a variable speed transmission, especially when it weighs in at over half a tonne. Unfortunately the ODES suffers from the same problem as many other machines, as soon as you take your foot off the accelerator and the rpm drops, the drive disengages and the machine starts to free wheel – something that doesn't really impress me, although it is common.
Suspension
A top quality suspension setup is a key feature for driver comfort and like most manufacturers now, the ODES uses a double 'A' arm set-up on all four corners along with adjustable racing gas shocks that can be adjusted by hand without tools to take the bite out of the bumps.
With around 200mm of travel on each wheel and almost 300mm of ground clearance under the machine, it can handle some seriously tough terrain and when set up correctly, it gives one of the smoothest rides of any side by sides I have tested.
It is also good to see all pivot points on the suspension setup are suitably heavy-duty, bushed and greaseable to prevent wear as long as they actually get regular maintenance.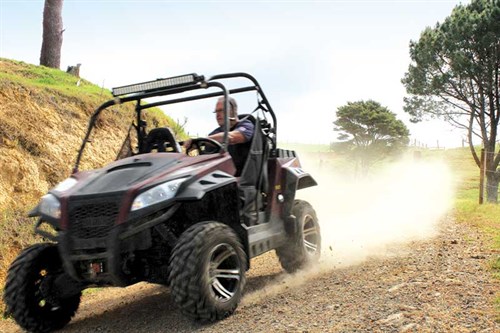 Who are they?
From what I can find out, the ODES company started manufacturing small vehicles in China in the 1990s and has evolved to now manufacture ATVs, UTVs, mini trucks, scooters, engines and wheels.
In more recent times, it has collaborated closely with an American importer for exclusive distribution rights and input into the design. Here in New Zealand, ATVUTV Limited is the importer and distributor. Although only starting out with the brand, it plans to grow sales throughout the country.
It carries a healthy stock of parts and have mechanics on the ground all over the country for repairs and maintenance. The machines are all backed with a two-year warranty on the engine, transmission and clutch, and a one-year warranty on everything else.
The verdict
As mentioned earlier there seems to be a lot of new off-road vehicle brands turning up of varying quality, but it's good to see one of these companies putting its machine out there for testing. For me the ODES Pro 800 UTV sits somewhere in the middle of the bunch.
The engine is powerful and responsive, although access is somewhat difficult. Adjustable gas shocks were a highlight and when set correctly, give one of the best rides of any machine I've driven. A well-known and reliable CV-Tech transmission offers peace of mind, although it does suffer from a lack of engine braking – like many others.
Thankfully this machine offers four-wheel hydraulic disc-braking to bring the machine to a halt. It's great to see many extras that come standard (that others call 'options') including the windshield, light bar winches and alloy wheels. Overall the machine is well-built and nicely finished and presents a price significantly below many of the well-known brands.
Pros
800cc V-twin engine gives excellent power to weight ratio
Heavy-duty greaseable pivot points on the A-arm suspension
Adjustable gas racing shocks give a excellent ride quality
Extras such as, winches, light bar and windshield all standard
Four wheel hydraulic disc brakes
14-inch alloy wheels as standard
Cons
Transmission can be clunky to shift
Lack of engine braking
Engine access not great
For the latest farming news, subscribe to Farm Trader magazine here.
Keep up to date in the industry by signing up to Farm Trader's free newsletter or liking us on Facebook