Can-Am Defender ATV review
---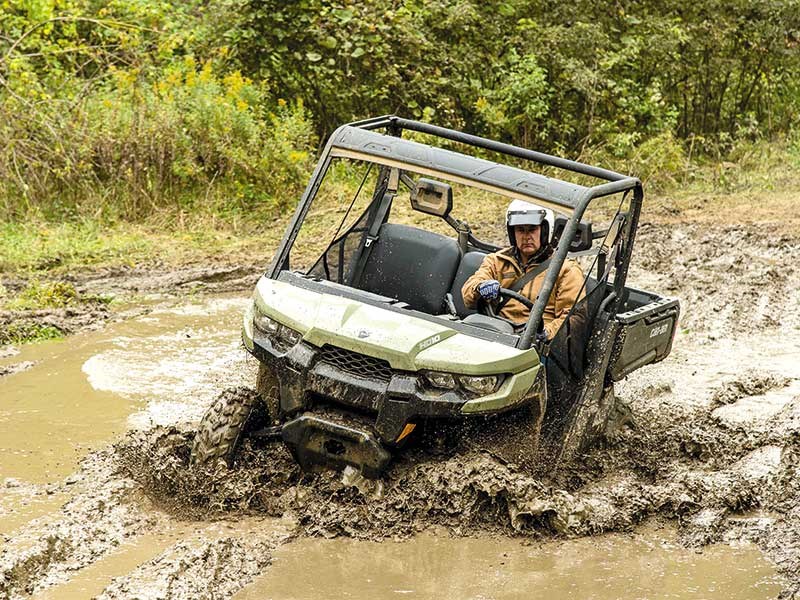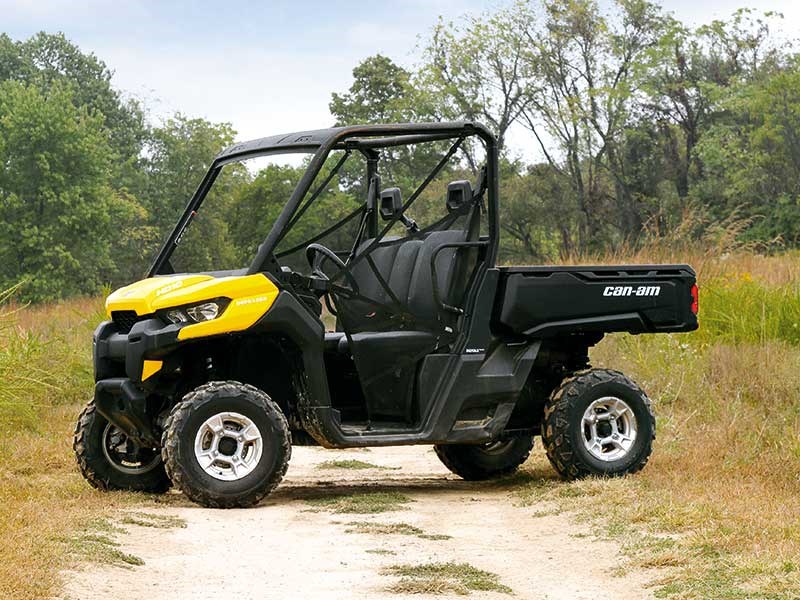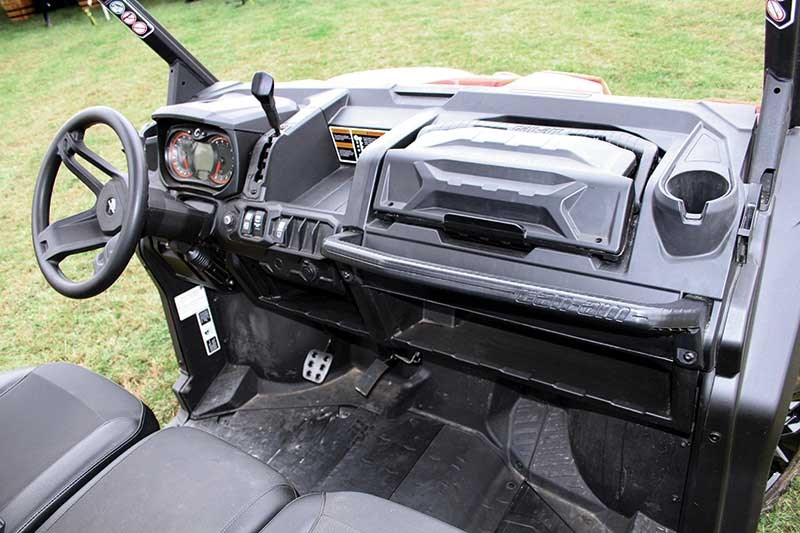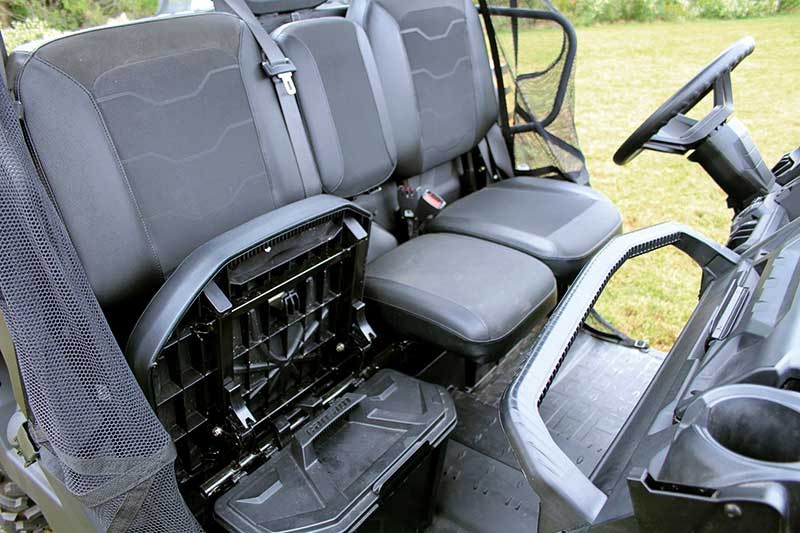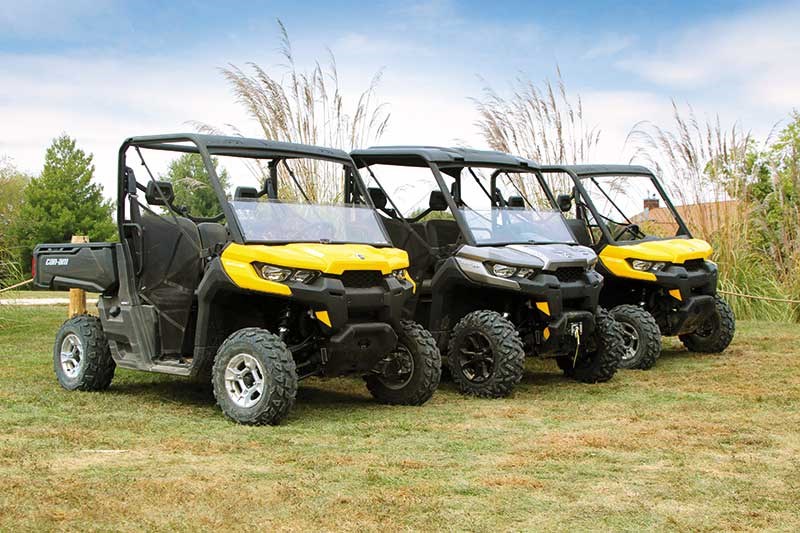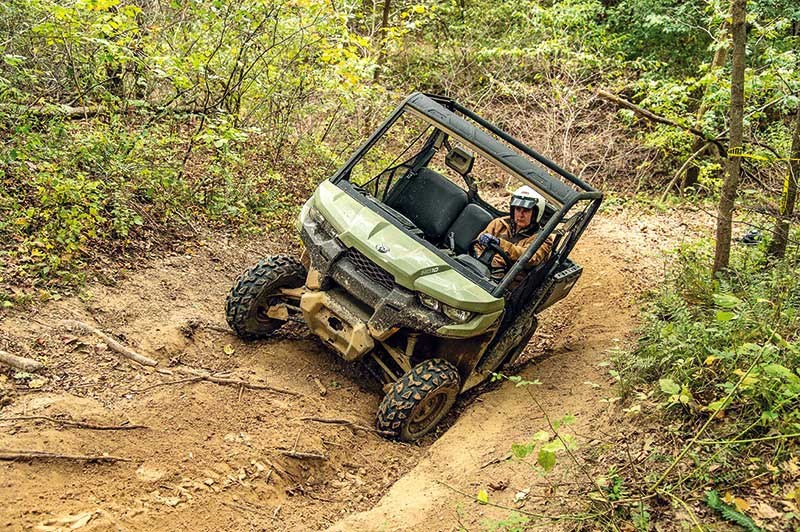 Terry Stevenson headed to the US to check out Can-Am's all-new model line-up to jump on the growing farm side by side utility bandwagon.
During recent times, farmers have been voting with their wallets as farm ATVs are slowly being replaced by side by side (SxS) vehicles. Why? They are safer around the hills due to a wider wheel track; they require less instruction; they can safely carry more (on the tipper tray); they can tow heavier trailer loads; seat belts and roll cages are standard; and they can even be enclosed to combat inclement weather.
The new Can-Am Defender SxS can also carry three people – two more than a single-person ATV, meaning if you're heading out with a couple of others to do fencing, forestry work or duck shooting, you don't have to take the shiny 4WD. If you have one.
SxS competitors may have a head start, however in true Can-Am tradition, the Canadian manufacturer has come out with guns blazing and, after my test at Harpoles Heartland Lodge in Illinois, Can-Am has brought out a winner.
There are a few key things a farmer will be considering before his or her next purchase and frankly, colour is no longer an important consideration.
Due to arrive around January 2016, Can-Am is offering four models in the New Zealand market: the base model HD-8 in green; the HD8 DPS and the more powerful HD-10 DPS in yellow; and the up-spec HD-10 XT in pure magnesium painted colour – a shade of silver to the eye.
I already know from previous ATV and SxS tests that Can-Am makes a top notch product, and Can-Am has made the Defender easy to use, it has superior vision for the driver, and it's easier than others to get in and out of.
The test
The 800cc base HD-8 wasn't at our test although I did manage to thoroughly test the other three models on rolling trails near the Mississippi River, which is very similar to our own countryside. The HD-8 has steel wheels and is the only model offered without power steering, called dynamic power steering (DPS) in Can-Am speak.
If you're considering a SxS but don't want to outlay the cash for a bit more power, mag wheels and overall nicer-to-drive Can-Ams, the HD-8 should be on your shopping list. I drove the HD-8 DPS power steer version and there is absolutely nothing wrong with the power of the machine. I tell you, all of these models have more grunt than you would ever believe, or likely need to use. I tested them all on the steepest slope I could find from a standing start in 4WD to see how the V-twin engines performed.
Using my left foot to hold the brake on while I shifted the lever from park to a deliberately high ratio, I started off by applying throttle with my right foot at the same time as letting the brake off. I've driven Can-Ams with these motors before so I wasn't surprised they all took off without hesitation thanks to the tremendous torque the HD-8, the 1000cc HD-10 DPS and similarly powered HD-10 XT.
Reliability is king with Can-Am, who have a rock solid reputation on the world market to provide years of trouble-free operation on your farm. The suspension package is another big factor, as well as load capacities. If you plan to tow trailers as well, then look not just at the maximum towing weight but also if the chassis design is up to the job. No longer do you need to take those winter risks towing an overloaded trailer with too much hay on the ATV.
The new Defender series breezed through all my tests during some pretty hard driving, which is why I flew to the USA to check them out.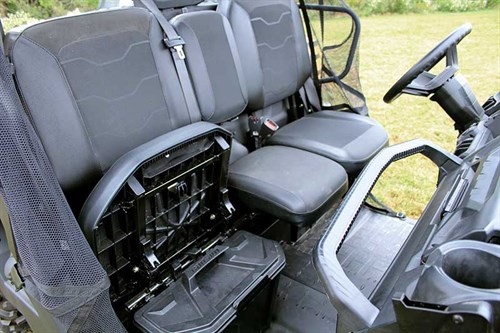 Comfort plus
I appreciate not many farmers will drive like I do when I test a vehicle, but the only time you can find the true nature of a vehicles ability is to give it a bit more than it should be able to take.
But what struck me most on the 2016 Defender is how well the suspension worked after putting it under pressure. The quality five-way adjustable front and rear Sachs shocks kept each Defenders' wheels pointed exactly where I wanted them to go, regardless of my speed or how rough the terrain was.
An incredible 254mm of front and rear suspension travel soaked up those formerly painful bumps to smooth the way ahead. Collectively, these allow you to drive your Defender as slow or as fast as you like without the worry of how much a large bump may kick the steering wheel out of your hands. This is by far the smoothest driving farm SxS I've tested since they first came onto the market, hands-down.
After a full day of hard driving I felt so fresh that it was as if I'd taken my car for a short drive.
Helping matters no end is the well cushioned three-place bench seat. For regular two-person SxS operation the centre section folds down and becomes an open storage shelf with a couple more handy cup holders.
Thanks to an impressive 280mm ground clearance I also struggled to ground either of the models while driving through very deep tyre tracks.
Power packed
The big feature farmers need to pay attention to is the torque output of the 4-valve Rotax V-twin engines. The HD-8 series Defenders use the 800cc V-twin powerplant producing 37.3Kw (50hp) but more importantly, almost 68Nm of torque for great pulling power. That's more torque than horsepower. The HD-10 series Defenders incorporate a 1000cc V-twin motor producing 53.7Kw (72hp) with a stump-pulling 83Nm of torque. Drive one and you will notice the difference.
Especially driving the HD-10 models, where the real-world difference meant I could keep the Defender in high ratio no matter what terrain I came across. I tested the motors at all rev ranges and like the Can-Am Commander, the engine has an extremely smooth and linear power delivery – all the way to redline, without tapering off. Maximum towing capacity is 907kg, while you can cram in up to 454kg in the manually lifted tipping tray.
For sustained low speed hill work though you'd be better putting the CVT transmission into Low ratio for long-term reliability. Don't forget, when going downhill you need to be in Low ratio for the effective transmission braking to kick in.
We had a couple of decent sized bogs at Harpoles to get through and all I had to do was ensure I was in 4WD and flicked the nearby rocker switch to put the diff lock on. With all that power on tap stopping fast is ably controlled by four highly effective 220mm diameter discs clamped by two-pot calipers at the front and single piston calipers out back for maximum braking power.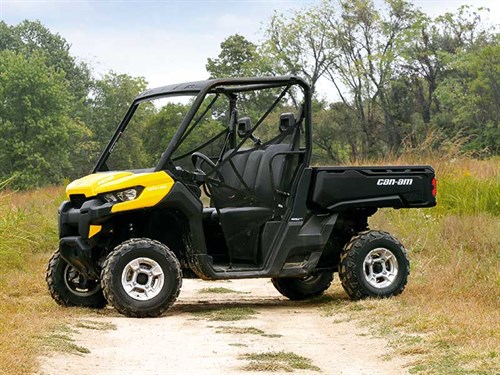 More great features
Through the years I've learnt a few things testing all manner of SxS utility vehicles from all of the major brands, and I never thought twice about improving the roll cage. Until Can-Am mounted the front A pillars (downtubes) further forward, away from the cab, to provide much better vision.
There are plenty of other features that really matter, such as the huge 40 litre fuel tank which means you can be out all day and not worry about returning early for a top-up. The HD-10 XT comes standard with a number of extras including a 2014kg Can-Am winch, an adjustable drivers seat, larger diameter tires to handle the bumps better, more comprehensive instrumentation, and a full hard roof.
On all models the tip tray comes with gas struts to smooth out the lifting and returning of the tip tray, four steel tie down points, and 14 LinQ quick-attach connector points.
Small things sometimes make a big difference, and so it is with the rear fold-down tailgate which incorporates four cup recesses and a ruler for those functional smoko breaks.
As far as instrumentation goes, what you get depends on the model you buy. The HD-8 comes with a simple digital mph speedo along with various symbols including if you're in 2WD or 4WD, fuel level and drive ratio. At the other end of the scale the HD-10XT has more than you need by way of an analogue speedo and rev counter to compliment the central digital display which includes the same info, as well as a handy trip meter and temperature gauge.
BRP Australia brand marketing advisor Matthew O'Connor confirms the Defenders design roots. "The Defender is a SSV that has been built with the Australian and New Zealand farmer in mind. Throughout the design process, input from Australia and New Zealand played a large part in the design features of the Defender," says O'Connor.
"With the Defender, Can-Am has grown it's offering to meet the needs of new consumers and Can-Am now offer one of the most complete SSV line ups in the industry. Can-Am will continue to bring to market SSV models that meet the needs of local farmers in Australia and New Zealand."
The verdict
At days end when you're done with all those farming chores the Defender is a perfect vehicle for your hunting adventures or fast recreational riding. You name it the Defender can do it, so if you are considering a new or replacement SxS utility, you should make the effort to take a Can-Am Defender for a test drive.
For the latest farming news, subscribe to Farm Trader magazine here.
Keep up to date in the industry by signing up to Farm Trader's free newsletter or liking us on Facebook