Major Cyclone mower test
---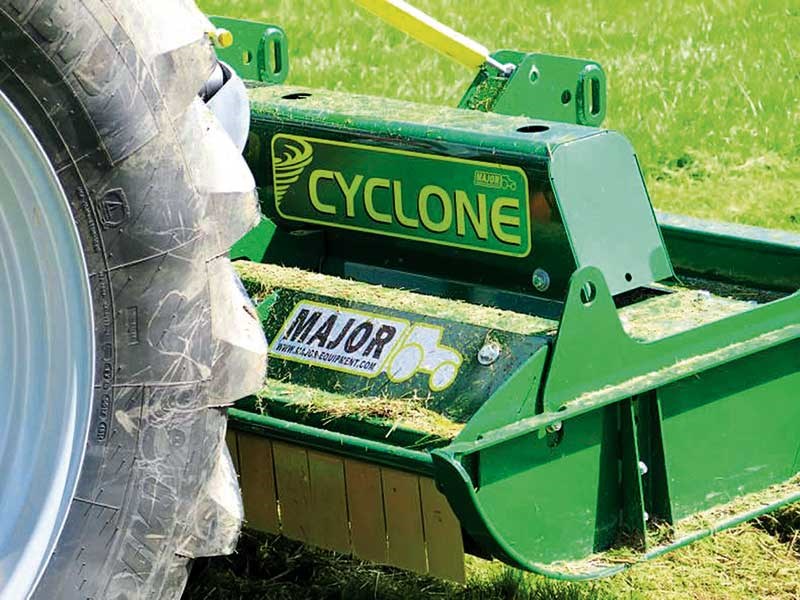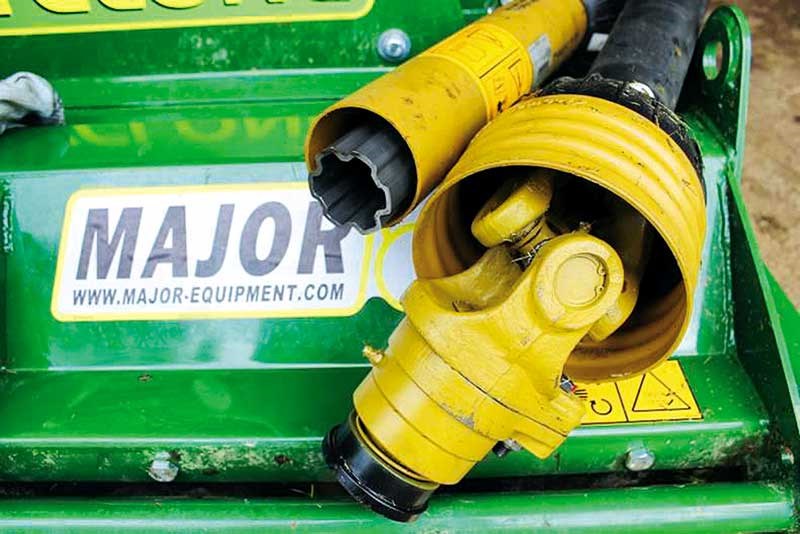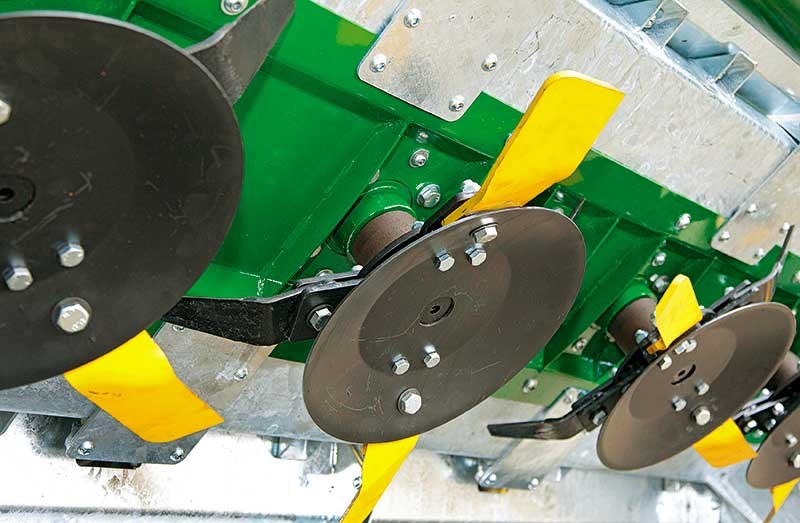 Bruce Lett takes the Major Cyclone mower for a test drive, and finds it is able to cope with the conditions in the fields very well.
The Irish Farmers Journal recently had a new Cyclone mower from Irish firm Major Equipment Ltd out on test in tandem with a McCormick X6.430 tractor. It was the ideal opportunity to test both tractor and machine in typical working conditions.
Major designs and manufactures a broad range of agricultural equipment at its factory in Ballyhaunis. Among those products are a wide variety of mowers for both the agricultural and groundcare sectors.
Mowers under the agricultural banner include toppers of different types, flail mowers and conventional disc mowers. The latest addition to the firm's mower lineup is its Cyclone range.
According to Major, the Cyclone mowers are rugged and robust. They have been specifically designed for use in set-aside, forestry margin management and sensitive environmental scrubland control.
In an agricultural setting, this would include conventional topping of grass, weeds and rushes. This is typical work for a conventional topper.
But the Cyclone is not a conventional topper. Major says the range has been designed to do the work of a flail mower while requiring a fraction of the power and fuel.
Flail mowers would typically be used for heavy-duty management of rushes, gorse, shrub, saplings and brush – stuff that is a bit too tough for sustained hacking with a conventional topper.
The Cyclone appears to bridge the gap between topper and flail mower. Martin Walsh from Major Equipment explains: "In heavy conditions, a 2.5-metre flail mower could require as much as 120hp to drive it. Ground speed in gorse would typically be 1.5 to 3km/h with a flail mower, whereas it would be between 8 to 12km/h in heavy going with the Cyclone."
Work rate is not the only plus, according to Martin: "With Cyclone versus the flail mower in heavy going, you are looking at [potential] fuel savings of 30 to 35 percent."
Models
There are four models available in the Major Cyclone range. These include two-, 2.5- and three-metre and wide versions. The two-metre model has a side-shift function of 400mm and it, like the three-metre models can be front- or rear-mounted.
Our test machine was the 2.5-metre rear-mounted variant. It too can be converted for front-mounted but if this is your preference it should be specified when ordering as there is quite a bit of work involved. The main gearbox is turned, the top linkage frame swapped to the rear and blades switched between rotors.
A total of four rotors across its working width feature two main blades each. A further two mulching blades are positioned higher up on each drive rotor. All blades are free-swinging to allow them break back from solid objects.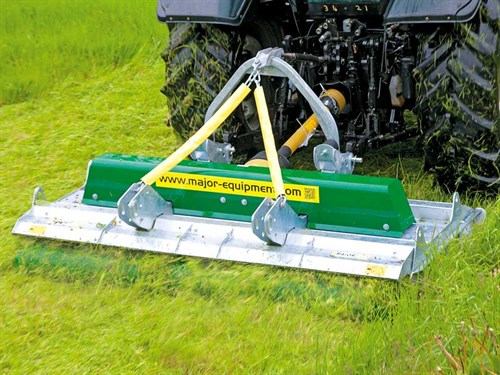 The main blades resemble conventional topping blades and are made from hardened spring steel. These are cambered upwards and propel the cut material into the path of the mulching blades. Large scalping discs under each rotor prevent them acting like power-harrow hubs and digging into the ground.
Cutting height is adjustable from zero to 250mm, according to Major. The different height options are achieved by removing the bolts in the side skids, repositioning the skids and bolting all up again.
A heavy-duty full-width rear roller aids the finishing process and also helps support the Cyclone. The roller is attached to the side skids so it moves with them when adjusted. There is further adjustment of the roller available as well, independent of the side skids.
At the front of the Cyclone, hinged steel deflectors and a thick rubber curtain prevent material from being deflected frontwards. The roller provides this function at the rear. Rear chain links from the top link frame to Cyclone deck allow the mower to contour the ground without the rigid pressure of a fixed frame. The top link frame incorporates rubber buffers to help absorb some of the machine's movement over rough ground.
According to Major, Optim™ high-strength steel is used in the Cyclone mowers. The company says this material is stronger yet much lighter than steel.
The Cyclone drive line is heavy-duty to cope with the demands of tough cutting. The 2.5-metre Cyclone features five gearboxes in total, four rotors and one main gearbox. Driving all these gearboxes is a heavy-duty PTO tubing with an over-run clutch and 10mm shear bolt at the machine end.
Work
The Cyclone's lower link pins run in slots to allow the mower to contour the ground. This actually makes it easier to yoke the tractor to it.
There is not much setting up to do in terms of cutting height and roller position, if the user is not satisfied with the factory setting. We were, so no unbolting and re-bolting of side skids or roller was required. Once the top link allowed enough float, it was off to work.
PTO start-up was similar to a conventional topper and unlike a flail mulcher. When put to work topping rushes and grass, the Cyclone was very hungry, topping and mulching everything in its path. It did a great job despite the tractor's wheels travelling ahead of the blades.
We had lots of power in front of the Cyclone. That said, it was very easy to drive and even when conditions were at their toughest topping rushes, we managed to maintain a decent forward speed of 8km/h.
Driving faster was just too uncomfortable across ground where rushes were growing. The combination of McCormick X6.430 and 2.5-metre Cyclone could comfortably operate at 10km/h, but the driver could not.
There was not much in the way of gorse or sapling to cut, but any we did manage to cut was no problem for the Cyclone. Tall and strong shrubbery/gorse would likely be a problem for the tractor – or rather the lack of clearance under the tractor to deal with such robust material would be a problem. This is where it would be necessary to operate the Cyclone on the front linkage or on a reverse-drive tractor.
The scalping discs under each rotor were very effective in protecting the blades from digging into the ground where condition became very boggy. We did manage to break a shear-pin when the Cyclone found some sheep fencing wire.
Overall we were very impressed with this mower. It is a well designed and built machine and will be a good match against the flail mower.
For more information, call Paul on (03) 688 2031.
For the latest farming news, subscribe to Farm Trader magazine here.
Keep up to date in the industry by signing up to Farm Trader's free newsletter or liking us on Facebook